Disclosure: This post is sponsored by Target. As always, ALL photographs, ideas, and opinions are completely my own.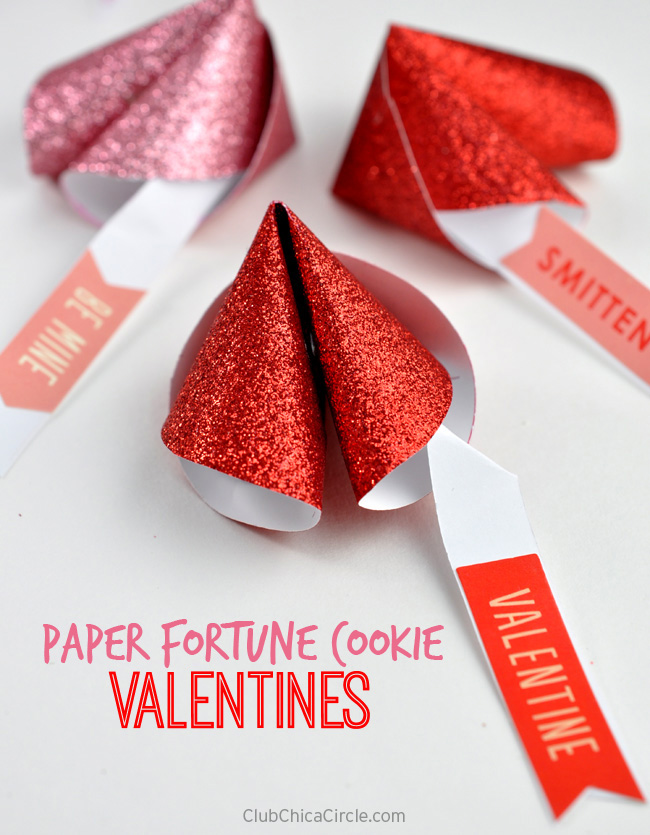 Tell me you are the same. I can't shop at my local Target without stopping first at the One Spot. I know that's why it is right there as soon as you enter a Target store, and it works!
Right now, there is a treasure trove at the One Spot for Valentine's Day—with over 40 amazing products ranging from super cute Valentine's Day stickers, washi tape, glitter pens, glitter paper, paper straws—just to name a few! Each range in price from $1-3. Just remember though—products are available for a limited time! Hop on over to your local Target to grab these crafty finds!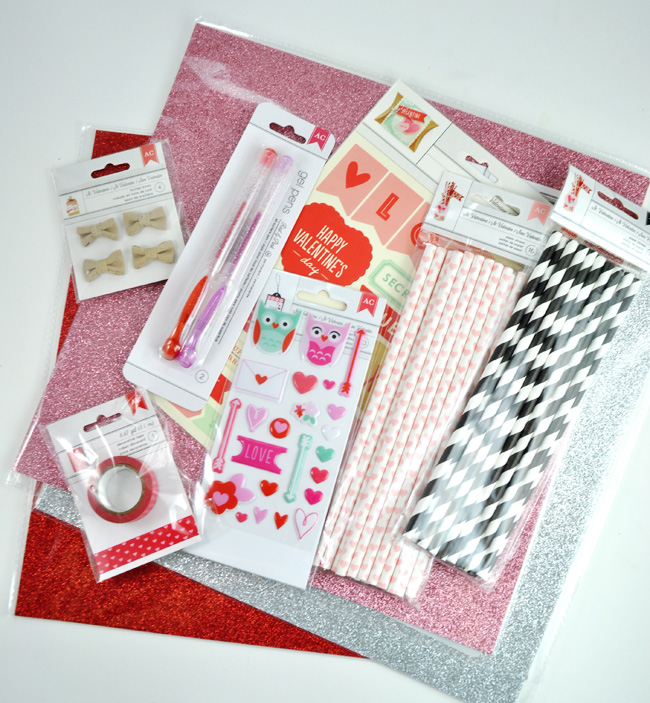 I picked up a variety of goodies, and wanted to make some homemade Valentines with a twist—or should I say with a FORTUNE-it twist! I made these cute glittery paper fortune cookies with fun messages inside.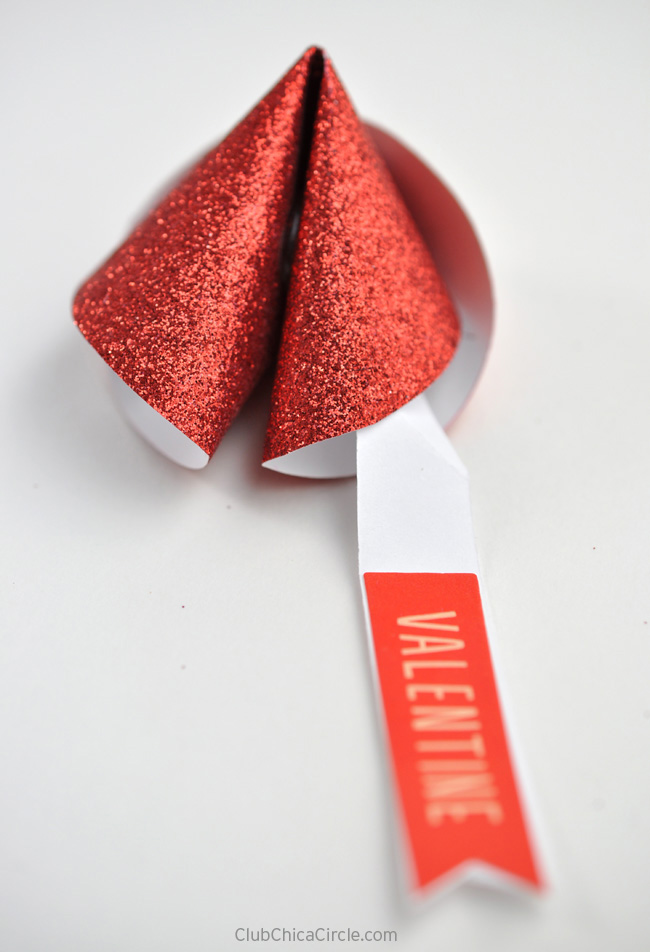 It's actually pretty easy to make a paper fortune teller.
This is what I used:
Glitter paper (I used red and pink)
Plastic cup (for circle template)
Paper cutter and free printable (download your's below) to make the fortunes
Gel pens to add personal note inside each fortune
Valentine stickers
Scissors
Glue Dots
Now, here is what you need to prep the craft and make your own fortune cookie Valentines:
Cut out the paper circles. I used the top of a plastic cup as a template, and then cut out each circle from the cool glitter paper.
Print out your paper fortunes from my free printable which reads "I'm so FORTUNE-it to have you in my world VALENTINE!". I cut 1/2″ paper strips from a regular letter-sized sheet of paper with a paper cutter. You can also make up your own on your own strips of paper.
Grab your free Valentine printable here:
I'm so Fortune-it to have you in my world Valentine free printable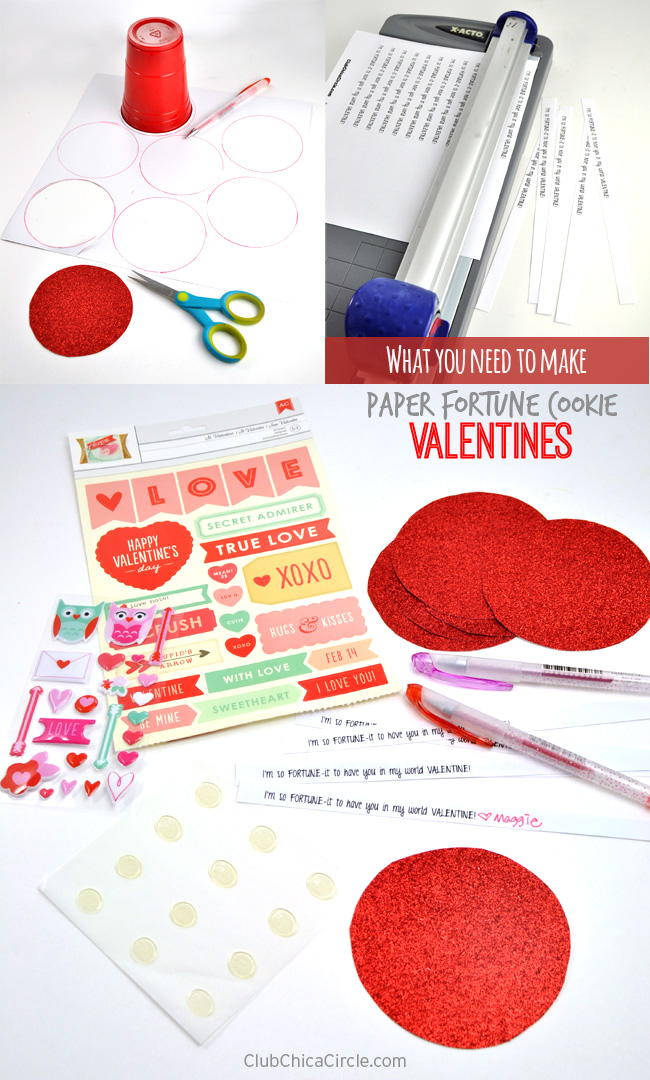 After my circles were cut out, I wrote any additional message on my paper fortunes with the glitter pens, grabbed the decorative stickers and my glue dots.
Then you can make your own homemade paper fortune cookies in just a few easy steps:
First fold your paper circle in half and crease just in the middle.
Grab your paper fortune and hold in the inside center of your circle.
Now fold your paper circle in half the other way. With one finger, press inward on the crease you made in the first step.
Then use your other hand to help the circular edges of the circle fold inside themselves. Bring the two outer edges together to form the fortune cookie shape.
Secure the paper fortune cookie in the middle with a glue dot.
Place your fingers inside to fully secure the cookie together.
Roll one side of your paper fortune into the fortune cookie.
Add a decorative sticker on the paper fortune that remains sticking out of the fortune.

And then your Valentine can pull the tab and pull out their LOVE-ly fortune!
Here is this simple DIY in a fun video form:

Make one or make a bunch! These are sure to be a hit with all of your Valentines!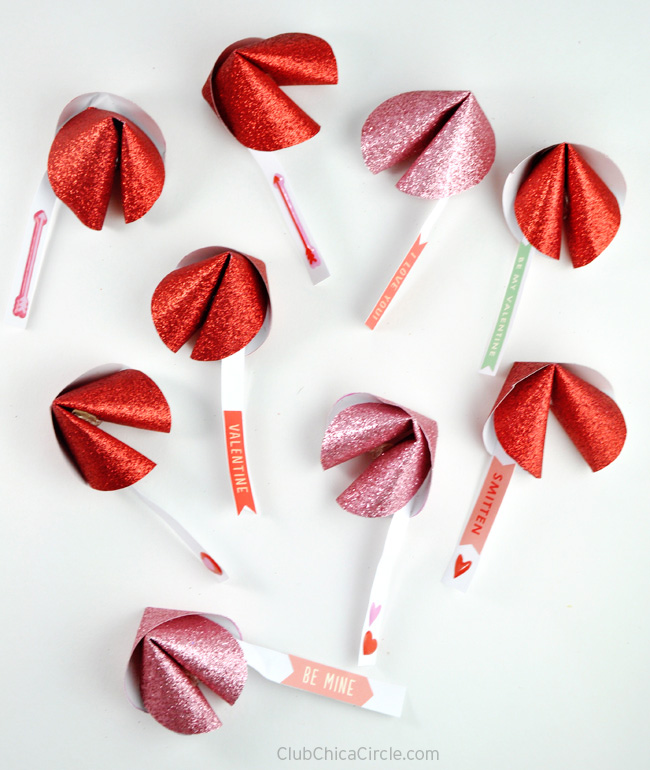 You can fill each with a different message, or just use the printable provided above.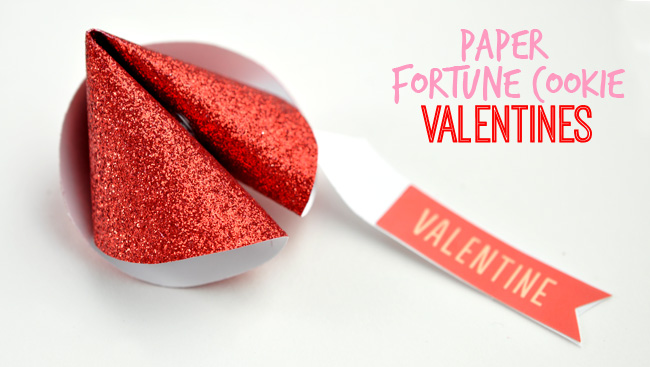 Will you be my Valentine?

Disclosure: This post is sponsored by Target. As always, ALL photographs, ideas, and opinions are completely my own.