5 days until St. Patrick's! Are you looking for any last minute craft and cute gift ideas for this lucky holiday? If so, read on….
You can take small clay pots and turn them into mini pots of gold or cute leprechaun hats filled with gold treats. I bought clay pots at my local Michaels. The smallest size, which is about 1.75″ in diameter at the top, were only a quarter each. The next size up, which is about 2.5″ in diameter at the top, were 50 cents.
I gathered a variety of materials to decorate the pots with including green pipe cleaners, green and black washi tape, mini clothespins, wood circles, heart foam shapes, green spray paint, green acrylic craft paint, gold metallic multisurface paint, and green bakers twine.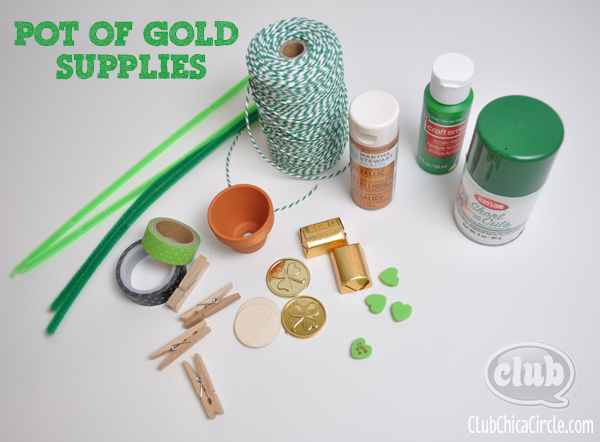 –
To fill my "pots 'o gold" I used Hershey's Gold Nuggets of chocolate covered almonds, and plastic gold coins. And I used my handy glue gun to attach items.
The ceramic clay pots have a perfect paintable surface. You can choose to spray paint green if making leprechaun hats, or leave as is for the pots of gold. They are actually the perfect color to resemble gold pots. For extra flair, you can also paint the outside of the pots with gold metallic paint.
I also chose to spray paint the mini clothespins to complement the whole craft, in which I attached cute rainbow tags to.
Here is the free printable, if you want to make your own St. Patrick's Day tags:
St. Patrick's Day smiling rainbow printable
The rest was just assembling each pot of gold once paint was dry an I had decorated each pot to my liking. Two golden Hershey's nuggets and a gold coin fit perfectly into each pot. And the colored mini clothespins with tags at the top were a perfect addition.
This would make a great classroom gift idea, or just a fun treat for a group of friends, or siblings to celebrate St. Patrick's Day.

It's like a mini shamrock pot of gold gift. = )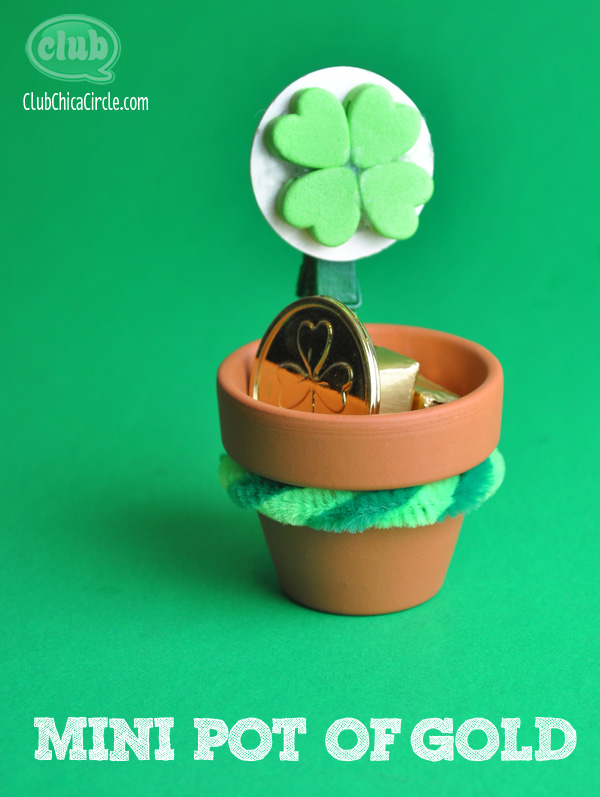 You can also use the bigger sized ceramic pots turned upside down for clever leprechaun hats. I painted them each green first. Then I used black polka-dot washi tape at the top of the rim and added some self-adhesive glittery gold foam in the shape of a buckle. I had plenty leftover from yesterday's leprechaun headband craft. And I used some heart shaped foam beads that were leftover from Valentines Day to create a shamrock at the top of the hat covering the hole.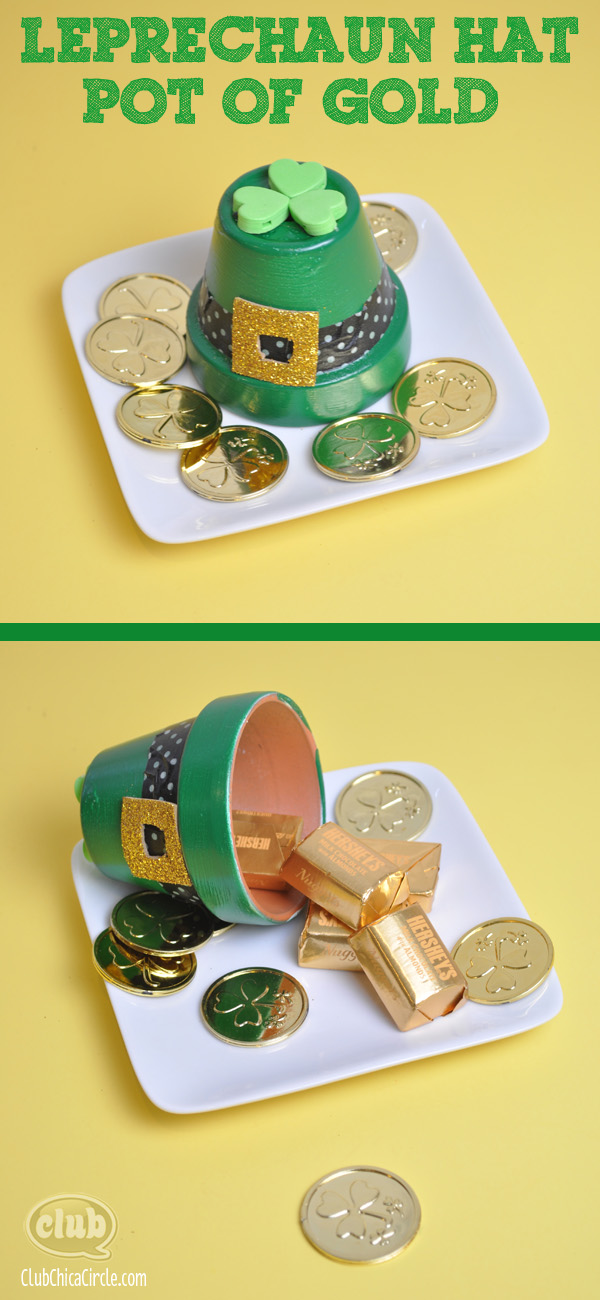 The best part is that when you pick up the hat, gold nuggets that are nestled inside tumble out for a fun surprise.
However you celebrate St. Patrick's Day, it's always lucky to find some gold nuggets, especially when they are chocolate!
Try this quick and easy craft idea today!
If you liked this post, and want more, you can subscribe to be on our mailing list here.
Feeling social? Follow ChicaCircle on Facebook or Twitter, and follow me on Pinterest or Instagram.