This post is sponsored in part by Cans Get You Cooking and Mom it Forward. All photographs, ideas, opinions are solely my own.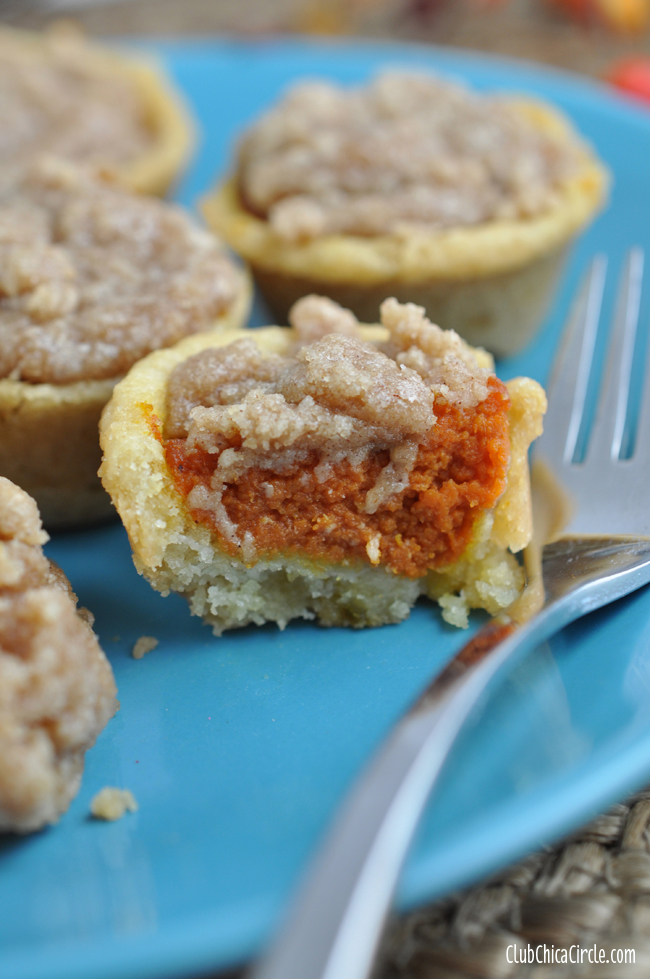 YUM!
Doesn't this mini pumpkin pie look delicious!
Guess what?! You can make these yummy Fall dessert pies with just a few ingredients. And to make it even easier, I started with a variety of canned fillings to make these yummy mini pies. Fall is just around the corner, so I wanted to use some of my favorite Fall flavors and turn them into super delicious bite-sized pies.
The hardest part is deciding what filling to put in each pie. I used a can of Candied Sweet Potatoes to make sweet potato pie, a can of Apple pie filling for apple pie, and a can of 100% Pumpkin for a super cute mini pumpkin pie.
I used refrigerated sugar cookie dough for the crusts, and also made a yummy cinnamon crumble that went really well with all three flavors.

Here is how I made these yummy Fall mini dessert pies:
First I divided one tube of refrigerated sugar cookie dough into 24 pieces. I cut the roll into 12 slices, then sliced those in half and rolled each into a ball.
Then I place each ball into a mini muffin pan that I sprayed with non-stick spray (you can also use mini cupcake liners)
I then baked the sugar cookie balls 15 minutes in a 350 degree oven until warm and soft.
While the sugar cookie crusts were baking, I made my cinnamon crumble – see ingredients and recipe below.
After 15 minutes, I pulled out the sugar cookies, which had spread out in each muffin tin, and pressed down the middle with the back of a tablespoon measuring spoon. This created a "pie well" to put the topping in.
I filled each sugar cookie crust with a tablespoon of my desired pie filling.
Then I placed a tablespoon of my cinnamon crumble topping on top and baked for another 10 minutes until warm and bubbly.
Cinnamon Crumble (adapted from Epicurious Cinnamon Crumble)
1 cup flour
1/2 cup sugar
1/4 cup packed brown sugar
1 1/2 teaspoons of cinnamon
1/2 salt
6 tablespoons of chilled unsalted butter cut into cubes
3 tablespoons of water
To make the crumble, first combine all of the dry ingredients in a bowl. Then with your fingers mix in the butter cubes until crumbly. Add the water until just moist.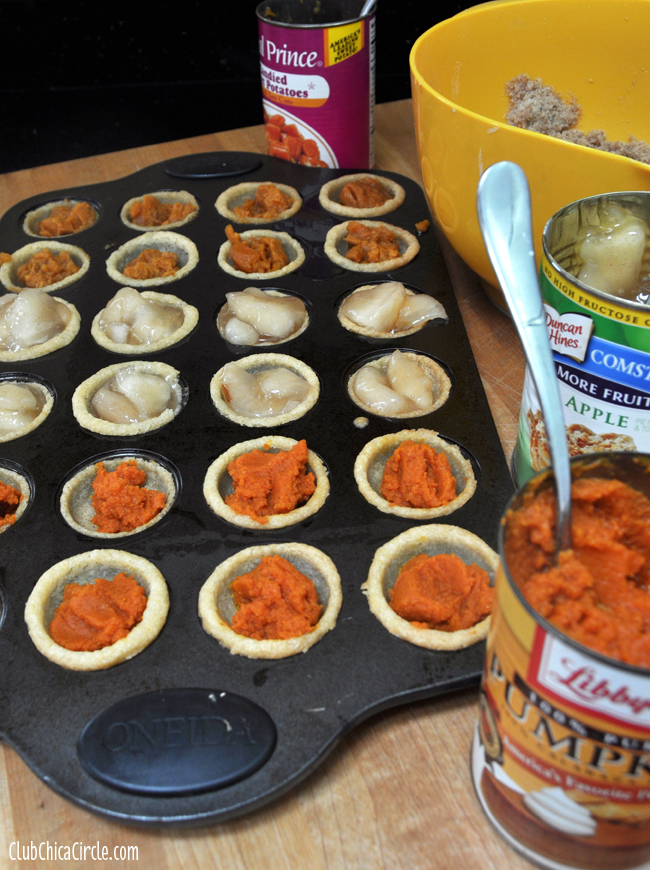 I told you I couldn't decide what kind of pie to make – so I made all three yummy flavors and saved the rest of the canned fillings for later.
The truth is, canned foods make homemade easy!
Using canned goods can help you save precious prep time!
A well-stocked pantry – your "cantry" – helps you make hearty, flavorful, nutritious recipes you can feel good about, anytime. For instance, check out my one-skillet chili recipe idea here using canned tomatoes and beans.
OK, can we talk about yummy these pies taste next to a scoop of vanilla ice cream!
I can't decide which one was my favorite pie. My daughter loved the cinnamon apple pie, but I think I loved the sweet potato pie the best!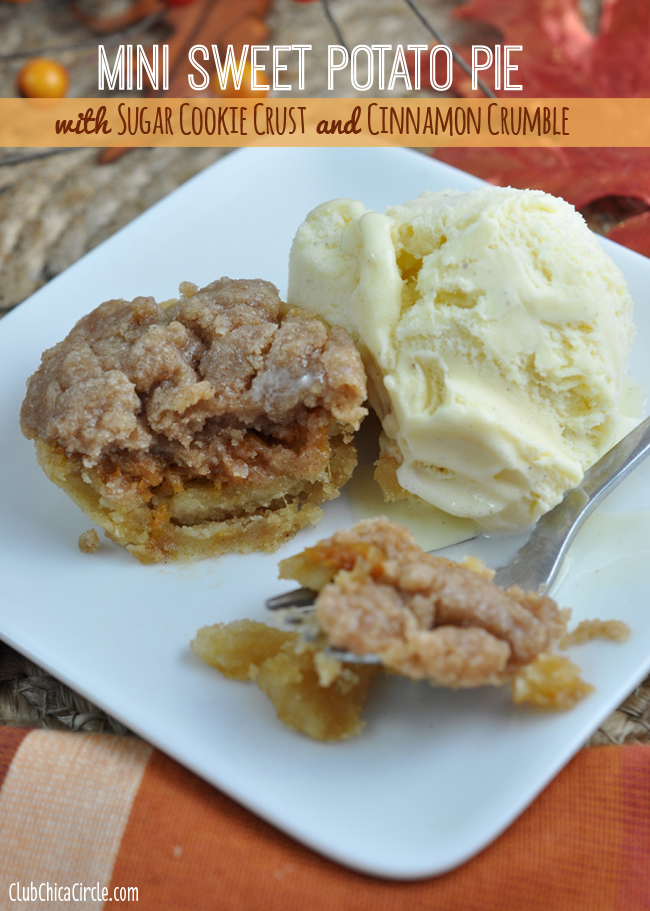 The candied sweet potatoes were a perfect compliment to the sugar cookie crust and the cinnamon crumble on top! And because I used canned filling it made this recipe sooooo easy to make!
The canning process locks in nutrients at the peak of ripeness—just hours after picking. Think about it, the process is the same as our grandparents and great grandparents used to preserve foods generations ago.
For more recipe ideas and information check out the Cans Get You Cooking website.
You can also connect with Cans Get You Cooking on Facebook, Twitter, Pinterest and YouTube.

Enjoy!
This post is sponsored in part by Cans Get You Cooking and Mom it Forward. All photographs, ideas, opinions are solely my own.