I love no-bake truffles! They are so easy to make and a lovely little treat. My homemade pink truffles were a hit on Valentines Day. Once I saw these cake batter truffles from Six Sisters' Stuff, I knew they would make a perfect birthday party centerpiece and treat for the birthday party we recently held for my husband and daughter. But instead of the truffle balls, I wanted to make them look like mini birthday cakes.
I'm a huge fan of easy, delicious, and no-bake treats, especially for a party. When you are running around trying to organize so many other things for a party you may be throwing, quick and easy treats are the ticket. These were a huge crowd pleaser, and made for a really pretty and festive table centerpiece.
Here is how to make them. Recipe adapted from Six Sisters' Stuff.
Mix together:

The batter should be a nice crumbly, but moist consistency. Then roll into log shapes about 2″ diameter. This made two cake batter logs for me.
Refrigerate and let harden for about a half an hour. Then slice each cake batter log, just like you would a banana, in about 1″ pieces.
Melt candy melts of choice to coat the cake batter pieces. I used Dark Cocoa Candy Melts, being the chocolate loving family that we are, but I am sure this would fabulous in a different color as well. I melted my candy melts in the microwave for about a minute, stirred, and then microwaved another 30 seconds to make sure all the chocolate was melted. You can add a little canola oil to the candy melts to make the consistency a little thinner if you choose. Sometimes this helps to work with when coating something.
Using two spoons, I coated each cake batter dough piece with the chocolate and placed on a parchment lined baking sheet. I would drop one cake batter disk in the melted chocolate at a time, and flip and move around until fully coated. After they were all coated, they went back into the refrigerator for about 1o minutes for the chocolate to set back up. When the chocolate coated cake batter disks were set, I pulled them out of the refrigerator and prepared for the final steps.
In a second bowl, I melted Colorburst Pastels Candy Melts. Just like the Funfetti cake batter, these are white with small color flecks—a perfect combo to the Funfetti cake batter centers!
I used a spoon to drip the white candy melts over the top so that a little white candy melt dripped along the sides of the mini cake batter cakes. Finally, I finished off with rainbow sprinkles on top. Lovely! Very festive looking, especially for a birthday party.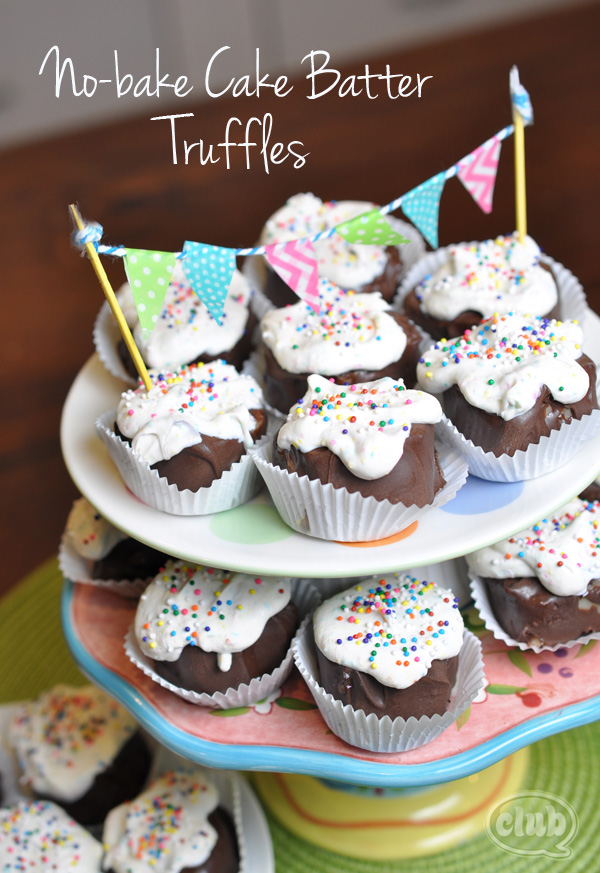 I arranged them on a mini cake tray and small plates. This recipe made about 35-40 truffles in total for me.
I couldn't resist putting a little bunting banner I made with washi tape triangle flags strung on bakers twine between two toothpicks. The yummy centerpiece was complete!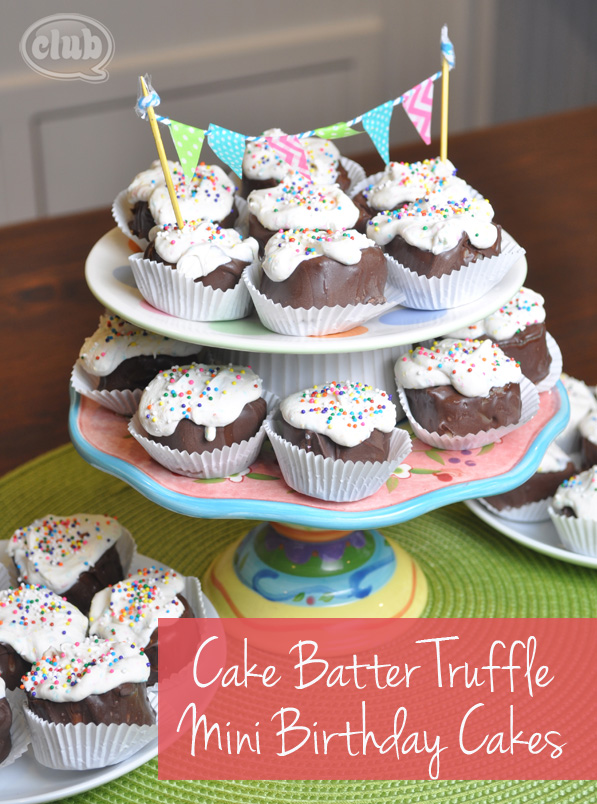 Try this recipe at your next party or event. Warning, they are very yummy, and very rich. They may be mini, but they sure pack a sweet punch.
Enjoy! Happy crafting!
If you liked this post, and want more, you can subscribe to be on our mailing list here.