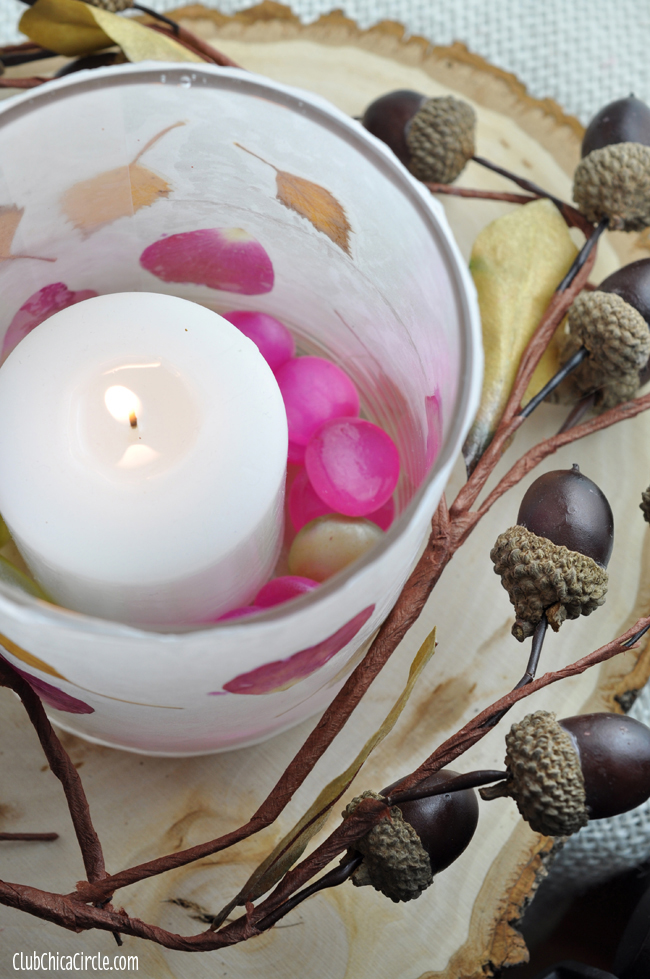 I love how beautiful these nature votive candle holders turned out! And they are so easy to make, the kids can help. It involves a couple kitchen supplies, a few pieces of nature, and an iron. These would make a really pretty addition to any Thanksgiving table.
First step – go for a nature walk and collect leaves and flower petals.
This is what I collected recently around my neighborhood. I found the perfect small leaves that had some beautiful Fall color in them, and a rose bush where I collected the fallen flower petals.
Make sure when you collect your leaves, that they are still a bit fresh and not dried out or brittle. This craft would of course work with silk leaves and flower petals, as long as they are thin enough and flexible enough. I wouldn't use ones that have wires in them or anything.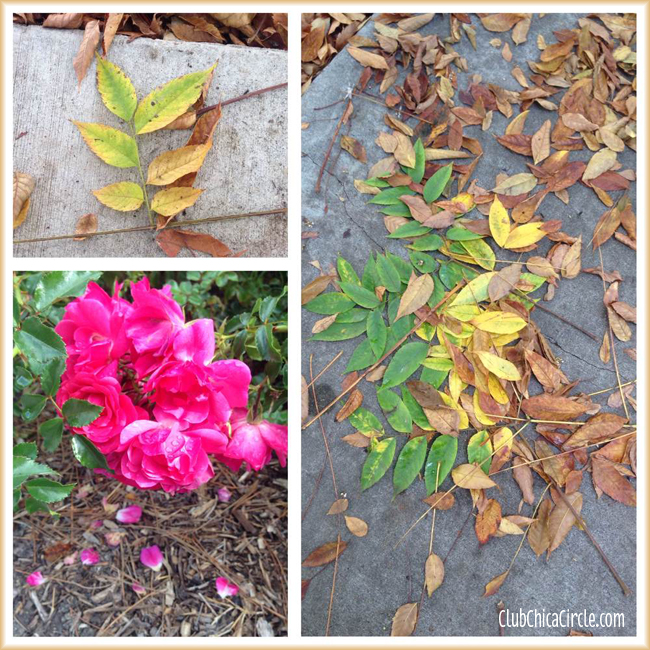 Then these are the basic supplies you will need:
Wax paper
Parchment paper
Glass candle holder or small vase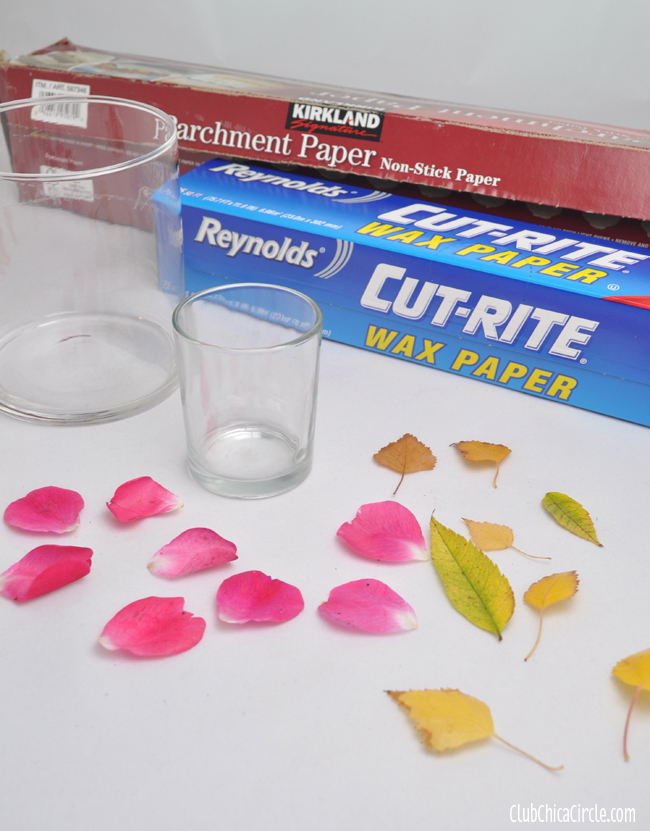 After you have collected your gems from nature, you will need to do a little math. Depending on how big your glass candle holder is, you will need a piece of wax paper that fits the full circumference plus an extra 1/2″, and that is twice the height.
For instance, my small votive candle holder is 2 1/2″ tall and has a circumference of 6″. So I needed to cut a piece of wax paper that is 5″ x 6 1/2″. I used my X-acto knife and a straight edge on a self-healing mat to cut my wax paper rectangles for each candle holder.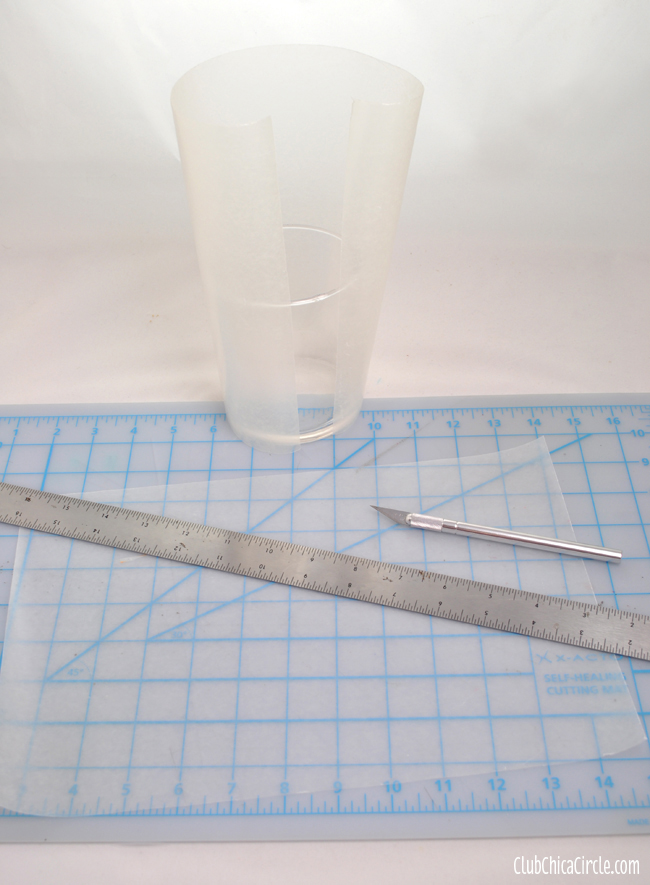 Once you have your cut pieces of wax paper, fold them in half lengthwise and sandwich your petals and leaves in between. Make a nice straight fold crease edge.
Position them how would like to see them shine through a candle. This is what is going to wrap around your glass vase.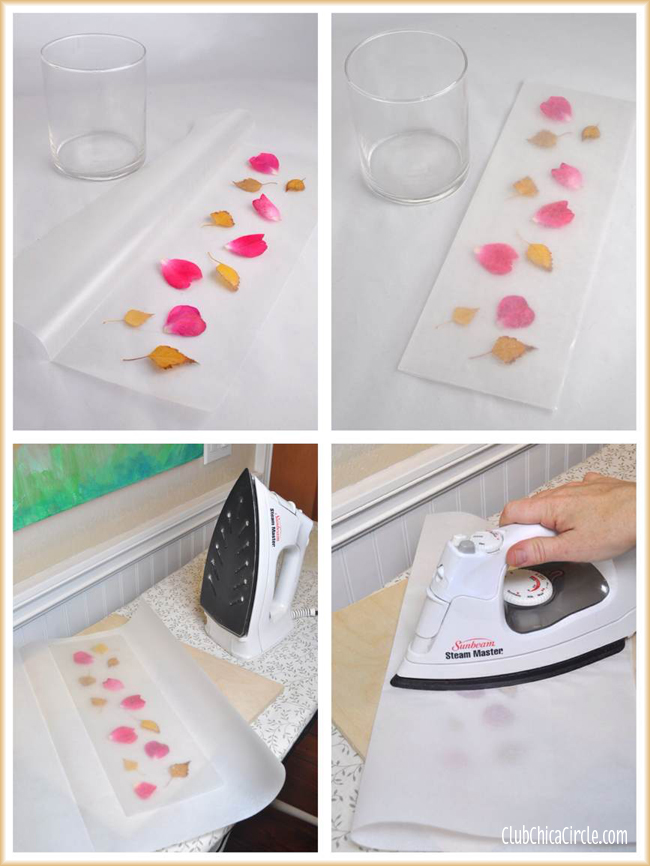 Then place your wax paper onto a hard surface (I used a hard piece of plywood) in between a layer of parchment paper. With a hot dry iron, I used consistent pressure to melt the wax paper. The parchment paper acts as a protective barrier for the iron and your surface since it doesn't melt.
You only need a couple of seconds to melt the wax paper. The melted wax paper will sandwich and secure the petals and leaves in between the top and bottom layer.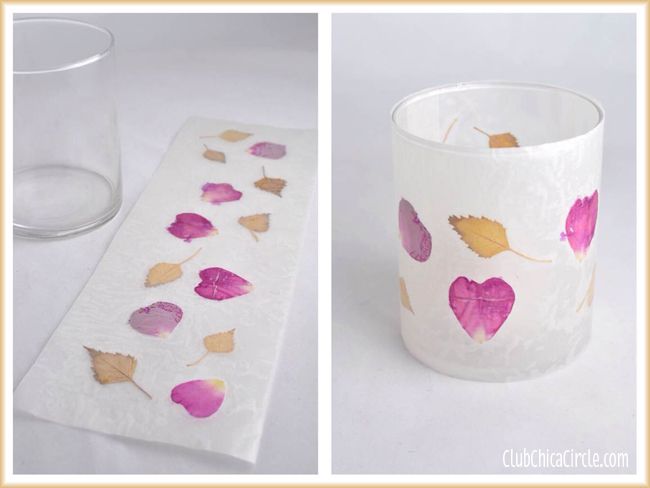 Then, simply wrap around your glass votive and secure with a piece of tape.
I used a double-sided tape roller, but a clear piece of tape will work too.
Fill with your vase with a candle and extra glass baubles if desired.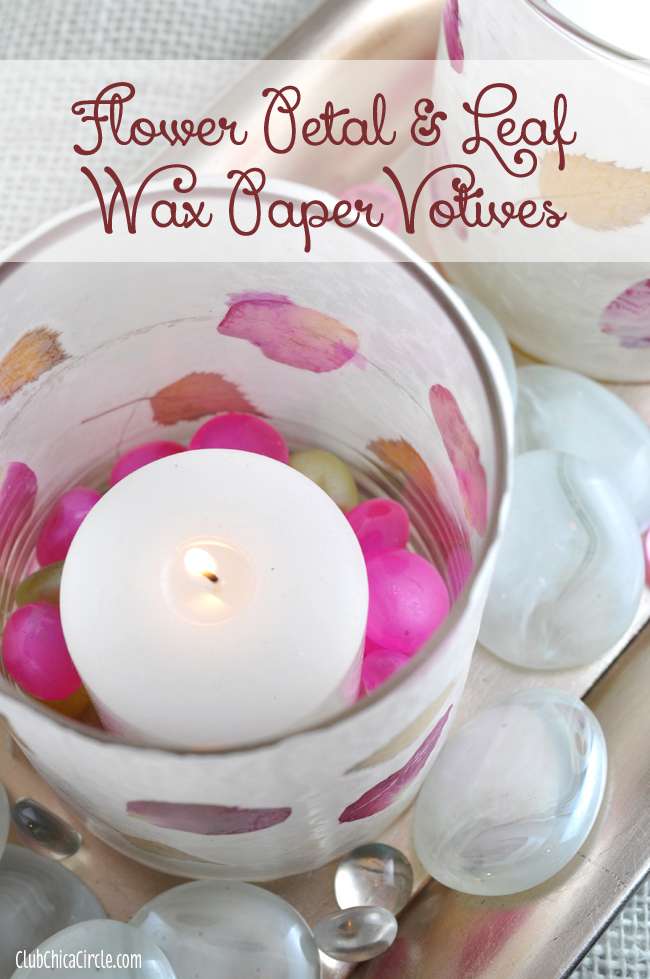 Then style as desired. For instance, I placed two of them on a rectangle charger plate with more glass stones.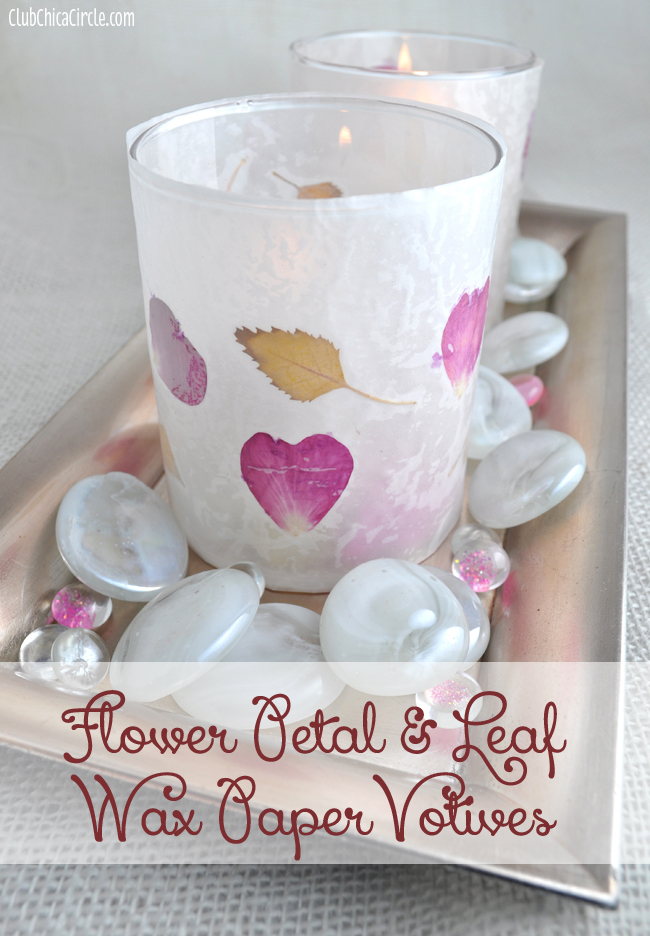 As the candlelight shines through, you see the glow through the flower petals and leaves.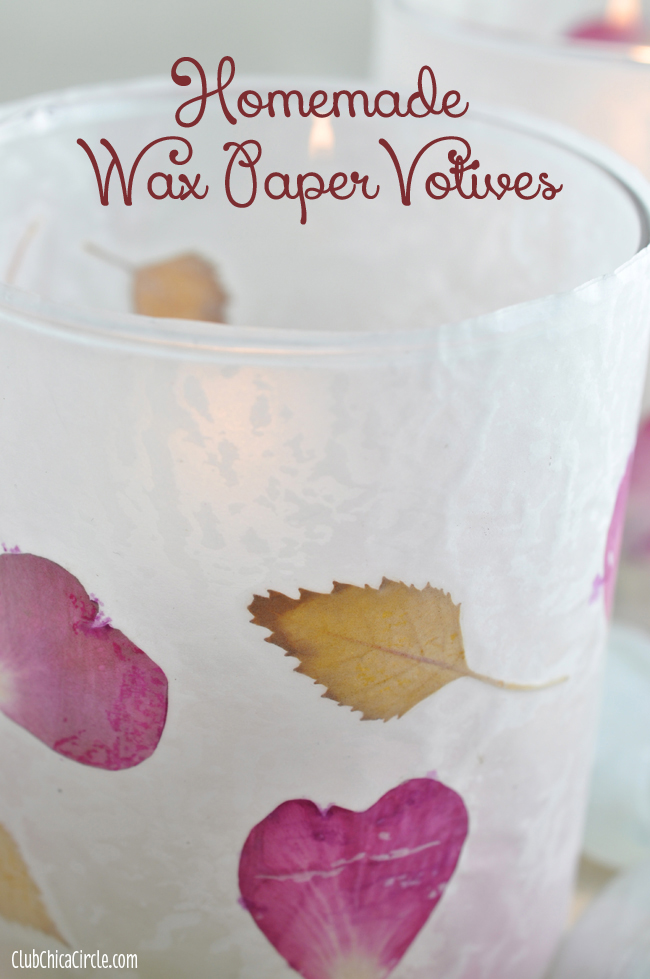 This handmade luminary sleeve is the perfect way to dress up any candle. And it's so easy to change out and make different luminary candle wax paper sleeves.
It even looks great with smaller votive candle holder and a battery operated candle.
These would look great just placed all down the middle of your Thanksgiving table, or on a mantel shelf.
So go for a walk, and get the whole family involved in make this beautiful and simple nature craft idea!
Happy crafting!
If you liked this post, and want more, you can subscribe to be on our mailing list here, and make sure to get your free Cupcake Toppers Printables for Every Occasion.

Feeling social? Follow ChicaCircle on Facebook or Twitter, and follow me on Pinterest or Instagram.