Disclosure: this post is brought to you in part by SunChips. As always, all ideas, opinions, and images are solely my own.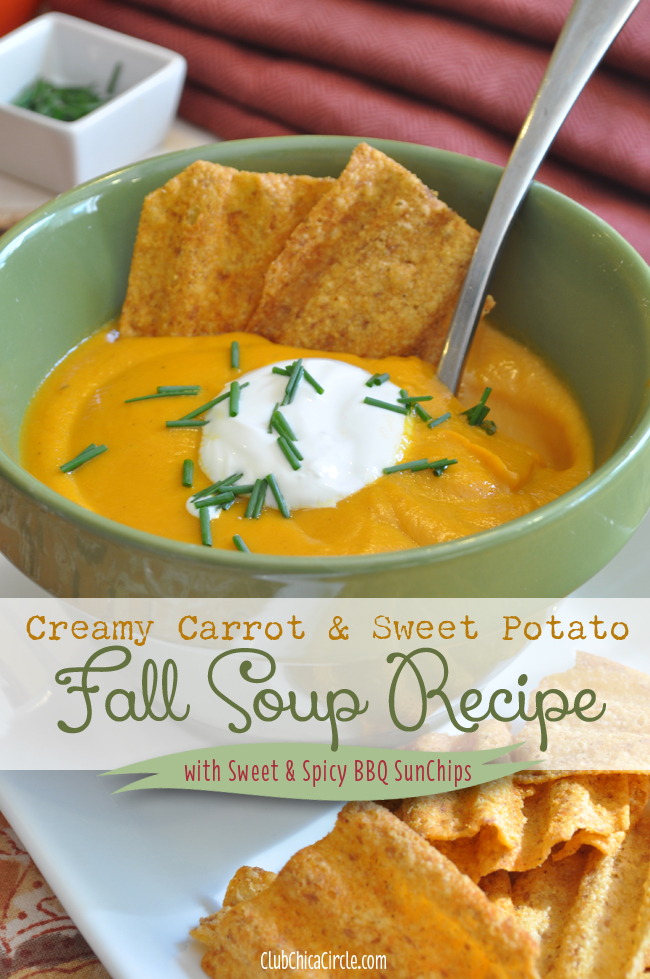 When I was asked to try the new Sweet & Spicy BBQ flavor of SunChips and pair it with a Fall recipe, I knew I wanted to make a yummy comforting soup.
These SunChips are still the same fun shaped whole grain snack chips with wavy ridges, but this new flavor is sweet and tangy like BBQ sauce, but the heat builds at the end giving it a little kick.
So, they make a perfect pairing with this creamy carrot and sweet potato Fall soup idea. My family and I love sweet potatoes! And trust me, even picking eaters will love this creamy delicious soup made with sweet potatoes, carrots, and onion.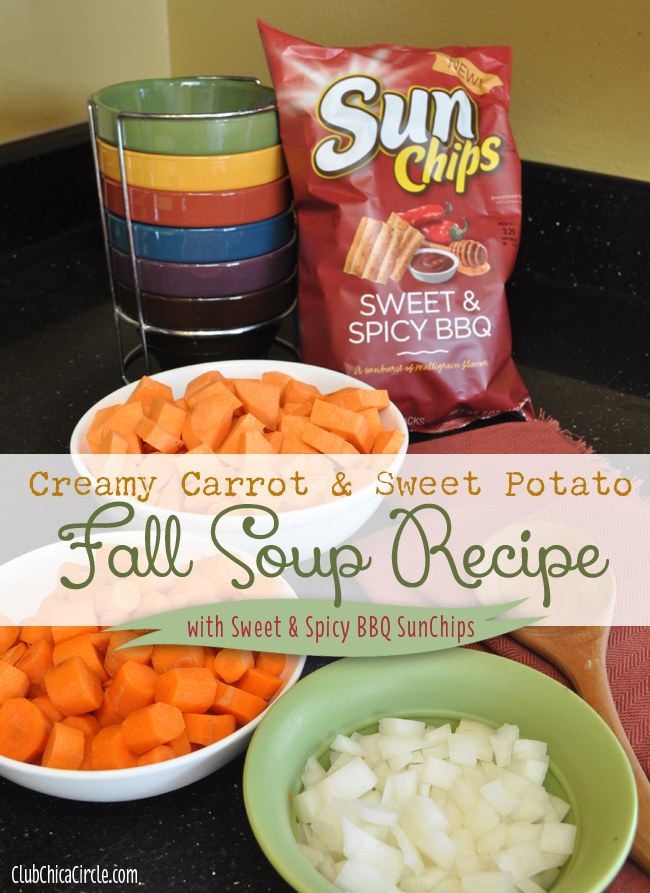 Here is exactly what I used to make this creamy Fall soup, adapted from MyRecipes.
1 cup of chopped onion
4 medium sized sweet potatoes peeled and chopped (about 4 3/4 cups or 1 1/2 lbs)
1 lb bag of carrots peeled and chopped (about 3 cups)
3 tablespoons of butter (divided)
1/4 teaspoon ground cinnamon
1/4 teaspoon of smoked paprika
2 cups water
3 cups low-sodium chicken broth
1/4 cup sour cream to mix in soup (additional for serving and garnishing at the end)
1/2 teaspoon of salt
1/4 teaspoon of ground black pepper
fresh cut chives or green onions for garnish (optional)
After I chopped up the onions, carrots, and sweet potatoes, it was time to put it all together.
In a Dutch oven or a large pot, sauté the onion with 1 tbsp of butter until they are cooked, tender and slightly translucent. Add the cinnamon and smoked paprika. The smell at this point is lovely!
Push the onions to the side of your pan. Then add the additional 2 tbsp of butter and brown it slightly.
Then add the sweet potatoes, carrots, water, and chicken broth and bring to a boil. Cover, reduce the heat, and simmer for about 35 minutes until veggies are nice and soft.
Now, its time make your soup creamy and smooth! Place your soup in 2 batches into your blender, with the center piece of the lid removed to allow the steam to escape. Blend each batch until smooth and then combine back into your pot, or into your serving bowl.
The final step is to stir in the salt, pepper, and 1/4 cup of sour cream into the creamy soup.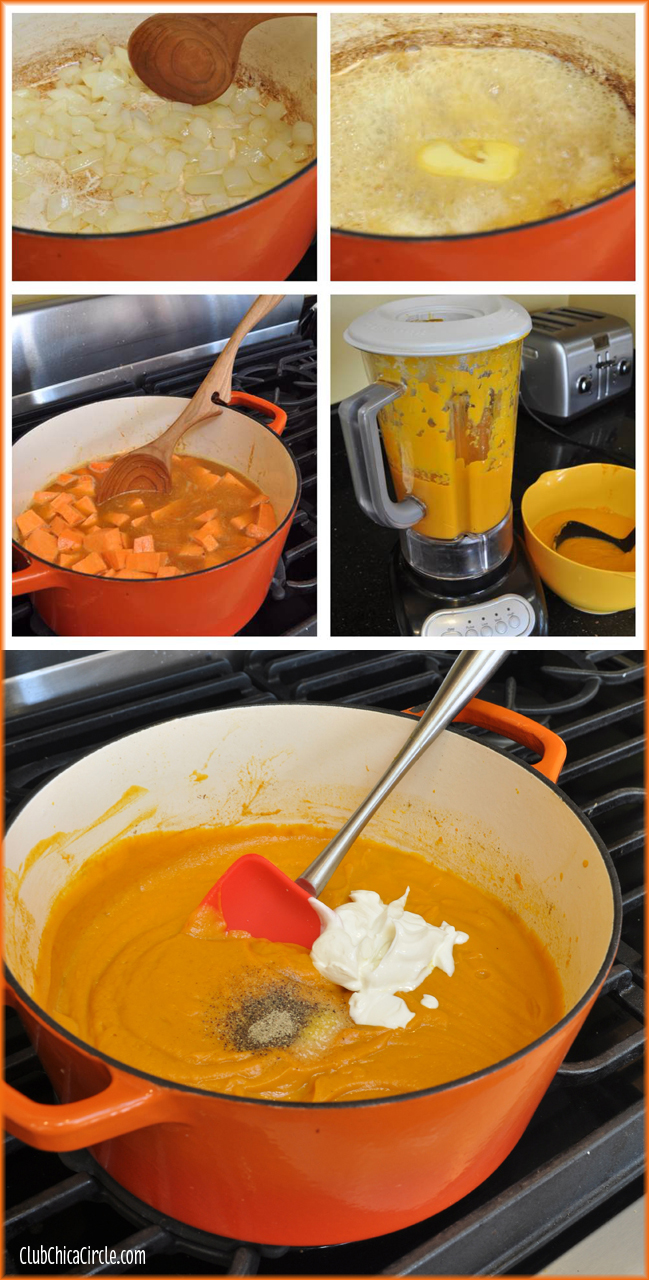 Then you can serve with extra sour cream  and chives or green onions to dress up your soup, and of course the Sweet & Spicy BBQ SunChips.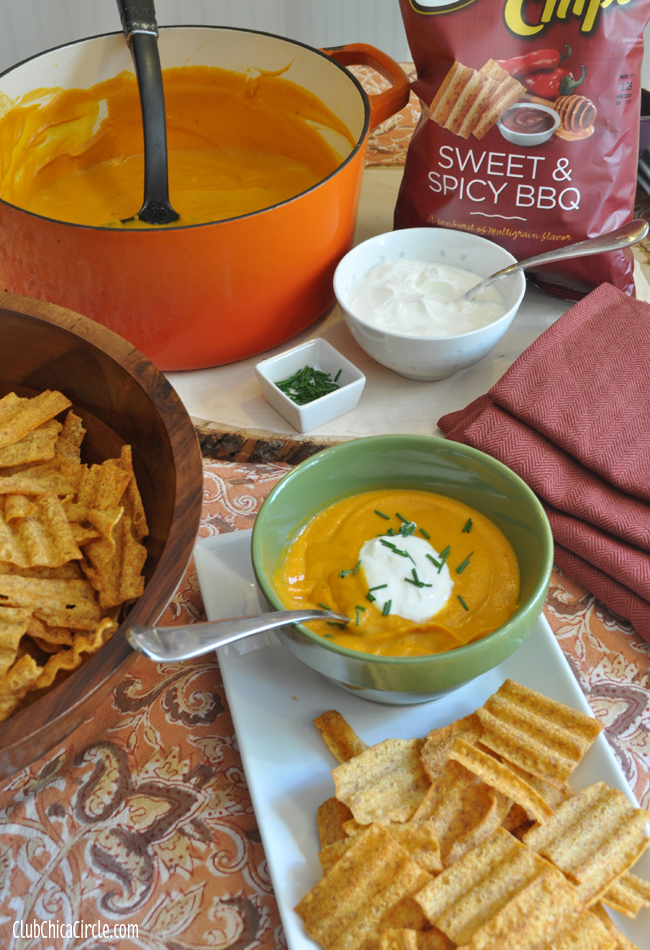 Spoon about 1 cup into your bowl, and add a little dollop of sour cream and sprinkle with some fresh chives. The SunChips make a yummy crouton and compliment the Fall flavors beautifully.
The sweet & spiciness adds a nice kick to the soup, and the creamy super yummy soup adds a nice calming effect on the spice of the chips.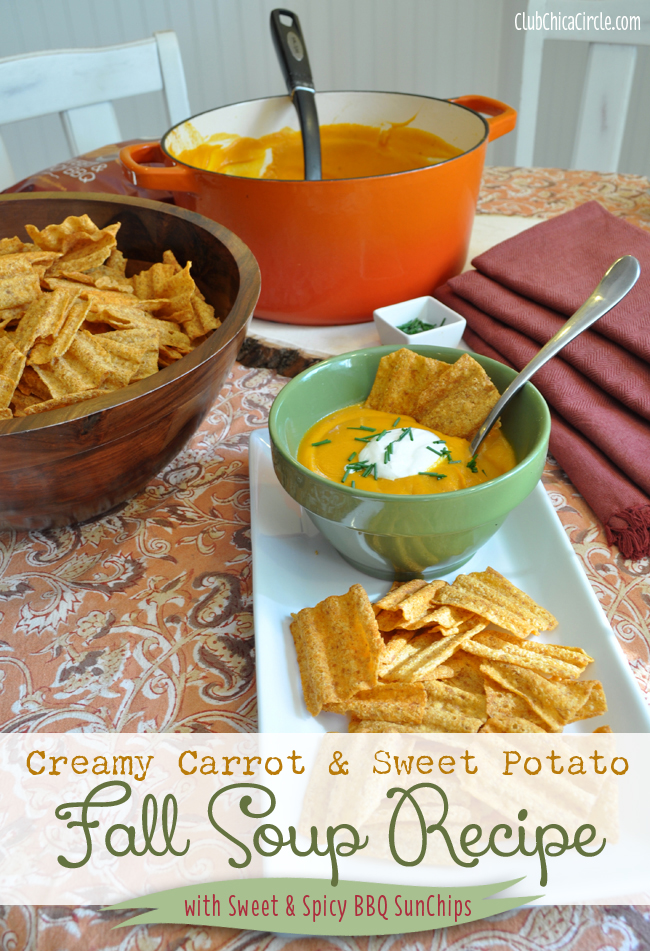 Try the new Sweet & Spicy BBQ SunChips with this Fall Soup, or by themselves.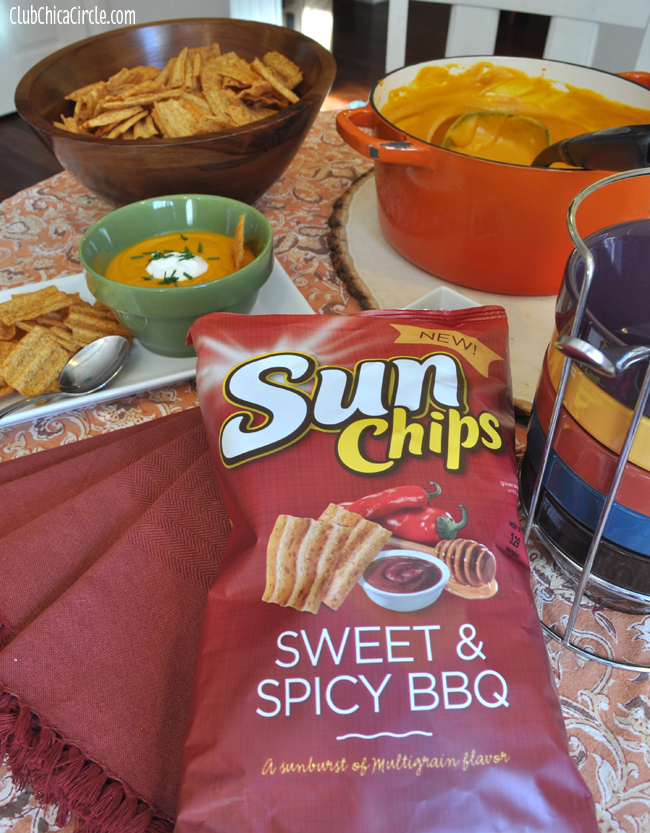 You won't be disappointed.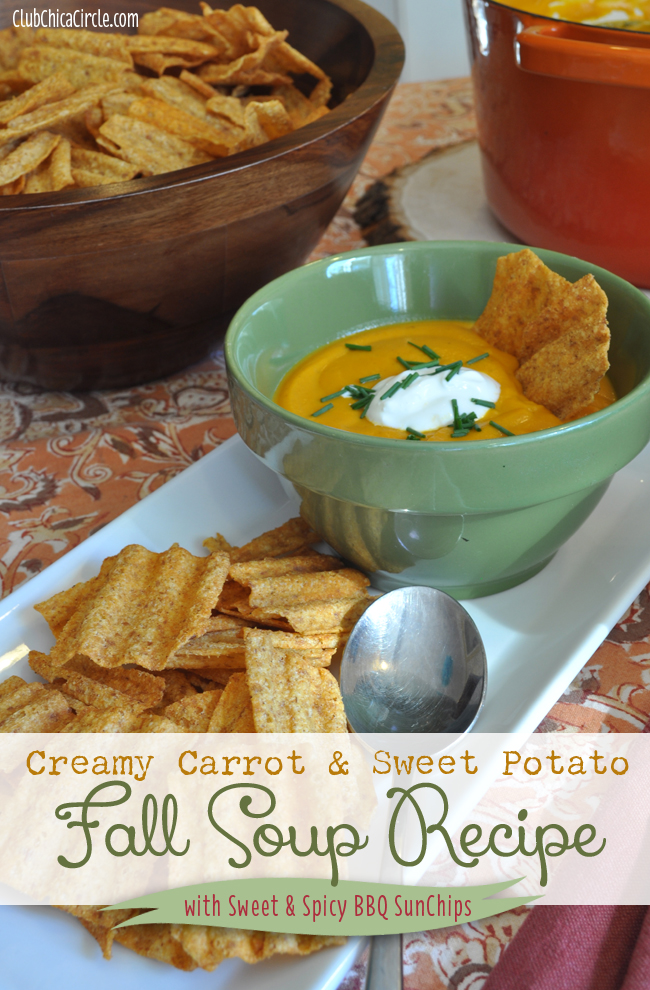 You can connect with SunChips on Facebook or Twitter and find more recipe ideas.
Enjoy!
If you liked this post, and want more, you can subscribe to be on our mailing list here.
Feeling social? Follow ChicaCircle on Facebook or Twitter, and follow me on Pinterest or Instagram.