I received this post opportunity as a member of the Mom it Forward Blogger Network. Mom it Forward and DOLE have partnered together for the #GameDayGreat campaign. I have been compensated by DOLE for this post, but the opinions are entirely my own and the smiles on my kids' faces (and mine behind the camera) are genuine.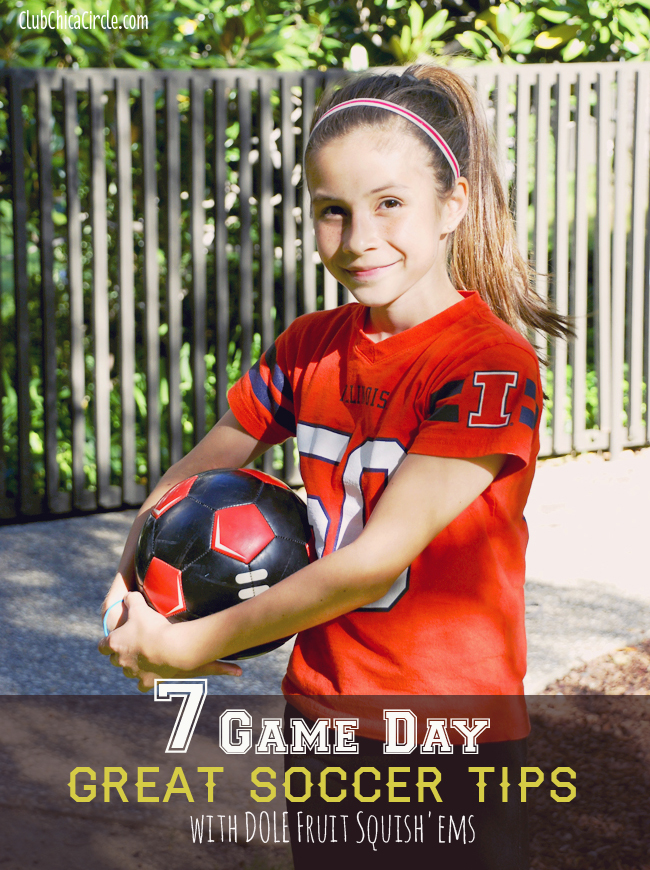 Soccer game day in our family happens almost every weekend and it definitely gets a little crazy juggling one or two games while also navigating schedules and energy levels with three very active kids. I know we are not the only busy family out there – so I am sharing our top 7 tips to make soccer game day great!
A few of the tips are from one of our soccer heroes – Brandi Chastain – and a few are from our own game day family rituals. Brandi is a two-time FIFA Women's World Cup winner and a soccer mom, herself. (It seems like just yesterday I was jumping up and down watching Brandi kick the game-winning penalty kick against China during the 1999 FIFA Women's World Cup!)
Be sure to scroll to the bottom to learn how you can keep up with more tips and a chance to win *$5,000* and your own supply of DOLE Fruit Squish'ems through GameDayGreat.com. Bonus: Everyone gets a coupon just by entering!
7 Game Day Great Soccer Tips:
Tip #1 – Get hydrated early and often
It is already in the 90's here in California and H-O-T. Whether you have the same heat or not, the kids can easily become dehydrated with all of the running and sweating. Our daughter, Miranda, has a ritual of drinking at least 80 oz. of water the day before a game. On game day, she continues to drink to maintain hydration, but already is starting the day strong by being hydrated from the start.
Tip #2 – Fuel up with the right foods
After proper hydration, the right mix of food can make the difference between a sluggish game or a super-powered game. On game day, Miranda avoids heavy foods like bagels or hamburgers, especially the two hours before a game. She does need to maintain her energy, so she stays charged with fruit as game time approaches. (Hint: Each DOLE Fruit Squish'ems is a great choice representing a full serving of fruit with no high fructose corn syrup and no artificial flavors.)
DOLE Fruit Squish'ems in action scaring away the hunger monster: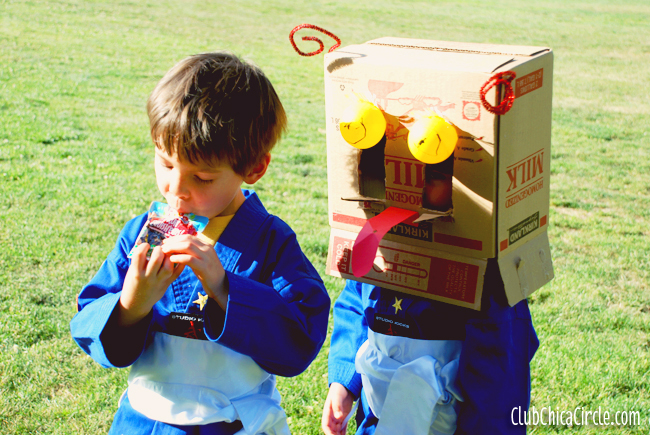 Keeping fueled with energy foods: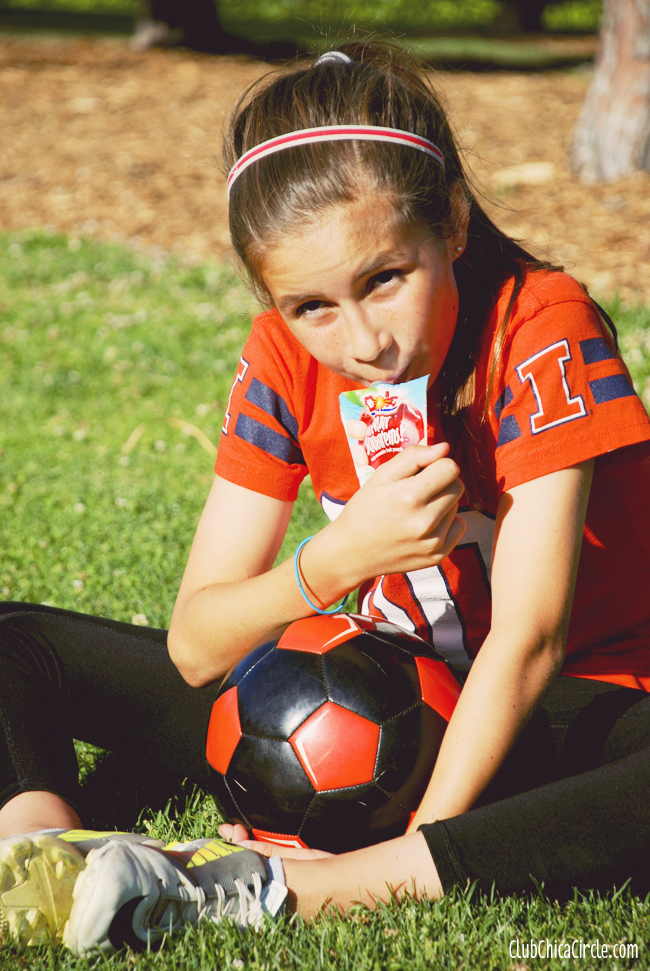 Tip #3 – Pump up with high energy music
This tip is one from Brandi Chastain's tip list and is also one of our own family rituals. On the drive to the soccer game, we turn up the high energy music loud and proud to pump up the whole family (which is especially important for early morning or late afternoon games).
Our partial playlist:
Tip #4 – Keep the rest of the family engaged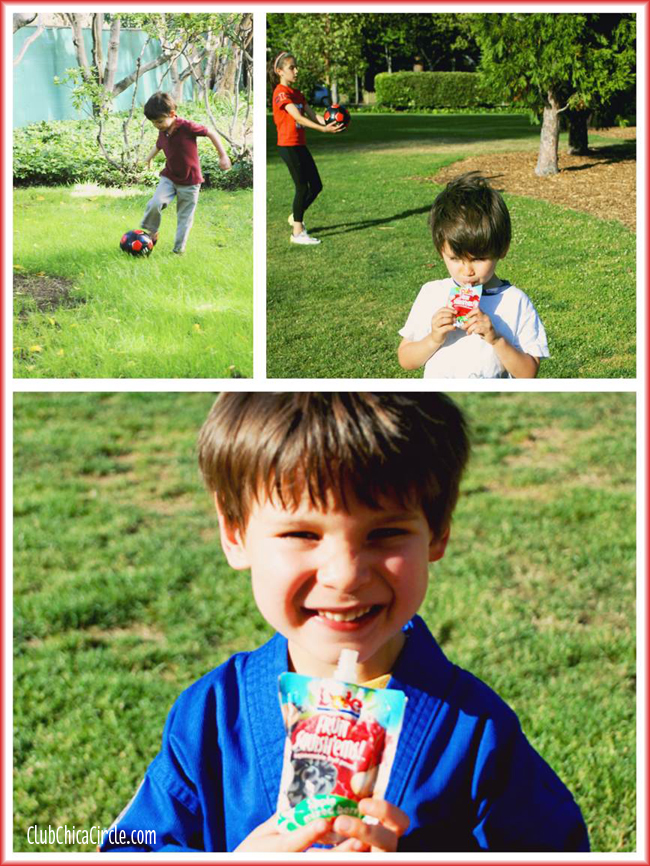 As much as our daughter would love focused time alone to practice her skills, sometimes her twin brothers need to be part of the action. If you can't beat them – join them! We bring extra balls and snacks to keep everyone active and happy.
Tip #5 – Practice ball handling skills 5X/week but keep it fun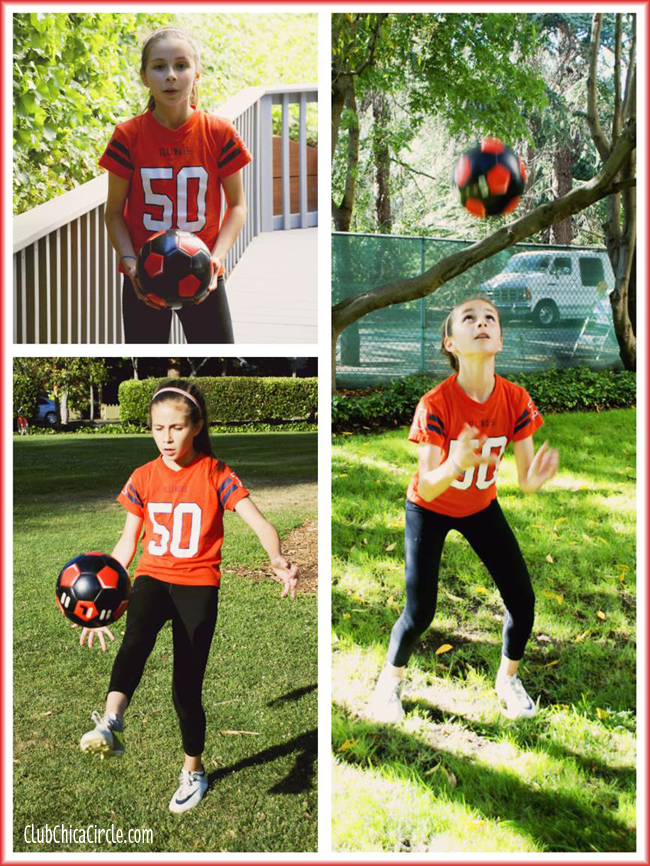 This is the first season that Miranda has been laser-focused on her ball handling skills. She takes every opportunity to fit in some ball juggling to increase her overall count. Her goal by the end of this summer is to juggle 100 times without dropping the ball. To keep it fun, she challenges herself to hit a certain number for the day. For those just starting out, a juggling net is helpful.
Tip #6 – Pack the sideline bag with water, snacks and bubbles
My daughter has her own soccer bag packing skills finely honed (hair bands, both colors of jerseys, extra socks, water, sunscreen) – but we make game day great for the family on the sideline by packing our own bag ahead of time. Water and DOLE Fruit Squish'ems are easy to pack ahead of time and I feel good packing a healthy snack. I pack the full variety of flavors as Xavier wants apple, while Sebastian wants apple strawberry and Miranda wants apple mixed berry.
The bonus item we pack is touchable bubbles. I am challenged by wanting to watch my daughter's game with one eye while keeping another eye on our 4-year old twins. When I would give them their own balls or frisbees, the toys would inevitably end up on the soccer field disrupting the game.  Touchable bubbles is my easily portable solution that brings lots of smiles and are easy to share with other sideline siblings (bring extra!) Regular bubbles would work, but I have found touchable bubbles to be easier to handle with smaller hands and more fun as the bubbles take much longer to pop.
Tip #7 – Bring cooling towels on extra hot days
Have I said yet how H-O-T it is already here? This tip is from our coaches who encourage a parent to bring a cooler filled with damp cold washcloths. During the game, the girls can stay cool with the washcloths (which is more refreshing than pouring water on your head).
Go Team!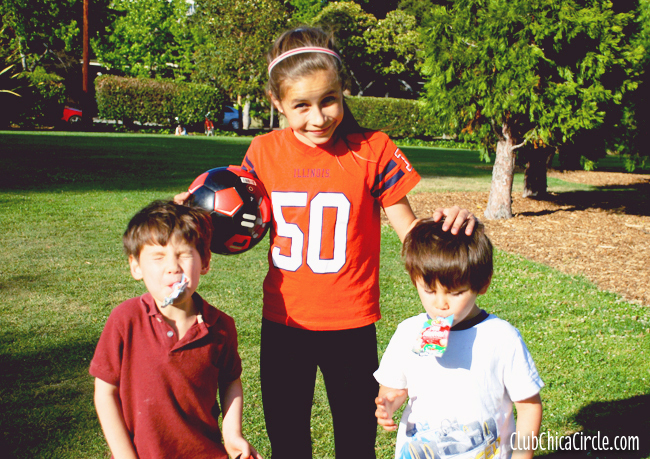 \
Official AYSO Snack
Did you know that this is a BIG year for AYSO (American Youth Soccer Organization)?  AYSO is celebrating their 50th anniversary this year. DOLE Fruit Squish'ems are the official snack of AYSO and you will find them at AYSO events across the country this season. The AYSO National Games are in Southern California on June 29-July 7th, 2014.  Will you be there?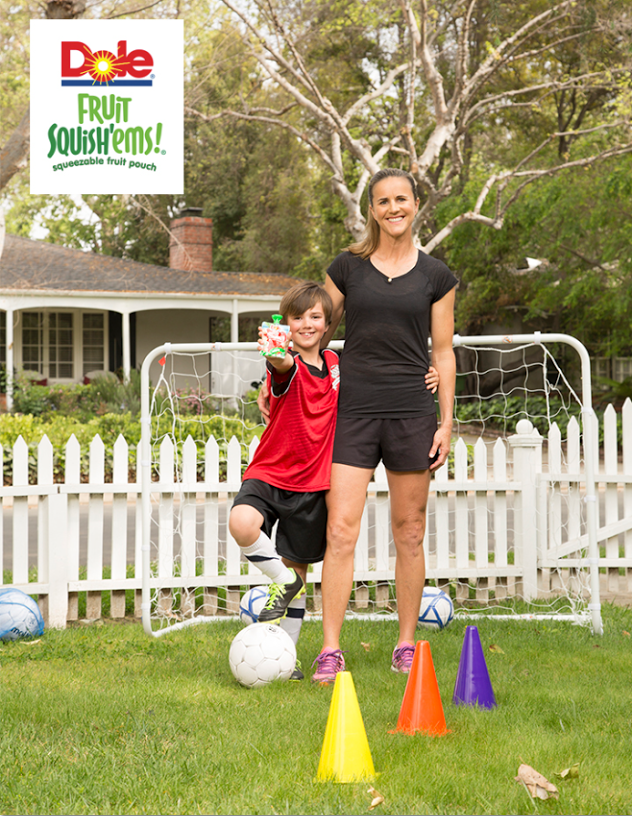 What are your game day tips to make it great? Be sure to head over to GameDayGreat.com to share your tips and be entered for a *$5,000 prize* and a season's supply of DOLE Fruit Squish'ems!  You can also keep up with DOLE's tips and promotions through Facebook and Twitter. Brandi Chastain will also be adding more videos throughout the summer sharing her #GameDayGreat soccer tips on YouTube.