It's so easy to send some friendly St. Patrick's Day greetings, especially with this simple, fun paper craft for kids. You don't have to be Irish to feel lucky to have good friends or family – and this is a perfect festive way to spread some St. Patty day cheer!
All you need is a pencil with an eraser, a green stamp pad, green fine-tip marker, an XACTO knife (have a adult/parent help with this tool), and some blank cards or stationery.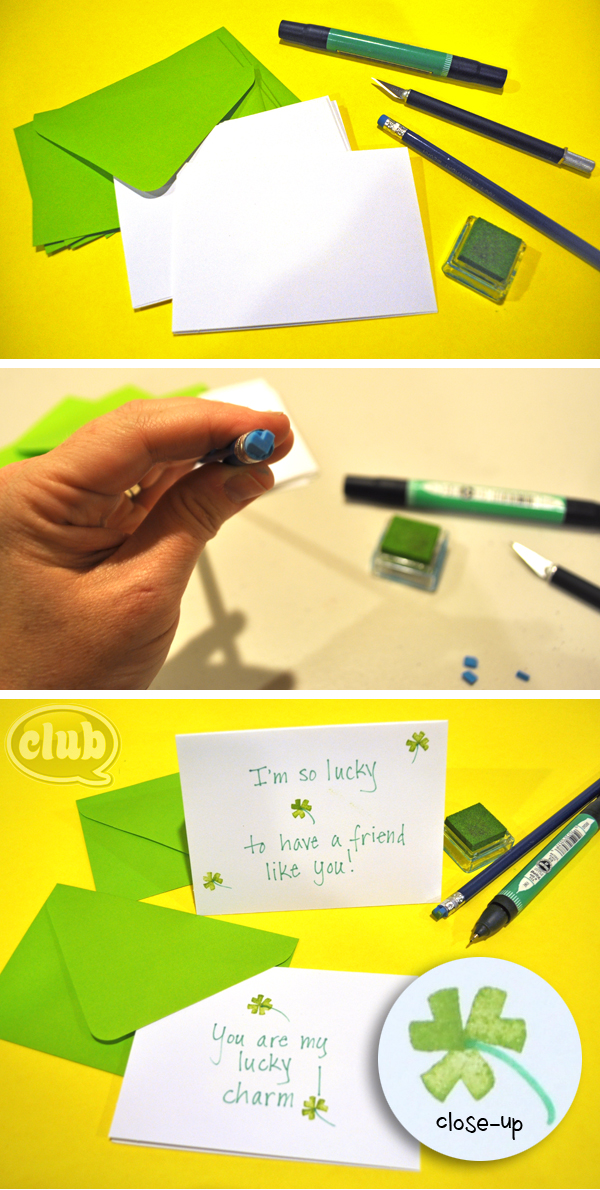 The first step is to make a homemade stamp from the end of an pencil eraser. The end of an eraser is a really soft rubber, and a sharp XACTO knife will easily cut through it. You will want to create a heart shape out of the eraser. Simply cut a large "V" on one side of the eraser, and a smaller "V" shape on the opposite side to create a heart shape. This will be your shamrock leaf.
Then dip the end of the eraser onto a green stamp pad and stamp onto blank cards. Create 3 and 4 leaf clovers by stamping the heart shape around in a circle with the bottom tips of the heart stamp shapes touching in the middle. Finish off by drawing in a small stem on the shamrock clovers and write a message on the front of your card. Some suggestions are: "You are my lucky charm!" or "I am so lucky to have a friend like you!"
Be creative, and have fun making up your own lucky messages. So get crafting and send some Irish cheer this St. Patty's Day!
And, just a little heads up… the Spring Ezine includes in the FREE printables with Shamrock and Spring themed cards and coordinating envelopes will be included. Make sure you are on the mailing list, and you won't miss out on these and many other exclusive craft ideas, printables, activities and puzzles!
I'm a crafty mompreneur with an affinity for pink. With a fine arts degree, over 15 years experience in children's publishing, and a savvy, stylish, sassy tween daughter, I come armed with perspective and passion to inspire tween girls and their mothers through creativity.
Latest posts by Pauline Molinari (see all)