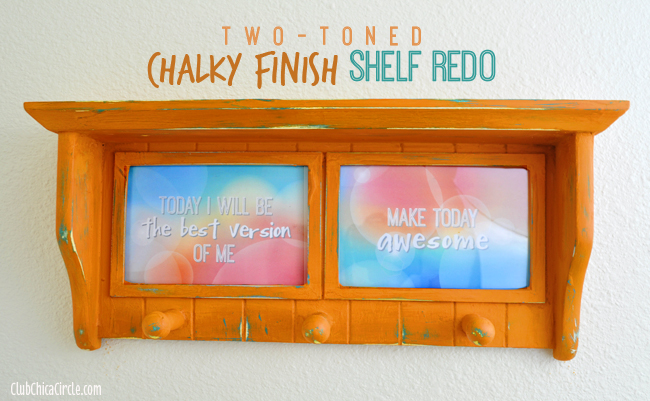 As my daughter gets older, so does her room décor style. I have held onto this hanging picture shelf (that used to be part of her baby room décor) in storage just waiting for the perfect redo! I can't believe how time flies. As my girl grows into a young lady, always evolving and changing her style, so does her room.
This mini shelf looked so cute in her room when she was younger, but now It definitely is in definite need of a new color palette and a new look. I chose to use some of my favorite chalky finish paints. I used these chalky finish paints in a number of home decor projects like this upcycled cabinet door turned chalkboard, or even when I updated a beach bag with fun chevron stripes. I've used them on both wood and fabric.
The baby yellow, blue and green no longer fit with any of our room décor color palettes, so it was time for a drastic change. I also wanted to try a subtle two-toned effect using very different complimentary colors. I chose the really vibrant and pretty tone of Americana Décor Chalky Finish Treasure blue and the warm orange tone of Heritage orange.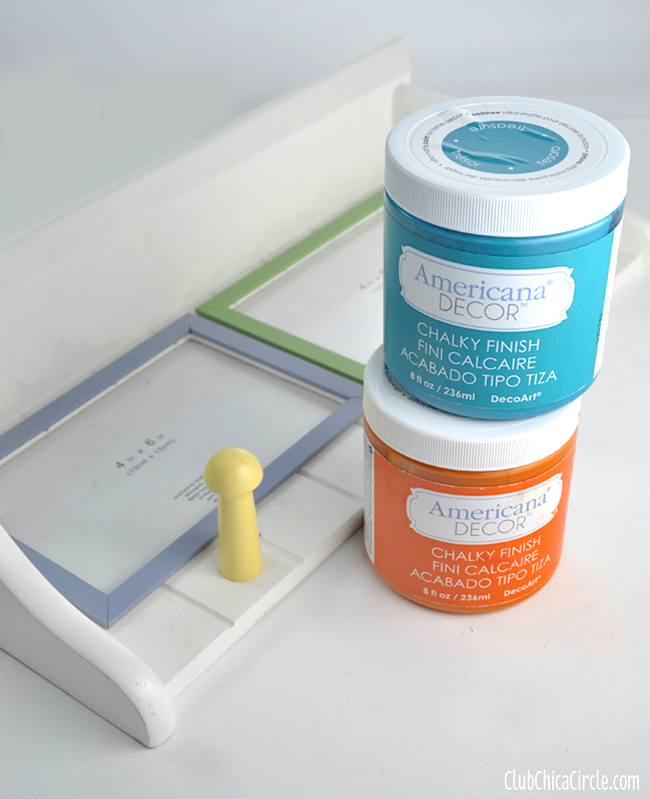 Here is what I used to give my hanging shelf new life:
Americana® DECOR™Chalky Finish paint in Heritage orange and Treasure blue
Americana® DECOR™Ultra-Matte Varnish
Sponge brushes
Sand paper
Soft lint-free cloth
You can find these Chalky Finish paints in Home Depot and at Michaels.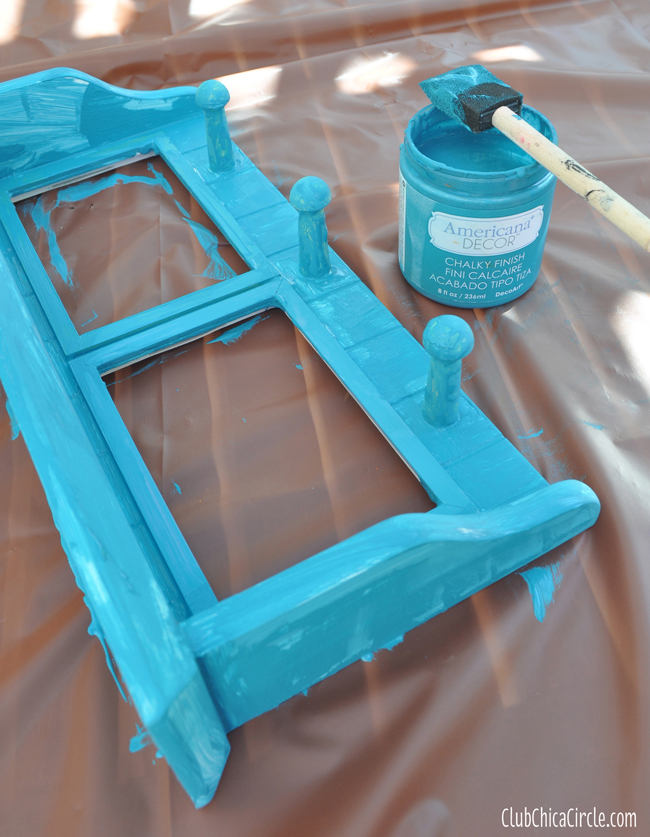 First step, I painted a coat of the blue on the entire shelf using a sponge brush. I didn't worry about full coverage. I knew this was going to be the color that I wanted to peek through the top orange layer. The best part of Americana Décor Chalky Finish paint is that there is no priming or sanding needed before applying to your surface.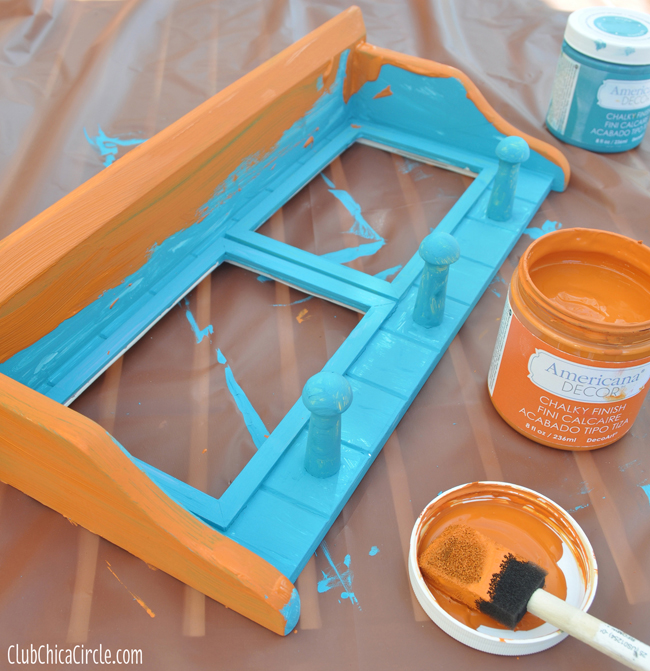 After I let the paint dry for a couple of hours, I applied two coats of the Heritage orange right on top of the blue. I let each coat dry 2 hours as well.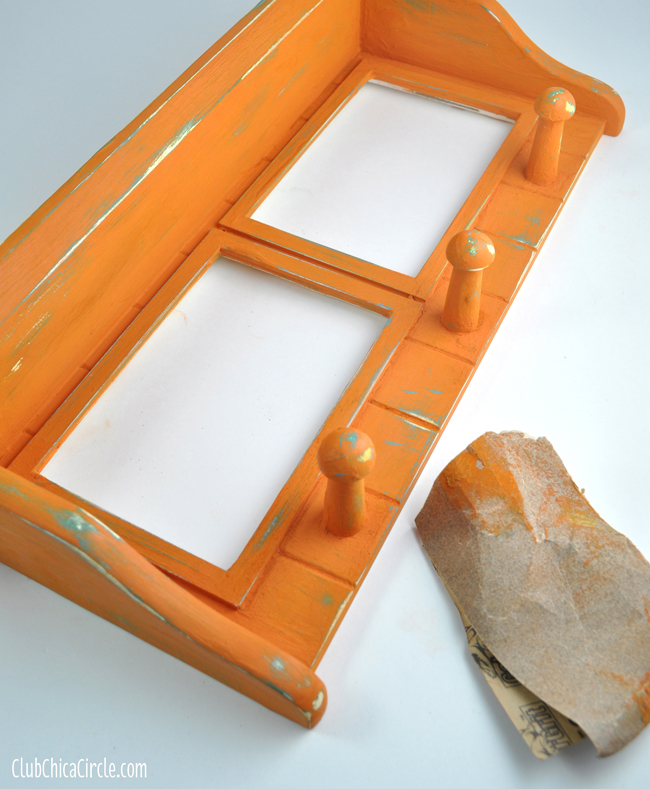 Then the fun began! With a sheet of medium grade sand paper, I randomly sanded off different areas all around the shelf revealing some of the blue beneath. It gave it that modern rustic feel I was going for.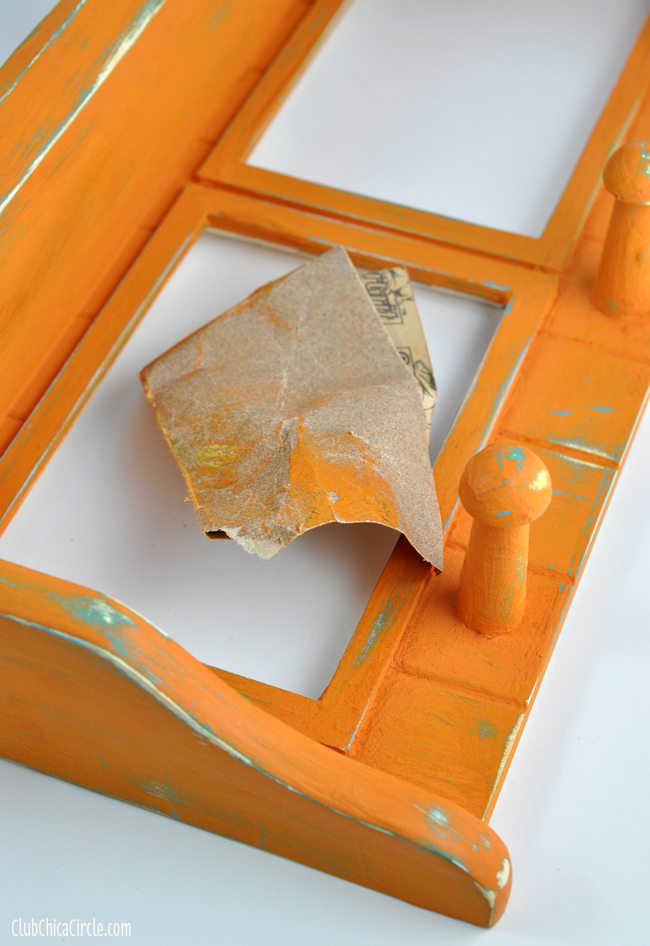 After I was happy with all of the "peek-a-boo" blue areas on my shelf redo, I wiped off any excess chalk and dust. Then using a soft lint-free cloth I applied a coat of Americana Décor Ultra-Matte Varnish and my masterpiece was ready to hang.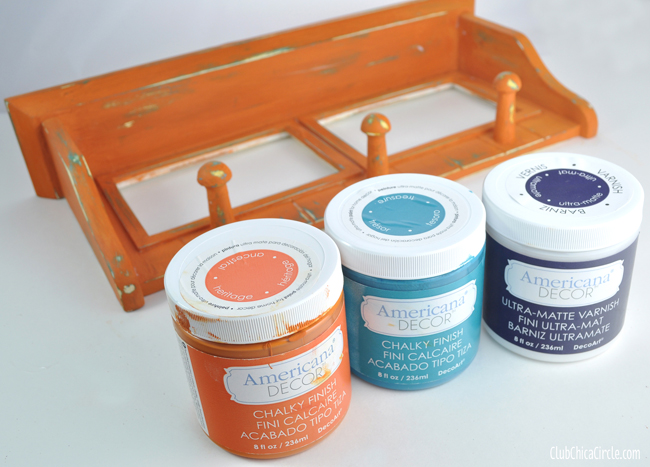 My shelf had two picture slots, and instead of putting pictures back in them, I decided to design some inspirational sayings to put in each.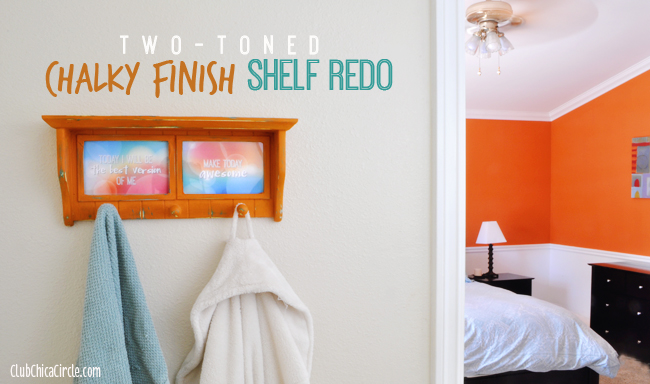 My two-toned hanging shelf found a new home in our master bathroom. I love how it turned out and how the colors of the shelf pick up the wall colors and bedding of our master bedroom as you look out.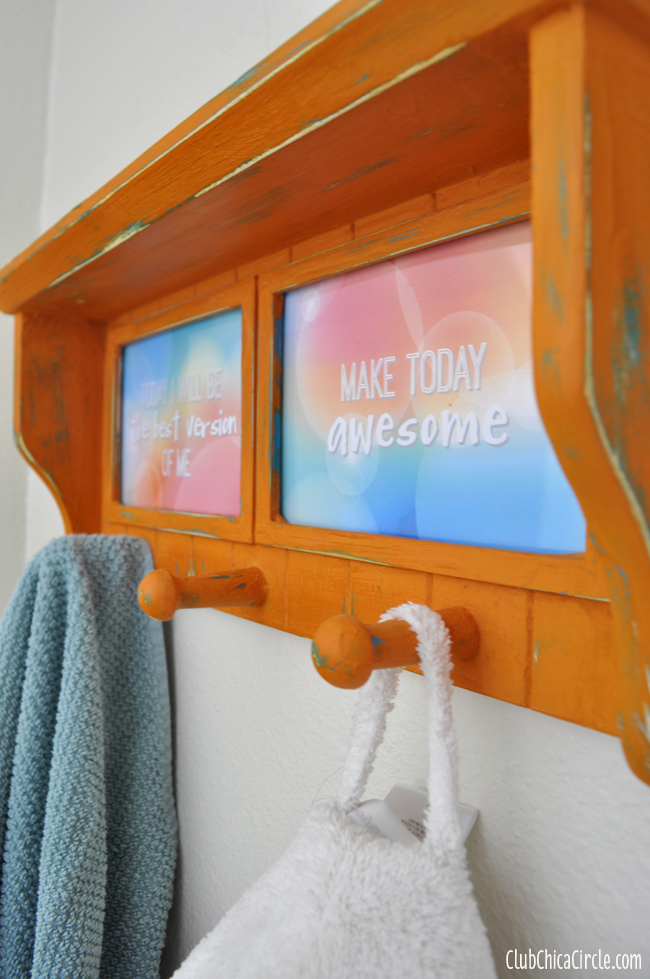 Gorgeous! Every morning I see it and am reminded to "Make Today Awesome" or "Today I will be the Best Version of Me".
Good words to live by. = )
I'm sharing my printables with you to download and print out if you like. You can get your Inspirational free printables here.
Enjoy!