Hello everyone! My name is Bethany and I blog over at The Southern Couture. It is my pleasure and honor be here with everyone. I couldn't wait to meet everyone and learn so much from all of you while hopefully sharing some inspiration too. I love a good craft, recipe, anything DIY, home décor, holiday décor, etc. The list could keep going because I just love trying new things too.
Well now that Valentine's Day has come and gone, which I still can't believe, my mind starts drifting off to the next holiday and preparing for it. March brings out the Irish in all of us plus my husband has some Irish in him making St. Patrick's Day a fun holiday to celebrate. It doesn't have to be anything big but just something simple to make the day special is even better.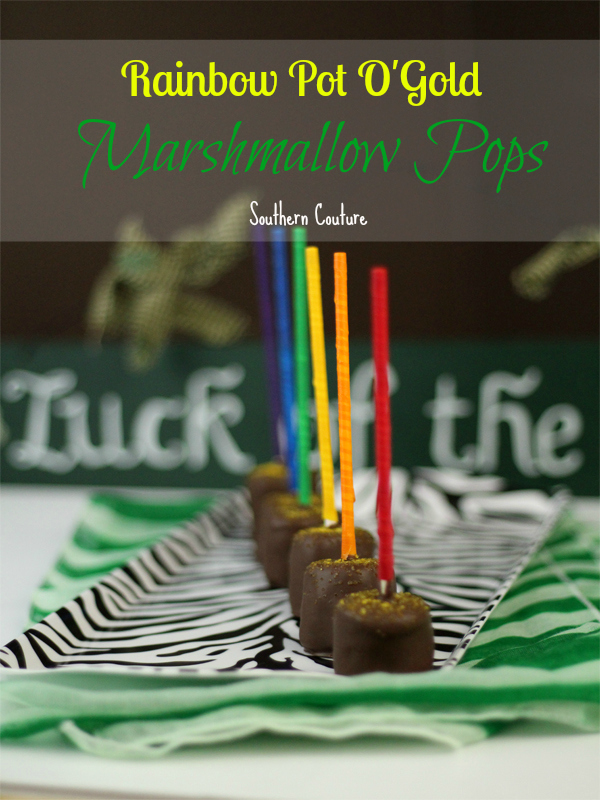 The simplicity of these rainbow pot oí gold marshmallow pops is what makes them truly ìpop.î Preparing and celebrating for a holiday doesn't have to be anything complex and expensive. Sit out a tray of these marshmallow pops to surprise your kids, and they will love it!
Ingredients and Supplies:
Chocolate chips
Marshmallows
Lollipop sticks
Yellow sugar sprinkles
Washi tape- each in coordinating colors of rainbow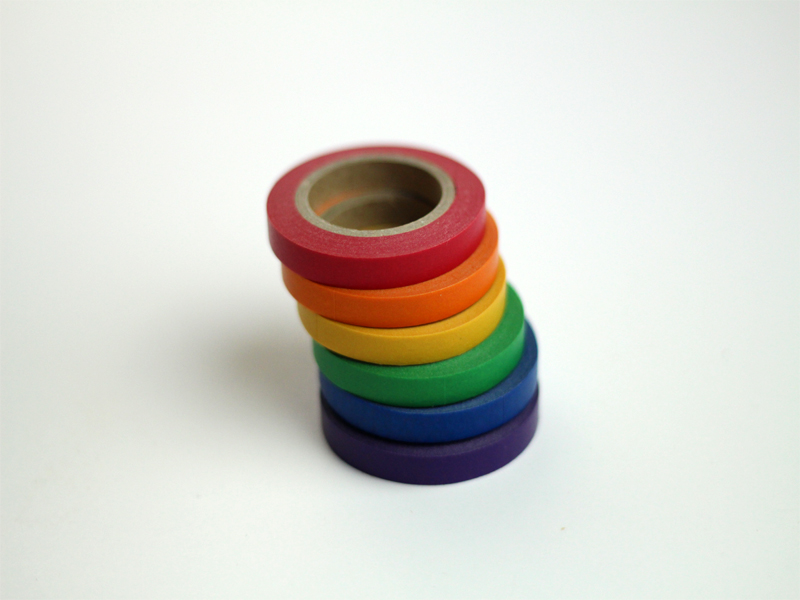 Markers- in each color to match the washi tape
First melt you chocolate according to package directions. I melted mine using a double boiler and stirring constantly. You could also melt in the microwave.
Dip your lollipop stick in the marshmallow about Ωî before inserting into the marshmallow. This extra step will help the marshmallow adhere to the lollipop stick and not slide off easily.
Insert into the marshmallow and then dip in the chocolate until completely covered up to the stick.
Before the chocolate hardens, sprinkle the yellow sugar sprinkles on the top of the marshmallow ìpotî for the sprinkling of gold.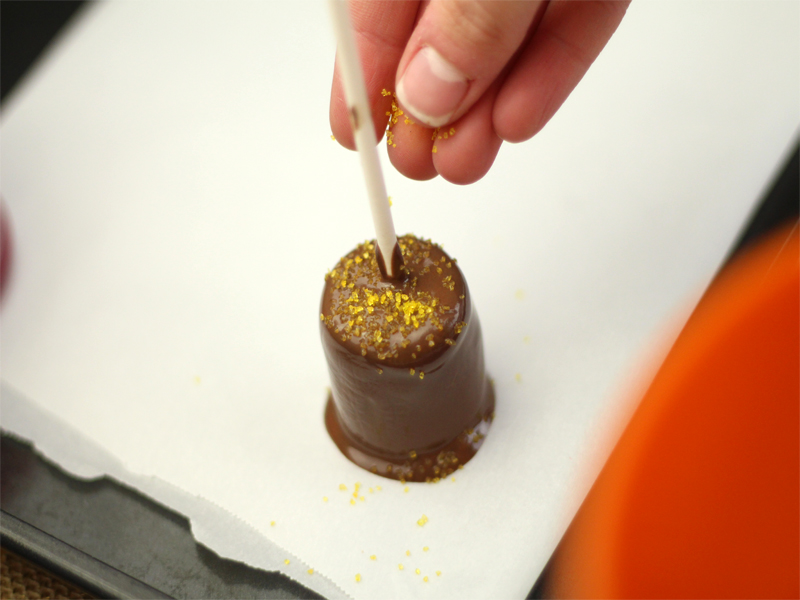 Once your chocolate has all hardened, you are ready to wrap the sticks in washi tape with each color of the rainbow.
*I have loved washi tape for a little while now, but recently found the fun in wrapping my lollipop sticks with it for my cake pops. I would search for different designs of paper straws but sometimes having a hard time finding that perfect design I was looking for. I donít have to worry about that now because washi tape comes in so many different designs and colors. It also saves me money from buying multiple paper straw colors and not using all of them.
Lastly color the tip of each lollipop stick with the coordinating color of washi tape.
Stand your pops in the order of the rainbow and you are now ready to serve.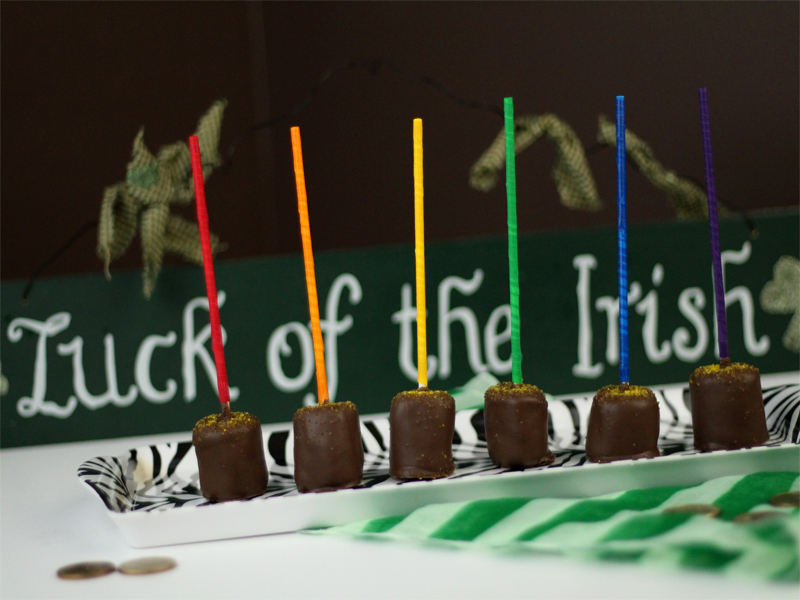 This is a great idea to get your kids involved and spend some quality time together in the kitchen. Plus itís so much fun to see the colors once you are done. I love anything colorful and the glitz the sugar sprinkles give to the pot oí gold.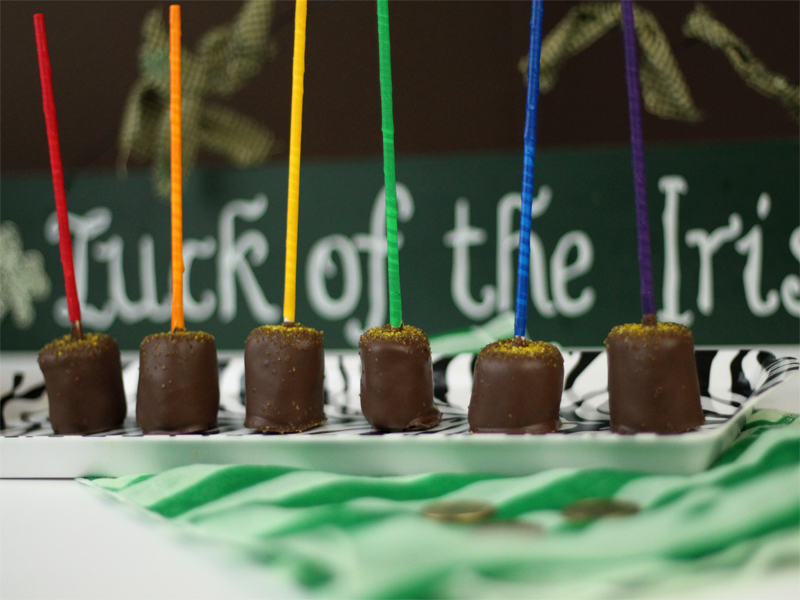 I hope you enjoy this fun dessert idea and as I always say, Enjoy the little things! I would love to meet you all and have you visit me at Facebook, Pinterest, Instagram, and Twitter.
Plus if you enjoyed this idea, then be sure to check out some of my other posts below and let me know what you think.
Upcycled Framed Barbie Calendar Pictures
Valentine Memo Chalkboard *This is one that I made for Valentine's Day but is also a great idea to use throughout the year to remind those you love why they are so special.