Disclaimer: this post is sponsored by DecoArt. All opinions, ideas, and images are completely my own.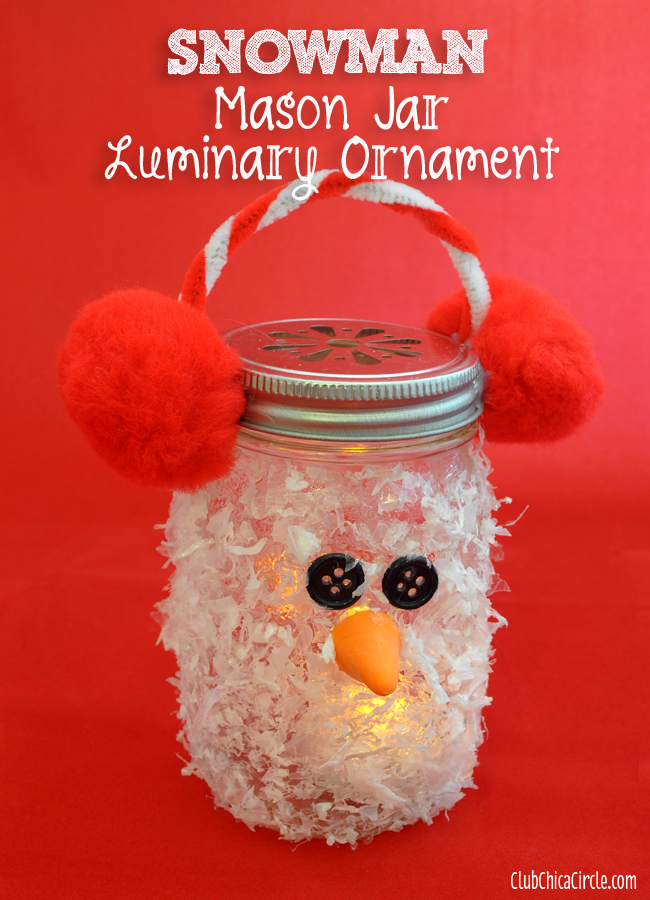 You don't need snow to know that the holidays are here. And you don't need snow to make a cute snowman!
You will love this holiday mason jar craft idea which doubles as a cute ornament, holiday decoration, or glowing luminary.
On one of my recent trips to Michaels, I picked up a bag of Frosty Snow®, which is a fluffy plastic material made to emulate snow for crafting with. I also picked up some mason jars, large red pom poms, red and white pipe cleaners, black buttons, and some orange air dry clay.
For this easy craft idea, I also used my glue gun, a sponge brush, a decorative mason jar lid, and one of my favorite craft materials – Americana Decou-Page.

I usually use Decou-Page to apply and seal paper to something, but I knew it would be the perfect thing to create my "snowy" snowman mason jar.
To make the snowman mason jar luminary ornament, start with a cute snowman face.
Mold a carrot shaped nose with orange air-dry clay, like Model Magic. Use a glue gun to attach your "carrot" nose and two black buttons on the front of your jar to make the snowman face.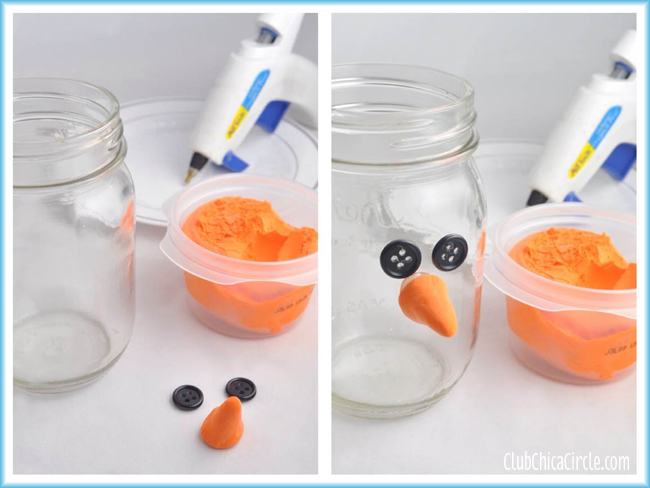 Then it's time to make it snow!
Using a sponge brush, apply a THICK coat of Decou-Page on the outside of the jar.
Don't worry, the Decou-Page dries clear, and the thicker the better. You want the Frosty Snow nice and fluffy on the outside of the jar. The thicker the layer of Decou-Page, the more Frosty Snow will stick to it.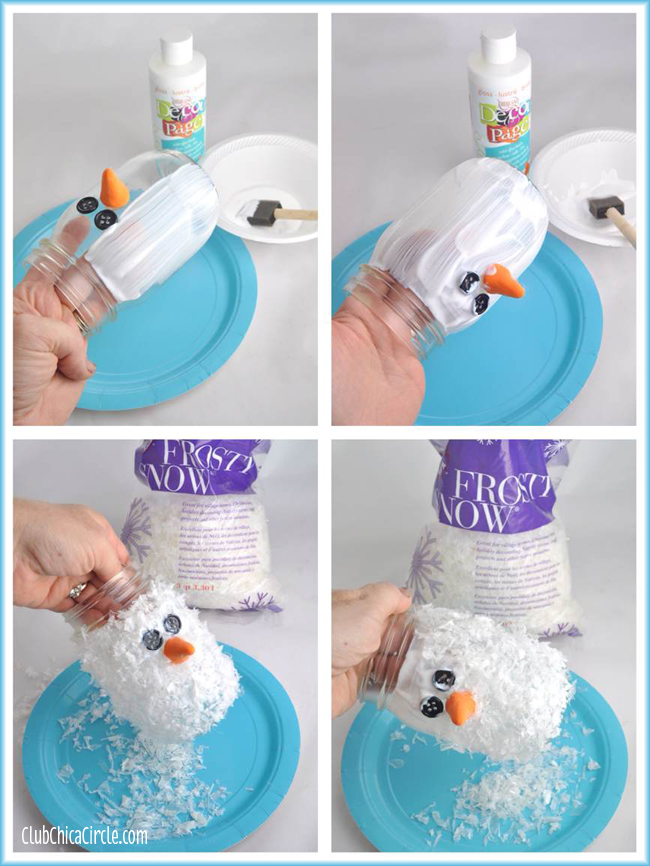 Then, sprinkle on a thick layer of Frosty Snow on the outside on top of the Decou-Page. I did it over a plate, so that the excess could fall onto it. I also used my hand in places to pat down the Frosty Snow as I coated the whole jar.
Your jar should be covered with "snow". Let it dry and move on to making earmuffs on the lid.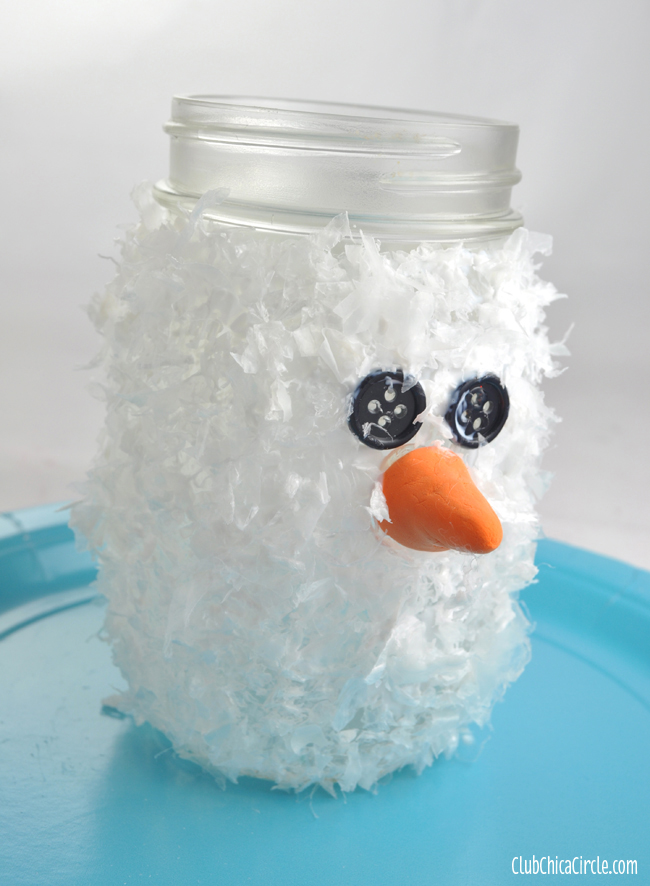 To make the cute earmuffs, cut a red and white pipe cleaner in half and twist them together to make a candy cane pattern. Mold them into a "U" shape that fits the width of the lid.
Using your glue gun, apply each end of the twisted pipe cleaner and the two large red pom poms on the outer edge of a mason jar lid. You can use the one it comes with. I just love the decorative ones that I bought through Pick Your Plum.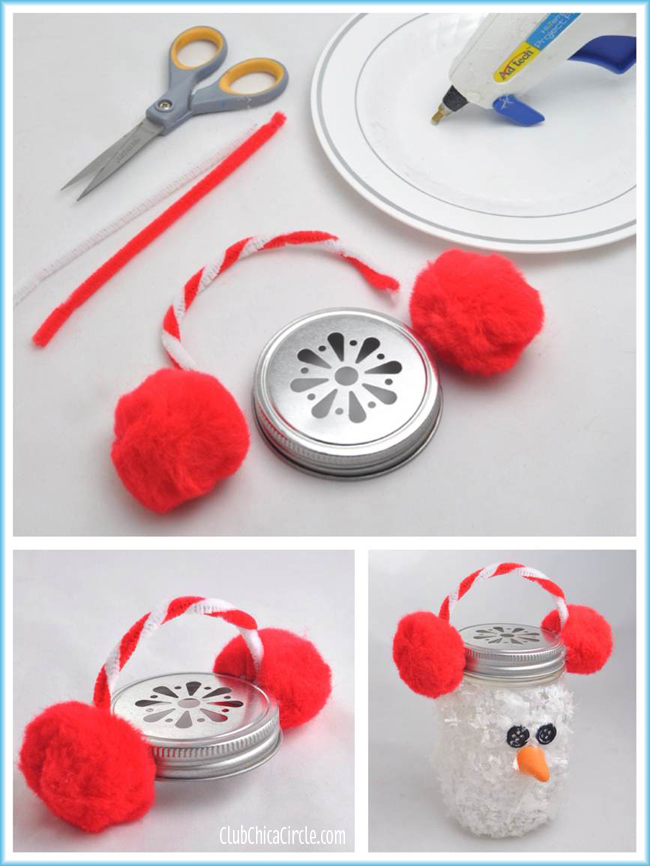 Place your earmuff decorated lid on the top of your dried snowman mason jar, and you are finished!
Add a battery-operated candle light to make it glow.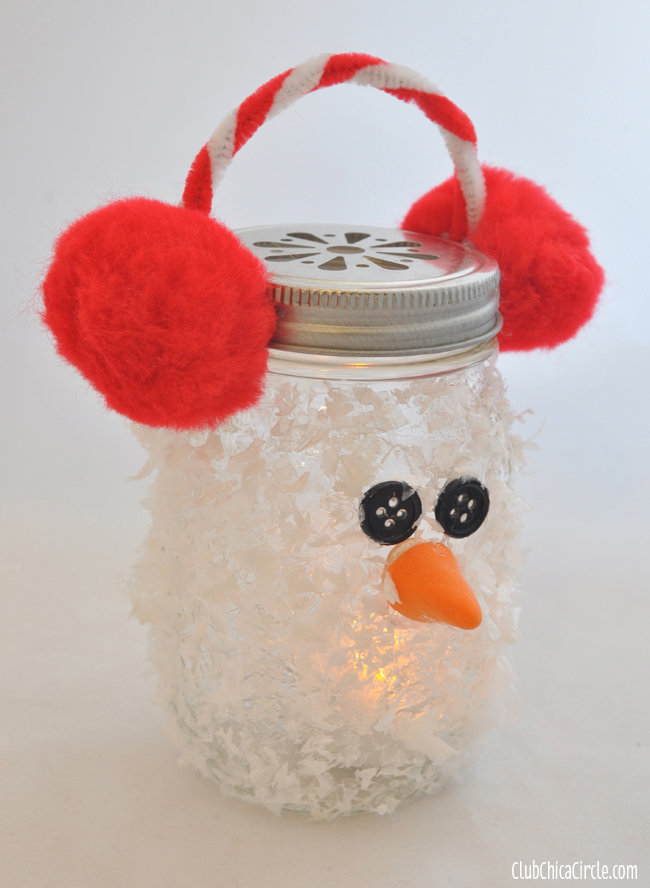 Lovely!
You can use it as an ornament on a really strong branch of a tree, or these would look greatly lined along a fireplace mantel.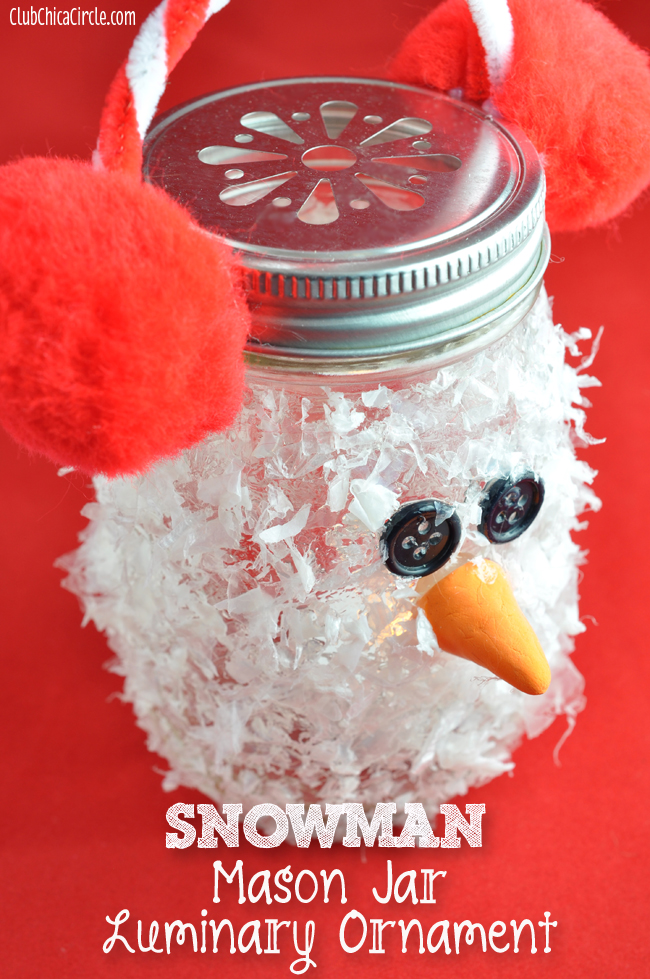 They make a great holiday home decor or just a fun kids craft idea!
And to really get your in the Holiday crafting spirit, check out these fabulous Holiday ornament ideas from some of my fellow DecoArt bloggers! 
Happy Crafting!
If you liked this post, and want more, you can subscribe to be on our mailing list here, and make sure to get your free Cupcake Toppers Printables for Every Occasion.

Feeling social? Follow ChicaCircle on Facebook or Twitter, and follow me on Pinterest or Instagram.
Disclaimer: this post is sponsored by DecoArt. All opinions, ideas, and images are completely my own.