Once I realized how easy it was to print on paper bags, I knew I had to keep exploring. What else could I run through my inkjet printer with success and create easy craft ideas?
One of my favorite craft materials is japanese washi tape. If you are not familiar, it is generally a type of tape that is made from paper or natural fibers like bamboo, but in a small tape roll form. The best about washi tape is how many colors and patterns it can come in. I am a huge fan of Pick Your Plum daily deals, and love opening my email every day to see what the craft deal of the day is. That is where most of my washi tape collection has come from. Any time washi tape is for sale, I grab it!
Pick Your Plum even has a Pinterest board dedicated to just washi tape filled with lots of great craft ideas. It is a perfect material for fun gift wrapping, card making, scrapbooking, and just general crafting. When you are looking for something simple to add a little pizazz to a project, try washi tape.
My girl recently decorated a present for her secret Valentine in her girl scout troop.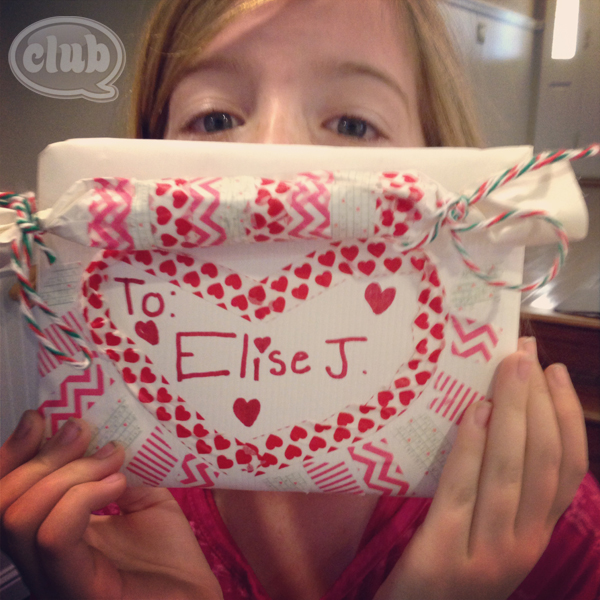 In one of my Valentines craft idea posts from last week, I decorated a plain wood box with washi tape.
Psst…. I partnered with DecoArts and used their Dimensional Effects paste and Glitter paints to create the cool effects. There is still time to enter to win a Valentines basket givewaway.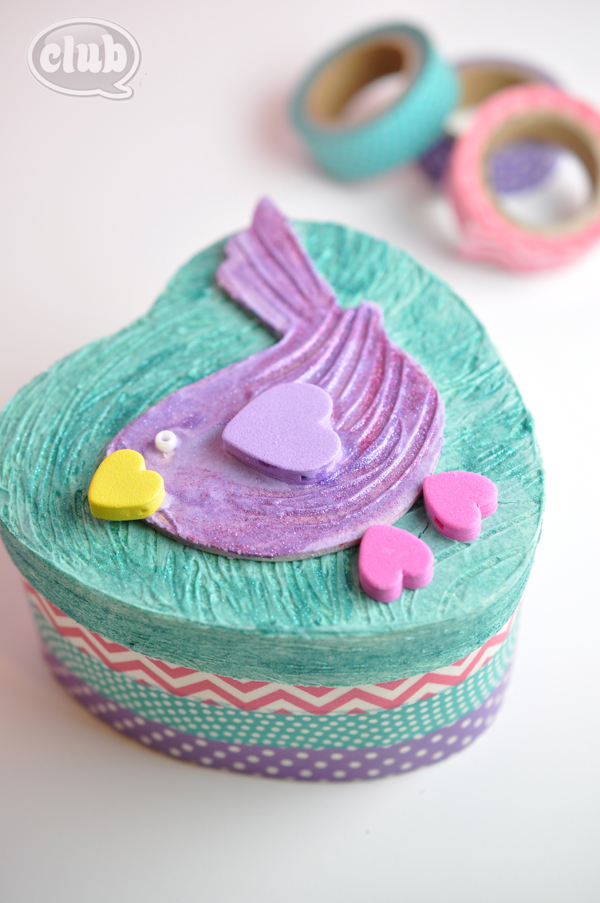 I also dressed up some simple blank cards with washi tape, to create some unique and fun cards.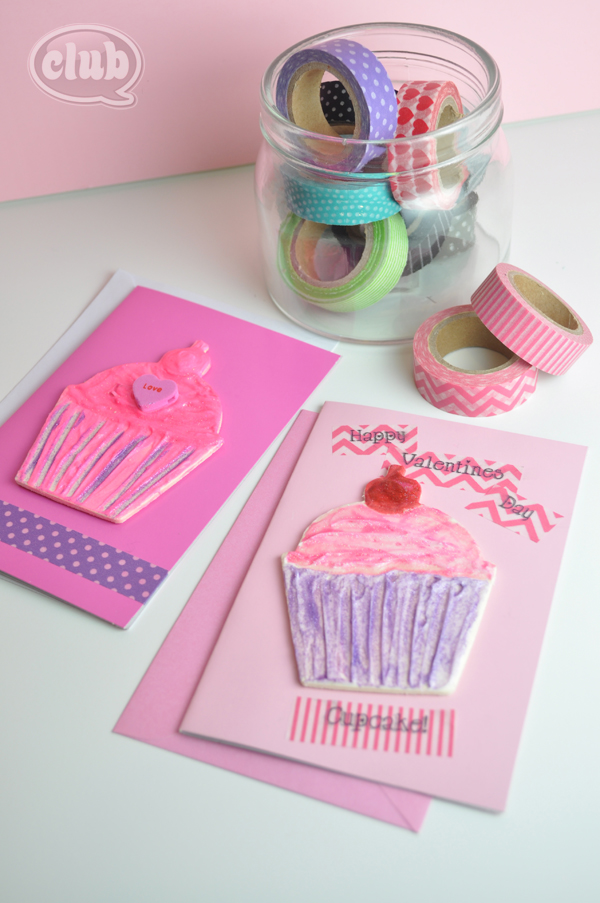 Notice above the printing on the cupcake card. It is actually easier than you might think. It just takes a little planning.
All you need to get started is a regular piece of copy paper, a pencil, and a ruler.
I first created a template by measuring off my paper in 2″ intervals starting 1″ down from the top of my paper on the right side of my paper. One of the math lessons that always stuck with me since my grade school years, is the shortest distance between 2 points is a straight line. That same principle applies here.
On the other side of the paper, I notched off the same measurements along the left side of the paper. Then it was just a matter of using my ruler to connect the two dots or notches to create a straight line.

Then I applied strips of washi tape just below my template lines. I created the same template in my design program, starting my type just below the 2″ intervals starting 1″ down from the top. The width of washi tape is generally about 1/2″ thick, so I made sure to type in letters that weren't bigger than my tape strips.
Here is the quick template I used if you want to test it out:
After I was happy with my typed messages, I fed my paper in with the top edge facing underneath. This may be different for you depending on your own personal printer, but this is pretty standard. My words matched up perfectly on top of my tape! Success!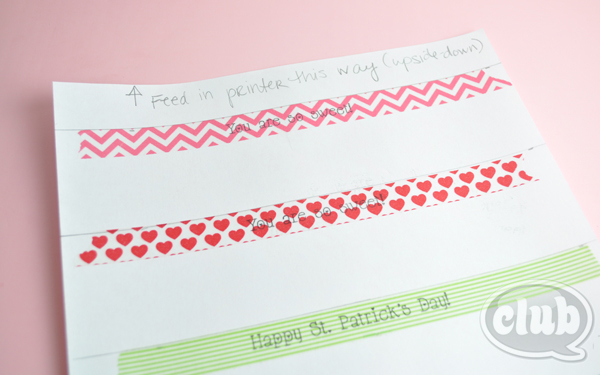 Now, be patient and make sure the ink has had time to dry on the tape before carefully peeling back. The good thing about washi tape, is that the adhesive isn't as strong as other tapes. It should peel up just fine.
This is a great project to personalize and jazz up any project. Apply to treat bags or at the top of pencils for a fun flag.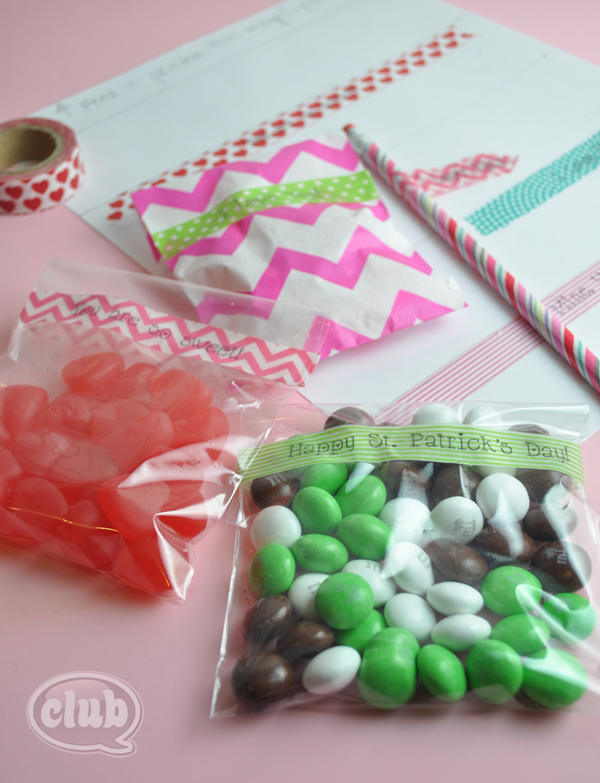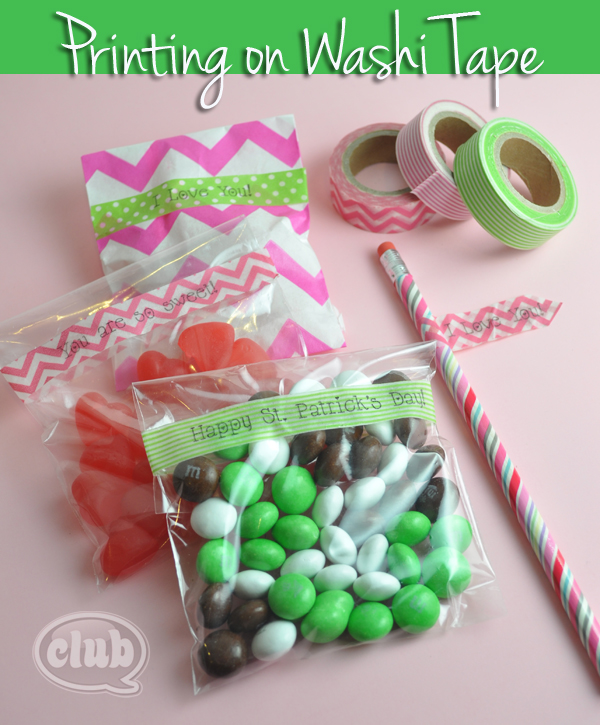 However you use this technique, have fun with it! As you can see, the type works the best on lighter patterned or colored japanese washi tape. Experiment and happy crafting!
If you liked this post, and want more, you can subscribe to be on our mailing list here.