This shop has been compensated by Collective Bias, Inc. and its advertiser. All opinions and images are mine alone. I am also participating in a contest as an additional aspect of this campaign. #BrewOverIce #BrewItUp #CollectiveBias
What's better than yummy iced tea in the summer?
When you have just brewed it in seconds in a pretty ombre glittery tumbler, of course!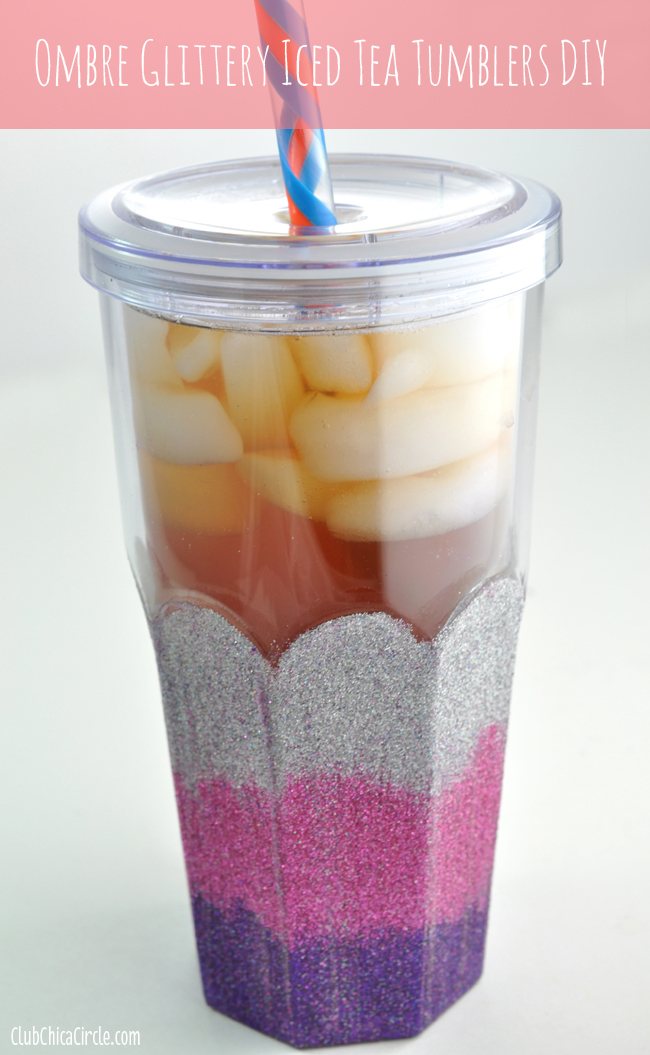 On a recent shopping trip to Walmart I grabbed a variety of Keurig Brew Over Ice K-Cups. I knew my tween would love the Half & Half (Lemonade and Iced Tea) flavor, but I couldn't wait to try the Vitamin Burst flavors, like Strawberry Pomegranate or Acai Berry with vitamin C. Then I found these pretty plastic tumblers, as well, in another department of the store. These tumblers are great as is, but I knew I could take them up a notch and turn them into glittery one-of-a-kind masterpieces.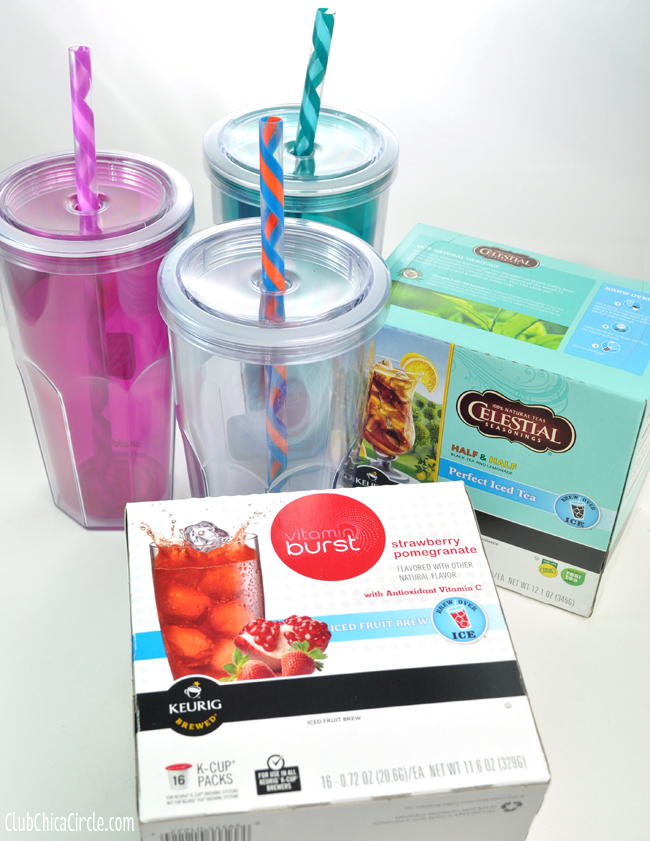 Right now, at my local Walmart, there is a huge display of K-Cups in the center aisle to choose from.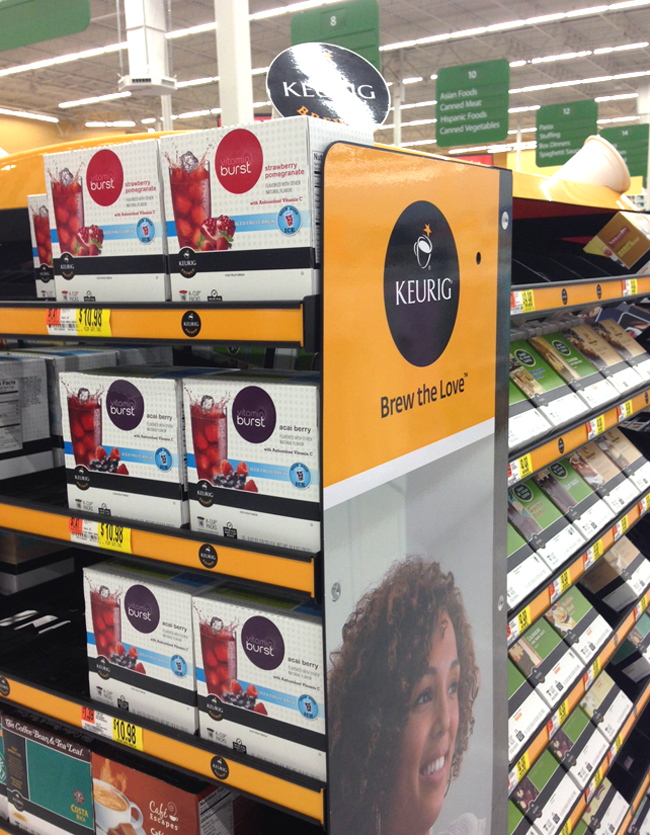 My family is in love with our Keurig. Whether it is for a cup of morning coffee or an afternoon tea, this machine definitely gets a workout.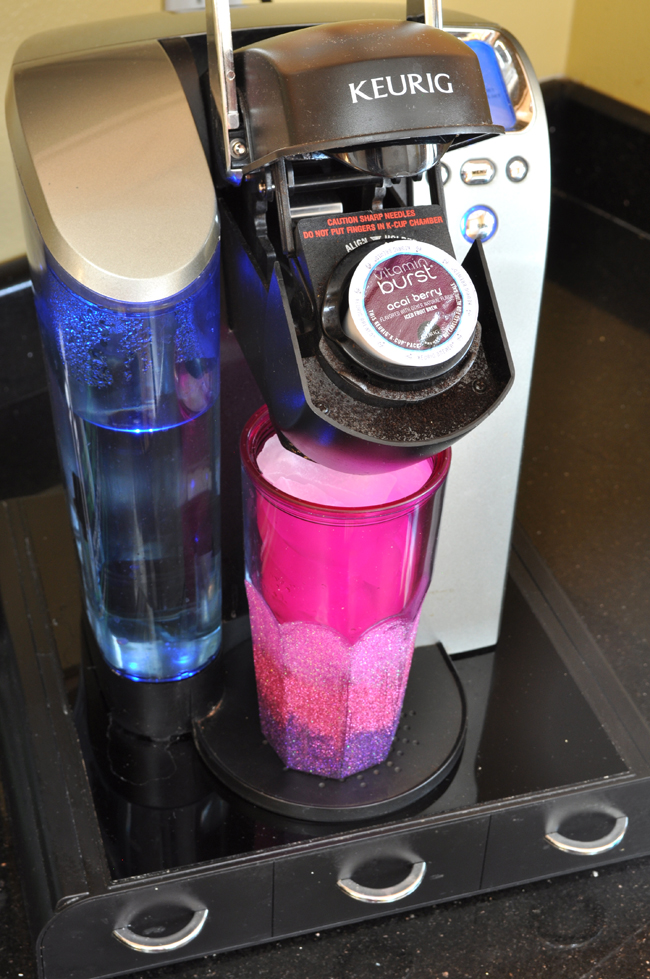 Now, are you ready to see how easy it is to make your own fancy glittery tumblers?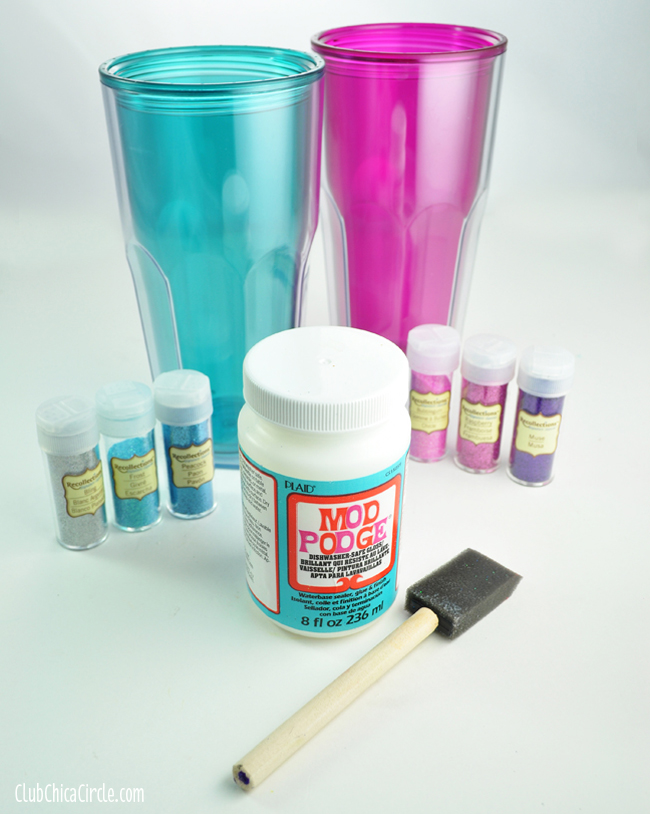 I made sure my plastic tumblers were clean and washed out.
Then the magic craft ingredient is Dishwasher-safe Mod Podge. Regular decoupage will not work, because it is water-based, but this one is specially formulated to resist water and make it dishwasher-safe.
Then for the 'ombre' effect, I picked three different glitters in varying shades for each cup depending on the color of the cups. I used Michaels Recollections glitter.
Besides plastic tumblers, the only other supply you will need is a sponge brush.
Here is how to make your own Ombre Glittery Iced Tea Tumblers:
I started by applying a thick coat of the Mod Podge on the bottom scallop design of my cup with a sponge brush.
Then, I started at the bottom of the cup and sprinkled on my darkest glitter color. I sprinkled the glitter going all the way around the cup and only going up about a third of the way up where my Mod Podge was applied.
I followed up with my second glitter color in the middle section of my Mod Podge area, and finished with the lightest color along the top section.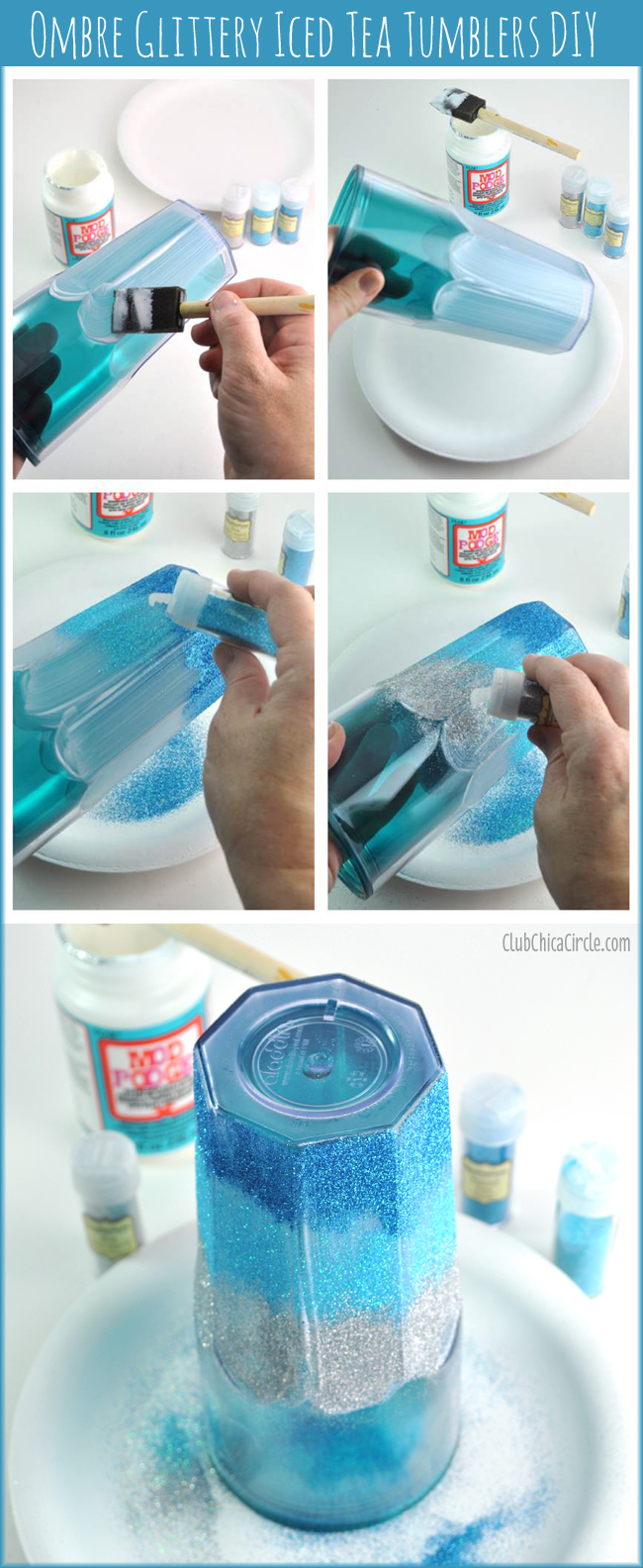 Glitter can get messy, so I tried to sprinkle it over a disposable plate, and after all my glitter was applied I lightly shook off the excess and let it dry completely for at least 2 hours.
After it was dry, I added another thick layer of Diswasher-safe Mod Podge over the top to seal it.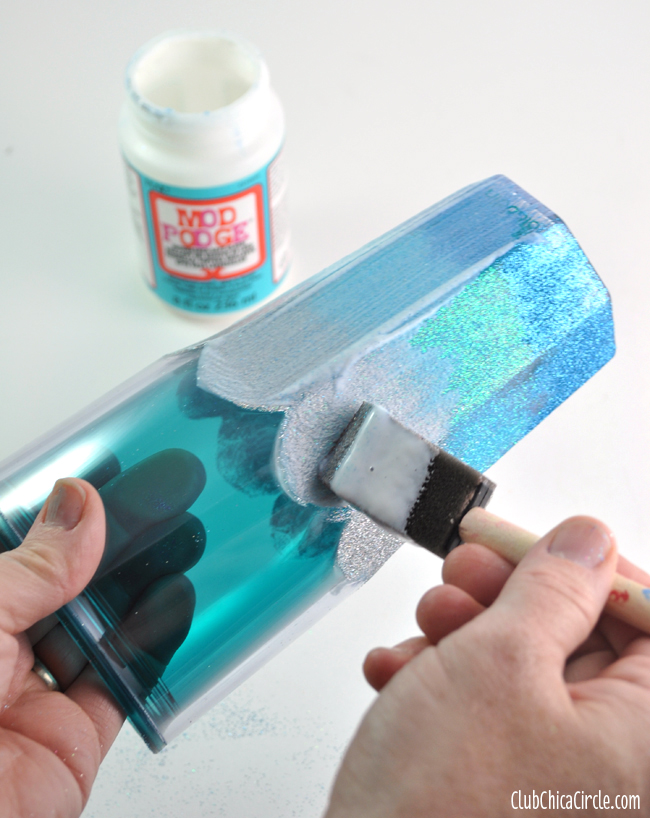 I let this dry 48 hours before using.
Check out how pretty these turned out! The glitter makes it feel really cool and tactile, as well as giving the tumblers some extra glitz and glam!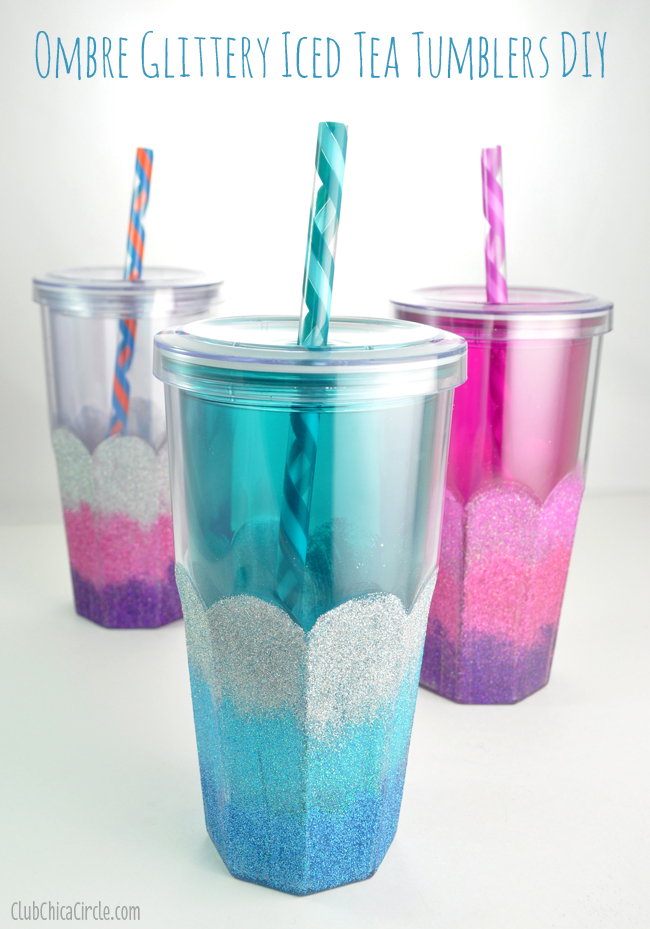 After they were completely dry, it was time to brew!
I filled my cup with ice up to the top of my tumbler. For best brewing flavor, I would suggest using the medium brewing size on your Keurig.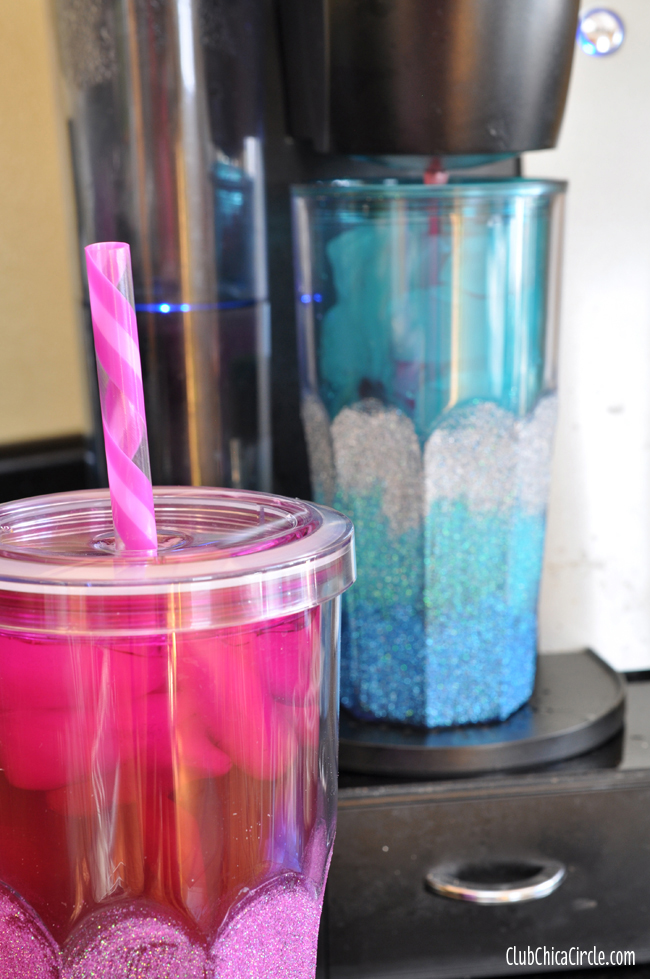 I love how yummy my Keurig Brew Over Ice drink treats tasted in my glittery glasses.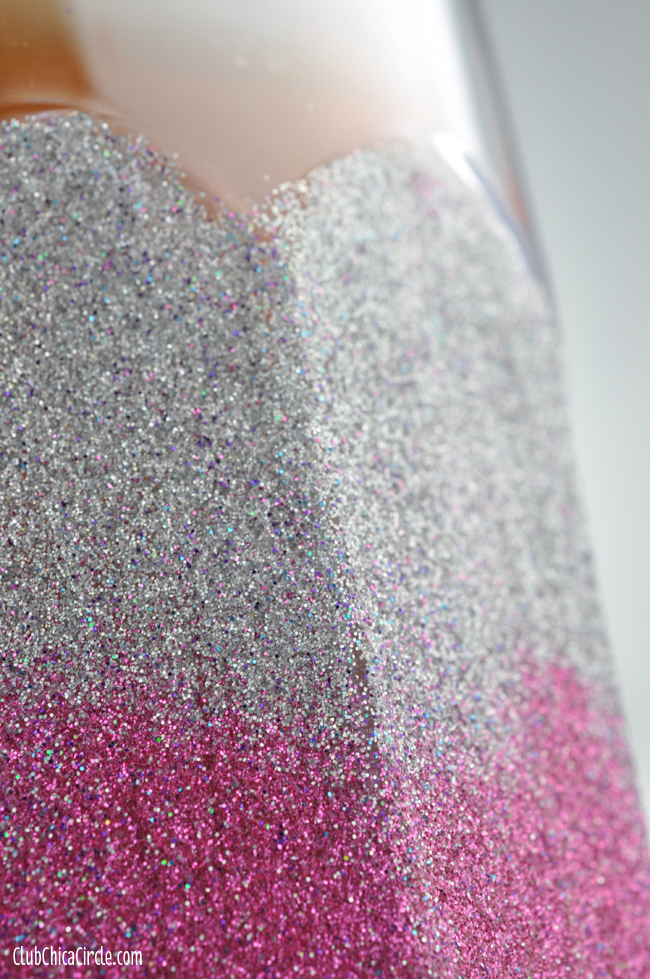 So pretty!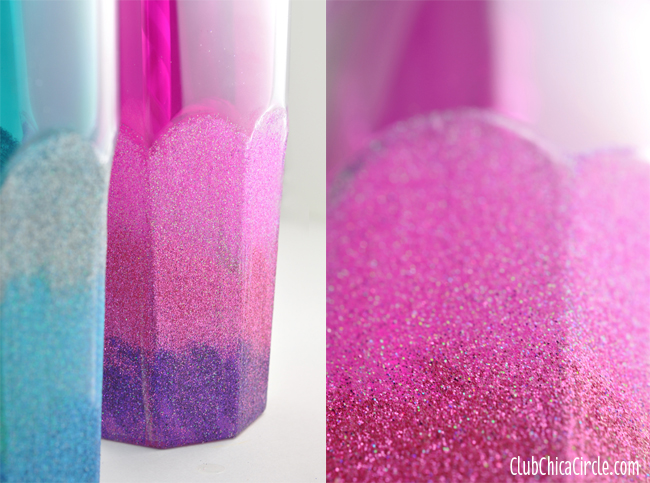 Head on over to Walmart, and try your favorite Brew Over Ice K-Cup flavor.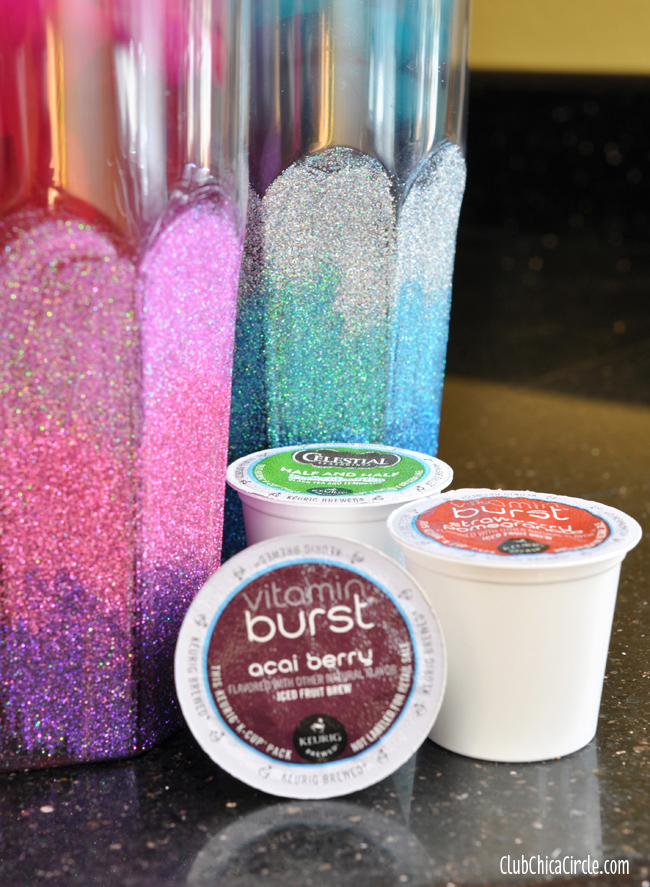 Disclosure: This post is brought to you in part by Collective Bias, Inc. and Keurig. All images, ideas, and opinions are completely my own. #BrewOverIce #BrewItUp #CollectiveBias