Disclosure: This post is sponsored post brought to you in part by Disney and Blueprint Social. All ideas, images, and opinions are solely my own.
I remember enjoying the first Disney Pixar Monsters movie with my daughter when she was young. We watched Sully and Mike Wazowski over and over again. So, it was such a thrill to be able to enjoy the new Monsters University with my now tween daughter and niece, and my 4 year old nephews. We watched it in the theaters as soon as it came out, and can't wait to watch it over again and again on DVD. Monsters University will be available on Blu-ray Combo Pack October 29th.
This Halloween my girl is dressing up as one of the Python Nu Kappa sorority girls from the movie. If you aren't familiar with the movie, these three-eyed sisters may look super sweet dressed in pink from head to toe, but don't underestimate them. They turn from sweet to terrifying in the Scare Games in the movie.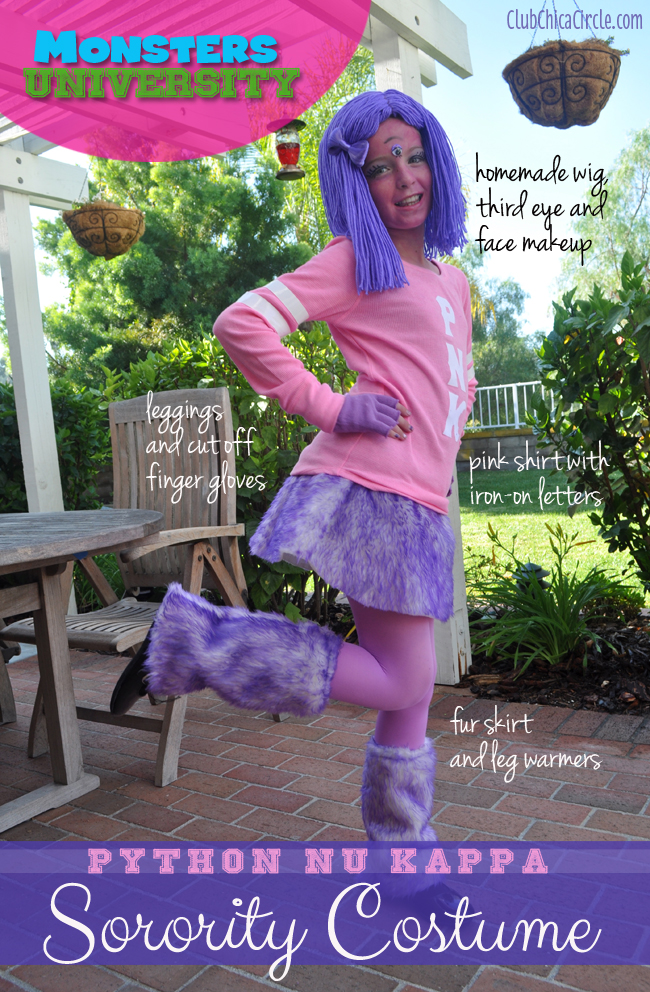 After reviewing the reference of the girls below, I knew my daughter could pull off this cute costume. Now it was up to me to pull off making a homemade version of it.
My girl wanted to be "Naomi Jackson" with the purple hair and pinkish skin.
We broke down the costume into parts or projects:
homemade purple yarn wig
sorority letter sweater
purple monster fur skirt and leg warmers
face paint with third eye
purple gloves with fingers cut off and colored leggings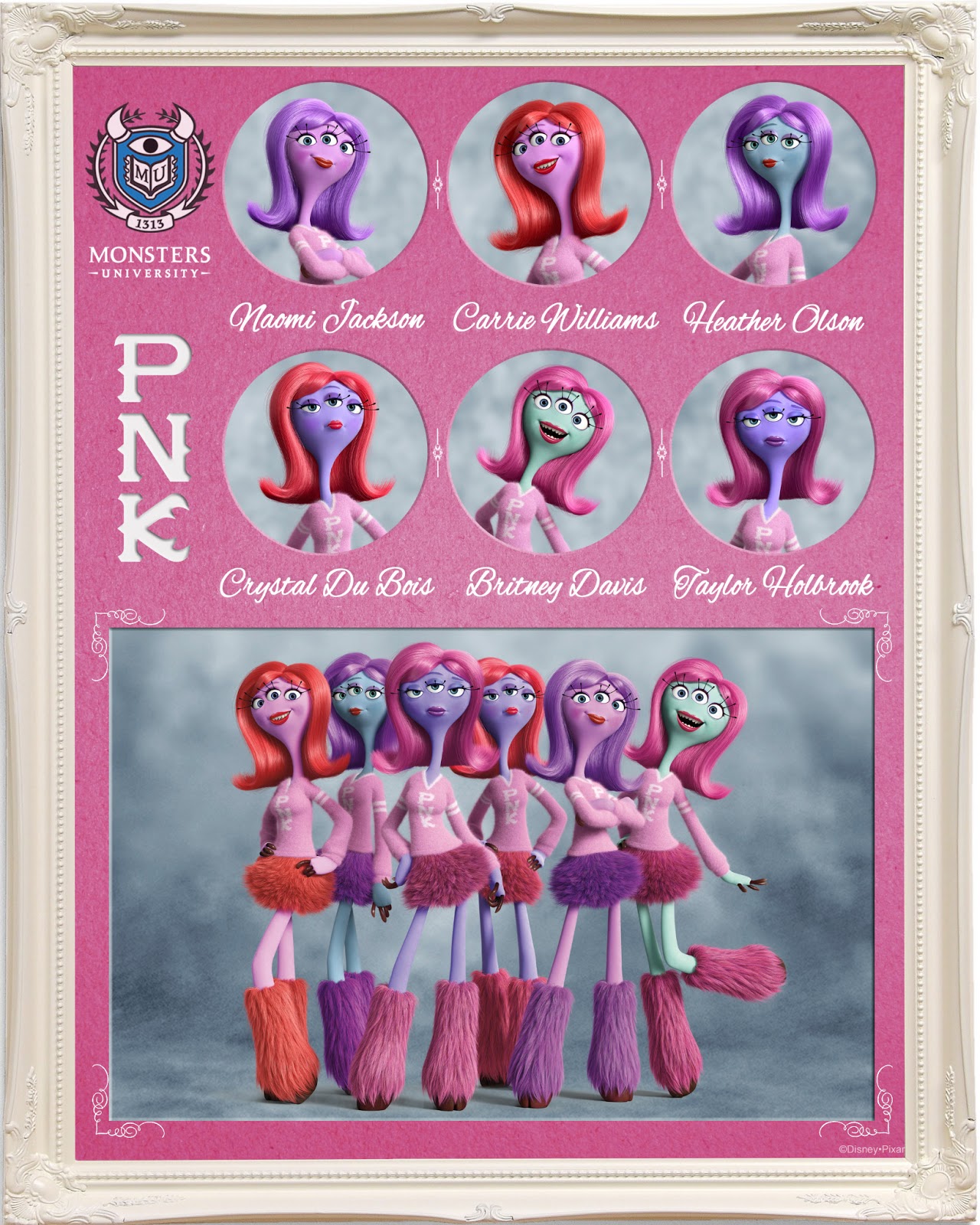 With my photo reference in hand, I headed off to find my craft supplies to make the homemade costume. I found most of my supplies (fur, yarn, iron on letters, fabric dye, etc) at JoAnn fabrics, with a trip to Target for leggings, and Old Navy for the pink shirt.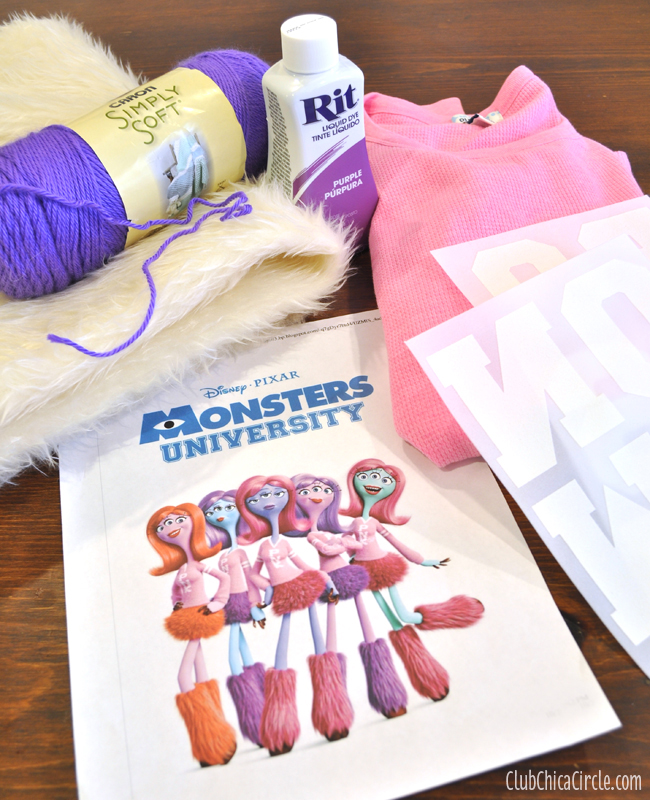 Our first task was transforming the fur into a bright purple to match the yarn we picked out for the wig.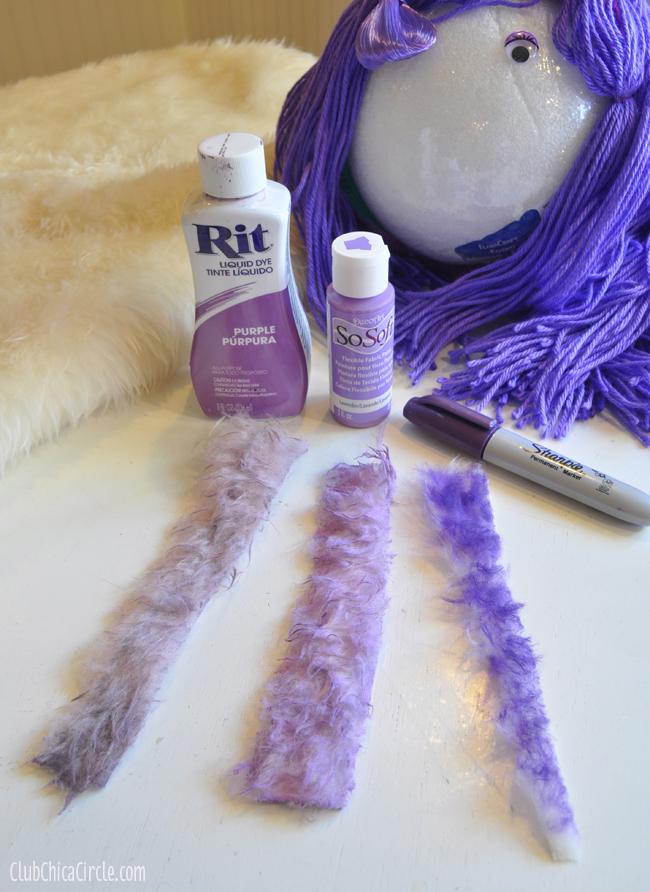 We tested out three different ways to color the ink. After three different tests, the best and brightest color result came from actually hand coloring the fur with a purple Sharpie marker. We tried the fabric dye first, which just soaked the fur and turned it kind of a gray purple color. The fabric paint was better, but left the fur a little "less furry", and was a little too pastel colored. Finally, we tested out using a purple Sharpie marker, and we found a winner.
So I covered our dinner table first with a plastic tablecloth, and let my daughter and her friend get to work in coloring the fur fabric. They had to be a little careful in not getting the marker all over their hands while the marker dried on the fur, but we eventually made enough purple colored fur to make the leg warmers and skirt. After measuring how tight and tall I needed to make the leg warmers and skirt, I cut a simple pattern for each and used my sewing machine to stitch them together.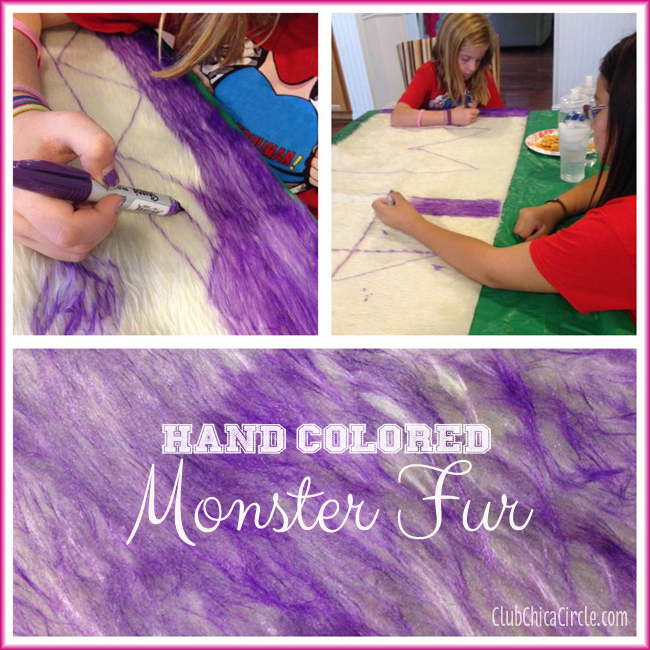 Then it was time to make the wig.
I used a whole skein of Caron Simply Soft purple yarn. We measured how long we wanted the hair (from end to end) and started by wrapping the yarn around something to act as the base for our homemade wig. We used the arms to our treadmill, but you could use the back to two chairs or even work together and use someone's arms. Wrap the whole skein around on each other.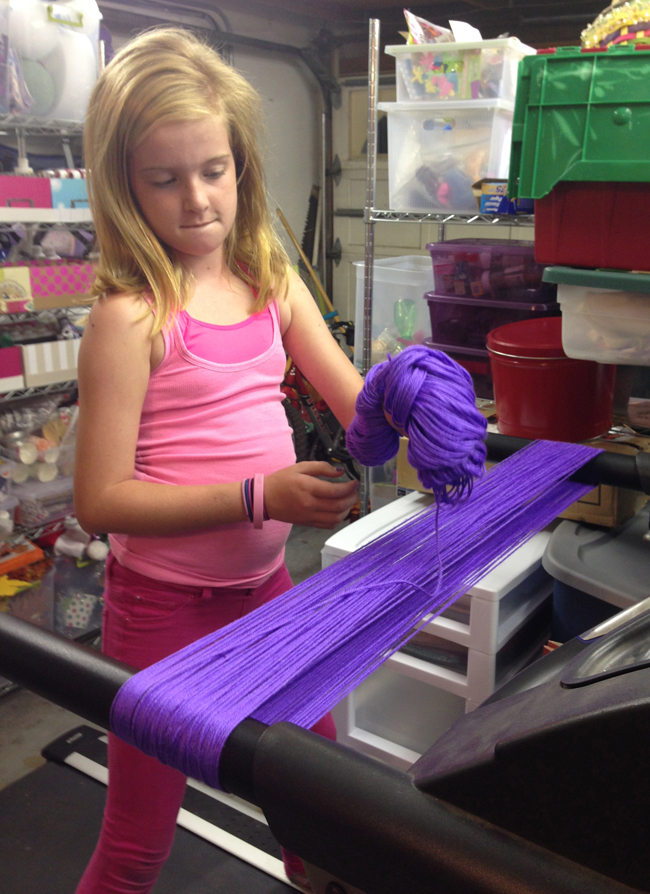 Then, I carefully took it off and laid in on the table on top of a thin strip of purple felt that I cut (about 11″ x  1.5″). You want to place it in the middle of your yarn strands. With purple embroidery thread, I stitched and gathered a few strands of yarn at a time. This creates the center part of the hair on your homemade wig.

For extra stability, I attached it to one of my daughter's old stocking caps. Then I also attached a hair comb in front as well to secure it to her hair and keep it in place.
The final step was to style it and give the wig a haircut. I used purple embroidery thread to attach a section on each side in front to try and replicate the hairstyle of the PNK girls.
The final craft project was to make the sorority sweater with the PNK letters.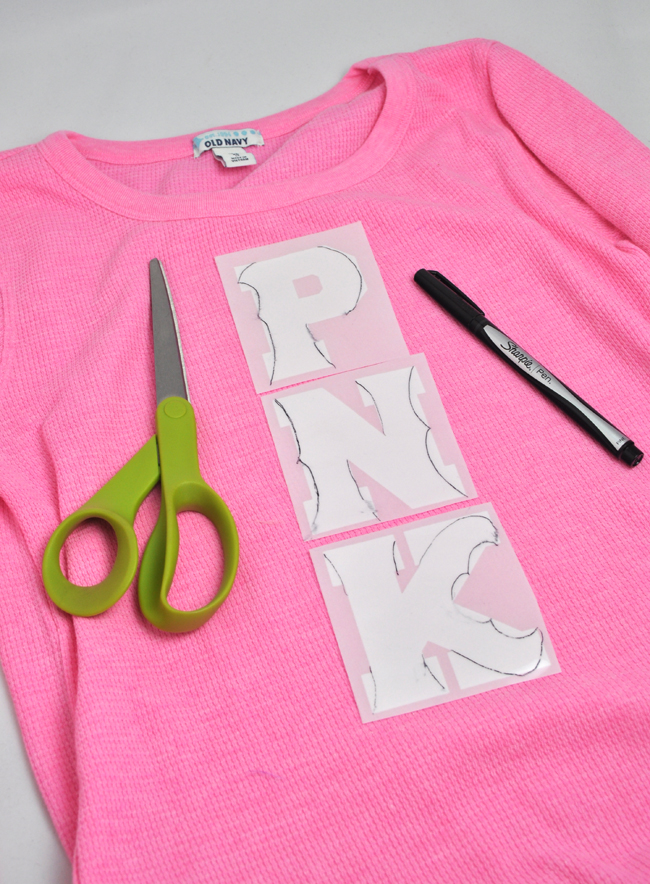 I started with collegiate looking letters with big blocky serifs. I used the PNK picture reference as a guide and drew in the unique thorny looking parts of the letters and cut them to match the Monsters University PNK letters. Then I ironed them on in place and used white duck tape stripes on the sleeves of the shirt.
Now we were ready to put it all together! I found Tulip face paint and large stick on googly eye stickers with eyelashes at my local Michaels. I painted her face a purplish pink, used liquid black eyeliner to create large eyelashes, and brown eye shadow to create a third eyebrow. She was thrilled that I let her wear bright pink lipstick too!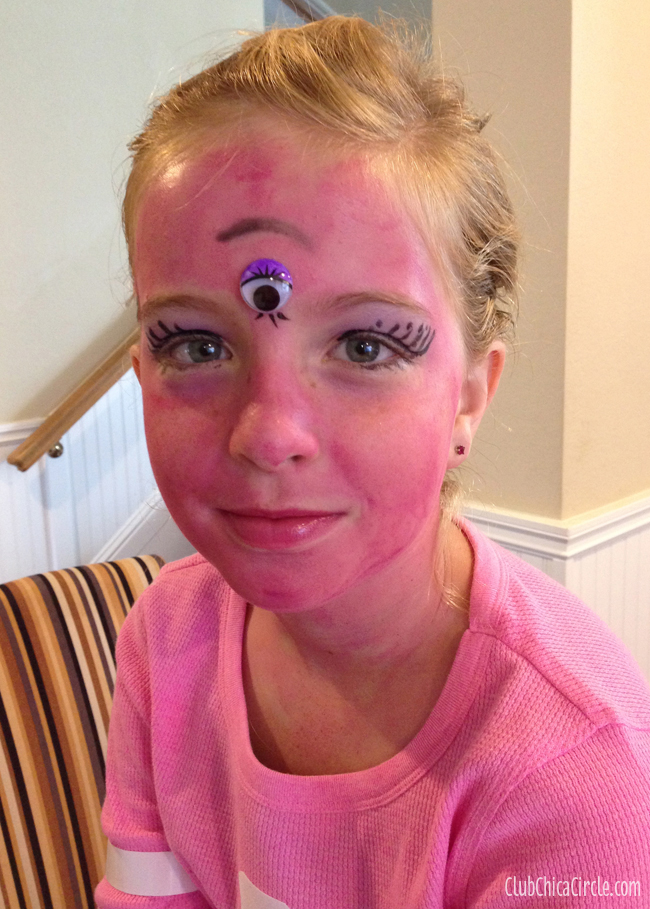 I put the purple-icious wig on her. She used a tutu skirt under the fur skirt to create the right amount of "poof' and she put on purple leggings. I cut off fingers off of purple gloves that she owned. And I found the perfect purple hair bow accessory clip to finish off the look.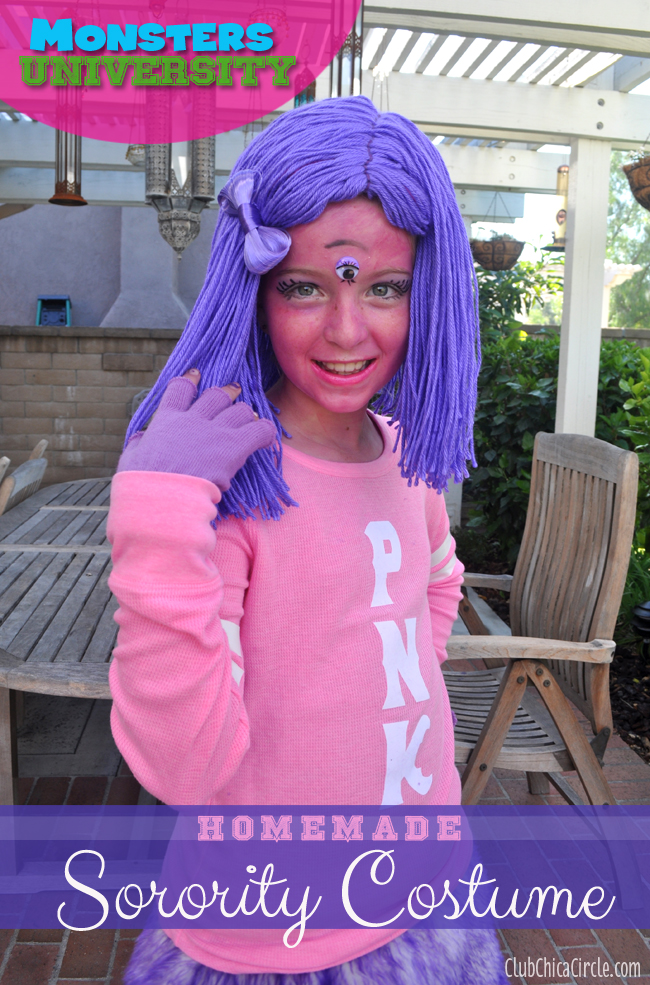 It actually is a really comfortable and perfectly girly yet monster-iffic homemade costume for my girl…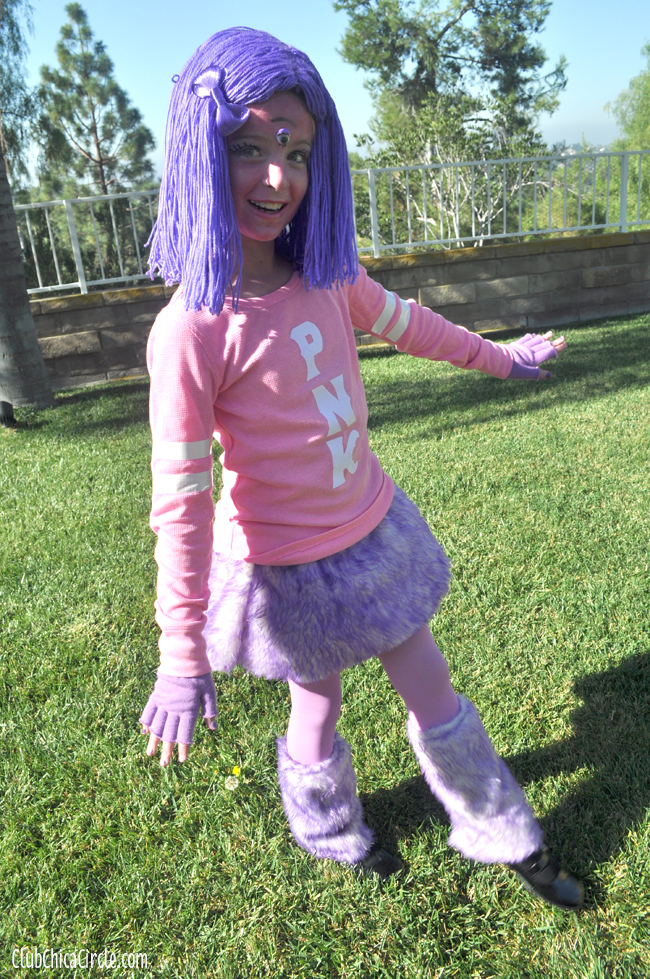 …third eye and all!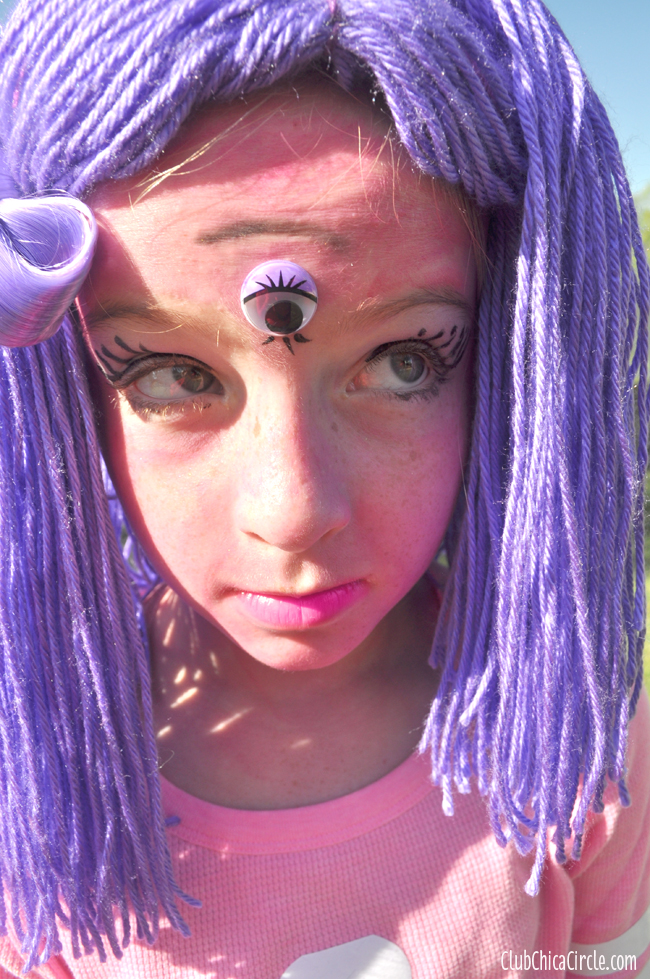 Go to the head of the class, and keep up with all things Monsters University on Facebook, Twitter, and Pinterest.
Remember, be sure to grab your own Monsters University on Blu-ray Combo Pack on October 29th, or pre-order online today!
Also, check out more monster-iffic crafty inspirations from some of my fellow bloggers here:

Happy Monster Crafting!
If you liked this post, and want more, you can subscribe to be on our mailing list here.
Feeling social? Follow ChicaCircle on Facebook or Twitter, and follow me on Pinterest or Instagram.
Disclosure: This sponsored post is brought to you in part by Disney Pixar #MonstersU and Blueprint Social. All ideas, images, opinions are solely my own.