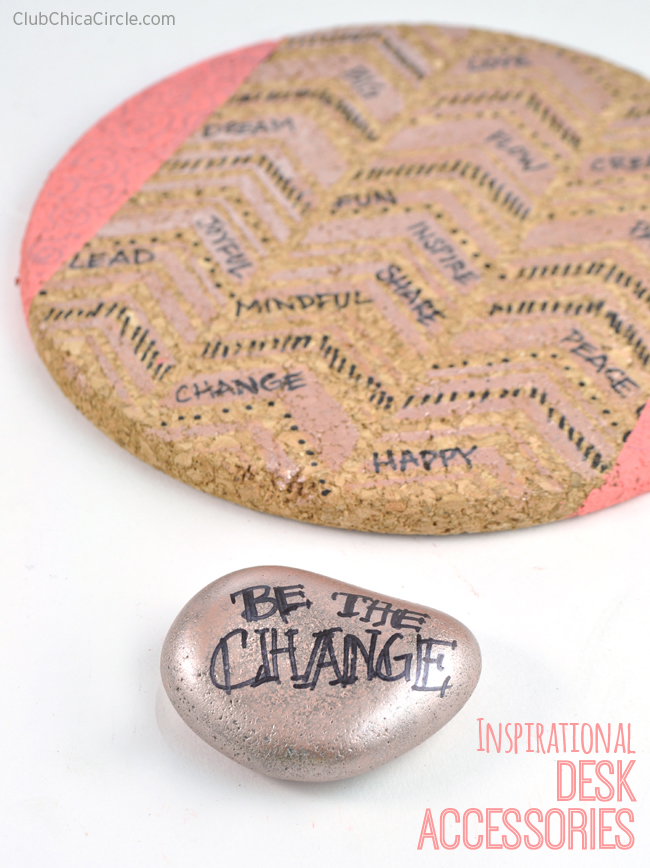 Rose gold seems to be the new hot color of the year. It's the latest color in the new iPhone 6S, and it's the latest color in the DecoArt® Metallic Lustre™ line.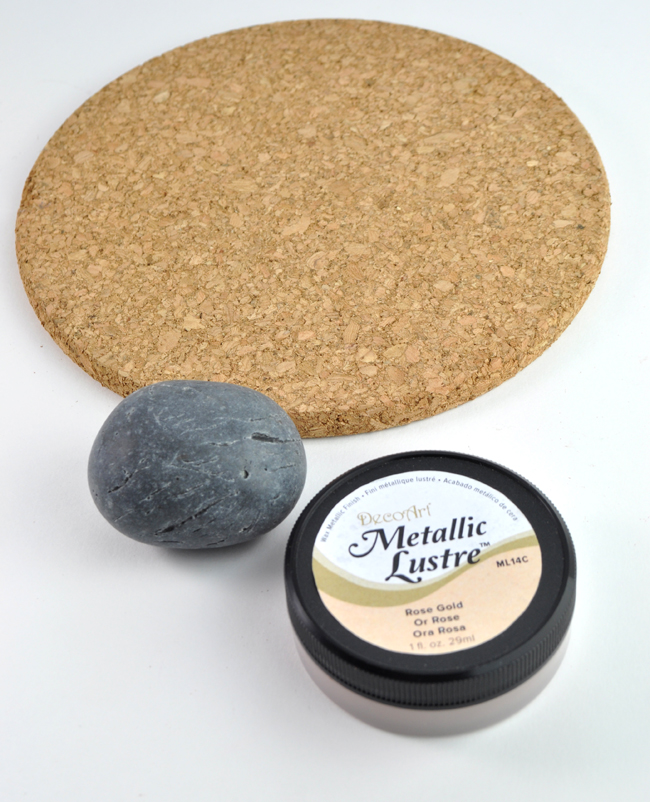 I used an inexpensive cork trivet that I found as a 3-pack at IKEA, and a rock that I snatched from our backyard landscaping along with Rose Gold Metallic Lustre, a chevron stencil, coral colored acrylic paint, and a Sharpie to make this pretty custom inspirational desk accessory set.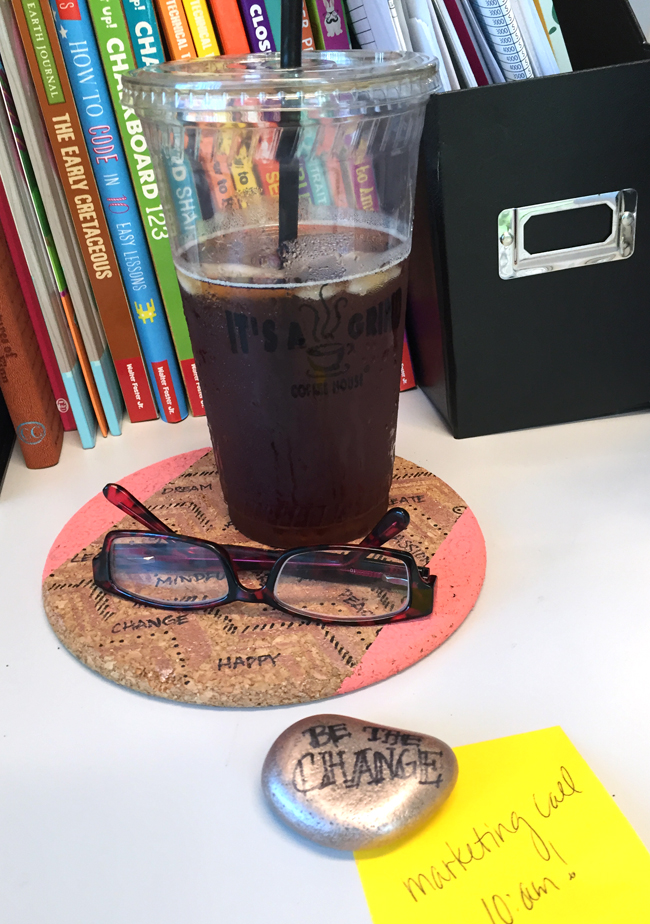 I actually love the cork surface because it makes a perfect coaster to hold my iced tea cups so that it doesn't sweat on any of my papers, and the rock makes the perfect paper weight for important notes.
I've used the Rose Gold Metallic Lustre on this pretty statement necklace made from wood beads, but I wanted to try this gorgeous rose gold medium on other surfaces.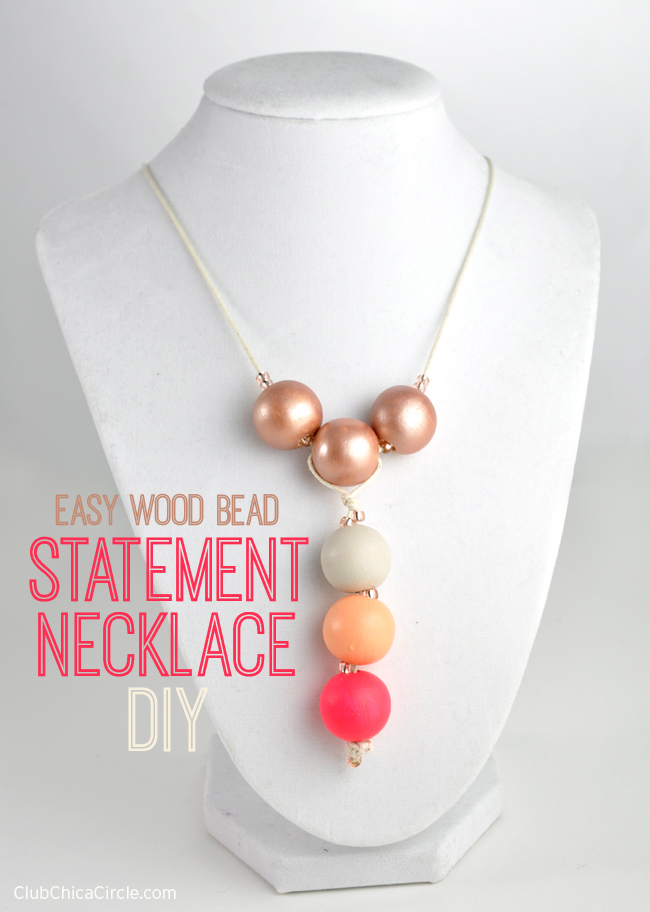 These are also the same cork trivets that I stenciled and have hanging in my office as mini bulletin boards.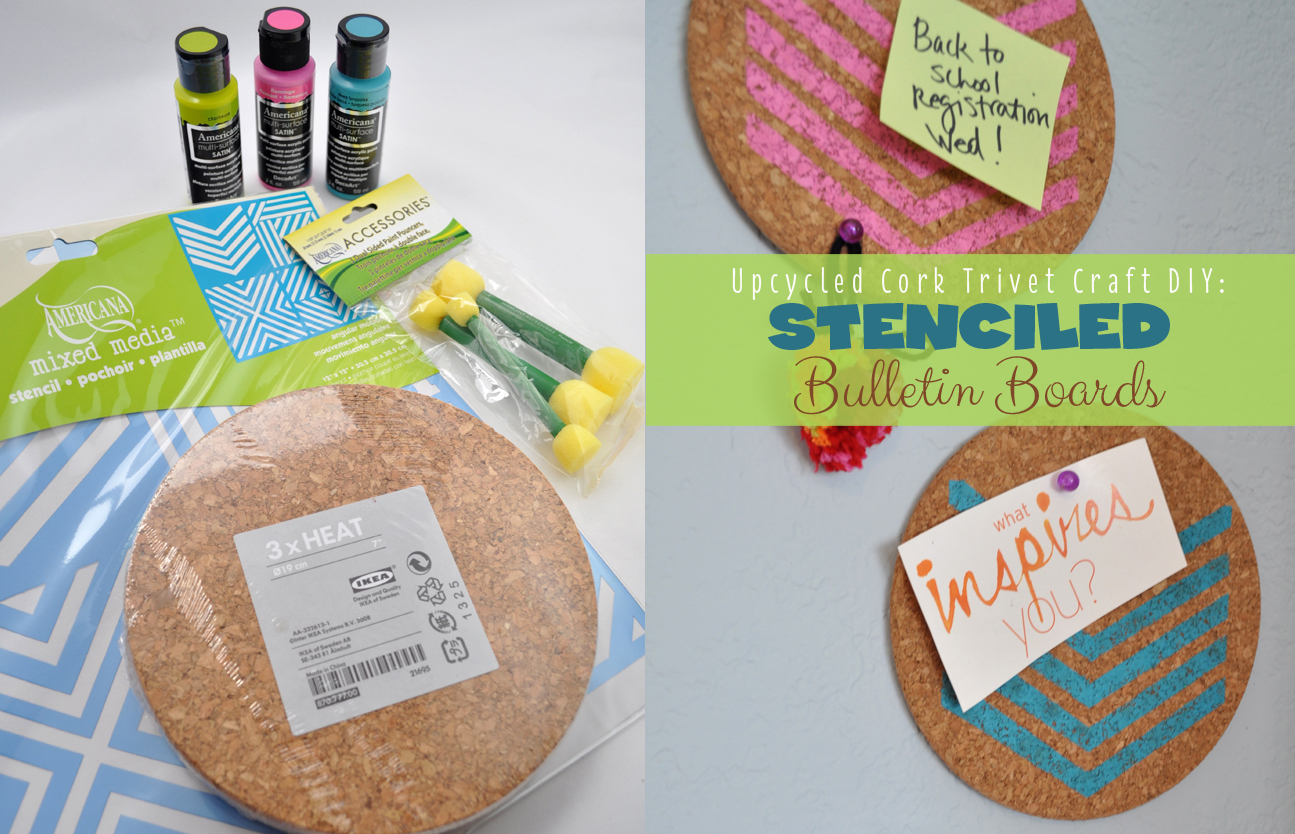 This time I used my stencil on the cork with the Metallic Lustre. The Metallic Lustre works like a paste not a paint. To apply on your surface, you need to use a soft cloth and rub and buff it on.
This was a little tricky with the cork surface and the stencil, but with a little time and patience, I "pressed" the rose gold color onto the cork while holding my stencil in place.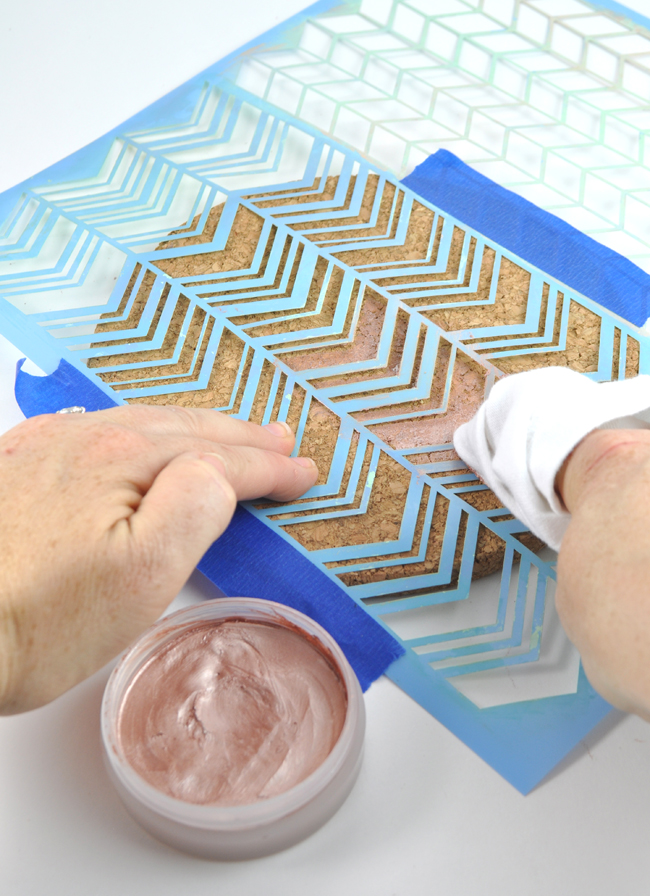 The results were subtle on the cork surface, but when the light hit the stenciled surface, it is really pretty.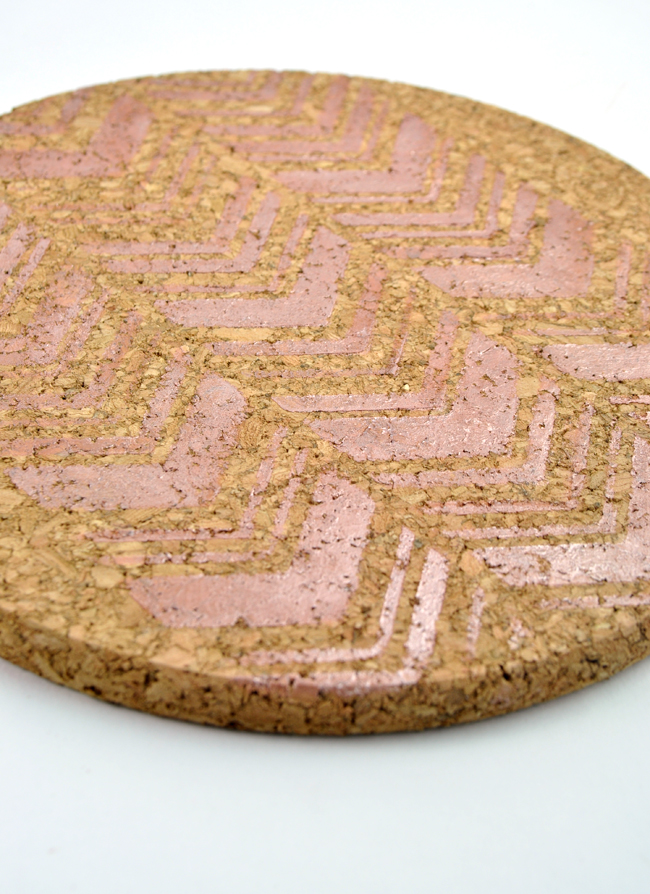 It just gives it that little extra metallic pretty punch of detail.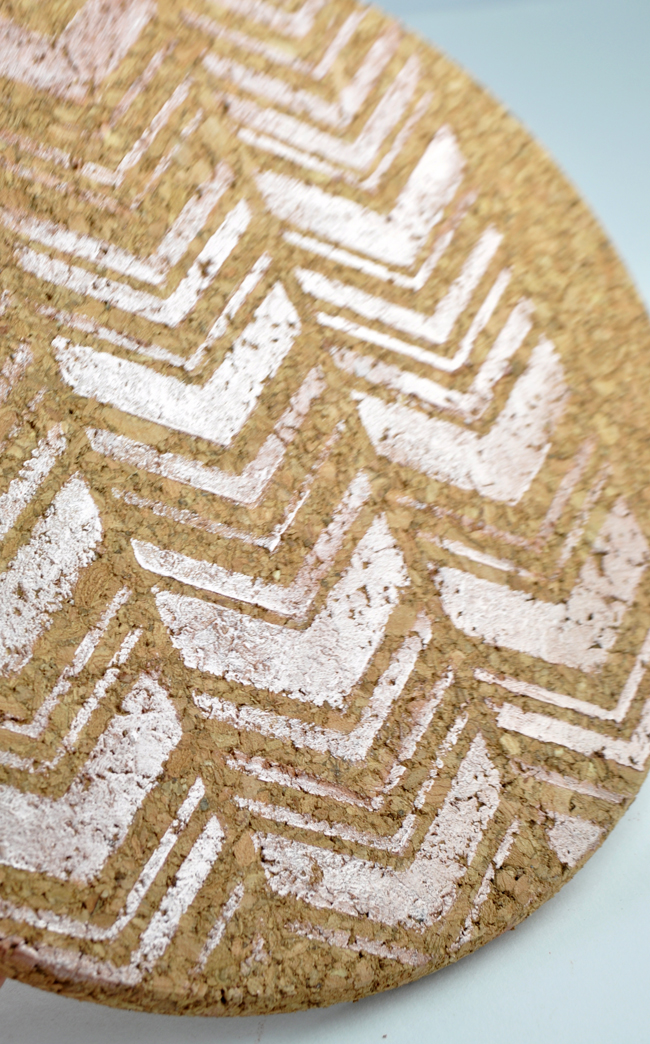 I applied the Rose Gold Metallic Lustre onto my rock surface as well, and when both were dry I added inspirational sayings and details with my black Sharpie marker.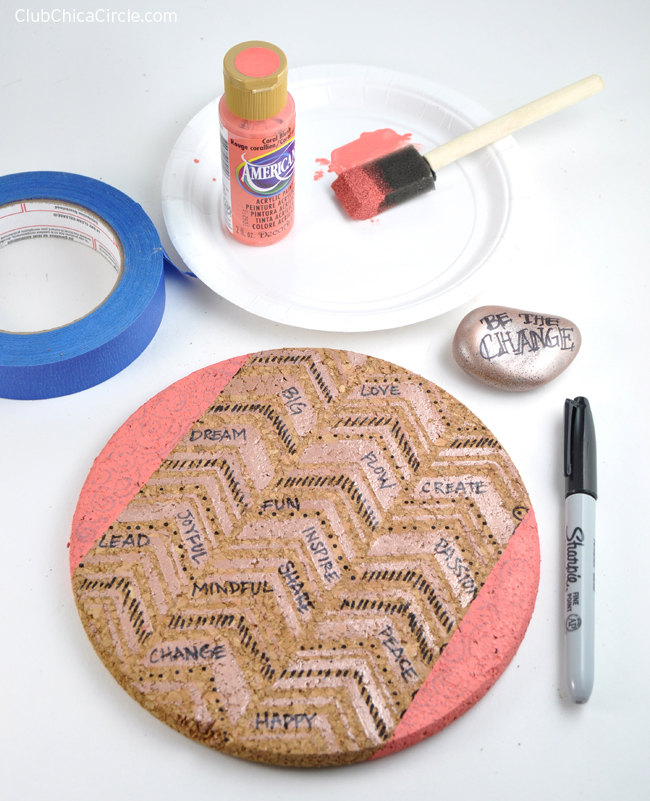 I also wanted to add just a little color to my inspirational desk coaster, so I added some coral paint on the outer edges of my cork board using painters tape to get a clean line.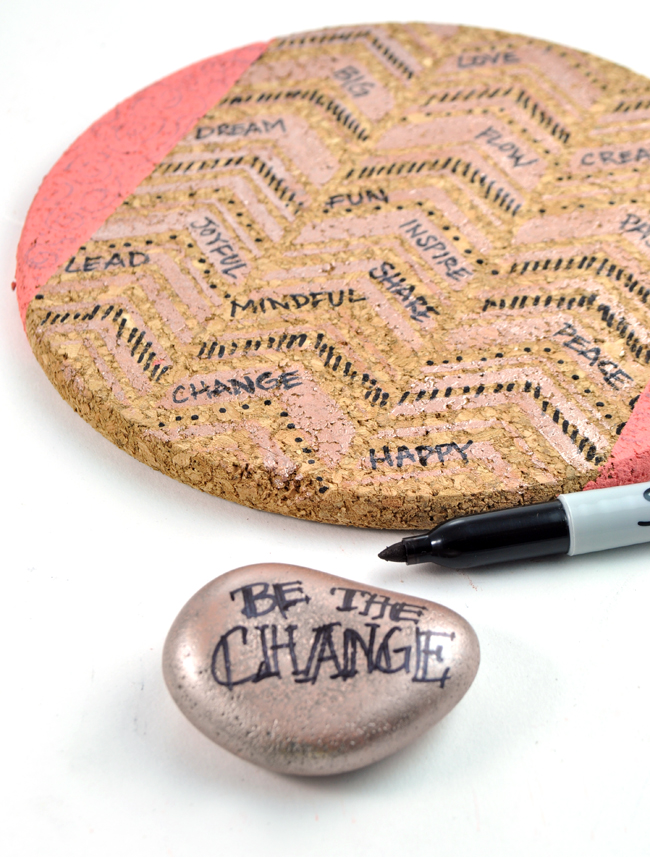 I added inspirational words on top of the chevron gold stenciled surface, and added one of my favorite sayings on the top of my new rock paperweight.
So pretty!
Rose gold is the new accessory for my desk this season!