I love crafty experiments! And when I saw this cool crafty experiment of making borax crystal snowflakes from Delia Creates, I knew I had to put a sweet spin on it for Valentines Day. With just a few simple ingredients, it is actually quite easy and satisfying to make lovely crystal ornaments. The first ingredient you will need is something called borax.
But what is Borax?
Borax is a common household chemical or substance. A box of Borax can be found in your local grocery store in the cleaning aisle and is most commonly used as a laundry booster or household cleaner.
What happens when you combine boiling water and Borax?
When mixed together and left overnight, or for a number of hours as the water cools, it creates crystals.
But how does Borax and water create crystals?
Borax is actually naturally in crystal form, and dissolves in boiling water. Hot water can hold more borax than cold water, so the hot water actually becomes saturated with Borax. So when the water cools, the Borax returns to its natural state leaving large crystal shapes.
All you need to make your own crystals are borax, empty mason or recycled jars, boiling water, pipe cleaners, popsicle sticks, yarn, and food coloring (optional).

First create shapes with pipe cleaners. I started with white pipe cleaners and my tween and I made a couple hearts, a snowflake, and a corkscrew shape.
Next, attach each pipe cleaner shape onto a popsicle stick with some yarn. This is how your shapes will hang into the borax solution.
Then you will want to fill your jars with hot boiling water and add about 1/3 cup of borax into it. Stir to dissolve. Add food coloring if desired to create colored crystals.
Finally, place your hanging shapes in the jar solutions and let set overnight. In the morning, crystals will have formed all around your pipe cleaners, and on the bottom of the jar. Remove and place on paper towels to dry.
I really loved how they turned out. The pastel colored crystal shapes were beautiful, but I knew I wanted to try and get a deeper red heart for Valentines Day. I created second batch using red pipe cleaners.

I think I like both? The purity of the white crystals is so pretty paired with a pretty pink ribbon, and the boldness of the red screams Valentines Day.
To finalize the Borax crystal decorations, I cut each shape off of the popsicle stick, and attached thin ribbon and bakers twine onto the top of each shape on the yarn. I trimmed off the excess yarn that wasn't needed, and added a pretty ribbon bow at the top of each heart or shape. LOVELY!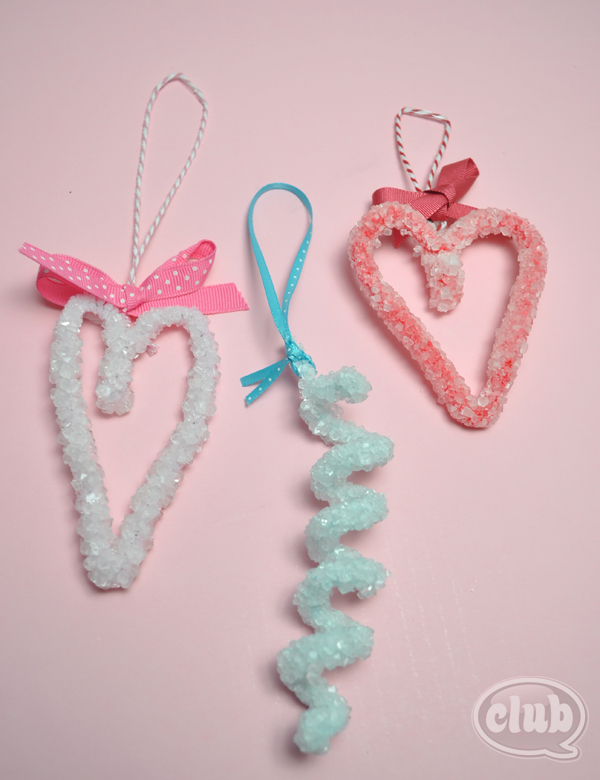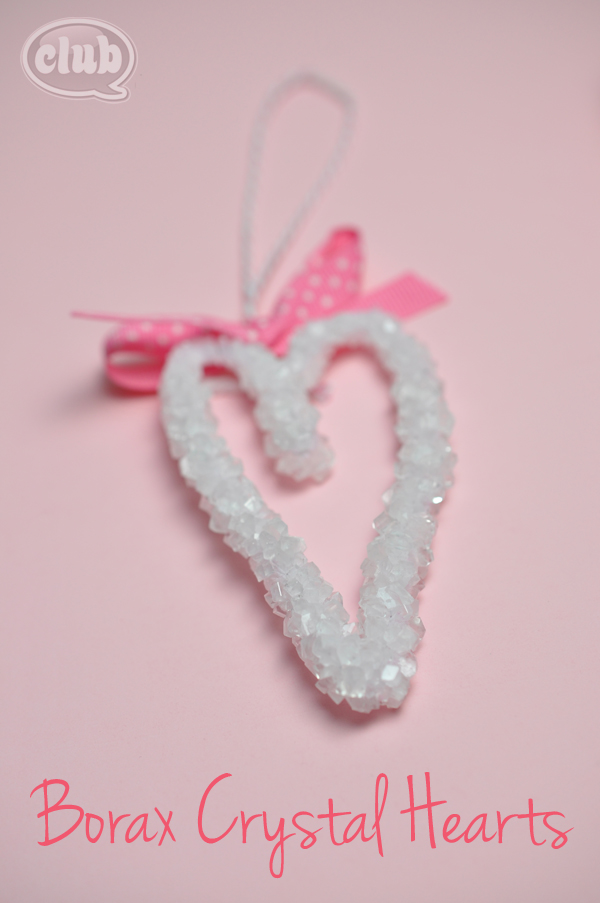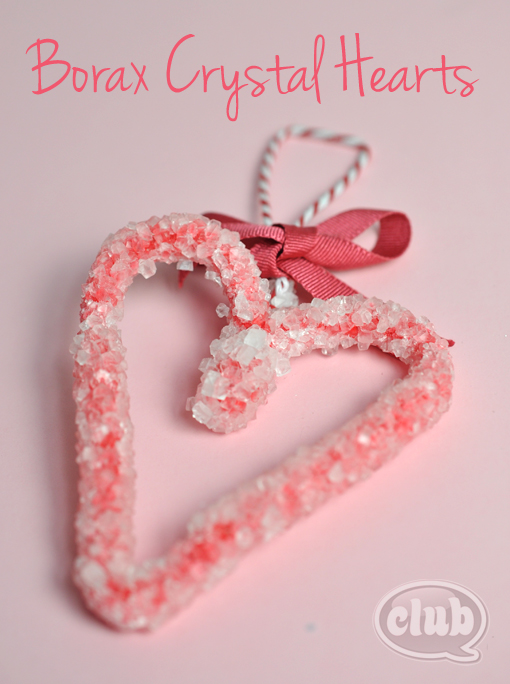 These were so simple to make, my daughter and I couldn't stop making more shapes to try.
These look really pretty hanging on a window as a window decoration, with the sun shining through the crystals.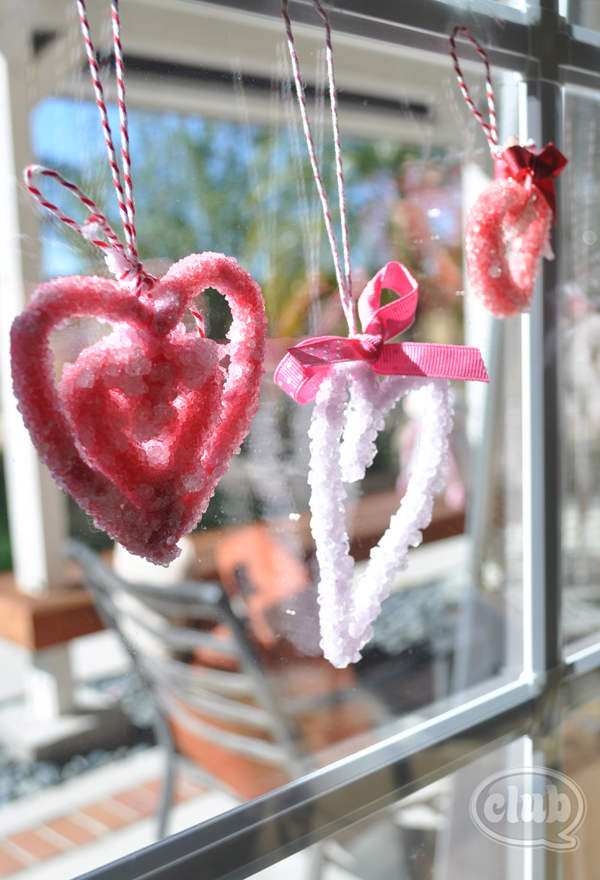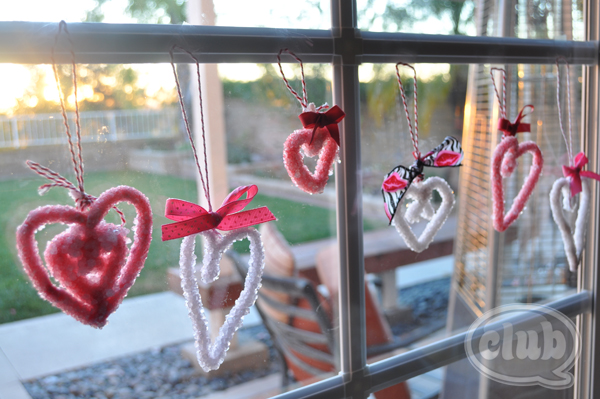 We also found that the longer we left them in the jars, the more crystals formed as the water evaporated. And the more food dye we used, the deeper the color of the crystal. We changed over our puffy paint snowflakes to sparkly crystal hearts. = )
And, you will get crystallization on the bottom of the jars, but just add some hot water back into them, and I used a knife to just break them up a little bit, and they came right out.
Try this fun craft with your kids. After the homework is done, grab some pipe cleaners, jars, and borax and make your own homemade borax crystal ornaments.

If you liked this post, and want more, you can subscribe to be on our mailing list here.