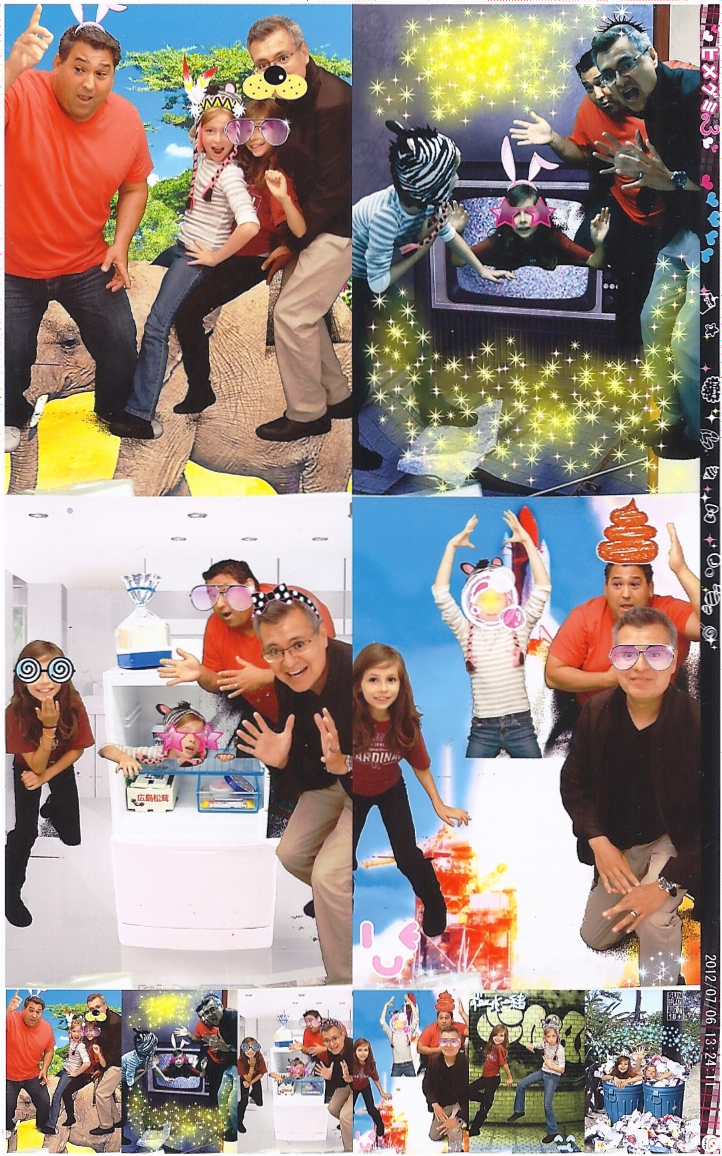 I couldn't resist sharing these fun picks from our tweens recent trip to Japantown in San Francisco. One of their stops was PikaPika Photos. They house and feature 8 different purikura machines. These are fancy photo booths which is a huge Japanese craze. Some of them have green screens, monkey bars, or a number of special effect features. The Dads had a blast creating these fun crazy photo scenes. The way it works is that you take a number of pictures (which is the fast part, just like a regular photo booth) and then you can spend loads of time playing with the images adding different visual props like glasses, hats, etc.
Using photo booths and photo props for parties is definitely very hot right now, but these purikura machines take it to the next level using technology, much like fun photo apps like Elf Ur Face, which we loved around the holidays.
Purikura photo booths can be found in other cities than San Francisco, but you may have to do an internet search for them. If you are local to Orange County like I am, you can check out Sticki Picki in the Diamond Jamboree center in Irvine. There are a number of machines in the LA area too. Try Pixel Memory Studio locations in and around LA.
They are a bit more expensive than regular photo booths that shoot out a strip of 4 photos, but as you can tell from the memories and experience the girls had, it can be a crafty treat!
Would love to hear if you or your tween have ever used one of these fancy photo booths.
Happy crafting!