There are many things in my tween's world that I never experienced at her age. She will never know a time when the internet or computers don't exist. Being exposed or aware of texting and Facebook is commonplace. And another reality is knowing what it means to go to Starbucks. Going to Starbucks is definitely a treat in our house. My drink of choice is usually a "Trenta Black Unsweetened Iced Tea with a splash of lemon". My tween's favorite treat is a Double Chocolaty Chip Frappuccino® or a package of Madeleines.
So, when I recently attended the Blogher Handmade/Creative Connection event I was intrigued by the coffee tasting Starbucks had set up at the event. They brewed their four different signature blends, and much like you would expect in a wine tasting, I sampled the four different varieties in succession of light roast to dark roast:
Breakfast Blend: Light-bodied and lighter roasted, Starbucks® Breakfast Blend is made with Latin American coffee beans to make a bright first impression. The mild, clean flavor sparkles on your tongue with high acidity and finishes with a palate-cleansing tanginess for a fresh start to your morning.
House Blend: Bright, balanced and medium-bodied, our House Blend is our signature coffee blend. Balance, flavor, body and acidity are neatly melded together so that no single characteristic dominates, creating a vibrant and clean cup of coffee that is distinctively Starbucks.
Italian Roast: A medium-bodied, multi-region blend, our Italian Roast gets its distinctive sweetness from its deep, dark roast. It's a sturdy and potent blend with flavors that reach beyond the caramel notes of our Espresso Roast but stop short of the intense smokiness of our French Roast.
French Roast: Our darkest, boldest coffee, French Roast has surprisingly low acidity, a light body and an intense smoky flavor. This multi-region blend uses strong and hearty arabica beans to deliver a delicious, extra-bold cup of coffee.
Drumroll please….surprisingly my favorite blend was the French Roast, but then a close second was the Breakfast Blend. And as a gift for me for participating in the tasting, I brought home a treat for my tween – their new "Scratch It" Tumbler. It is the perfect size for a small hot chocolate, or if you are my daughter, she insists on bringing it school in her backpack for her water bottle. The best part is that it is customizable! Gotta love that. You simply unscrew the bottom, pull out the piece of "scratch it" paper, and design away!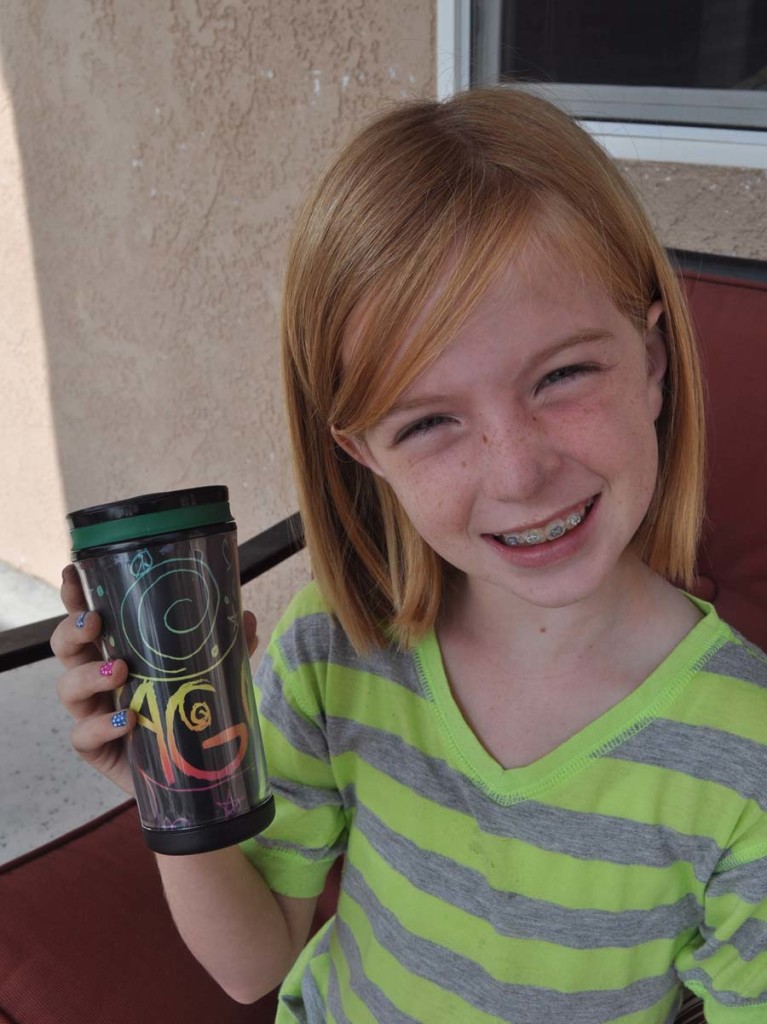 And here is the best part – Starbucks is giving away 1 lb bags of each of the 4 different roasts and 1 Scratch It Tumbler to one lucky winner!
All you have to do to enter is either write a comment to this post or on our Facebook wall telling us what your favorite Starbucks treat is or your favorite roast flavor. Subscribing to our mailing list or Liking us on Facebook gets you an extra entry. It is that simple! A perfect gift for the coffee lover in mom and the creative tween.
Don't wait, the giveaway will end exactly one week from now – at 9 am pacific standard time Oct. 3.