This is a Sponsored post written by me on behalf of Duck Brand for SocialSpark. All opinions are 100% mine.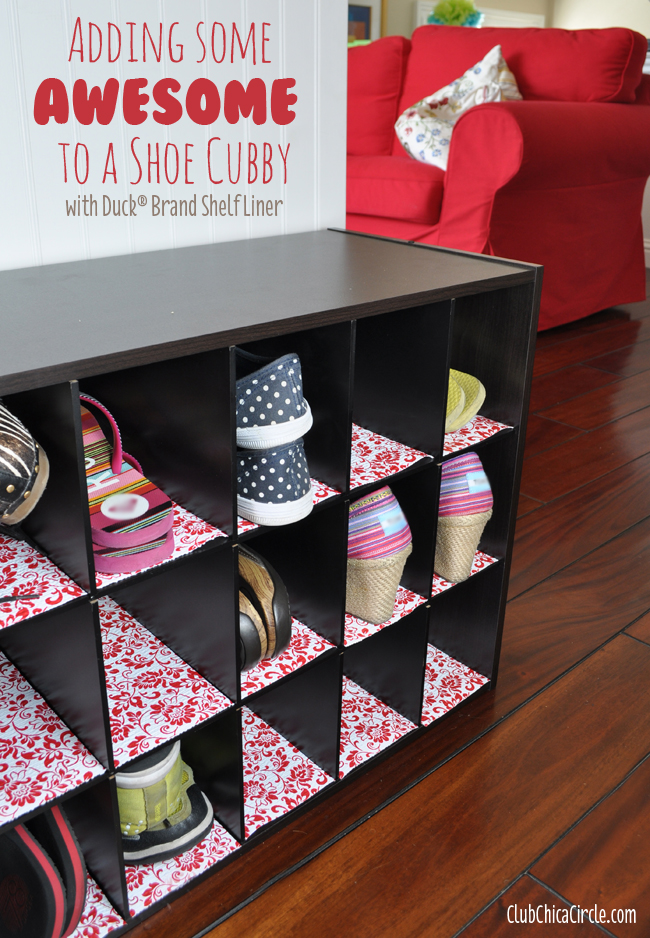 I solved two problems in my house today with my new shoe cubby, and I made three people very happy!
First, let me tell you the issue or problem. Our front door became the collection place for all kinds of shoes, from my daughter mostly, and my husband and myself. Then my daughter would have a friend over, and their shoes would end up in the mix. Here is where the issue would come. Inevitably, not all of the shoes would make it back in their proper spot, the next day would come, we would wear a different pair of shoes, and I think you get the picture. We would constantly have a mess of shoes in the house, right inside the front door, which drives my husband crazy.
Solution: my new shoe cubby that I put together and recently purchased from my local Target.
But if you know me at all – I can just have a plain shoe cubby. Of course, I need to "accessorize" it and make it AWESOME.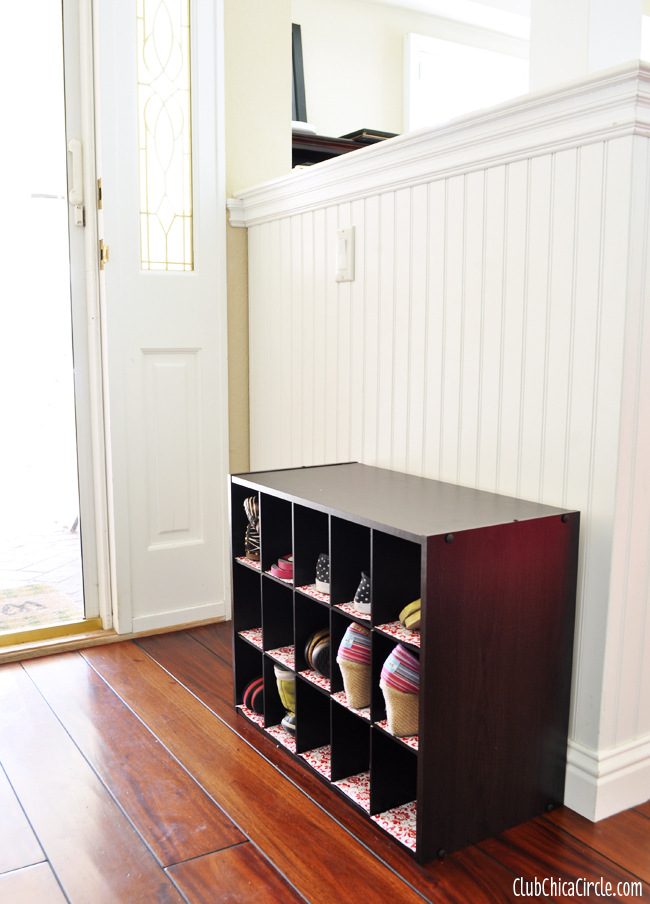 I knew just the thing—Duck Brand's Shelf Liner. Usually when I say I'm crafting with Duck® Brand products – it's Duck Tape. But I was thrilled to try out their shelf liners.
They have a full line of adhesive and non-adhesive shelf liners that make it easy to organize and decorate a space, like your kitchen, and keep your home clean and tidy. They are machine washable, and easy to cut and install. Duck® Brand Easy Liners come in a variety of colors and patterns to choose from as well.
I tried the Smooth Top® non-adhesive liner with a grip bottom for my shoe shelf, and I went for the pretty red floral design.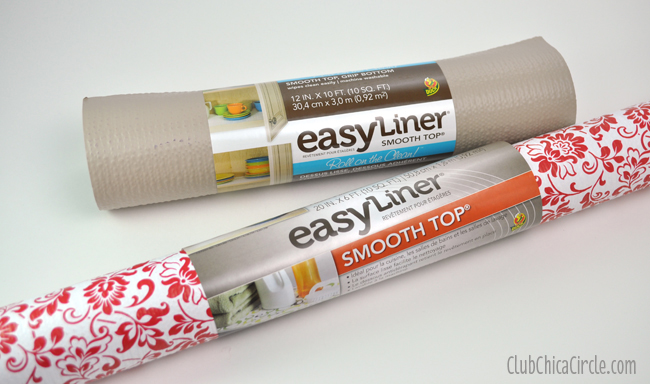 I cut them to size using my craft knife and a straight-edged ruler. A scissors would work too.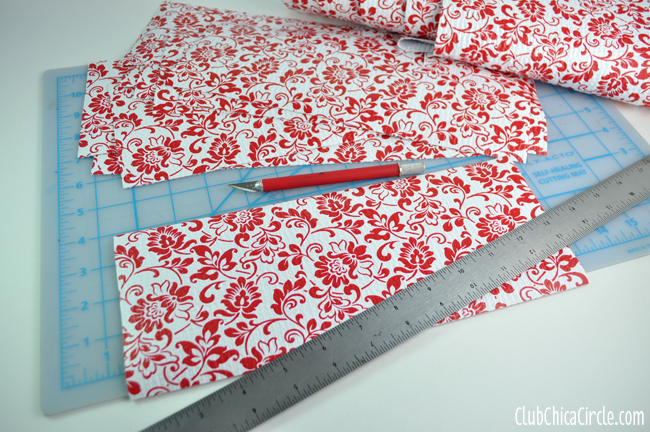 Then I lined my shelves in each cubby with the pretty patterned liner.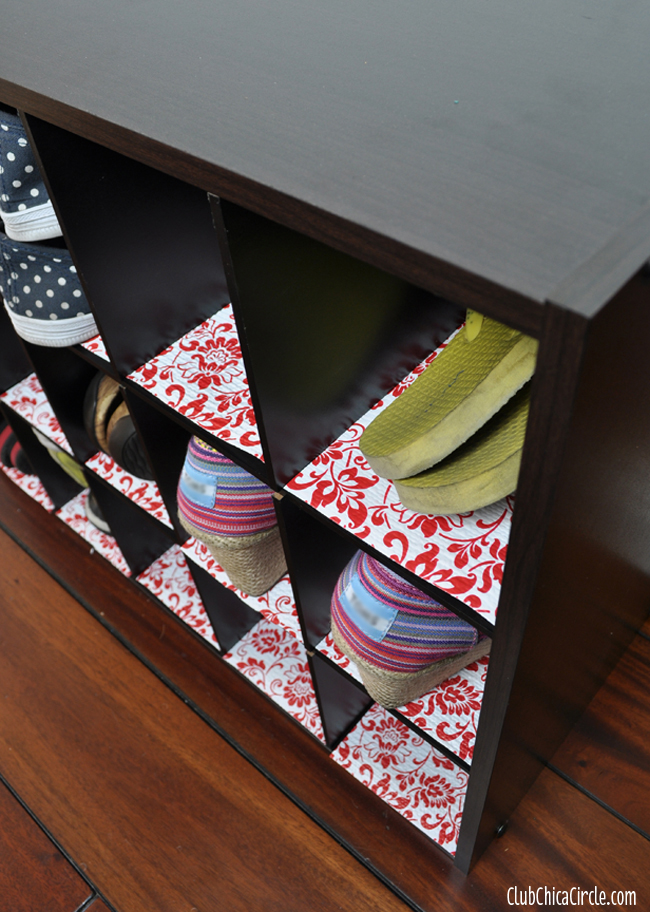 Who knew a simple shoe shelf could be so pretty and so helpful?
And I LOVE how the red picks up the color of our living room couch in the background.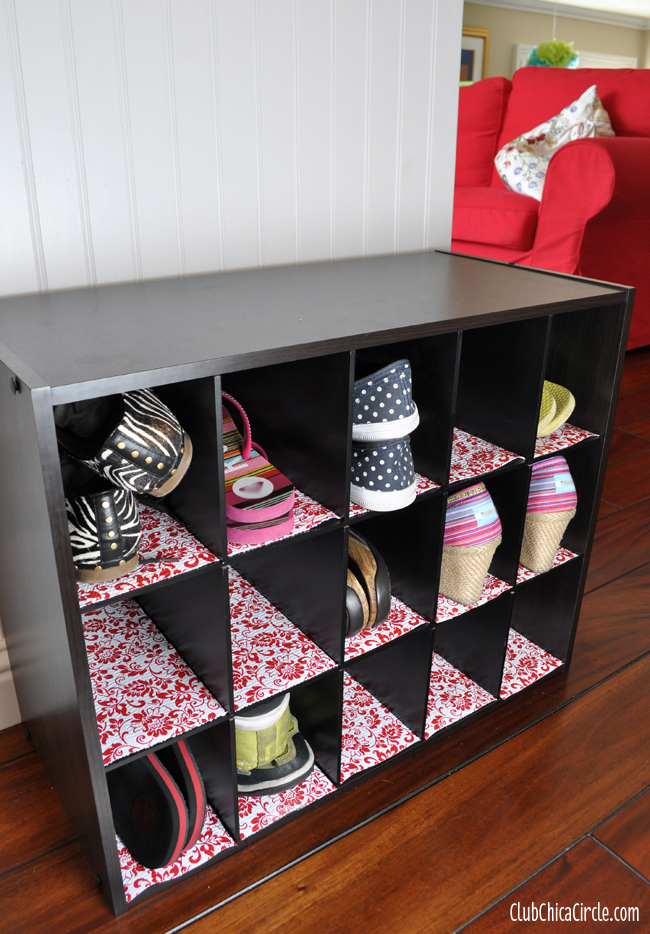 My daughter has designated that we each get our own "row" of the shoe shelf. My husband is happy the shoes are neatly picked up and in one place. My daughter is happy that I'm not bugging her to put her shoes away in her room. I'm happy because it looks really pretty, and it's super functional!
WIN-WIN-WIN!
Thanks Duck® Brand shelf liner!
You can connect wtih Duck® brand on Facebook and Pinterest
So, what would you make AWESOME with some Duck® Brand shelf liners?