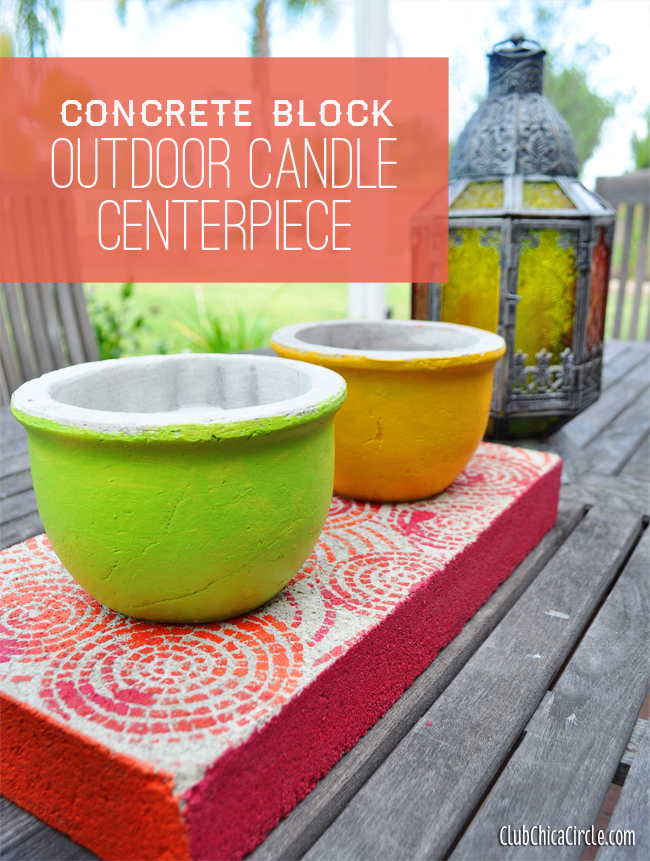 Don't you just love when the days gets longer because the sun sets later and later every day we get closer to summer? I love when we can enjoy your dinner or entertain outside in the backyard. What I don't love are when the bugs want to join the outdoor party!
I created this easy outdoor candle centerpiece that both looks pretty, but helps keep the small pests away. I started with a basic concrete brick and two concrete looking citronella candles that I found at my local Home Depot store. The concrete brick is the perfect canvas for this outdoor craft idea, and best of all it was less than $1! Seriously, you can't beat that price. I also used some colorful patio paints and stencil that I found at my local Michael's store. We have these pretty lanterns in our backyard, so I wanted to use it as my color inspiration for my homemade centerpiece.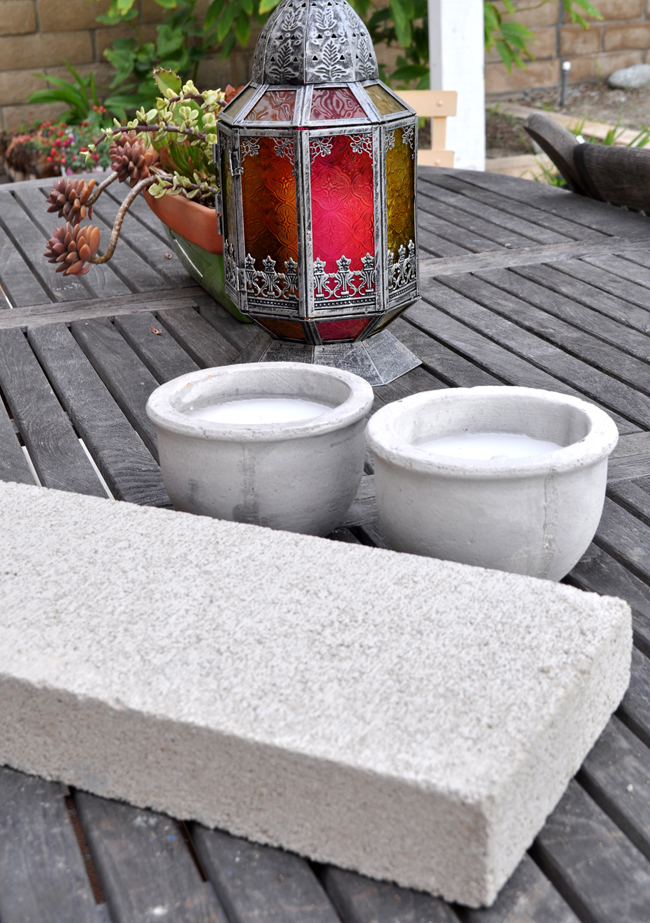 Here are all the materials I used to make this cool concrete candle centerpiece:
DecoArt® Patio Paint outdoor acrylic paints (Raspberry Red, Orange Poppy, Marigold, Citrus Green)
Americana® Segmented Swirls Stencil
2" x 8" x 16" concrete block (found in hardware stores)
Paintbrushes and stencil brush
Citronella candles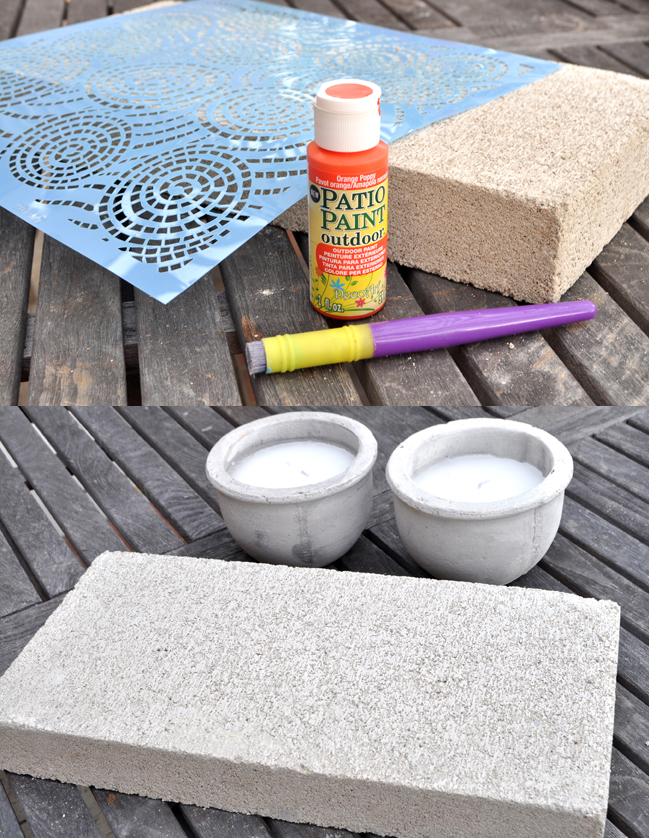 The patio acrylic paint is the perfect paint for an outdoor project like this one. The colors stay bright and won't fade in the sunlight and are weather resistant.
First step, add some color and design to my concrete brick. I used a cool swirl design stencil and my Patio Paints to turn my brick from boring to brilliant.

I wanted to give my stenciled design on the top of my concrete block the look of fire swirls, so I used a pretty raspberry red color mixed with the dark orange paint and blended them together while I stenciled the design on the top.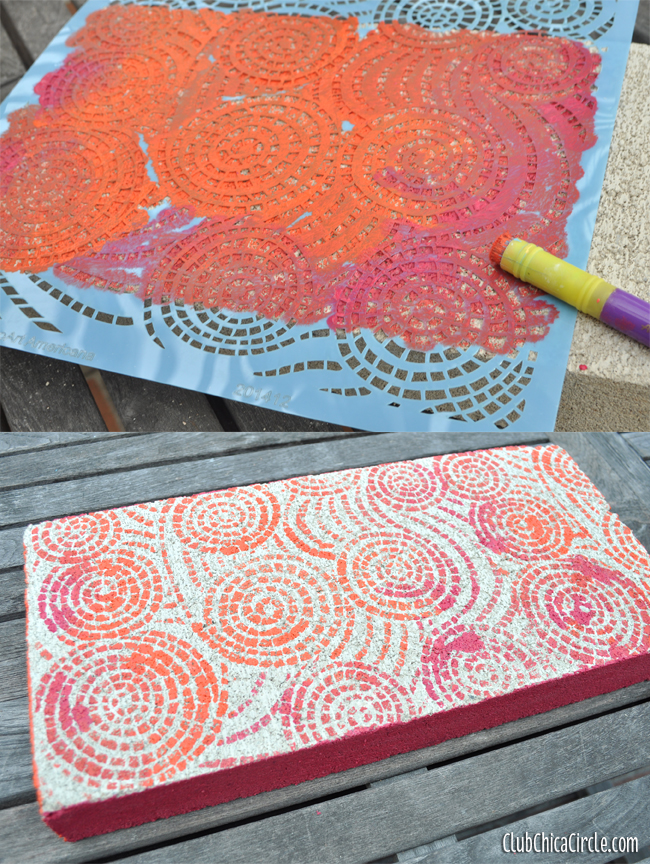 Then I painted the edges of my brick solid red and orange. I also painted the outside of my candles bright contrasting colors and let dry.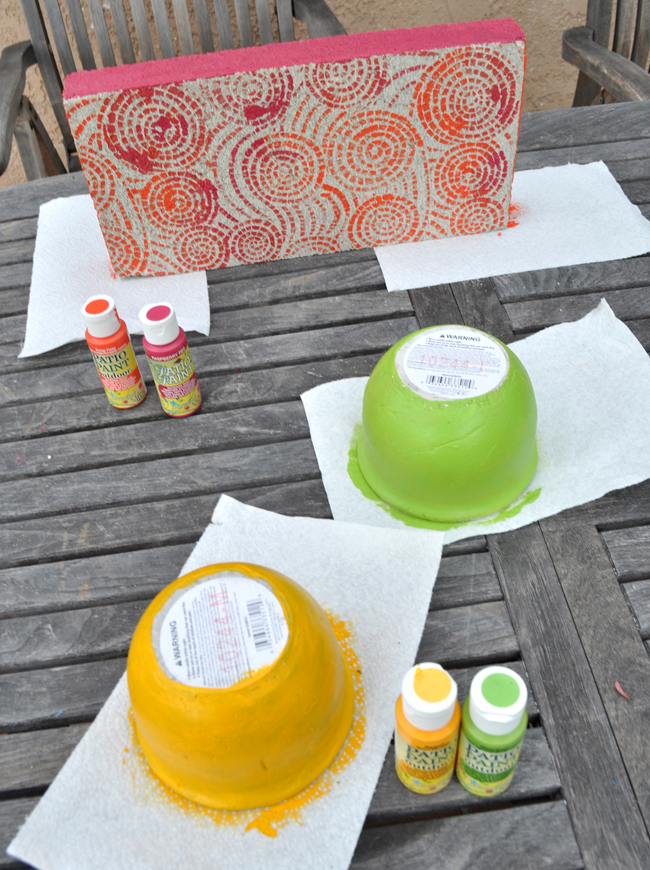 After the paint was dry, it was time to enjoy my new outdoor candle centerpiece. I put the two painted candles on top of my pretty painted brick.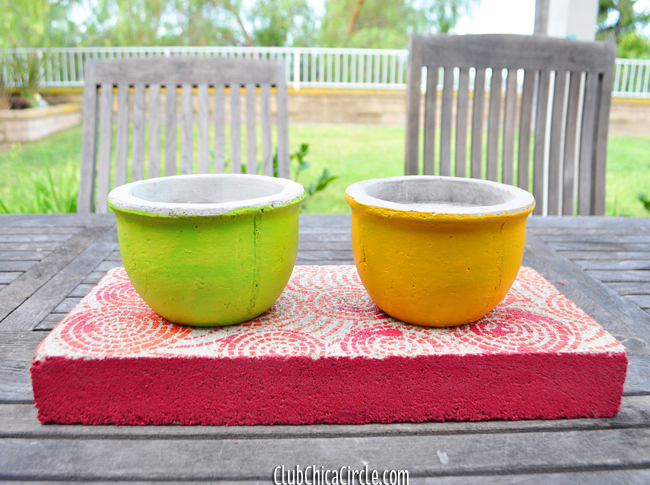 I love how this new candle centerpiece looks great both during the day and at night!
The citronella candles atop the one-of-a-kind painted brick give off the best summer ambience, and help ward away the bugs. Lovely!
Here's to a fun summer of backyard fun!