It's less than a week until Thanksgiving, and I know a lot of you are planning your menu and getting ready for the family festivities. This holiday is my favorite day to eat pumpkin pie and drink egg nog. My tween loves this holiday because we always spend it with family, but the part she doesn't yet get, or look forward to, is the food. She knows we make a big dinner for everyone to share, and the one thing she will devour is the stuffing, but not much else. We have been in the mood for crafting turkeys, I was inspired to make a yummy turkey version that any kid will enjoy!
Here is a fun and easy DIY on how to set up a Turkey Sundae Bar for the kids to assemble and then gobble up.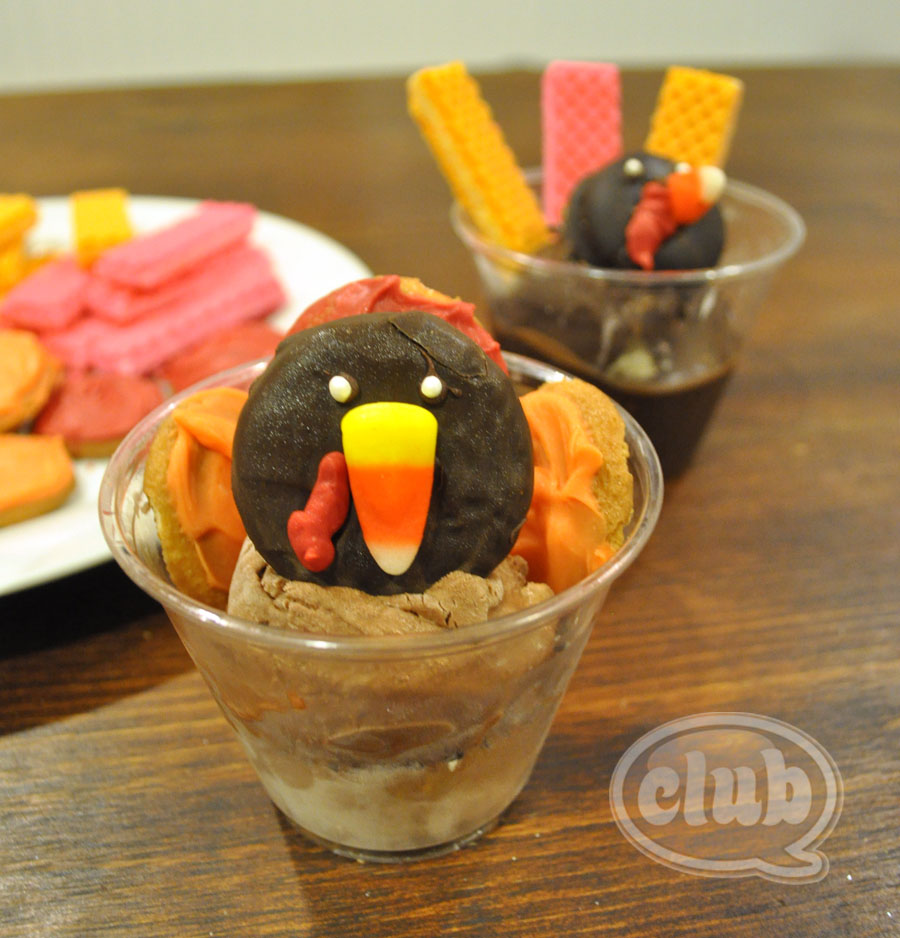 It started with a trip to grocery store. I love to look at things and put a new perspective on them to see what I can turn them into. Normally that's me at the craft store. This time I was looking at what would inspire down the cookie aisle. I knew I wanted a chocolate cookie face, and I wanted ice cream as the turkey's body. I also wanted the kids to choose from chocolate or vanilla ice cream and to be able to build their own "turkey sundae".
This is what I came home, and this is where the fun began: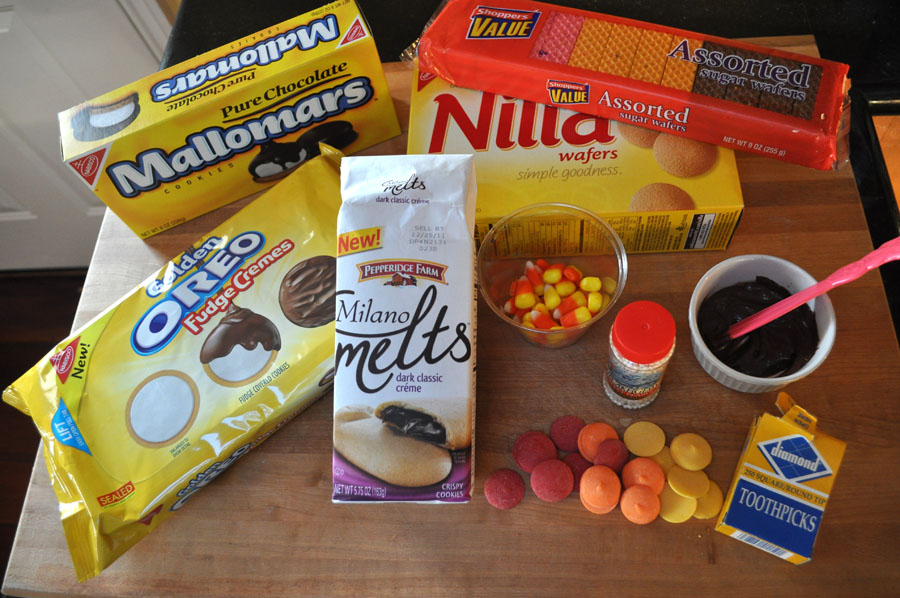 I found chocolate covered Oreos, Mallowmars, Nilla Wafers, Pepperidge Farm Milano Melts, and Sugar Wafers. I supplemented it with one of my favorite baking tools – colored candy melts – along with candy corn for noses, and cupcake pearls for eyes.
Ok, and goodness knows, there is already enough prep and food preparing on the day of Thanksgiving, so here are some tips to make it easier:
Scoop balls of ice cream into muffin tin with a cupcake liner ahead of time. No trying to fight with hard ice cream and have a line waiting a scoop.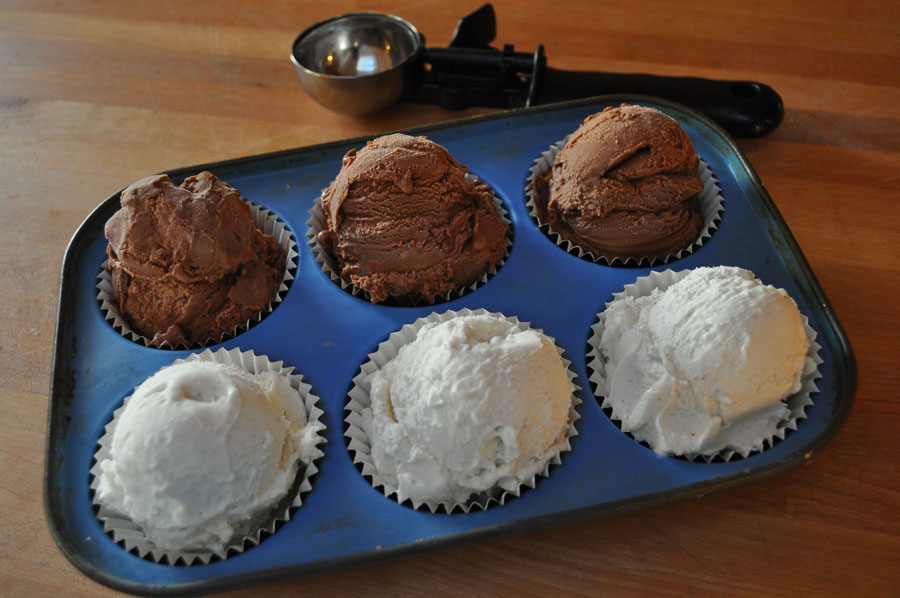 Frost the cookies of choice with red and orange candy melts ahead of time.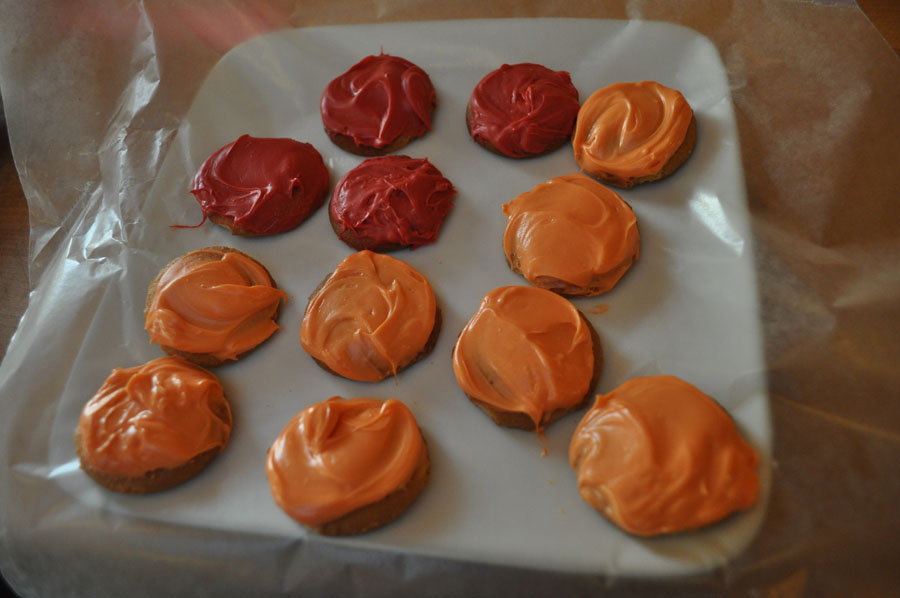 For colored turkey feathers: melt orange and red candy melts in small bowl, stir until smooth, spread onto top of cookies, place on parchment paper, then put in fridge to harden.
Create the turkey sundae faces ahead of time too.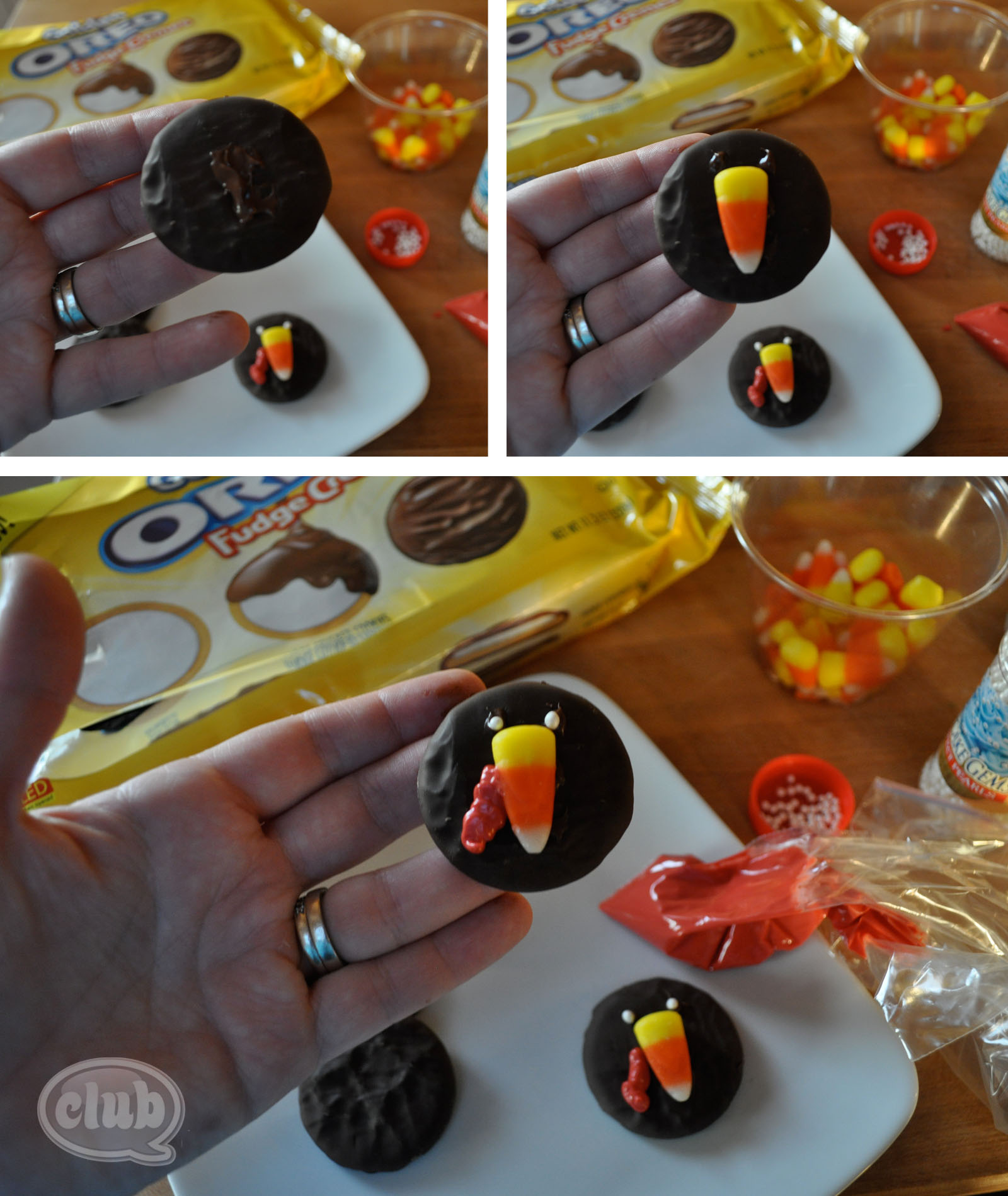 For Oreo Turkey Faces: melt chocolate candy melts, use a toothpick to apply to front of cookie and use as "glue" to attach candy corn nose and candy pearl eyes, finish with melted red candy melts in bag, clip the end and squeeze out to make wattle.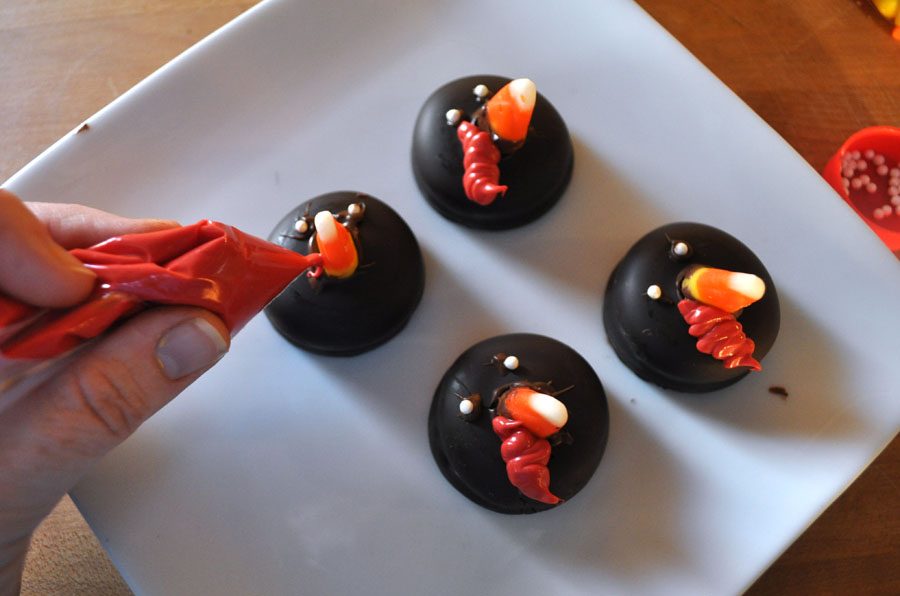 For Mallomar Turkey Faces: use the same technique as above, but I placed the candy corn nose on it's end and it squished into the marshmallow part of the cookie.
The rest is just assembly! And that is the fun part!
So when it is time to set up for the Turkey Sundae Party, pull out the ice cream scoops and arrange the turkey faces and cookie feather options on a plate. I would have small clear plastic cups ready for serving and placing a scoop of ice cream in. I also suggest having something like Smuckers© Magic Shell to squirt on the vanilla ice cream. It is a great option, and it also completes the turkey with a brown body.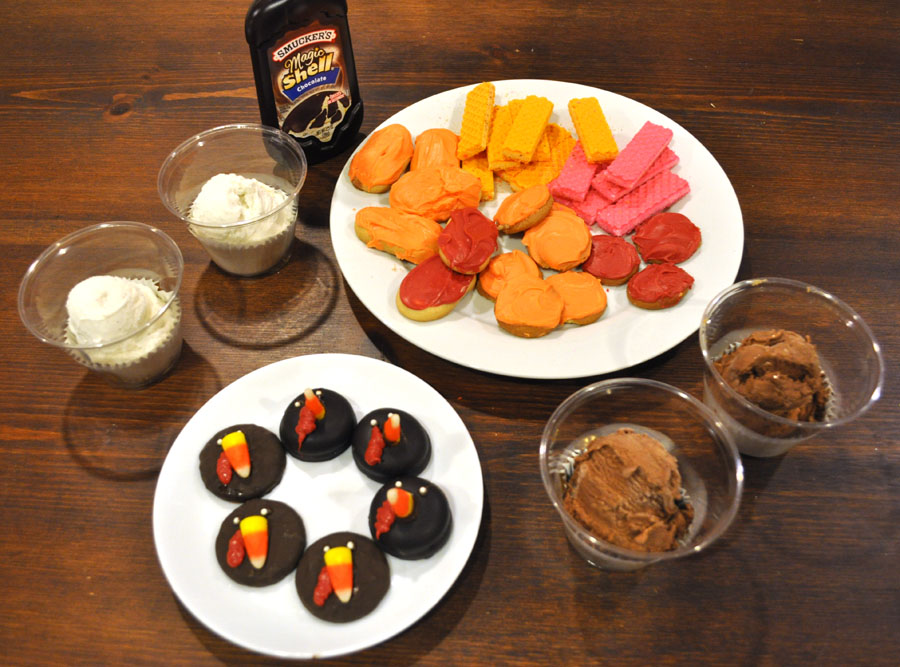 We created a couple different versions, and I think my favorite is the sugar wafer feather version.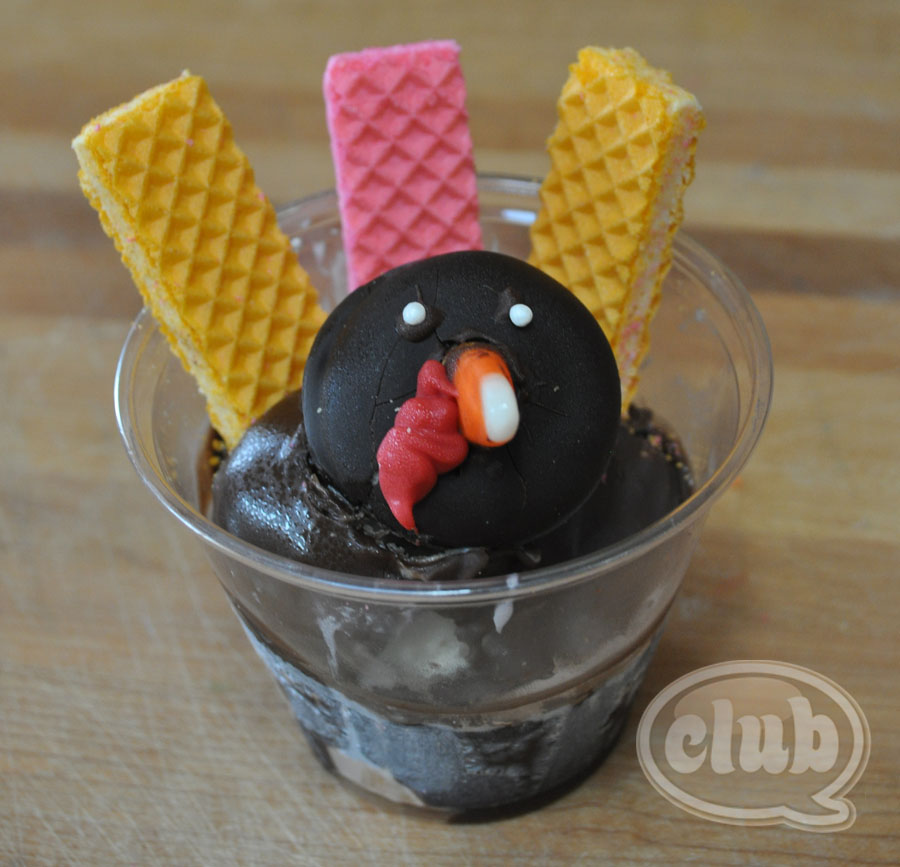 This one has a Mallomar face, vanilla ice cream with Magic Shell body, and sugar wafer feathers.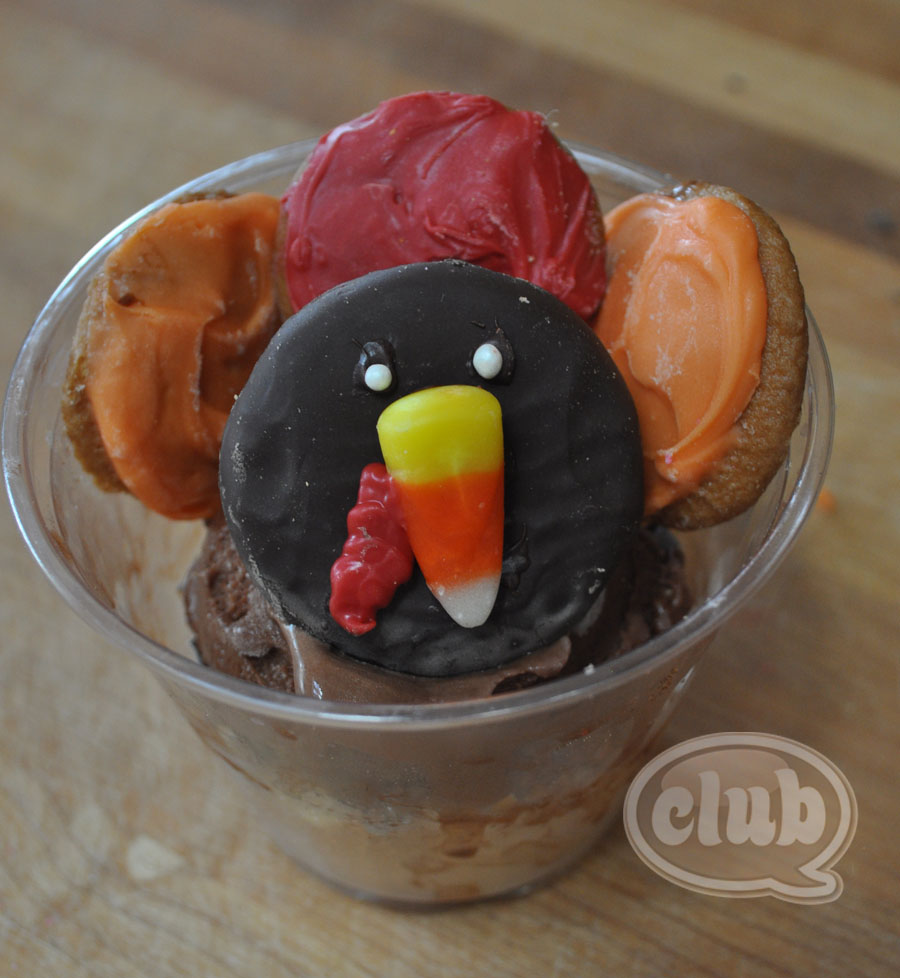 This one has an Oreo cookie face, chocolate ice cream body, and Nilla wafer covered feathers.
The customization of the sundae is the key. And enjoying the dessert is the reward. Gobble-gobble…. or yummy yummy.