Have you ever heard what Wordle is? Is it a cool, free internet app that allows you create a beautiful and personal poster in seconds. My tween's teacher made it a classroom activity for all of her students earlier in the year and displayed the results all around the classroom. With teacher appreciation next week, her school wanted a  personal poster for each of the teachers to display on their classroom doors. Since I was in charge of my tween's teacher poster, I had the chance to create one in Wordle myself.
The way Wordle works is that you type in any words you prefer, press the create button, and it loads them into pre-designed templates that you can choose from. I typed in her name, things her class has done throughout the year, and some great adjectives that describe her – and then voilá, I got a cool poster. I customized the colors a little, and kept pressing the button "randomize" until I got the design I liked. Keep in mind also, that the program counts every word as a single design element. So, for instance, when I typed in PilgrimFieldTrip, I typed it as one word with no spaces so that it stayed together.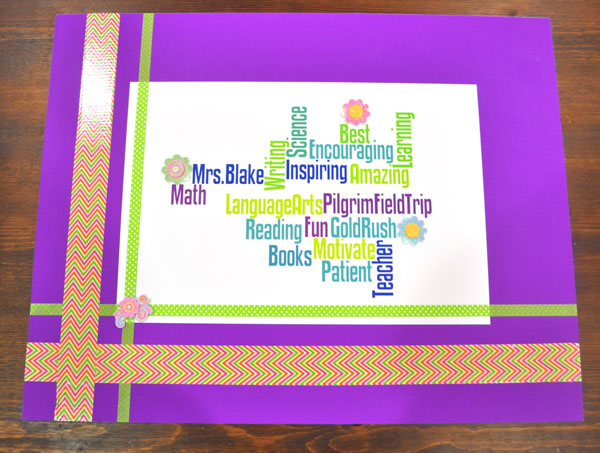 I then pasted it on a large colored poster board, and added decorations with with washi tape and decorative duck tape (one of my favorite craft materials at the moment), along with some cute scrapbooking stickers.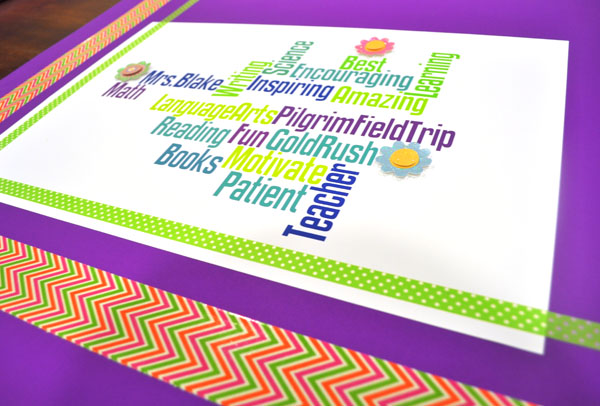 I could see using this fun app for many purposes. Could be a fun and simple Mother's or Father's Day idea. If you haven't tried this app before, it is worth a look. Very simple and super satisfying! Don't be shy, make one for yourself!
Happy Crafting!
If you liked this post, and want more, you can subscribe to be on our mailing list here.