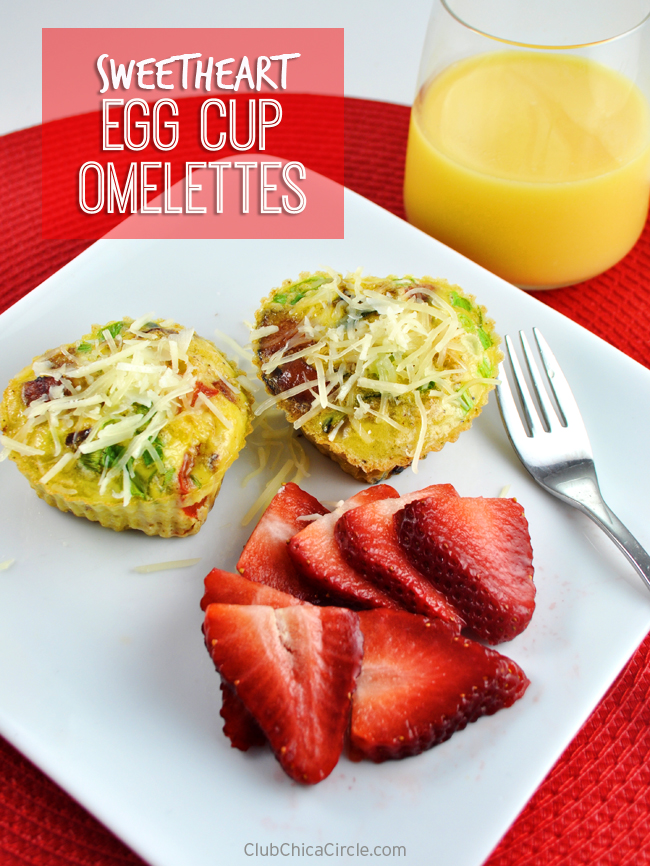 My husband calls these protein bombs. I call them yummy and easy reheatable, no-fuss, make-a-whole-bunch for the week, egg cup omelettes.
With our busy schedules with work and school, we have been making these single size egg omelettes to last us through the week. The first time my husband wanted to make a huge batch of these, he asked if I had silicone cupcake cups to make them in. Did I ever! With all my crafting, I actually have the in almost every shape and size. I couldn't resist making a batch of heart-shaped egg cups.
So what do you need to make your own egg cups? 
1st ingredient – eggs of course. I actually prefer to use a mixture of whole eggs and egg whites.
And then, guess what, you can customize your egg cups with your favorite omelette ingredients.
Finish off by grabbing cupcake-sized silicone cups, and you are ready to make your own egg cup omelettes.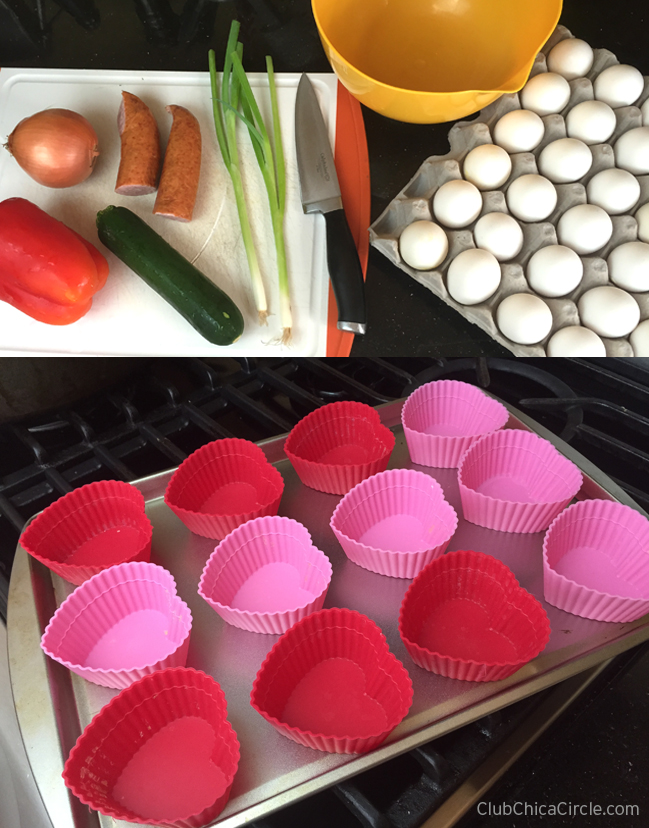 Next step, dice up your ingredients and preheat your oven to 350 degrees.
For a dozen egg cups, I used 1/2 onion, 1 medium red pepper, 1 medium zucchini, and 1 polish sausage.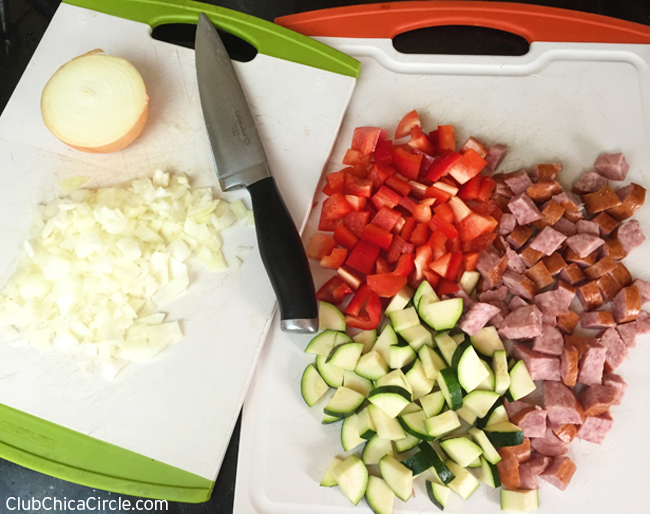 In a large nonstick pan, I first sauteed the onions in a little bit of olive oil,
Then I added all the other ingredients and sauteed them together until browned, about 10 minutes.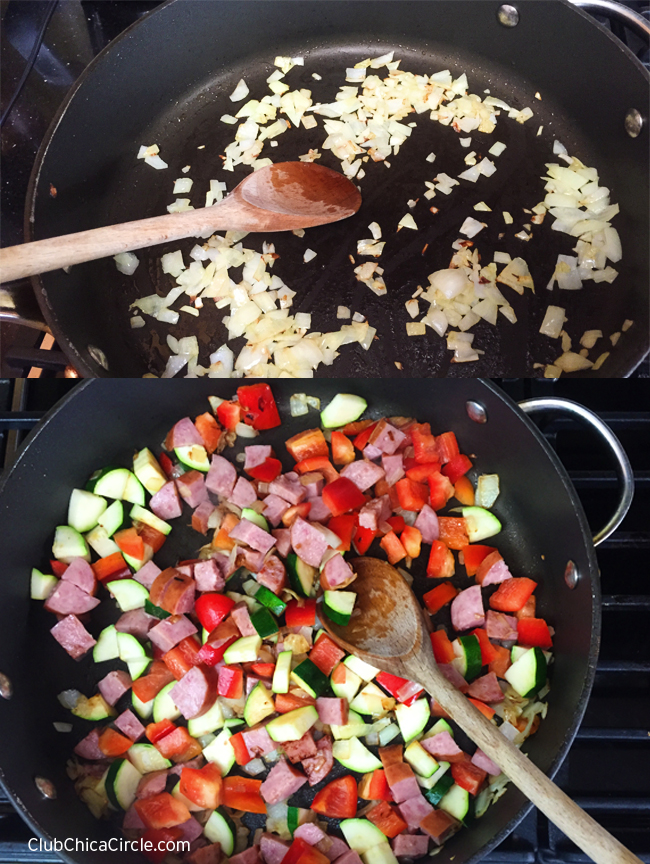 After spraying my silicone cups with nonstick spray, I filled each heart shaped cup with the yummy sauteed goodness.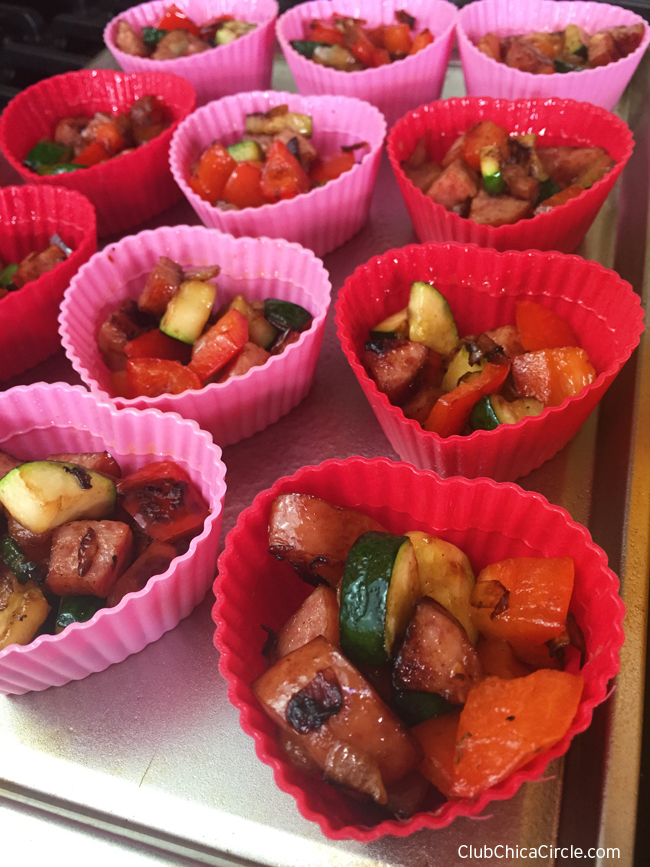 Time to mix the eggs. For a dozen egg cups, I used 10 whole eggs and the equivalent of 5 egg whites.
I added salt and pepper and chopped green onions to the egg mixture.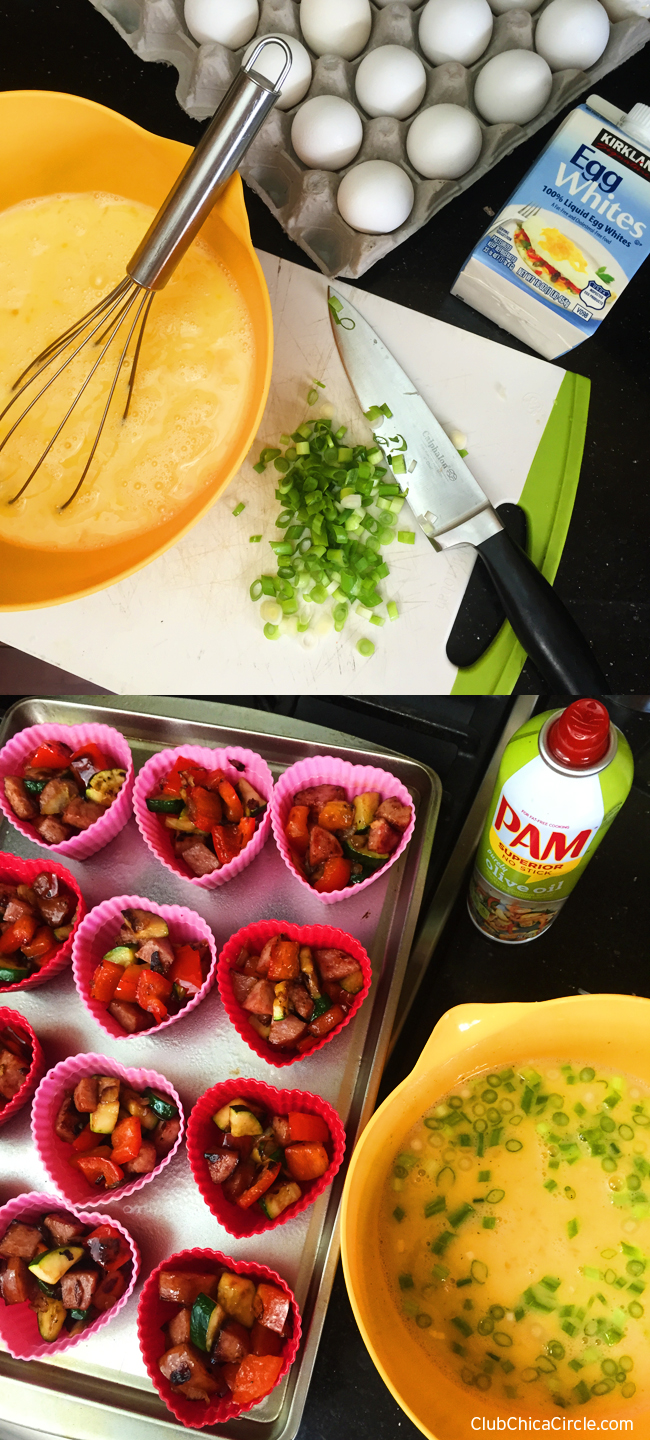 Then I filled the cups with the egg mixture to the top of each cup.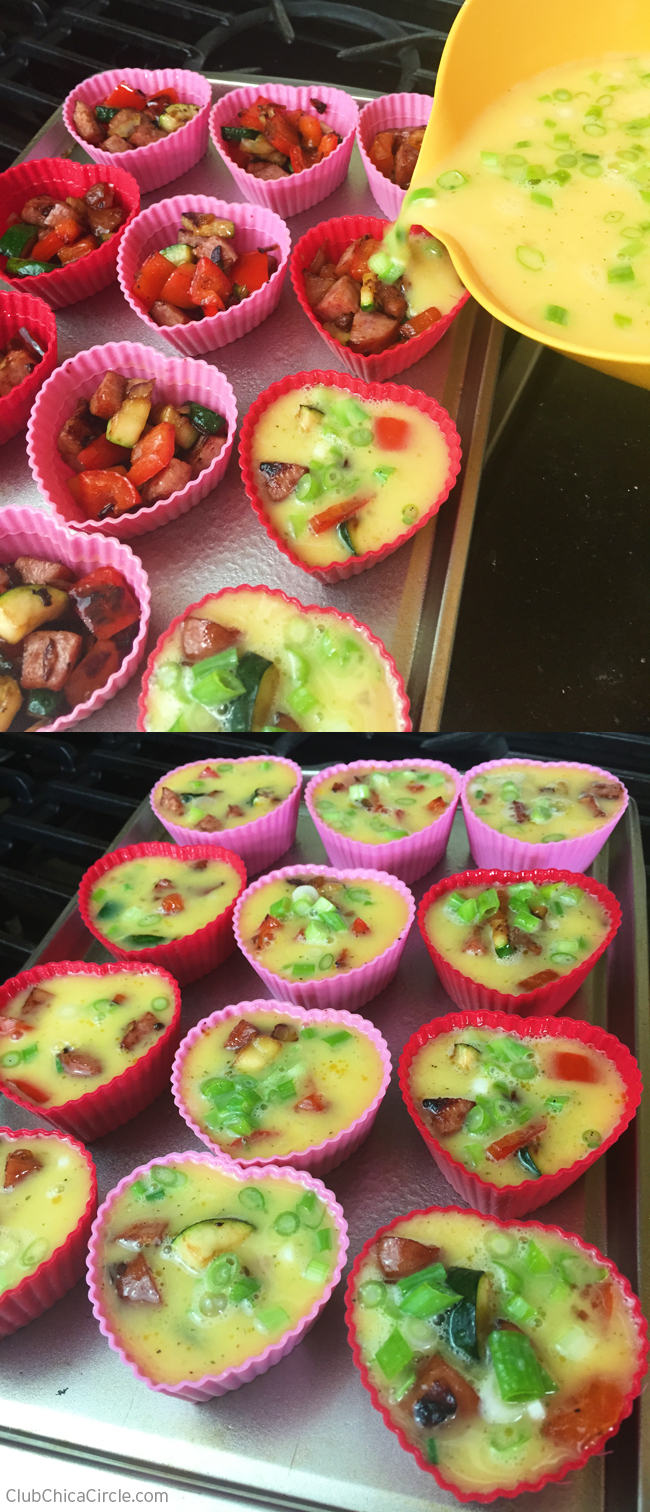 Now it's time to put these sweetheart cup eggs into the oven.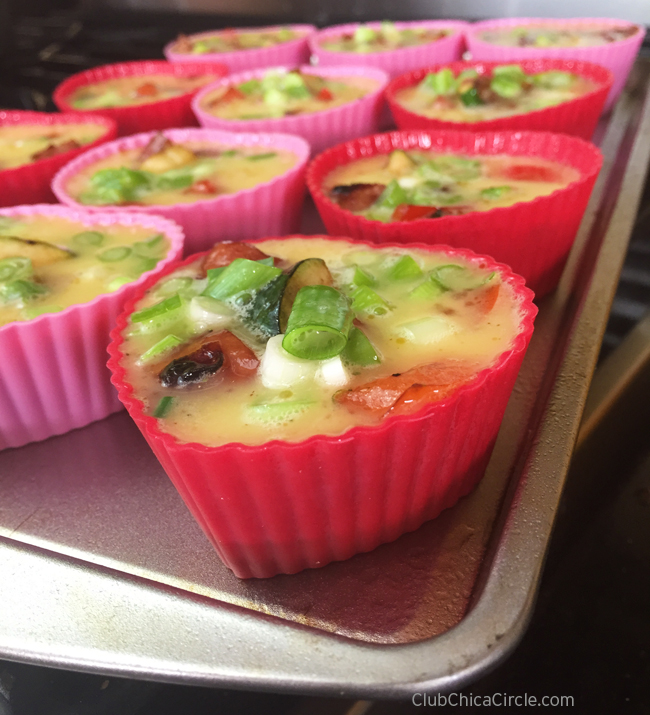 I baked them in the silicone cups for 30 minutes at 350 degrees. They do puff up a little bit, but the settle right back into the silicone molds.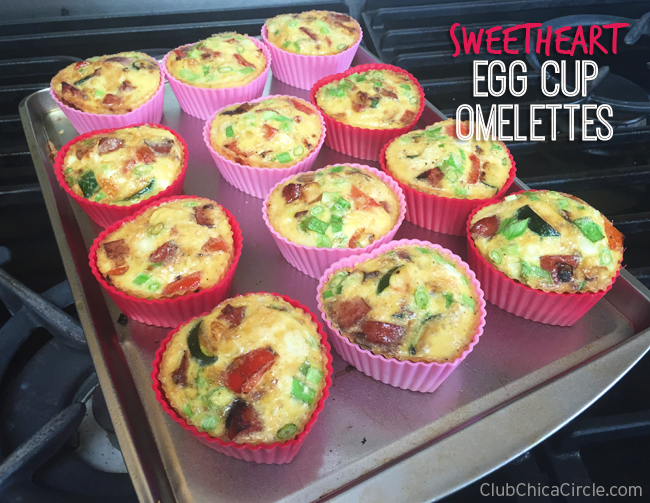 I let them cool slightly and then popped them right out of the cups.
They are super delicious right out of the oven, but one of the best parts of making these cute single serve egg omelettes in big batches, is that you can save them for later. They heat up perfectly in the microwave for about 30 seconds each!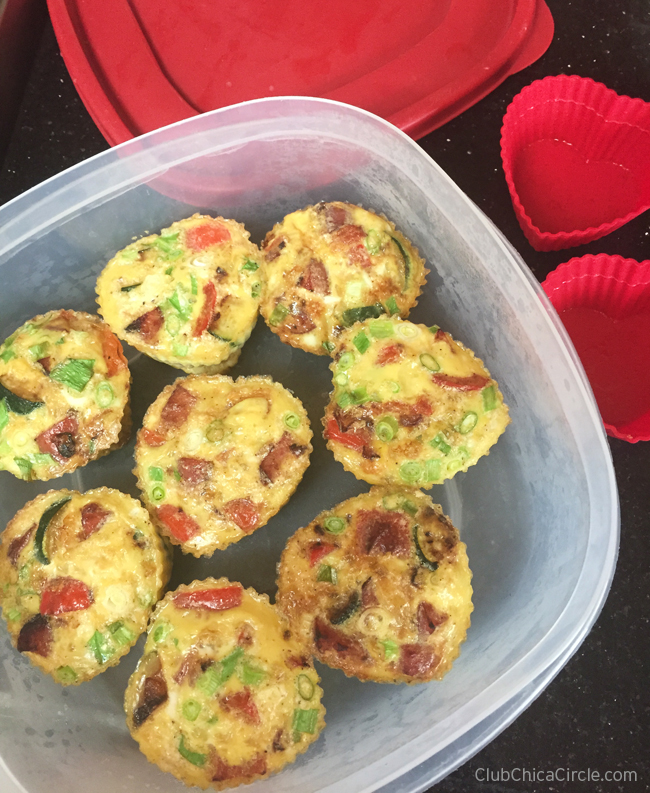 Top them with cheese if you prefer, and pair them with some fresh fruit. Breakfast is served!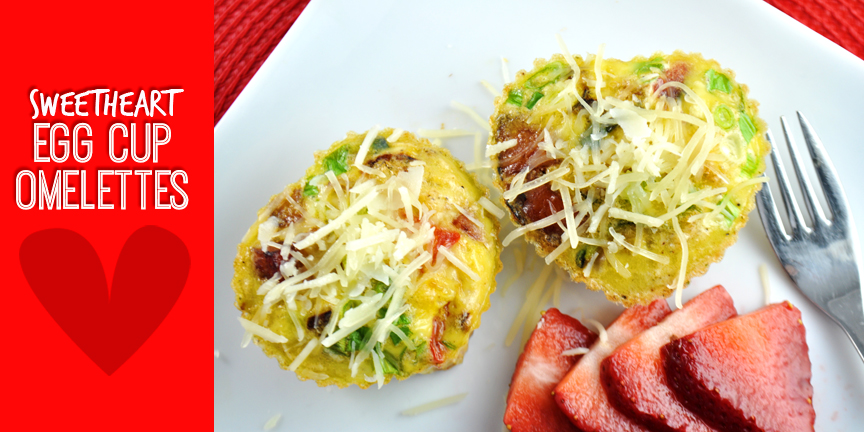 Yummo!