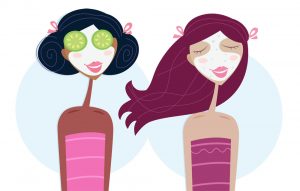 Sleepovers are a timeless tradition of tween girls. Staying up all night, making snacks, watching movies, and having fun with friends are rites of passage that girls look forward to during a typical sleepover. But how can you add that extra special touch to your tween's sleepover? We have some great ideas for making your tween's overnight adventure one for the books!
One idea that's fun for tweens and their moms is a Spa Sleepover. In addition to painting each other's nails and doing each other's hair — standard for almost any sleepover — you can make provide simple and delightful at-home facials for your tween. Here are a couple of our favorites, courtesy of Birthday Party Ideas 4 kids!
Honey Oatmeal Spa Facial
Ingredients
1/4 cup plain yogurt or buttermilk
1/2 cup oatmeal
2 tablespoons of honey
Directions
Finely grind or process the oatmeal in a blender or food processor. Set aside. In a small bowl, stir together honey and yogurt, and then add ground oatmeal. Mix thoroughly until a smooth paste consistency has been reached. Smooth over your face and neck, leave on for fifteen minutes, and rinse off with warm water. Can be used daily.
Strip it Off! Pore Cleaning Strips
This recipe makes a pore cleaning "strip" which works just like those sold in popular drugstores.
1 T Knox unflavored gelatin
1-1/2 T milk
Mix the two ingredients and microwave for 10 seconds to slightly warm. Using a clean cosmetic brush, apply to nose and chin area.
Avoid delicate eye area.
Rinse brush immediately.
Allow mixture on nose and chin to dry for 10-15 minutes.
Mixture will dry quite stiff and form a "stiff film."
Peel off the film and stare at all the little porcupine quills that used to be in your nose pores