Discloser: the post is sponsored in part by Tulip Glow paints by I Love To Create and Blueprint Social. As always, all ideas, opinions, and images are completely my own.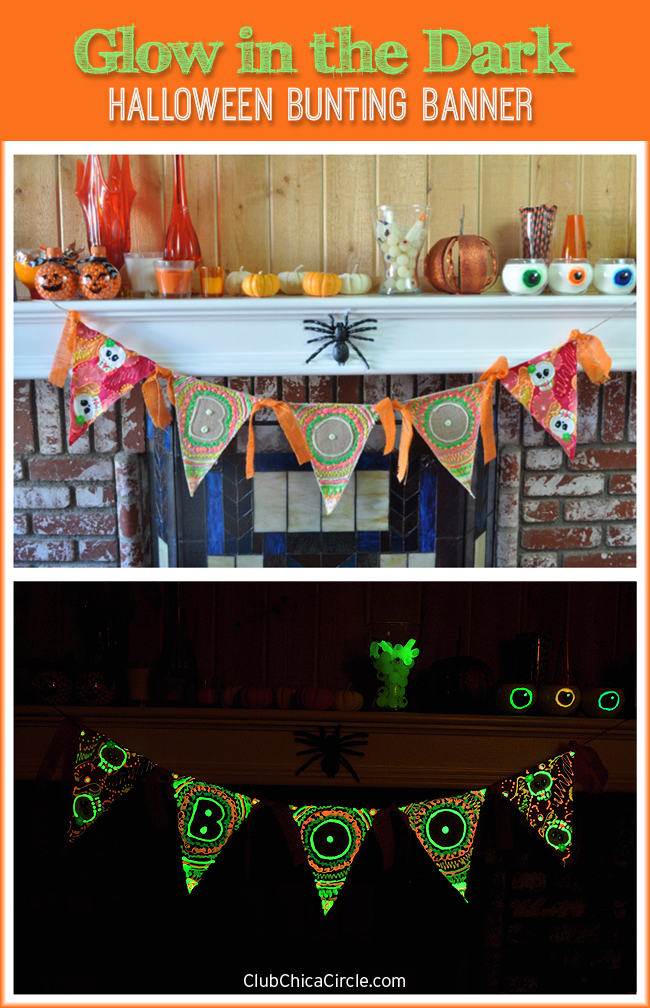 Halloween is one of those holidays where it is just SO FUN to decorate your house for! I made this homemade banner for our mantle and I absolutely love how it turned out! First of all it looks so great and colorful in the day, and secondly—it glows in the dark!
It was so simple to make with a little help from Tulip Glow Paints. First of all, when I received my box of Tulip glow paint goodies in the mail, I was so excited to see such bright colors to work with!
I have made plenty of projects with these, like the glow in the dark window clings and glow in the dark pumpkins, and this is just another cool medium to use these paints on. Tulip Fabric Paints are nontoxic and formulated for lasting adhesion to fabric, so your designs stay dimensional after they are dry. Even though they are labeled fabric paints, you can use them on a variety of surfaces and projects, like foam pumpkins, glass, metal, and even wood.
Here is what I used to make my banner:
3 burlap triangle banner pieces (which you can find at your local craft store)
Colorful fabric of choice (enough to cut out 2 triangles)
Scissors
Hot glue gun
Orange burlap for extra decoration
BOO template and spray adhesive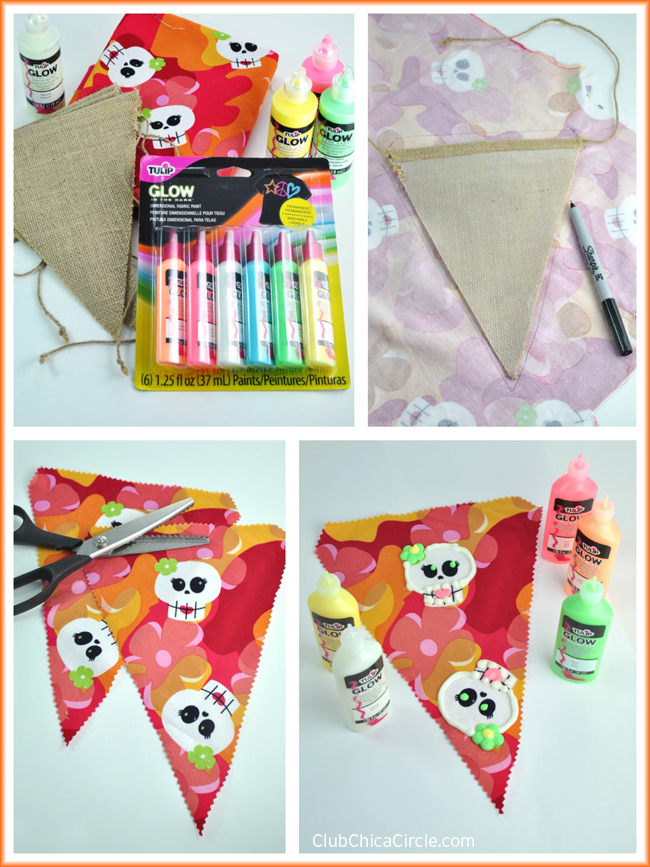 I picked a fabric that was just as bright and colorful as the Glow paints, and I love that it had a bit of a "Day of the Dead" feel. I used my burlap triangle as a template, leaving an extra 1/2″ at the top for attaching onto my twine banner string.
I used scissors to cut out my two fabric triangles. I actually used pinking shears to create a fun decorative cut edge.
Then the fun began! I decorated the fabric with the different color Glow paints. I outlined the shapes in the fabric with coordinating colors of paint. Really I don't think you can decorate it too much!
Again, look how cool this looks both in the day and in the night!

I decorated my burlap triangles with the same Glow paints, but first I created a quick letter template spelling out the word "BOO". I printed it out, and cut each letter out along the edges. I used a little spray adhesive (NOT super strong glue, I didn't want my letter to be attached to the banner permanently) and attached it to the middle of each burlap triangle.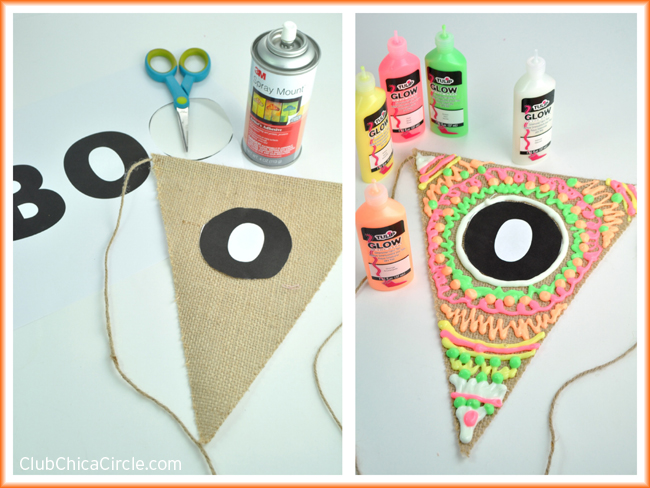 Then, I went to town "drawing" on fun patterns around my letters with the Glow paints and filling almost all of the burlap triangle with colorful designs. I carefully removed the letter paper template, and squirted one more glow dot in the center of each letter.
Now, for the hardest part—you must not touch it, as you will need to let it dry completely before assembling the banner. I left mine to dry overnight.
After all of my triangles were done, it was time to string them together into a decorative banner. My burlap triangles came with twine string already attached, so it was easy to string them together in order, and to spell out BOO.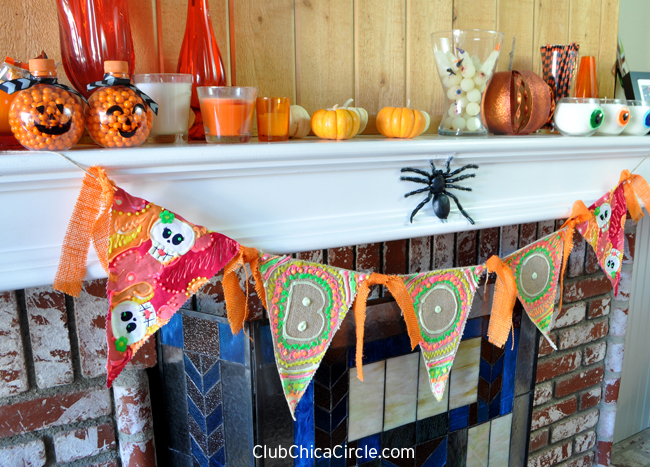 I also added some strips of orange burlap tied in between each triangle for extra flair.
And if you are having a blacklight party, look how even more vibrant the glow effect is! Tulip Glow and Blacklight products glow so brightly under a blacklight!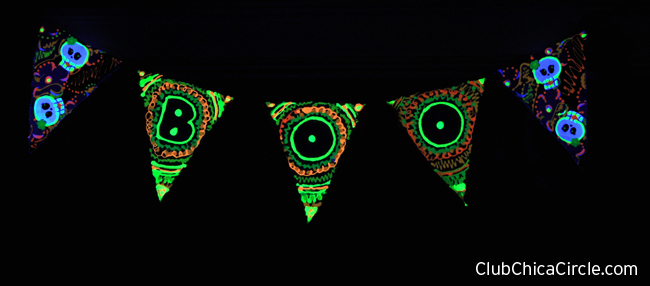 I love how this turned out. It looks great on my mantel with the square pumpkin hanging I made, candy pumpkins, a vase filled with glow in the dark eyeballs and fingers, and glowing eyeball candles.
Halloween-oriffic!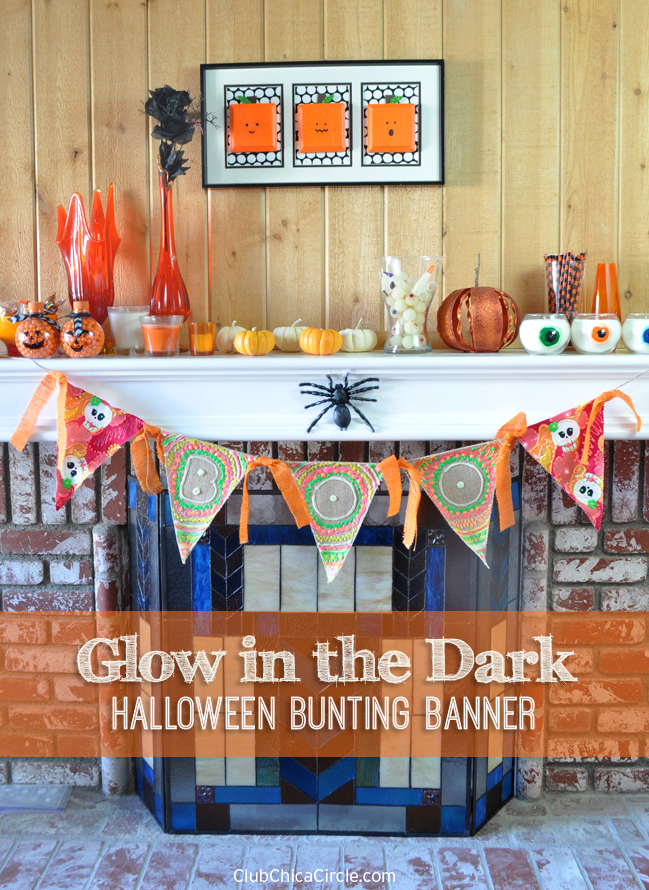 Seriously, these Tulip glow paints are perfect for Halloween crafting!
Connect with I Love To Create on Facebook, Twitter, and Pinterest for more fun ideas!
And don't forget to check out some of these other fabulous ideas from my fellow crafty bloggers:

Discloser: the post is sponsored in part by Tulip Glow paints by I Love To Create and Blueprint Social. As always, all ideas, opinions, and images are completely my own.