Disclosure: this post is sponsored by Michaels Recollections™ and Snap. All craft ideas, opinions, and images are completely my own.
What's better than something sparkly?
When you can fun making it sparkly and glittery yourself!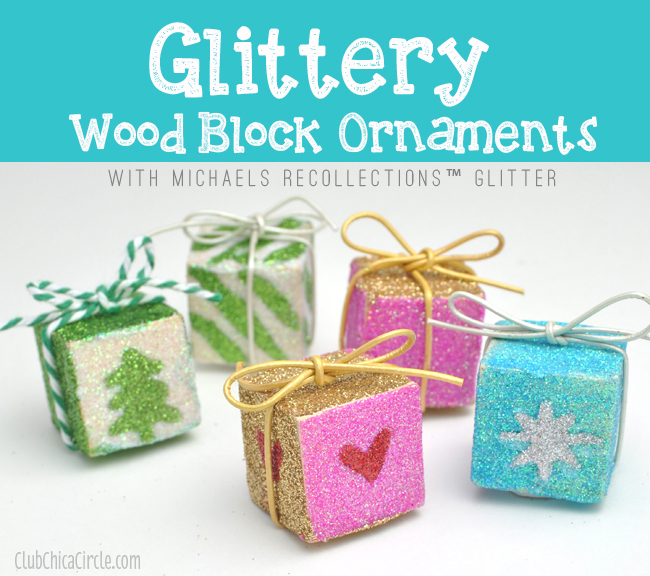 When I recently received a box of Michaels Recollections™ glitter samples, I couldn't wait to get my hands on these and start crafting with them!
You can purchases them at Michaels individually or as a set, and they come in a variety of different size containers. You can also find them in a variety of glitter textures like very fine, chunky and tinsel.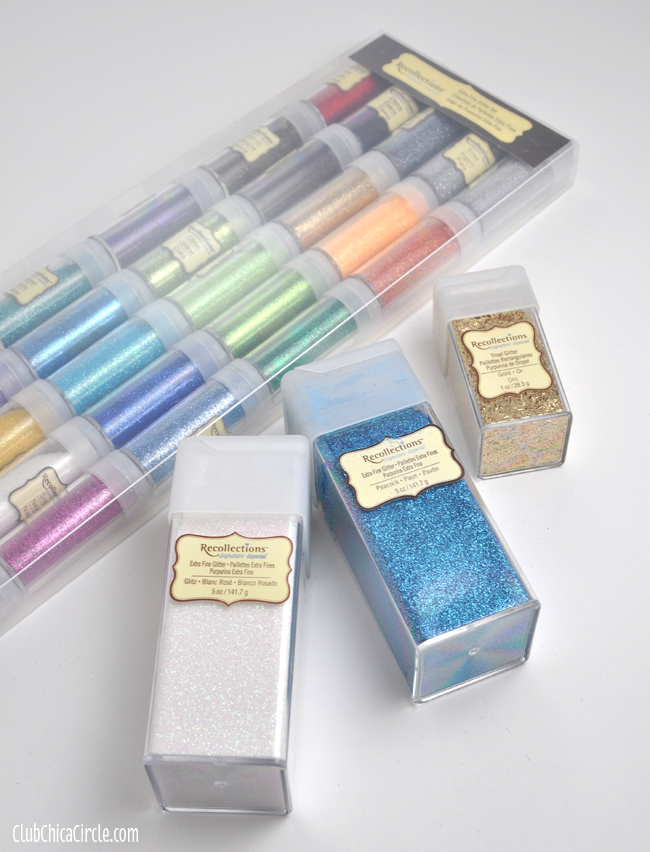 And do I even have to mention the rainbow of colors they come in?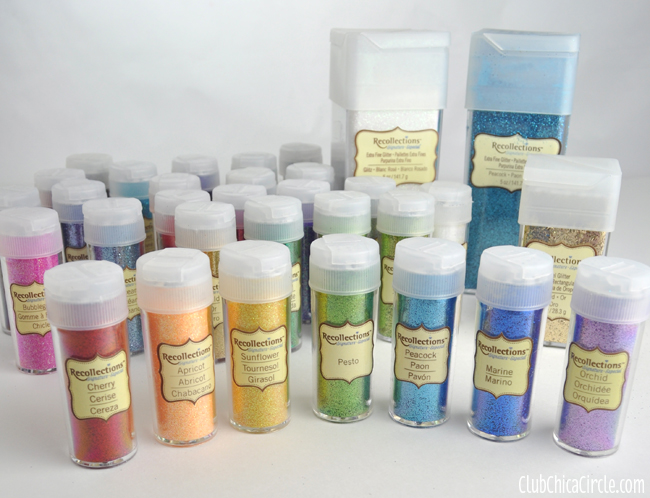 For my craft idea, I wanted to use fun color combinations of the very fine glitter. When working with glitter you basically need a decoupage type of glue to work with, and something to apply it with.
I used Americana Decou-Page glue and a sponge brush, and a set of 1″ wood blocks that I found at Michaels as well.
I am still in the Holiday spirit, but my crafty brain is starting to shift to Valentines Day too. There are endless possibilities when crafting with glitter, and these are perfect for a huge variety of projects.
So, I turned these mini wood block into super cute and LOVE-ly mini presents, that can also be used as ornaments.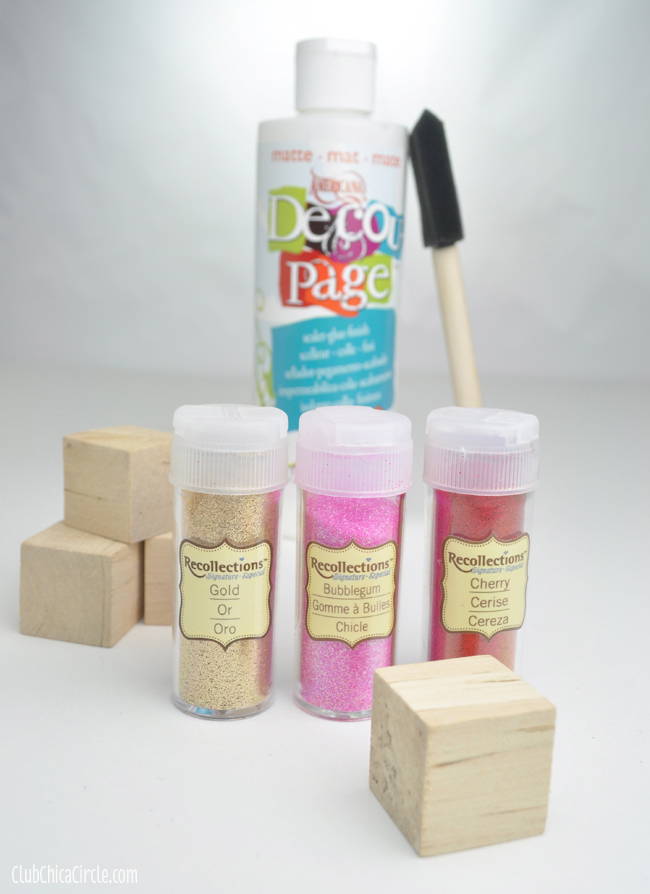 To coat the wood blocks, it was actually really simple.
First, I set up my table. Once I picked out the glitter colors I wanted to use, I used a paper plate for each of them, and had a fourth plate to squirt the glue onto.
This way, whatever glitter was left, I could easily save it and put it back into the bottle and the glitter colors wouldn't get mixed.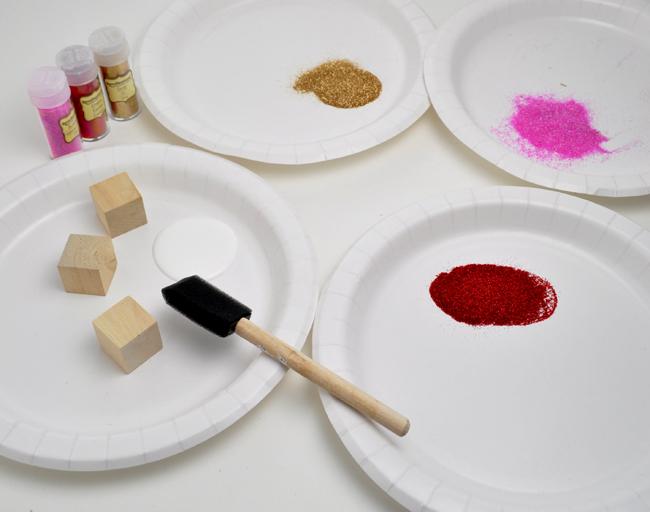 To coat the wood blocks with an even coat of glitter, first apply a layer of decoupage glue on one side.
Then dip into a pile of glitter.
Really, that's it. Be careful not to touch or smudge it though until it dries.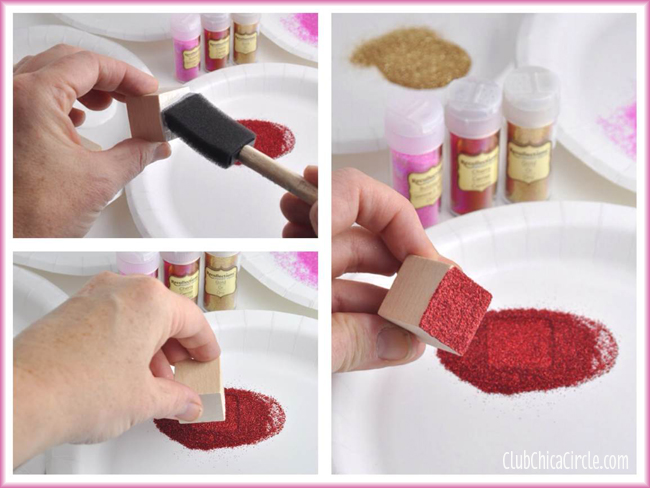 I thought I would need to paint the blocks first, but the extra fine glitter coated them perfectly.
You can color the other sides just as easily, either in one solid color or a different color per side.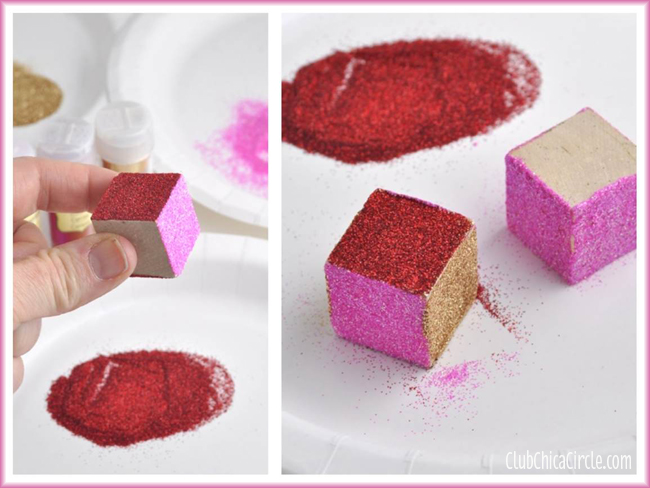 It's just a matter of how you hold the block and when to let them dry before applying a different color or side.
I coated four sides, and let that dry.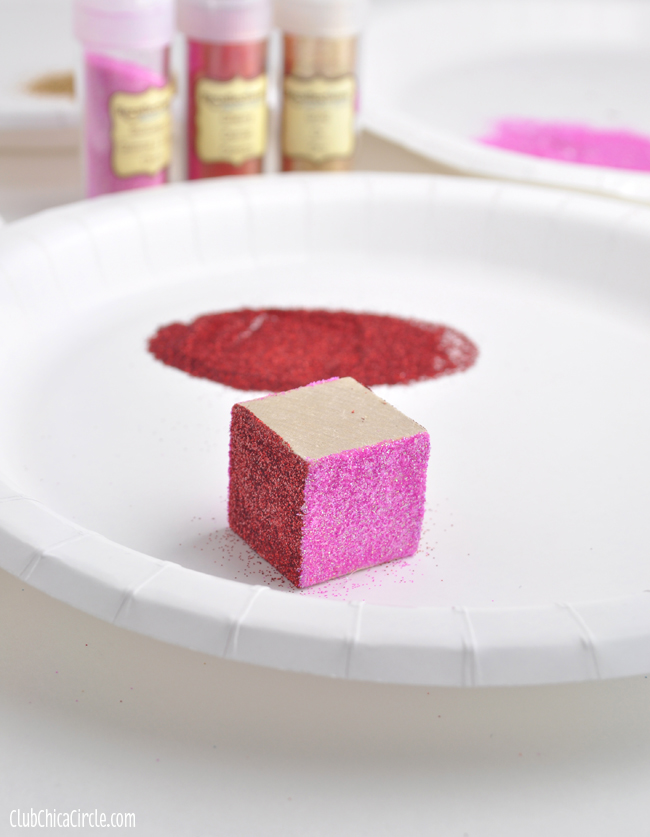 It really didn't take long to dry. I can be an impatient crafter, and I waited about 15 minutes before coating the last two sides.
This time I held each block by the corners so as not to mess up the sides. Then let that dry completely, too.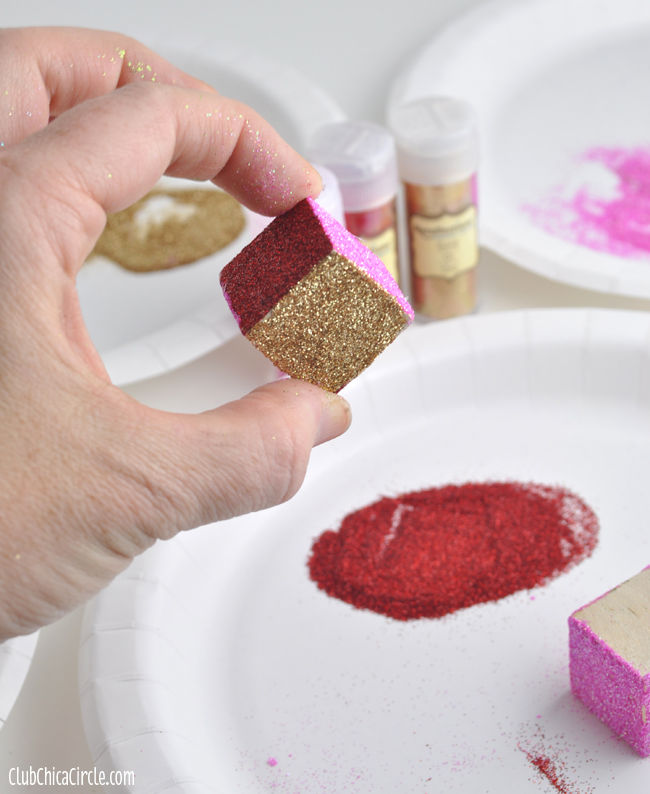 Ok, now here is where you can take your sparkles to another level of craftiness.
You can make extra sparkly designs on top of the glittery blocks of color.
I used a thin paintbrush to paint a design (in this case a heart) onto one side using a thick coat of the decoupage glue.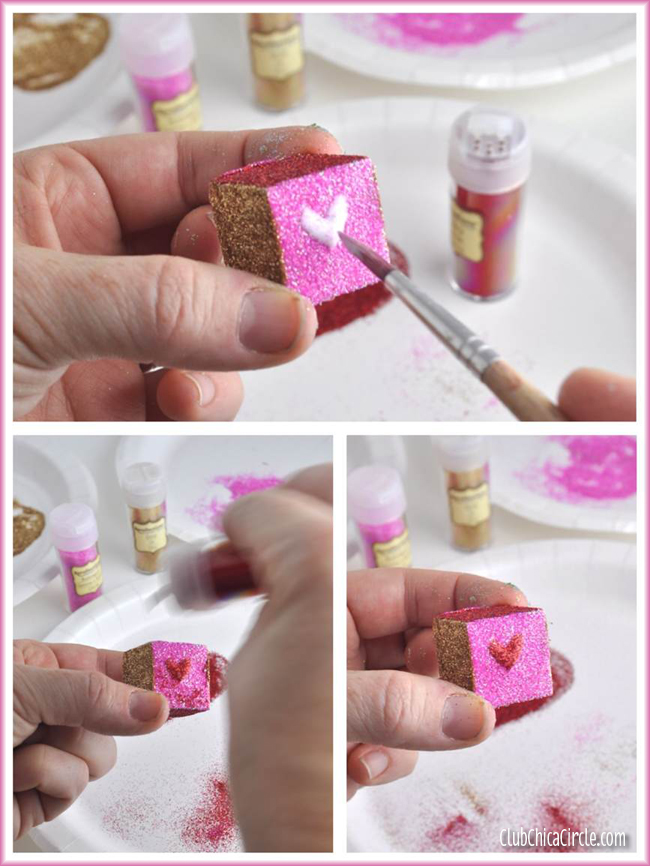 Then, instead of dipping it into the color this time, I sprinkled it on top of my glue design.
Finally, I shook off the excess. You can lightly tap the block on the paper plate to also loosen any excess.
I loved how the heart design came out on every side!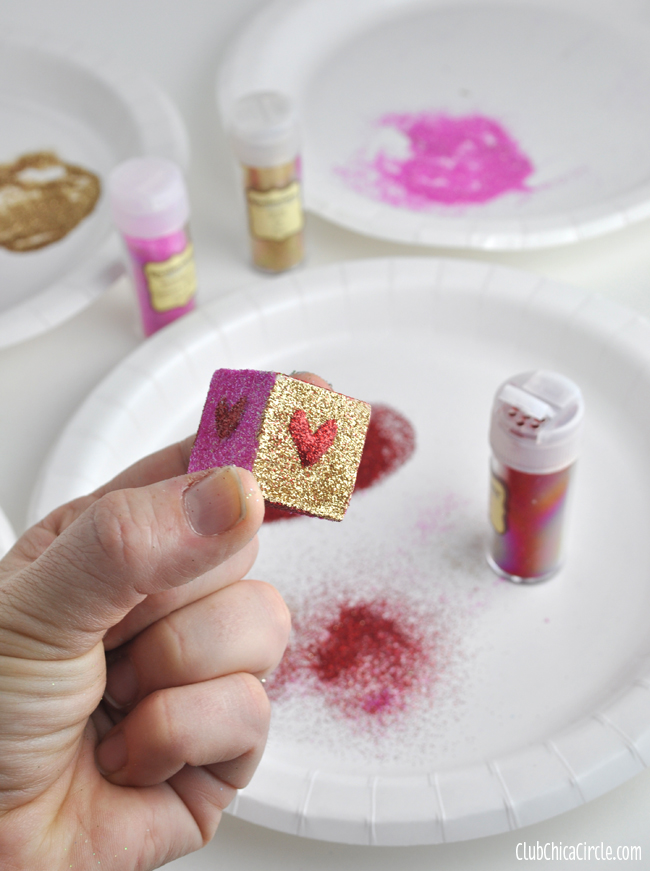 To make them into super cute mini presents, when the glitter blocks were completely dry, I tied a bow around them with either bakers twine or cording.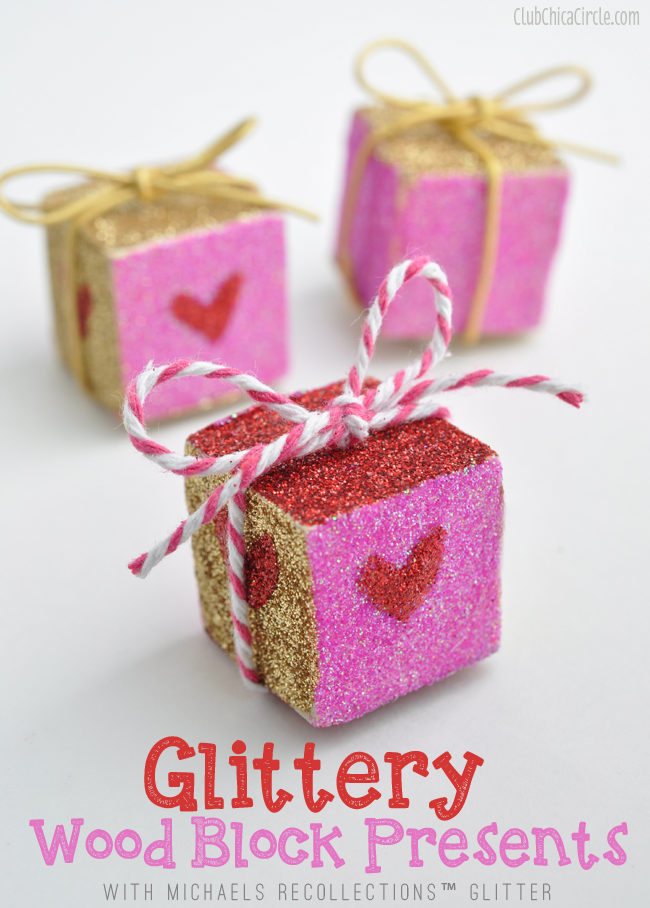 You an experiment with different color combinations and designs.
Beautiful!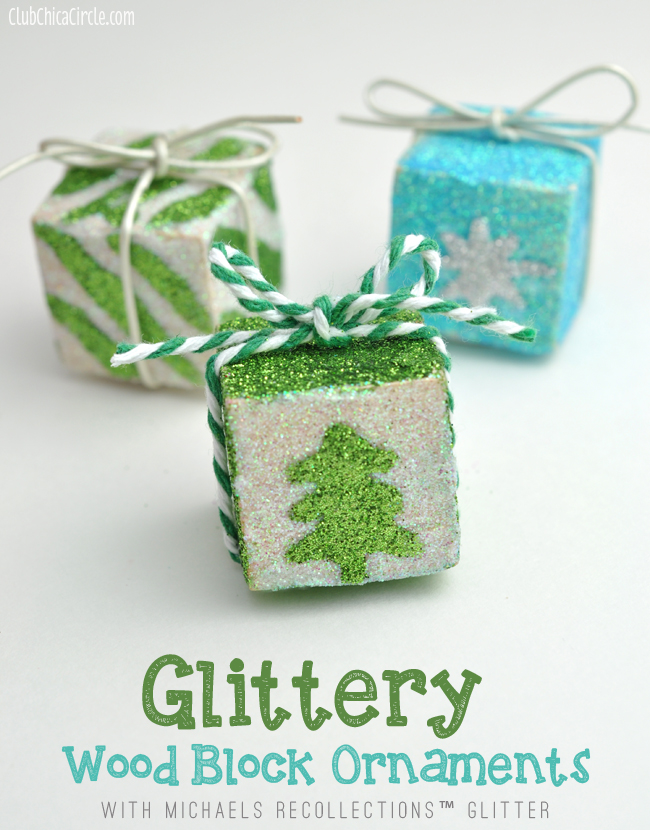 And, just add a ornament hanger on the top of the bow, and you can hang on your tree.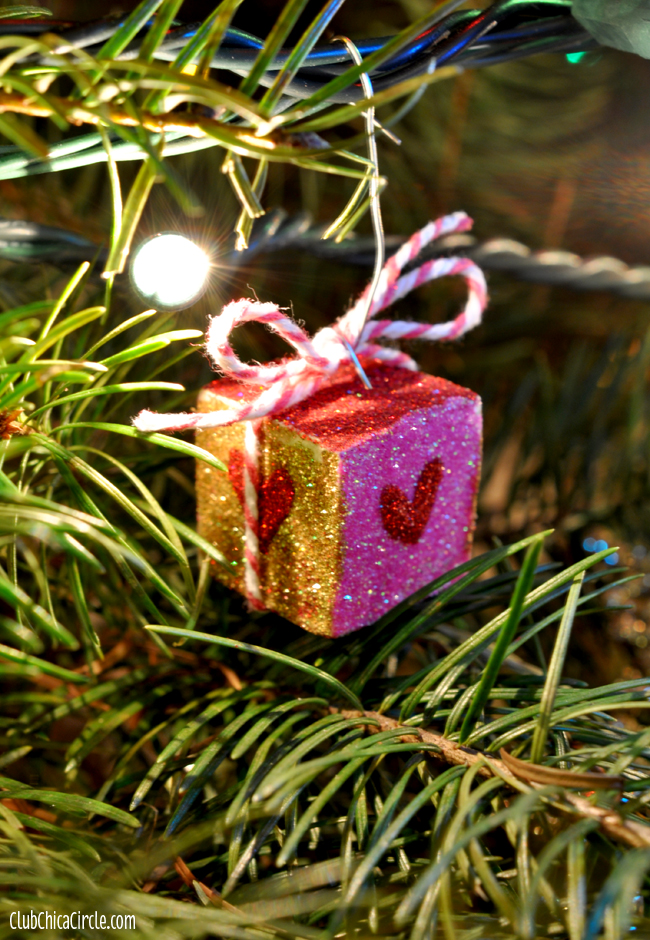 Enjoy!
Happy Holidays and Happy Crafting!
If you liked this post, and want more, you can subscribe to be on our mailing list here, and make sure to get your free Cupcake Toppers Printables for Every Occasion.

Feeling social? Follow ChicaCircle on Facebook or Twitter, and follow me on Pinterest or Instagram.
Disclosure: this post is sponsored by Michaels Recollections™ and Snap. All craft ideas, opinions, and images are completely my own.