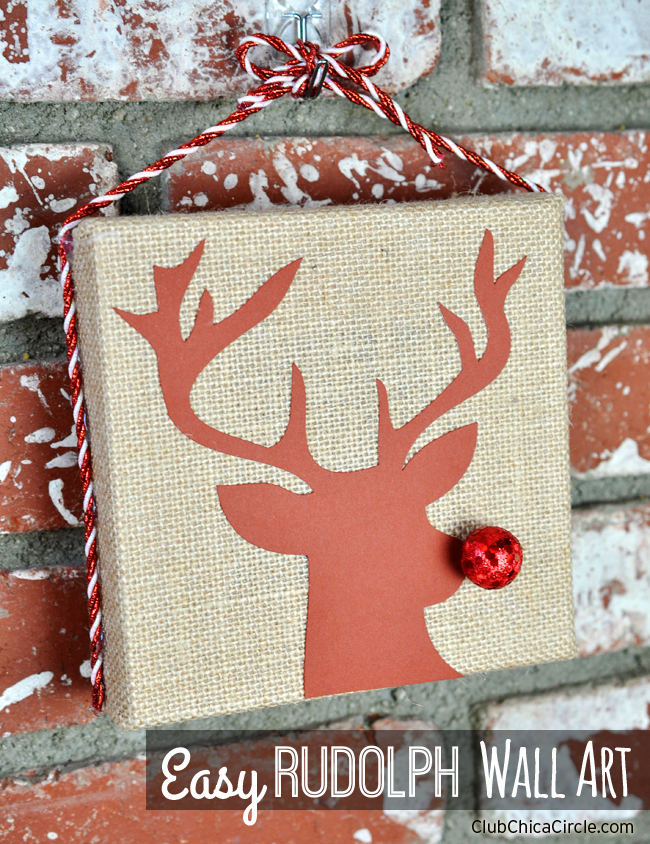 I love how cute this wall art turned out, and it so easy to make! It looks great hanging on my brick fireplace.
To make this super simple craft, I used:
My Silhouette Portrait cutting machine and Deer Head Silhouette Design #69964
Brown cardstock paper
Spray adhesive
6″ x 6″ Burlap Canvas
Red glitter decorative filler balls
Red and silver corded ribbon
Glue Gun
I found the burlap canvas, decorative fillers, and ribbon at my local Michaels.

After cutting out my deer head from brown cardstock paper using my Silhouette Portrait machine, I cut the bottom half so that it was flush with the bottom of my canvas. Then I used a little spray adhesive to attach to the front of the canvas. The rest was just gluing the red glitter nose on the end of his nose. For extra detail and a pretty ribbon, I cut two lengths of my ribbon, and glued them along the sides of my canvas, and then tied them together in a bow at the top.
I love the contrast of the paper against the burlap and then the sparkliness of his nose.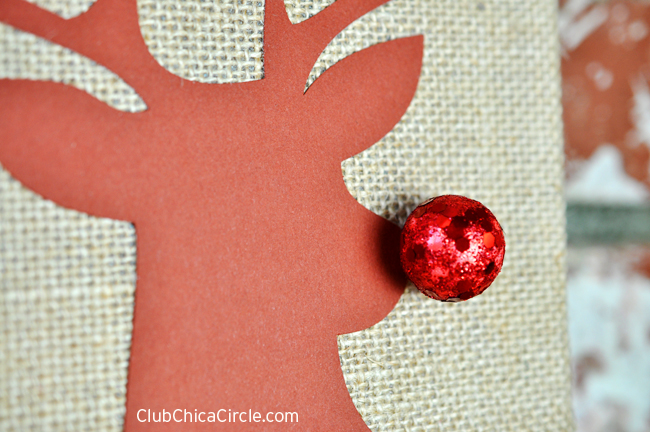 I know the holiday shopping craziness has begun, and right now there are tons of Black Friday Sales going on over at Silhouette site! You don't even have to leave your house to get yourself, or someone special, one of these handy machines. I love my Silhouette!
Use my code: CLUBCHICA at checkout to get these special deals and discounts. 

Portrait Bundle
Portrait machine & 1 free year to Club Silhouette for $179.99
CAMEO Bundle #1
CAMEO machine, Designer Edition software upgrade, Dust Cover, 4 Tools and $25 Download card to the Silhouette Design Store for $269.99
CAMEO Bundle #2
CAMEO machine, Design Edition software upgrade and 1 free year to Club Silhouette for $299.99
CAMEO & Portrait Bundle (One for you, one for a friend!)
CAMEO machine, Portrait machine and 2, $25 Download cards to the Silhouette Design Store for $299.99
Already a Silhouette user?
Use my code: CLUBCHICA for 40% off at SilhouetteAmerica.com (*excluding machines, design downloads, download cards, subscriptions and gift cards) PLUS Free Shipping on orders over $25 for the lower 48 states
50% off all designs at SilhouetteDesignStore.com – no code needed!