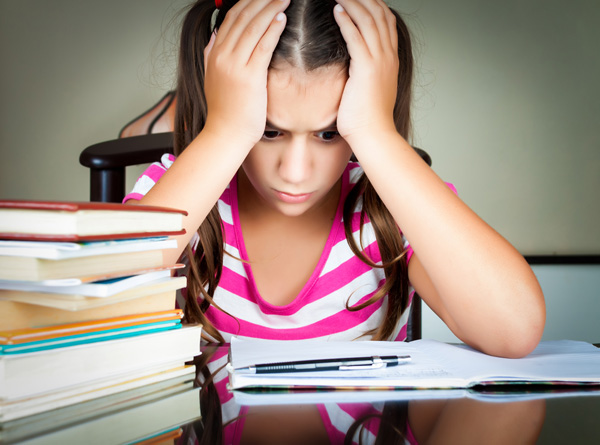 My tween had her first day of 5th day today, and came home with what seemed like the simplest bit of homework. But it quickly turned into a completely stressful night of trying to focus and a little bit of a battle of wills between her and I. You know we love to do crafts together, but when it comes to working together on homework assignments it is a whole different dynamic.
Just as she is in that "in-between" stage of girl and young lady, she is also at that in-between stage of needing help and guidance during homework and being self-sufficient. I realize every child is different and is in different stages of their maturity level and self-sufficiency, so I can only speak from my own experience. And after experiencing a stressful first night of homework with her, I am determined to make this year a successful and less stressful one when it comes to homework time.
Therefore, here are my top 5 tips on how to relieve homework stress, both for parent and tween:
Study on a full stomach. I know I personally focus more when I'm not hungry, and I know I have experienced a complete shift in mood in my tween if she is fed vs. hungry. If need be, have some snacks handy while studying.
Ask for help from a professional. My tween sees a tutor once a week to help her with her language arts and writing skills. Writing is her toughest task when it comes to homework, and sometimes I don't know how to guide her without getting stressed out myself. A writing assignment can take hours for my tween, so her tutor is working with her to boost her confidence and skill level when it comes to putting thoughts to paper.
Create a quiet homework corner or study environment. Getting focused is one of our biggest challenges, and when there are things or sounds to distract you, it is all the harder.
Stand up and breathe, shake it off, take a little break during heavy homework nights. We as adults may be able to power through a project, but if you think about it, everyone needs short breaks every once in awhile to stay energized. Try a 15 minute break for every hour of homework as a general guideline.
Stay organized. One of the most important tools my tween uses in school is a school planner. This is the one notebook that goes back and forth to school consistently. During the school day she writes her homework assignments in it per subject, and at night it can serve as a checklist. It is also a countability device which allows me to see and review that she completed all of her tasks for the day, and know what assignments, quizzes, or big reports might be coming up.
We survived the first day of school with both the good and the bad. She loves her new teacher, she was happy to see her friends again after a long summer, but it was certainly tough getting back into a schedule and tackling homework again.
If you have any great homework stress relieving suggestions, I would love to hear them. Share them below in the comments.
I hope all of you are having a successful school year so far. Until then, happy crafting!
If you liked this post, and want more, you can subscribe to be on our mailing list here.