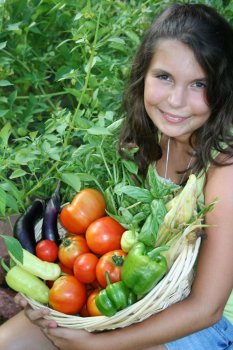 You may remember reading about this inspired tween in our previous post, namely Miss Katie of Katie's Krops – the then 9-year-old super tween who started a feed-hunger movement with one ginormous cabbage. Fast forward about 3 years and she is still going strong! And is about to be featured on the Everyday Health channel.
Everyday Health has a new TV series that profiles ordinary people who overcome extraordinary obstacles and who are helping others lead healthier, happier lives.
Episode 5 airs this Saturday, October 1st, on local ABC stations, features Katie Stagliano, the inspirational 13-year-old girl who founded Katie's Krops, a movement designed to gets kids to grow food and feed the less fortunate in their communities. Plus, there's surprise guest Ellie Krieger, New York Times bestselling author and registered dietitian. The show is inspiring and feel good for everyone who participates in the fight against hunger.
For more details on the show, recap episodes and other information, please check out Everyday Health and your local ABC listings for the time and channel to catch the next episode!
Keep up the good work Katie!