I have always wanted to add some sort of privacy screen or window covering on our door that leads to the outside, but is also in our laundry room. Our laundry room is an extension of our downstair's bathroom, and the window on the door faces our next door neighbor. It always gives me a fright when I'm doing laundry and I see my neighbors walking by in their side yard.
Solution?
A super simple and cool suncatcher window screen with a fun modern design.
Where did I get me inspiration for the design from?
Recently, I was asked to try the ,method® brand laundry detergent that comes in an 8x concentrated formula with a handy pump, or a NEW 4x concentrated formula — both naturally derived and tough on dirt and stains. The biodegradable and hypoallergenic formula is great on your colors and keeping your whites white, and it can also be used as a really great pre-treater.
One thing I love about the packaging and design is that each bottle is made from 100% post-consumer recycled materials and is fully recyclable.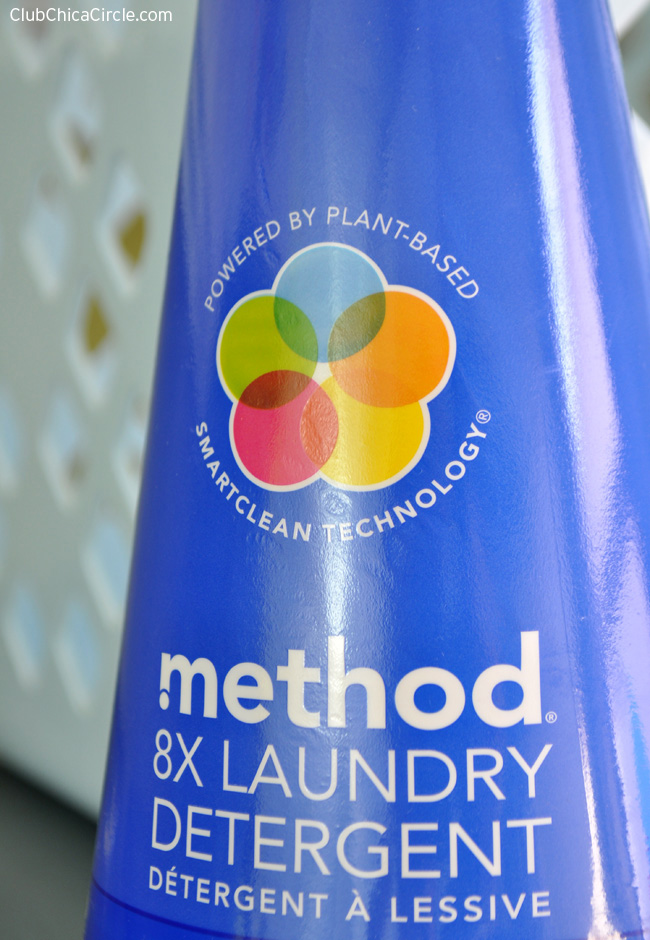 But, let's talk about the design a little bit. I love how simple and colorful it is. It reminds me of when I was learning color theory in grade school, but is a cool graphic way. What do you get when you mix red and blue? Purple, of course. What about red and yellow? Orange, that's right.
So I wanted to take that same essence and inspiration from the graphic on the bottle, and interpret into into a cool suncatcher privacy screen to both brighten up and add privacy to our laundry room.
To make my privacy window screen I used;
Clear matte contact paper
Colored index dividers
Cutting machine (I used my Silhouette portrait)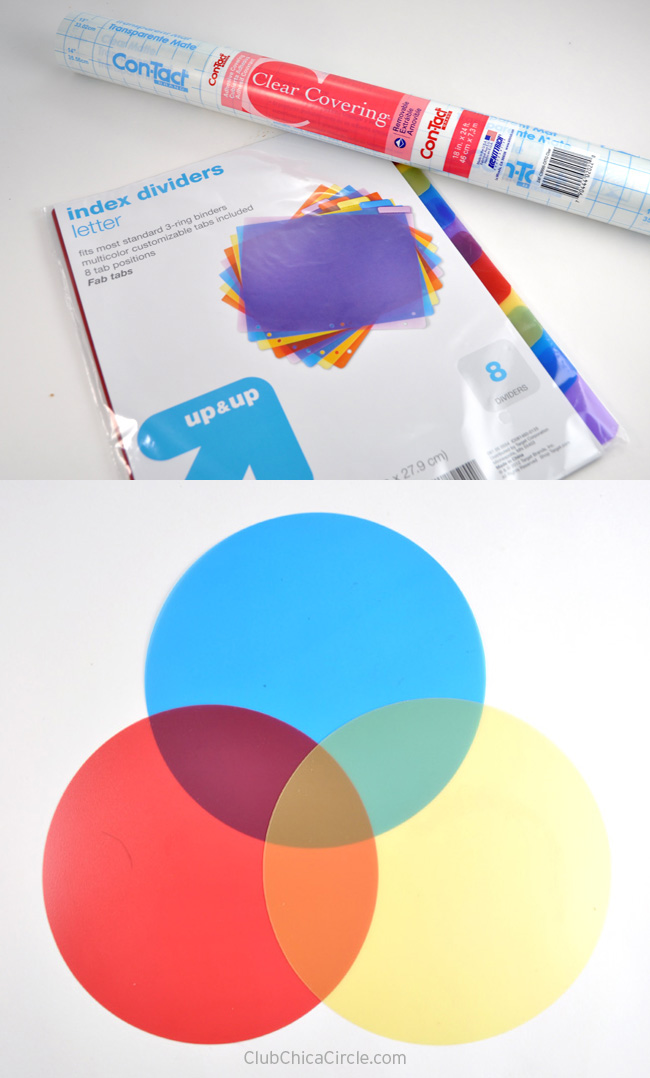 With my cutting machine, I cut out 5 1/2″ circles from each colored plastic divider. And then I cut out a piece of contact paper to size for one of the windows. I attached my plastic colored circle in the center on the sticky side of the contact paper and attached right onto my window.
Just like in the logo, red and yellow make orange, red and blue make purple, and yellow and blue make green. Because the colored plastic from the dividers is translucent, it allows for the colors to mix, and looks so pretty when the sun shines in.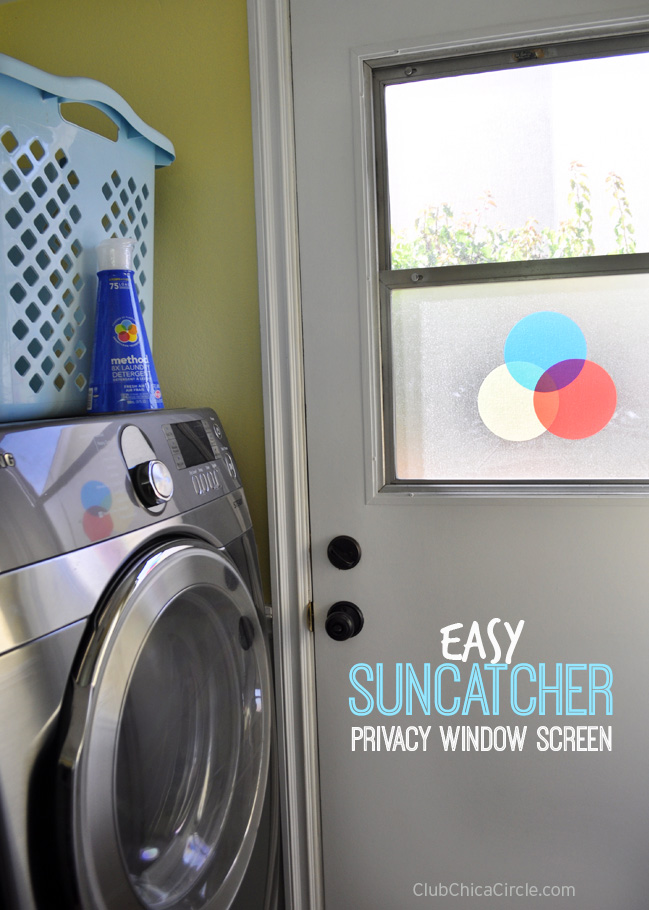 And just look at the difference in how much privacy the screen now provides!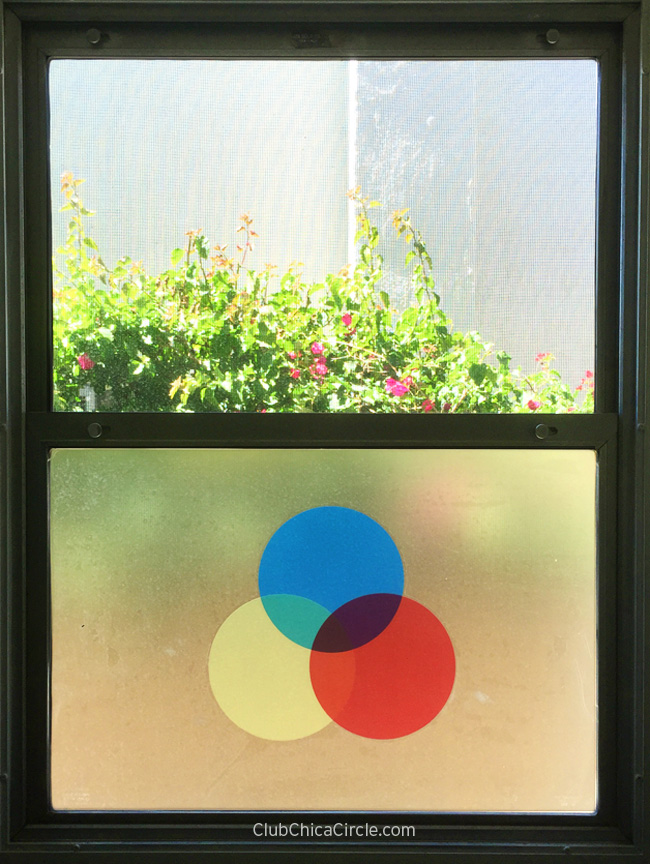 So easy to make and so pretty to look at! It really adds a bit of modern flair and color to our laundry room! I love it!
Be sure to save money on your next method® purchase: use the code THREEFORME for $3 off your online purchase.

I was selected for this opportunity as a member of Clever Girls and the content and opinions expressed here are all my own.