I hope everyone had a terrific Easter spent with family and friends making memories and celebrating this wonderful time of year. It is great to back again this month with y'all from The Southern Couture to share a fun craft that your daughters I know will love and hopefully everyone can enjoy too.
I remember as a little girl having what seemed like a million hair bows, clips, headbands, etc. You name it, and I probably had it. My mother also makes hair bows so me and my sister were definitely well supplied.
The hard part though at times would be trying to keep them all organized and in the same place. We always ended up running around the house searching for that perfect bow or barrette that would match just right with our outfit. Now you no longer have to worry about that because I have the perfect organizing solution.
This is a great craft that you can make together, and it also doesn't cost a lot to make. Now you just need an empty oats container and you are ready to go.
Supplies:
Empty oats container
Scrapbook paper
Scrapbook adhesive squares
Clear tape
Paper cutter or scissors
Pencil
Drawer knob
Candlestick holder
Hot glue gun and glue sticks
First lay your oats container on the scrapbook paper and draw a line to know where to cut your paper to cover completely.
*I haven't found any paper that completely covers the oats container. I had about an inch still showing so I went ahead and cut a small strip and was sure to place it in the back where it won't be seen later.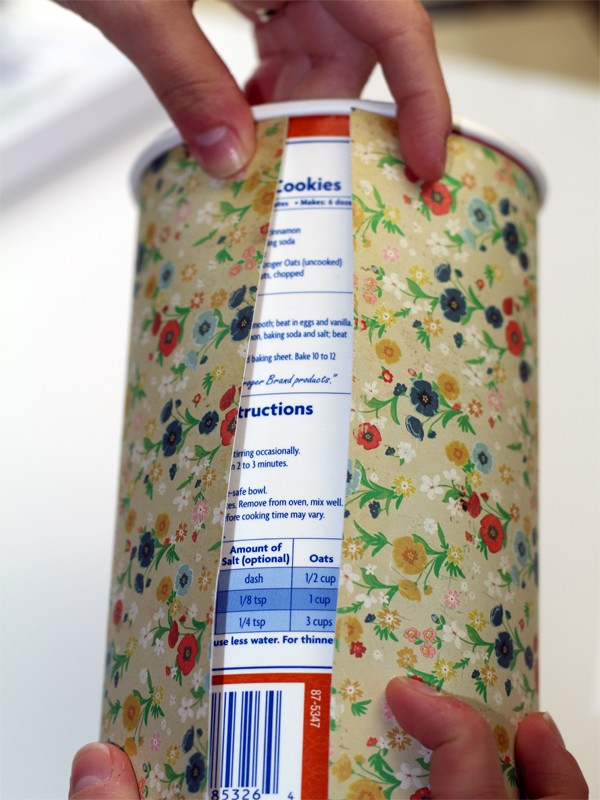 I used a paper cutter to trim my paper to the right size, or you could also just use scissors.
Place scrapbook adhesive squares on the back of the paper and then place the paper around the oats container. Be sure to place your small strip on the back first.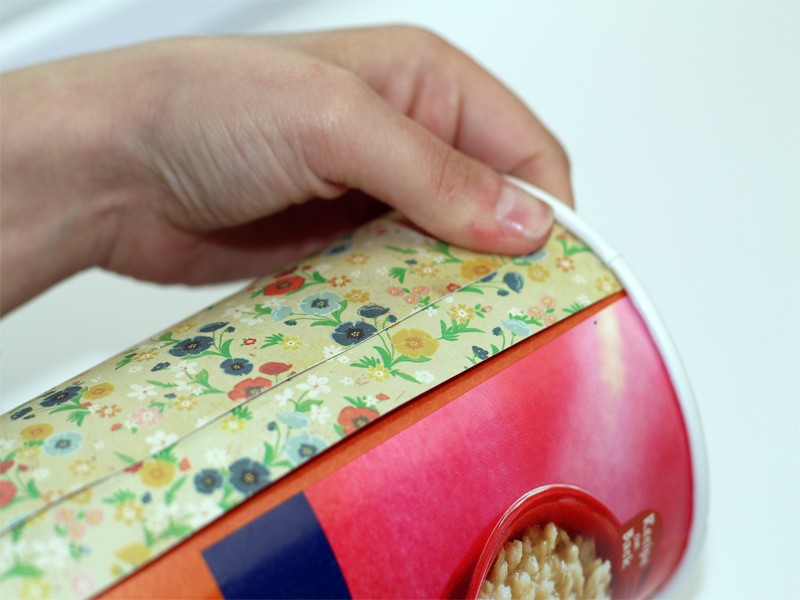 Then to make sure that the paper would not come off, I placed strips of clear tape on the back as well.
Using the hot glue gun, place hot glue around the top edge of the candlestick holder and then place the oats container on top. I used a clear glass candlestick holder that I got from the dollar store.
While it dries, you can glue your drawer knob on the top of the oats lid. I found my silver knob at Lowes and it only cost me $0.98. They have so many different styles, but this one was the cheapest and also still very pretty.
Let the knob dry. While you are waiting place your hair accessories inside and then cover with the lid. If you use the large size oats container, you can also wrap your head bands around the container for even more organization.
Of course the knob is not for practical use to lift the lid off, but it really dresses it up and adds that extra touch.
If you want more detail, decorate the oats container with stickers as well. I just chose to keep mine simple.
The other great thing about this project is that you can use it to also organize your craft supplies. I placed washi tape inside mine to keep it all in one place.
I also made one last Halloween to hold all the candy for the trick-or-treaters. The possibilities are really endless.
I hope you enjoyed this simple but fun craft and can enjoy making it with your daughter or a close friend.
I can't wait to see y'all again next month. Hope everyone has a great week and enjoys the little things in life.
Also if you have not already, please join me on Facebook, Pinterest, Instagram, and Twitter. I would love to hear from you. Plus below I will share some other fun stuff I have been up to lately!
Budget Friendly and Colorful Pantry Makeover