We love inspired girls here at Club ChicaCircle, and whenever possible we love to feature them so as to inspire other inspired girls alike. Olivia DeMirjian from Beads, Paper, Scissors is part of that elite group of girls! She is a creative, entrepreneurial, soon-to-be teen with spunk and a giving spirit. And what I love, is that her creative spark was inspired by her mother!
Beads, Paper, Scissors is a crafty business created by Olivia DeMirjian. She strings handmade paper beads, creating colorful, fun and different bracelets that can be worn alone or in bunches. Each style bracelet has a unique name such as Tutti Frutti, Happy Fever and The Tasha. A portion of the profit from each bracelet goes to charity. She can also make bracelets to order.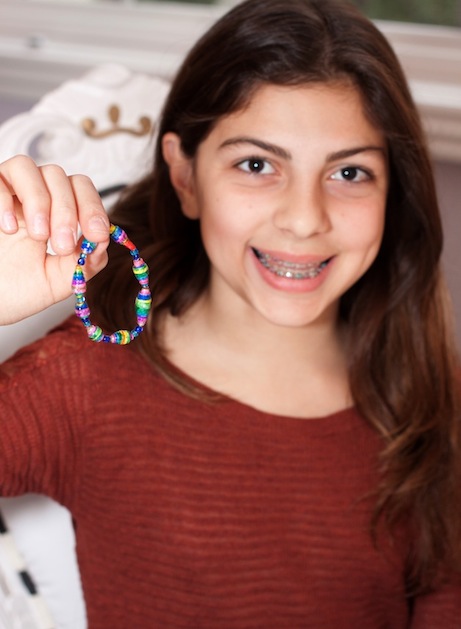 I had the pleasure of interviewing her recently, and here is what she had to say:
Club Chica: What inspired you to start your crafty beading business and website? and how old were you?
Olivia: I was 12 when I started making these paper beads. I became inspired when I saw my mom's art teacher's work, making similar bracelets. I thought I could do this, so one-day I began designing my own papers and rolling my own beads. I know I couldn't get this far without my mom's help. She also inspired me because almost every other Tuesday she comes home with an amazing piece of artwork that is so perfect in every way. I wanted to be just like her. I started my website by myself not too long ago.
Club Chica: Besides your paper bead designs, what are your other favorite things to do?
Olivia: I love to play volleyball, spend time with my family and friends and sing in my free time.
Club Chica: What inspires you to donate a portion of your proceeds to charity? And which one do you donate to?
Olivia: My aunt has stage 4 breast cancer and I just couldn't handle everyone in my family being so sad. I wanted to do something about it. It isn't much but I just new in my heart I needed to do something about it. I donate to 3 charities: 1. Breast Cancer 2. Pet Orphans 3. St. Jude's Children's hospital
Club Chica: What advice would you give other tween girls if they wanted to start a crafty business?
Olivia: I would stay if you really want to start a new business you have to stick with if even when it gets challenging. You shouldn't just give up. Believe in yourself.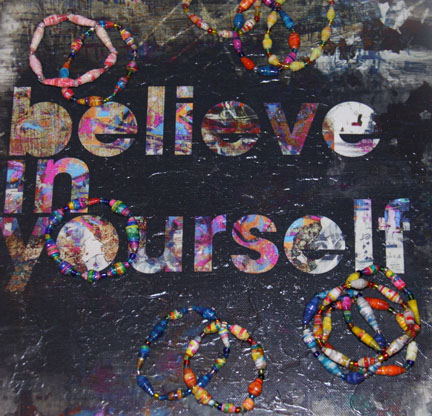 Club Chica: We are all about girls crafting with their mothers. Do you craft with your mother? If so, what types of things do you like to craft with her?
Olivia: Yes, I craft with my mom. We love to spend time together. My mom is an artist so she is always coming up with creative activities for my older sister and I to do together. Sometimes we paint on canvases or free hand draw on paper. We also like to bake cakes, cupcakes, and cookies together.
Club Chica: Do you have any big plans for the future?
Olivia: Yes, one of my best friends wanted me to name a bracelet after her. Her name is Alice. We both immediately thought of Alice in Wonderland. In the future I would really like to pursue this idea.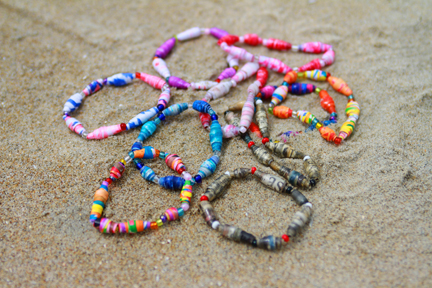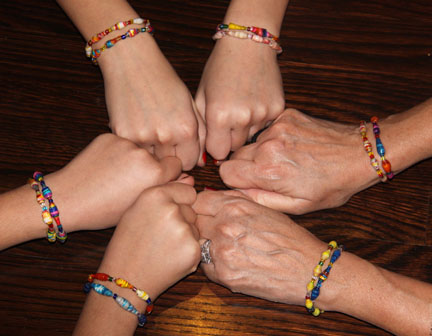 Olivia was recently featured on Craftzine, and you can find a great DIY on how she makes her paper beaded creations there. I know I was inspired by her, and I can't wait to try and make some paper beaded jewelry with my tween!
If you liked this post, and want more, you can subscribe to be on our mailing list here.