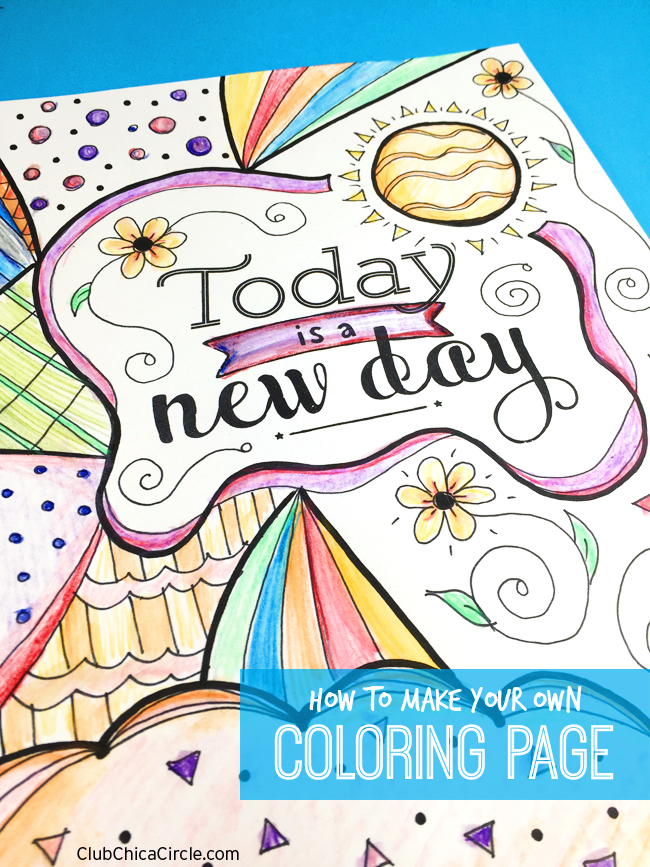 Sometimes you just need to go back to basics. The adult coloring trend is in full swing, and I for one am enjoying it. Last month, Lynnee and I took a family trip with our girls (who are quickly becoming young ladies) and we were stuck in the Denver airport for a 5 hour layover before our next flight. My sister had surprised us all with beautiful coloring books and supplies to color with. This was the perfect, calming, almost therapeutic, activity for all of us. We plopped ourself down at a couple tables outside the airport coffee shop, got some yummy drinks, and colored away for hours.
In today's DIY, I thought I would show you how to make your own coloring page. And if you follow us, you know we love our inspirational sayings. Below is one of my favorite ones. Whenever you have had a tough day, or feel like you haven't gotten as much accomplished that day, or if you weren't as good on your diet that, etc., there is always the opportunity to wake up fresh and start fresh because "Today is a New Day!".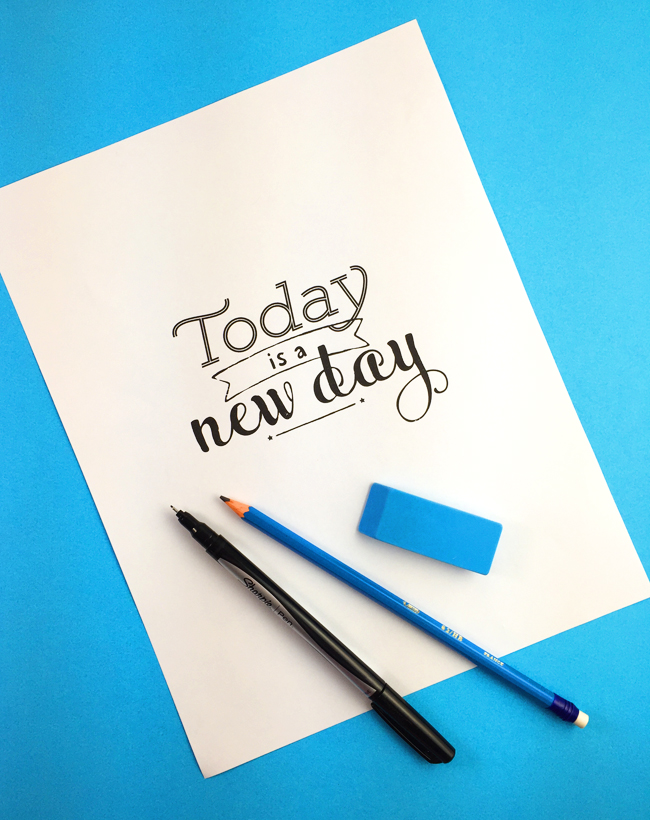 I designed the pretty saying in the center of my page in just black letters and printed out onto regular copy paper. You can print out your own here if you would like to use mine:
Today is a New Day Free Printable Template
There are plenty of free decorative fonts that you can use if you would like to try and design your own quote or saying. For the design above I used, Gist Light, Maris Halftone Medium, and True North Textures Banners from Font Bros.
After I printed out a clean copy, it was time to sketch!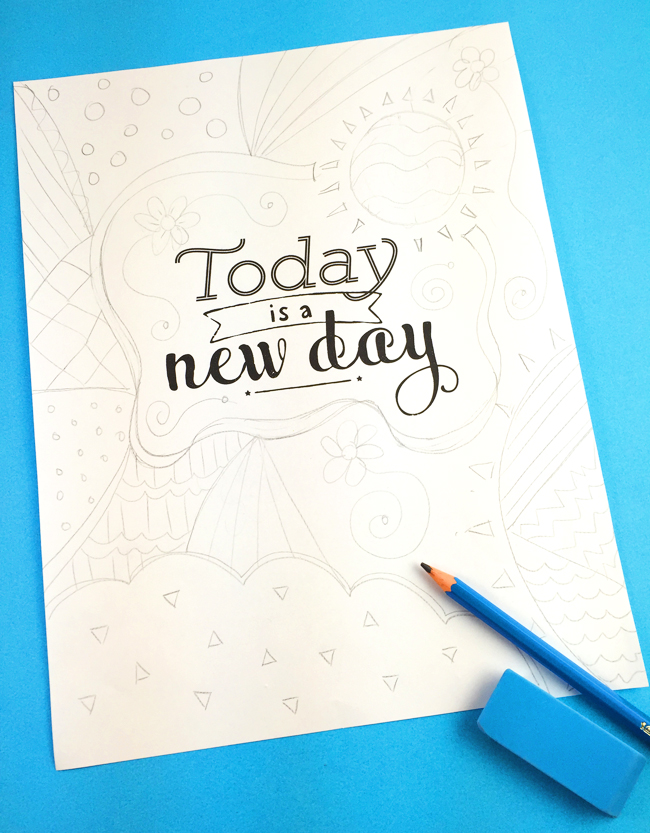 I used a pencil and truly just let my imagination fly. I did a little bit of doodling and a little bit of zentangling (where you divide your paper into sections and draw patterns in each section). I sketched lightly with my pencil because I knew I would be erasing the lines eventually.
When I was happy with my doodle design, I went over it with Sharpies. I used a thin and a regular weight Sharpie to add interest to my coloring page design.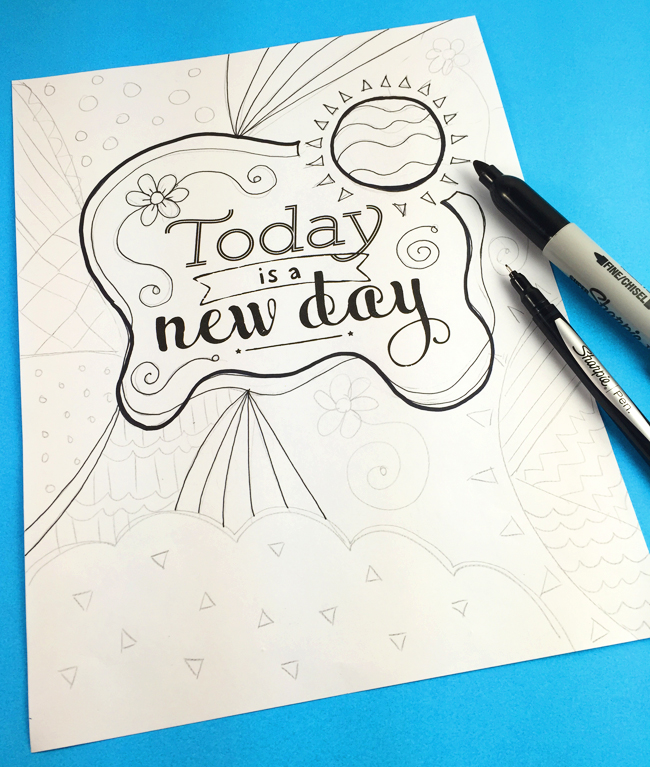 The trick is to use smooth strokes with your sharpie. Where you could be sketchy with your pencil, you wan to be smooth and confident in your marker lines.
I just kept going and adding more and more details until I was happy with my final coloring page design.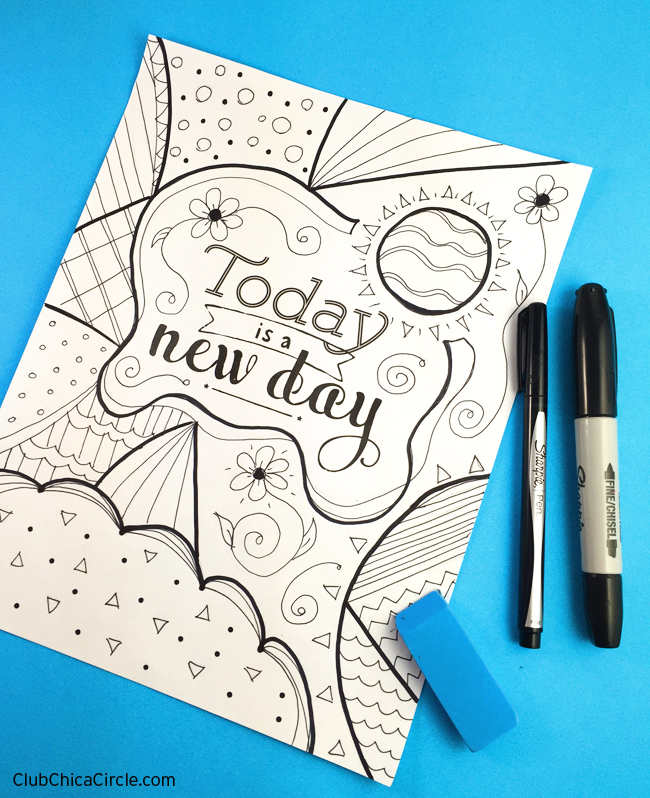 I wanted to keep my coloring page design so that I would be able to print out again and again, so then I scanned it from my home printer and saved it as a pdf file.
If you want my design, you are welcome to print out and color in too!
Here it is: Today is a new day coloring page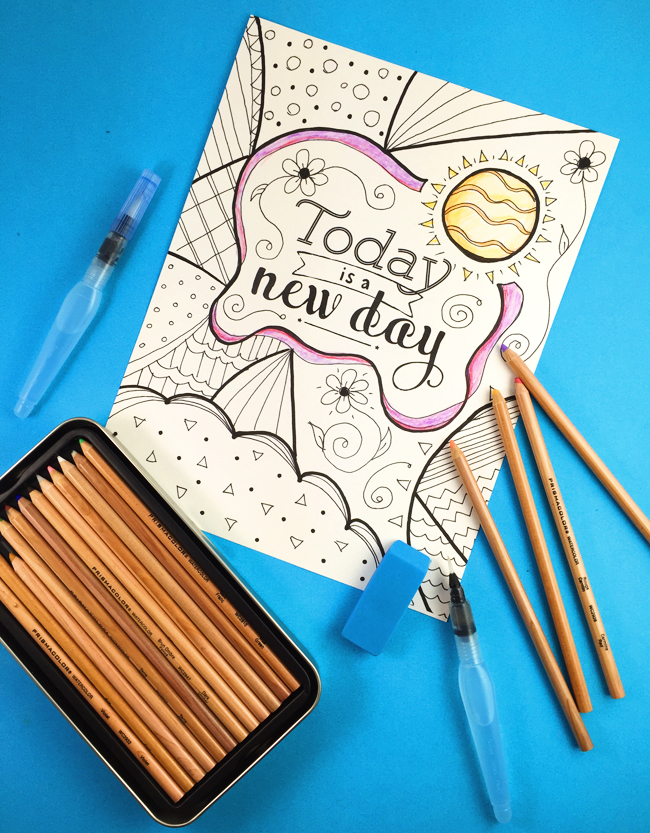 Now it's time to add color and really have some fun!
I have to say, I am in love with watercolor pencils, and these super cool watercolor brushes that my sister found (affiliate links).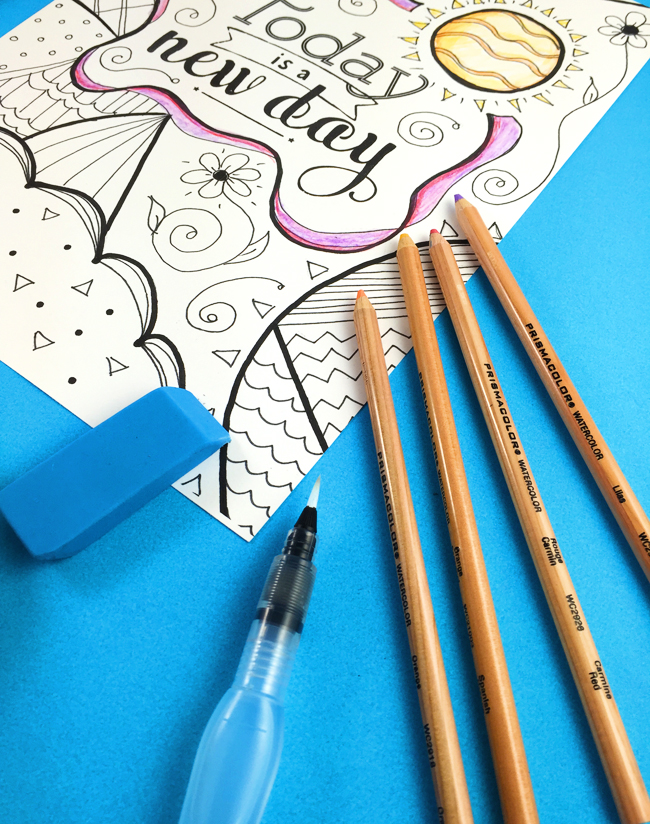 The brushes have a little reservoir in the handle that holds water that alongs for it to be pushed onto the brush to constantly make it wet. They come in a variety of brush sizes. The cool thing about watercolor pencils is that you use then just like any other colored pencil, but then when you add water to them, it brightens and smoothes the color and the pencil strokes.
Lovely!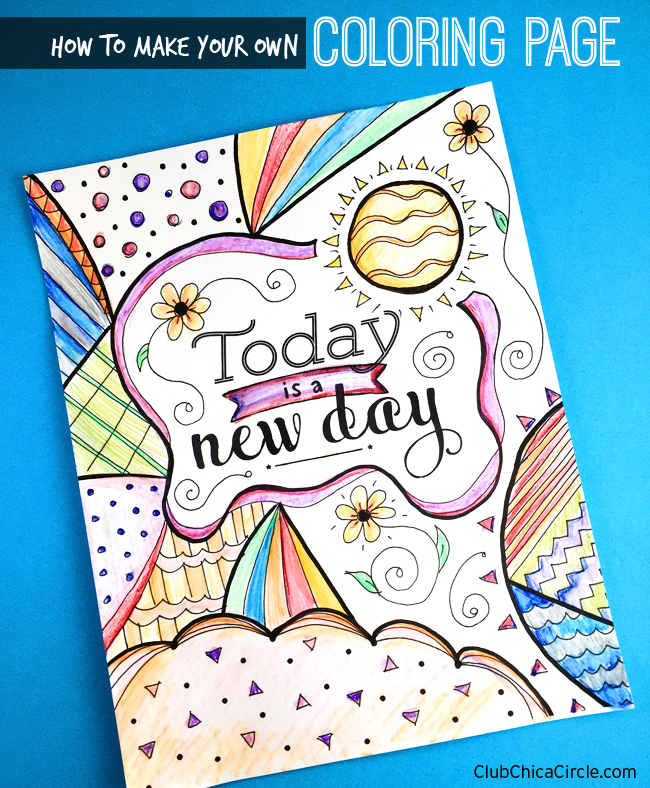 Have you tried coloring lately? Trust me, it is just as fun as when you were a kid! And it is something you can do with kids or adults of any age.
Hope you enjoyed today's back to basics DIY!