Disclaimer: this post is sponsored by DecoArt. All opinions, ideas, and images are completely my own.
One of my favorite paints to use on upcycling projects is Chalky Finish Paint. But this paint is not only for home decor projects. I have loved using it on an array of projects from an upcycled play table, cabinet door memo board, or giving a garage sale find into a beautiful hanging shelf.
This time I wanted to try something a Spring flair—stenciled Easter egg burlap gift bags.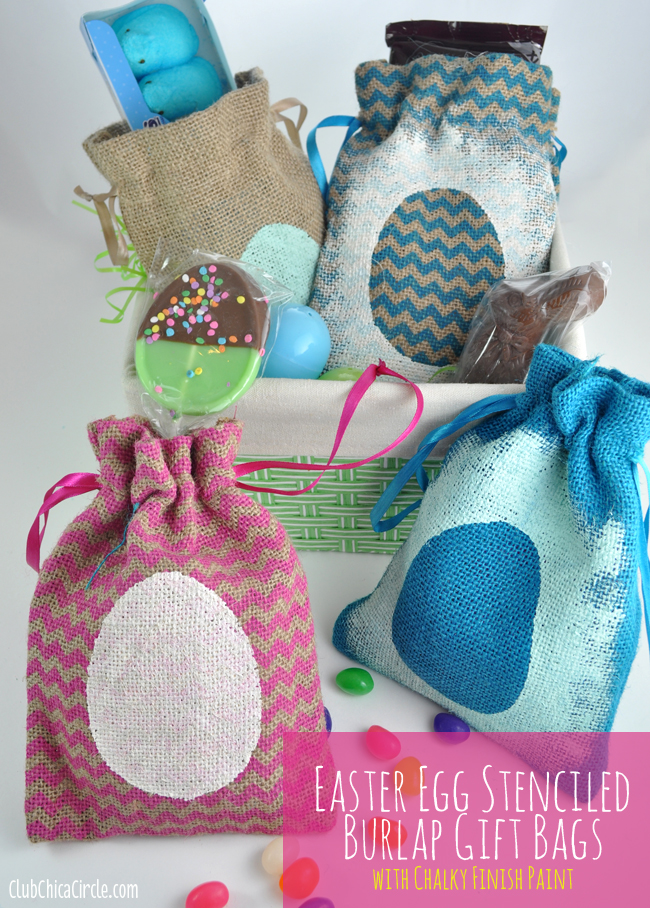 You can turn an already cute gift bag into a Spring Easter inspired personalized gift bag super quickly.
I found these cute burlap bags 1/2 off at my local Michaels recently, and snatched them right up in a variety of patterns and colors.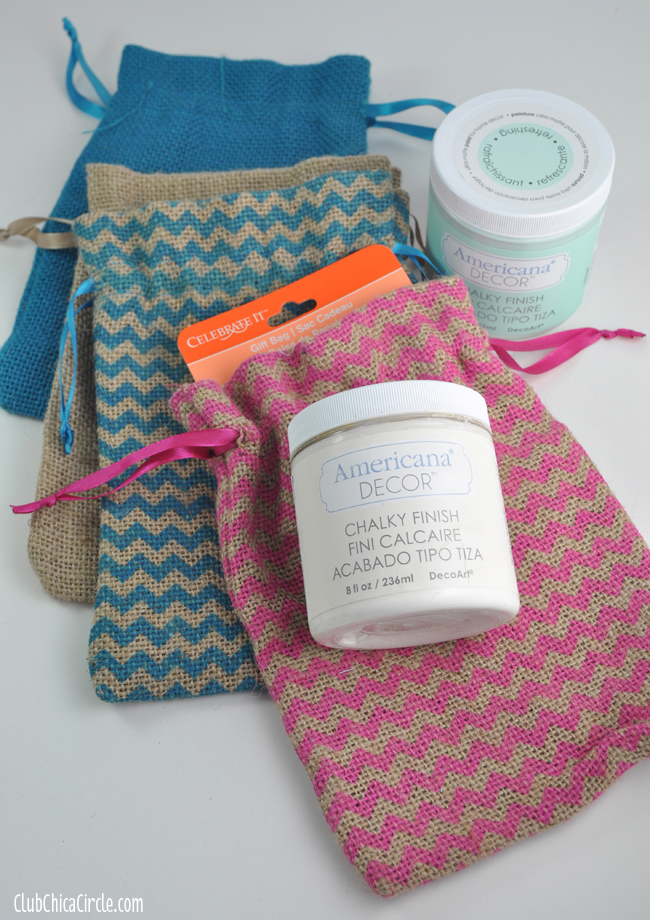 I used Americana® Decor™ Chalky Finish paints in Lace (offwhite) and Refreshing (minty blue/green). Americana® Decor™ Chalky Finish paints can be found online at Home Depot and in stores at Michaels and Home Depot starting in April.
I created a quick vinyl stencil with my Silhouette, but you can hand cut one with a piece of vinyl and an X-ACTO knife.
If you want, you can use this simple Egg outline template to cut out your own.
Once I had my stencil, I actually used both parts – the egg shape and its outline. I made sure to prep each bag with a piece of heavy paper or cardboard in the middle so that the paint would not bleed through to the other side first.

Then using a makeup sponge as my applicator, I applied a coat of chalky finish paint on the inside of my stencil and around the edges of the egg shape.
I got two different effects with the stencils, but both showing off the egg shape.
I love how it just added a little something special to this already cute gift bag!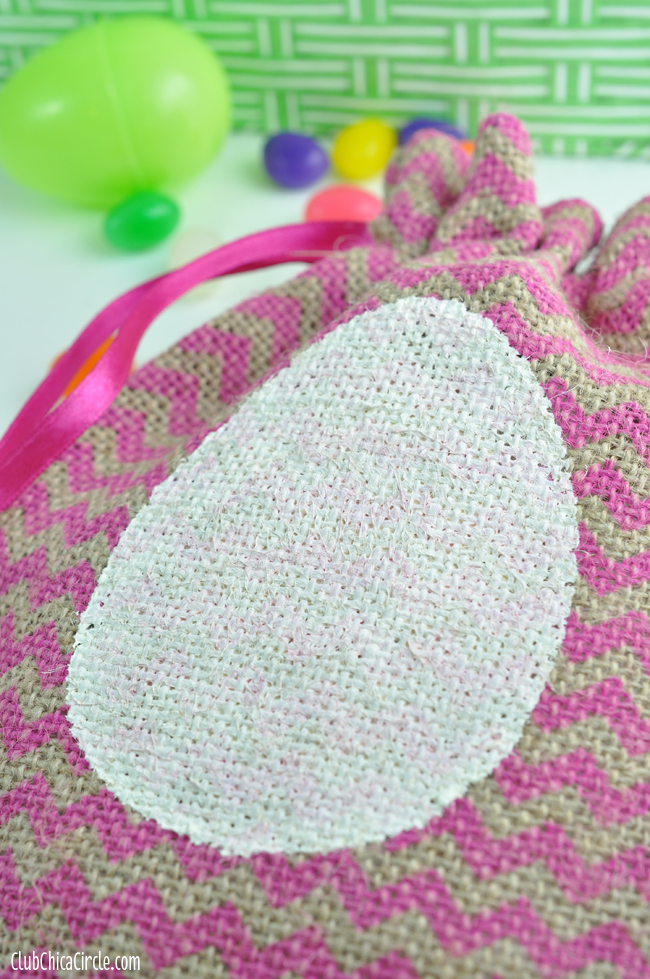 After you have stenciled on your design, and let the paint dry completely, fill with goodies and give to someone special.
They are perfect to pass out to friends, neighbors, teachers as Easter or Spring gifts.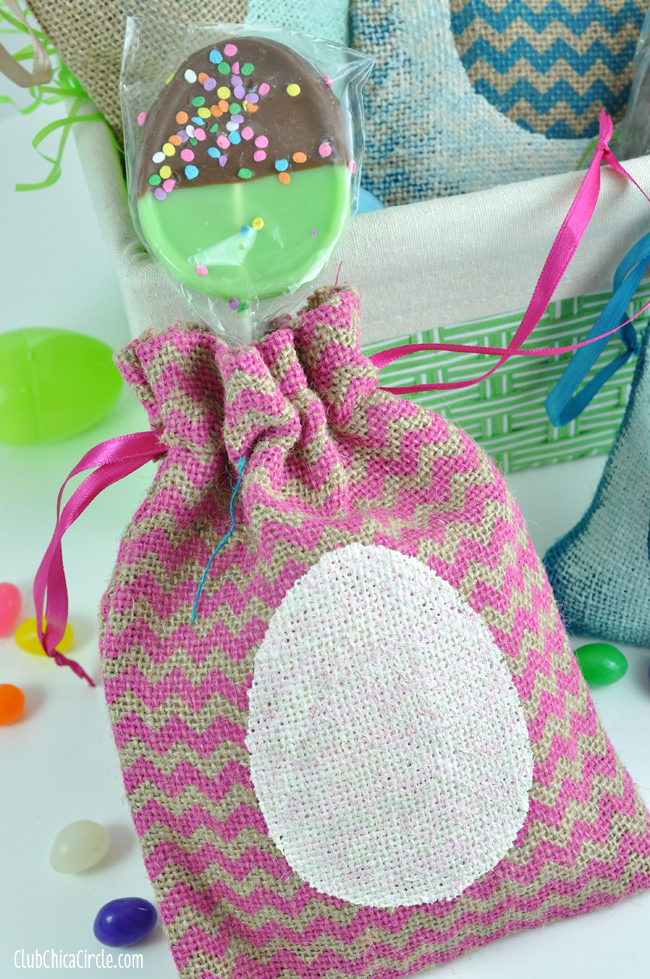 Or, who needs a basket, when you have these cute bags?
Happy Crafting!
If you liked this post, and want more, you can subscribe to be on our mailing list here, and make sure to get your Free Cupcake Toppers Printables for Every Occasion.

Feeling social? Follow ChicaCircle on Facebook or Twitter, and follow me on Pinterest or Instagram.
Disclaimer: this post is sponsored by DecoArt. All opinions, ideas, and images are completely my own.