Our family Summer schedule is still so busy, and even with the back-to-school season quickly approaching, our schedules aren't going to let up anytime soon. And I don't know about your, but I don't want to turn on the oven or be in the kitchen cooking for long periods of time when we could be out enjoying the beautiful Summer weather. Am I right?
I've had the pleasure of trying out a brand new product called Kraft Recipe Makers. Or, should I say, my family has had the pleasure of being my guinea pigs and trying out some new meals. Kraft Recipe Makers can help take the guesswork out of what's for dinner. In each box there are two savory sauces that you can pair with your own fresh ingredients to make a fabulous meal. Each variety features three recipe ideas and ingredient suggestions. So you have your grocery list ready for you right on the box while you are shopping.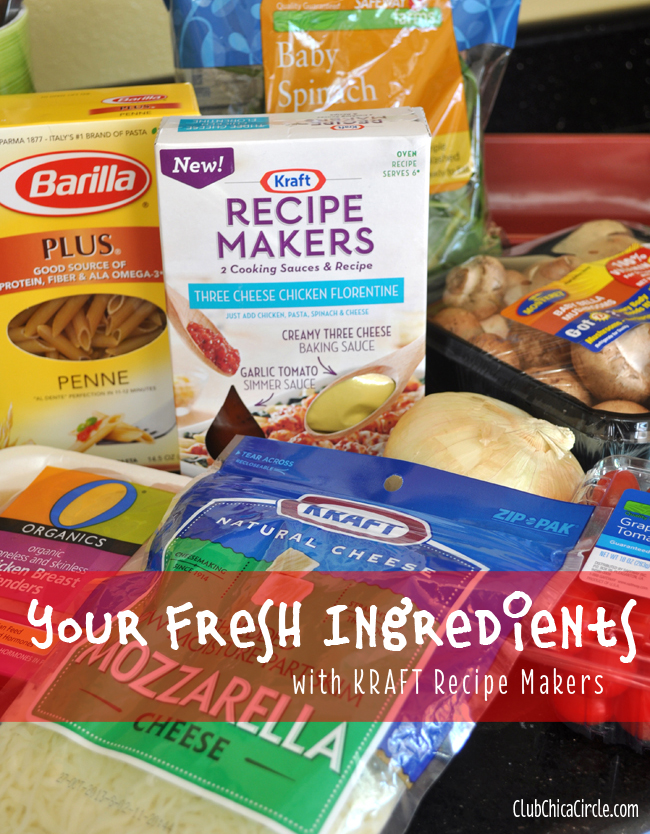 There are seven delicious varieties that can be found at your local Safeway store. For me, that is a Pavillions, but it could also be a VONS or Dominicks, among other stores, in the Safeway family.
This product is so new, I convinced a nice Pavillions employee to check in the back stockroom to see if they had any of them in stock. I knew they had to be there, but they hadn't made it on the shelves yet in my local store. They had just gotten a shipment in and I was in luck that he found me two of the seven varieties to try out. In your Safeway store, they will be placed either in the meat department shelved on racks on or near the refrigerated meat coolers, or within the "Meal Starters" Section which should be the aisle nearest the meat department.
Recipe Makers can be made in one of three ways—in a slow cooker, skillet or oven. Each box features an easy to follow recipe on the back of the box, so you know exactly what ingredients to buy and how long it should take to make, but there are also two additional recipes printed inside the box.
My family and I tried out the Three Cheese Chicken Florentine using a skillet and and oven first. I used the suggested fresh ingredients of chicken breasts, spinach leaves, and shredded mozzarella cheese, but also added a few extras like mushrooms and onion. The prep was easy.
I sliced my chicken into bite-sized pieces, and diced about 1 cup of yellow sweet onion and 1 1/2 cups of sliced baby Bella mushrooms. I sauteed the onions and mushrooms first, and then the chicken until cooked.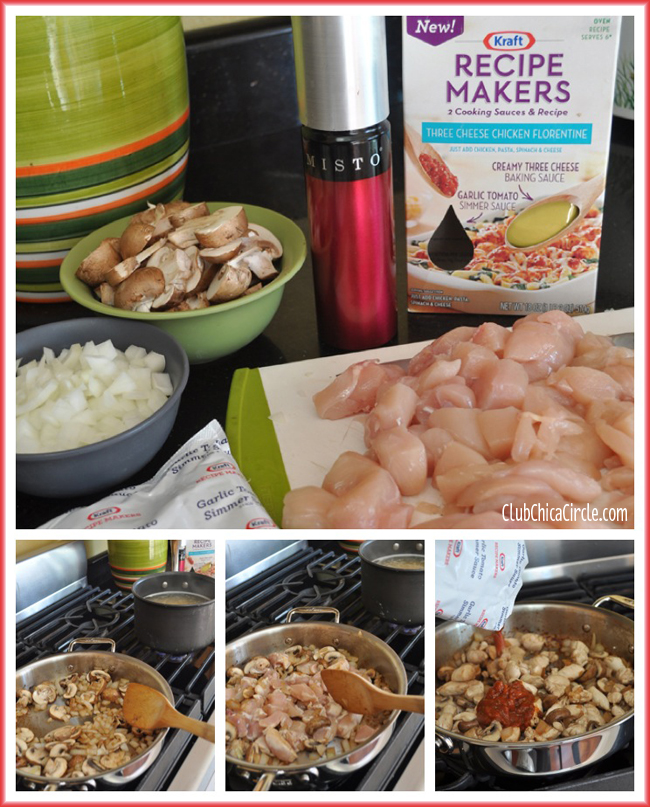 Then it was time to add the first special sauce—the garlic tomato simmer sauce. While that was cooking and simmering, I had another pot on the stove boiling penne pasta noodles until done.
After draining the cooked pasta, it was time to mix in the second special sauce—the creamy three cheese baking sauce. I mixed the cheese sauce and a 6 oz. bag of baby spinach leaves together and transferred into a baking dish.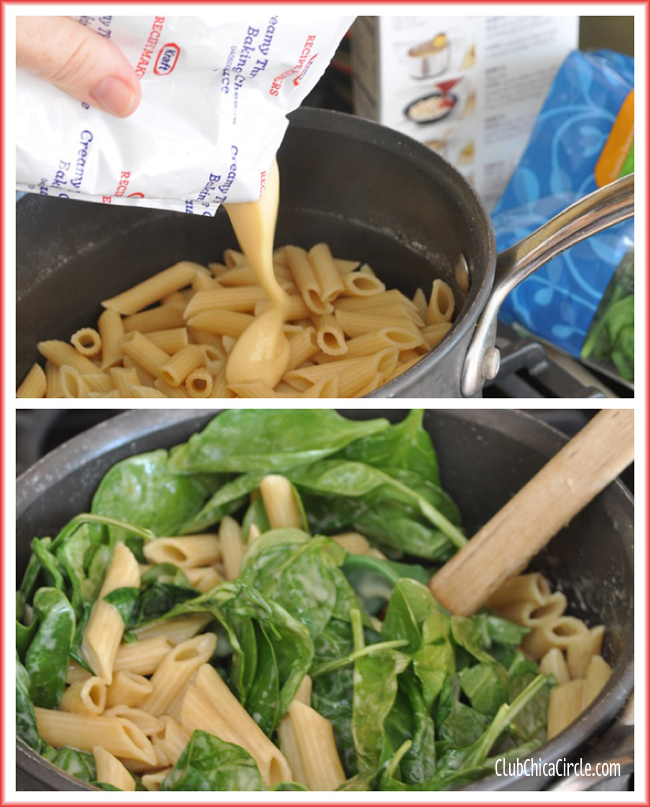 Now it was time to combine the two, and top with shredded mozzarella cheese.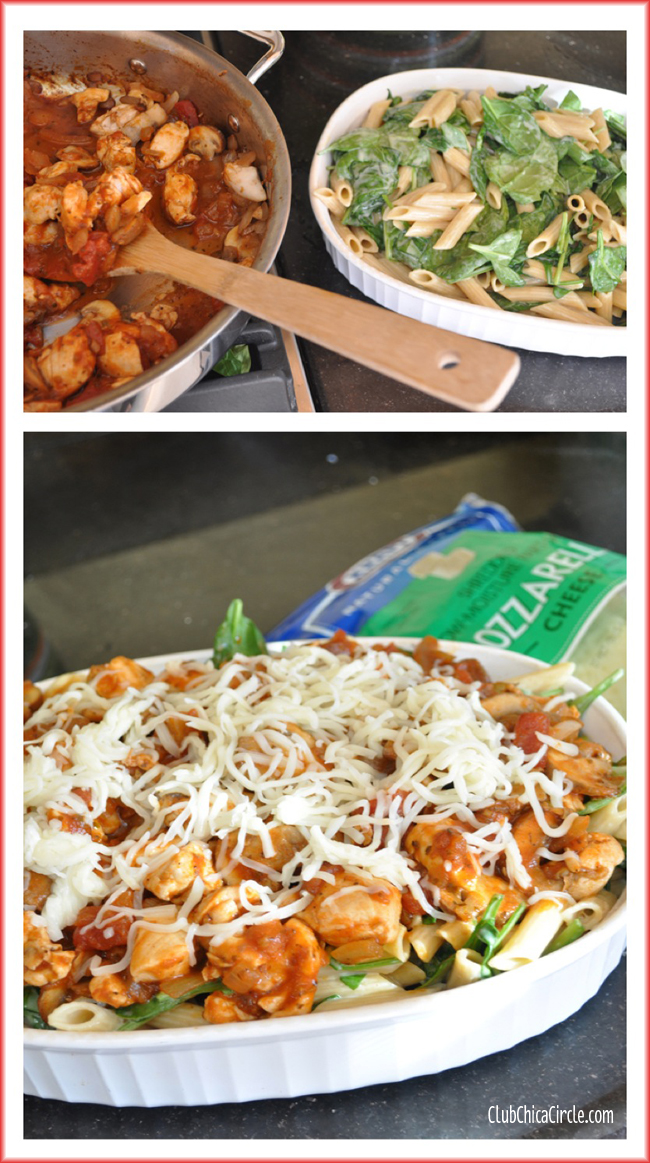 Into the oven it went to melt the cheese for about 10 minutes, and dinner was served!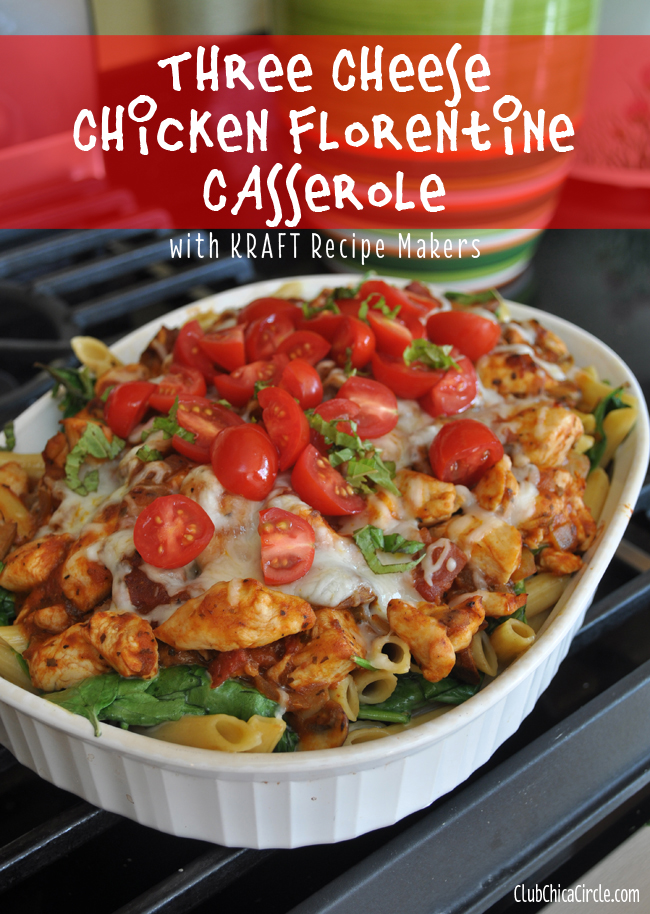 I added some diced grape tomatoes on top and some fresh basil from our garden to complete the meal. I love how Recipe Makers give you the inspiration and the starting point, and you can choose what to mix it up with and tailor it to your own liking. For instance, you can make a meatless casserole using chopped zucchini and artichoke hearts instead of chicken. Or switch out your protein altogether and use shrimp or ground beef.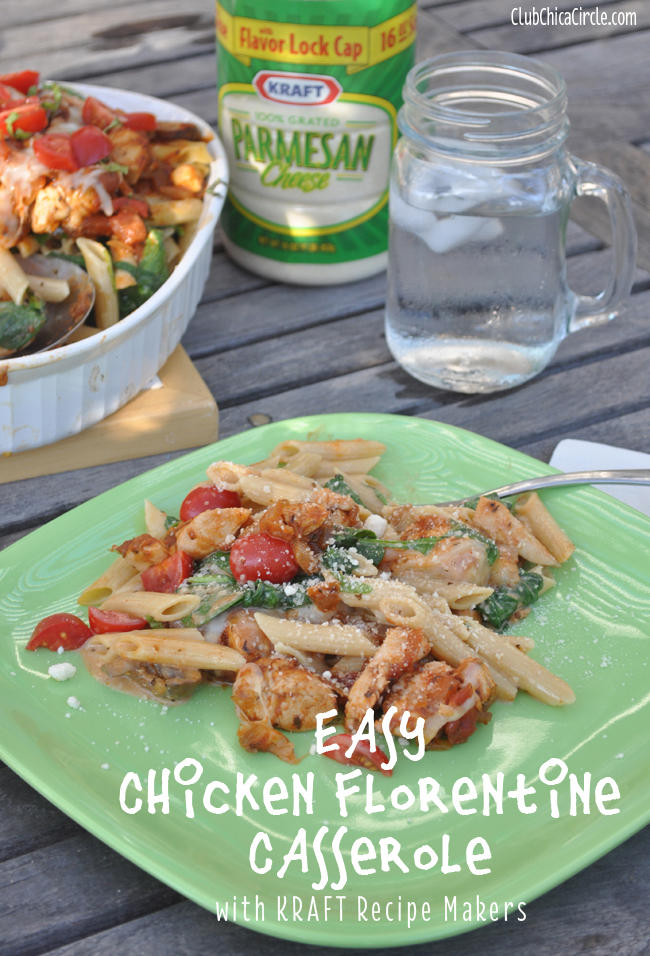 All I know is that my family devoured the yummy casserole. We sprinkled a little Parmesan cheese on top to make it even cheesier! Delish!
The next night I wanted to try a slow-cooker Recipe Makers variety. I love how versatile and convenient slow cooker recipes can be for busy schedules. So I was looking forward to testing out the Hickory BBQ Beef flavor.
Remember when I said you can change up some of the suggested ingredients? For this Recipe Makers variety, it suggested a boneless beef chuck roast and sandwich buns. I switched it up a bit and used lean ground turkey meat and Hawaiian rolls.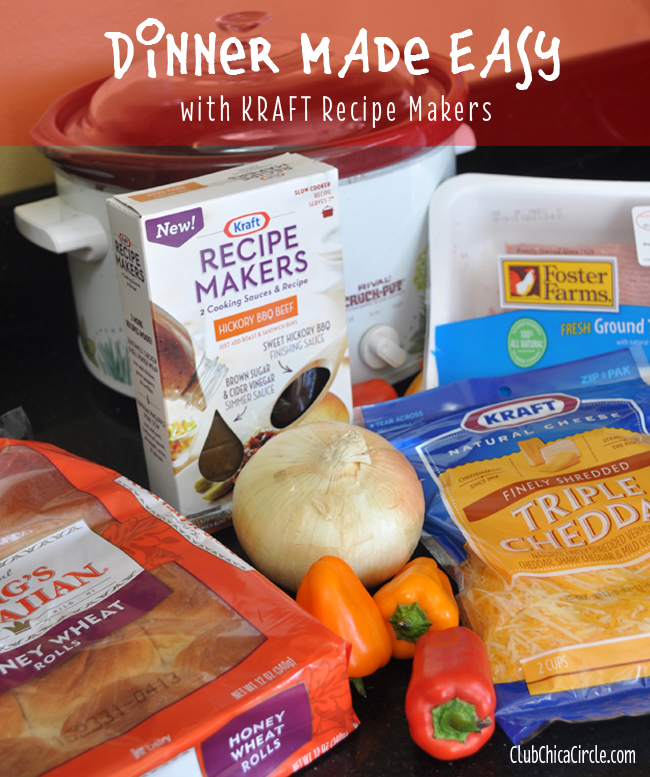 I also love to sneak in extra veggies whenever I can. So I added yellow onion, mushrooms, and sweet bell peppers to the mix.

About 1 lb of ground turkey, 2 cups of diced mushrooms, 1 1/2 cups of diced onion, and 1 cup of diced sweet bell peppers all went into my crock-pot, along with the first special sauce—brown sugar & cider vinegar. I let it cook on low for about 6 hours and drained it. Then I mixed in the second special sauce—the sweet hickory BBQ finishing sauce.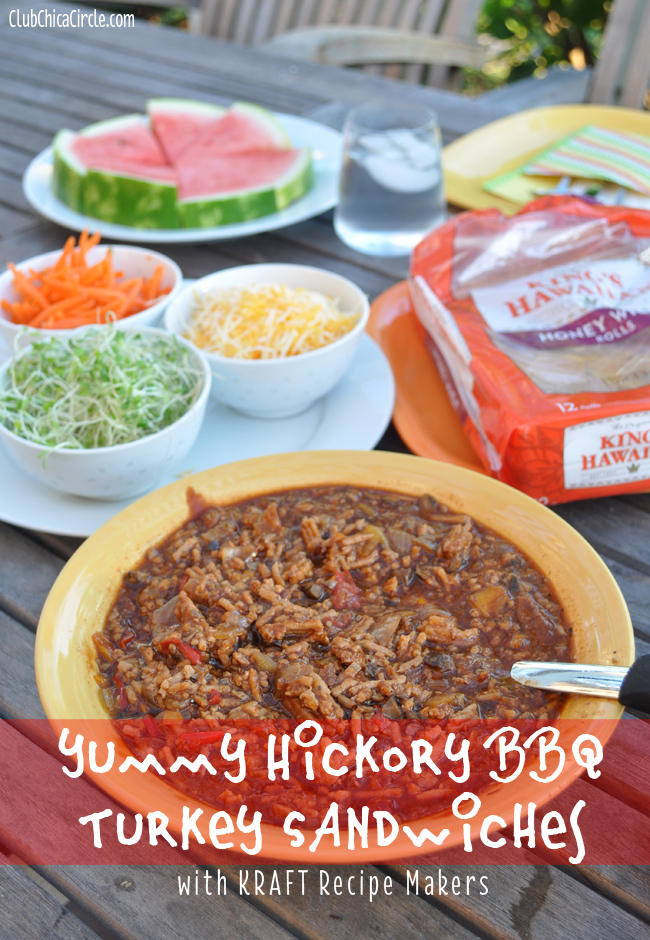 This one I served up with Kraft shredded triple cheddar cheese, carrot slivers, and fresh sprouts to make the super yummy build-your-own BBQ sandwiches on soft and sweet Hawaiian rolls.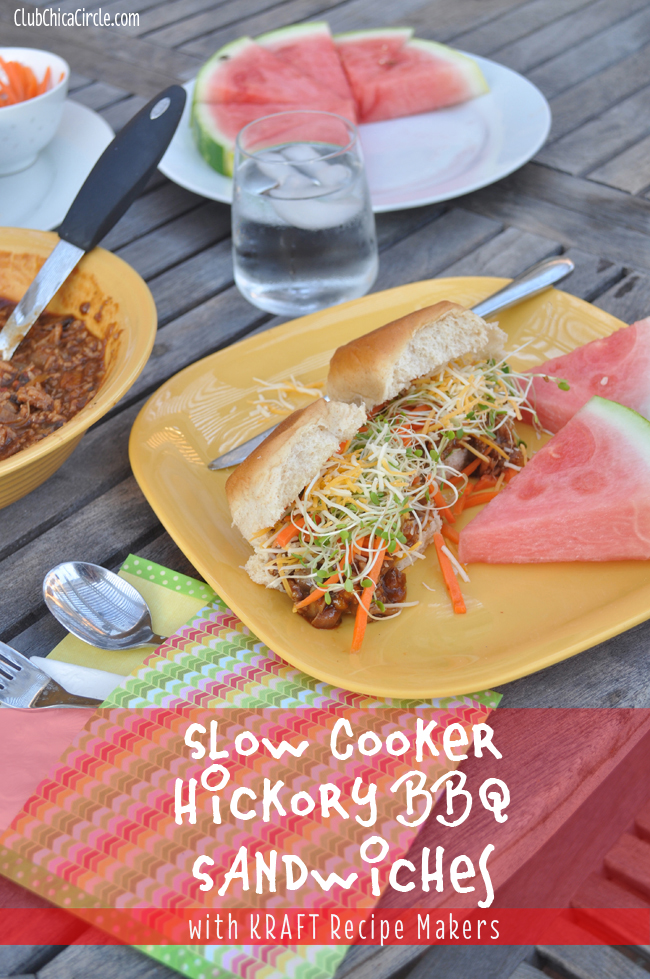 It was another family crowd-pleasing meal! Kudos to Mom for yummy homemade dinners, cheers to Kraft Recipe Makers for helping!
Check out the seven varieties in your local Safeway store. Enjoy!
If you liked this post, and want more, you can subscribe to be on our mailing list here.
Feeling social? Follow ChicaCircle on Facebook or Twitter, and follow me on Pinterest or Instagram.
I was selected for this opportunity as a member of Clever Girls Collective and the content and opinions expressed here are all my own.