You know I had at least one more candy corn inspired craft in me, right? This one is a sweet one, super sweet and delicious!
One of our readers actually alerted me to the fact to look for the limited edition Candy Corn M&M's flavor. I snatched them up at after I found them at my local Target. They are candy corn filled M&M's with a white chocolate candy shell. They are good alone, but they just called out to me to put into a recipe. And I wanted to share a really cute way to package them up. These are two cute and too good not to share!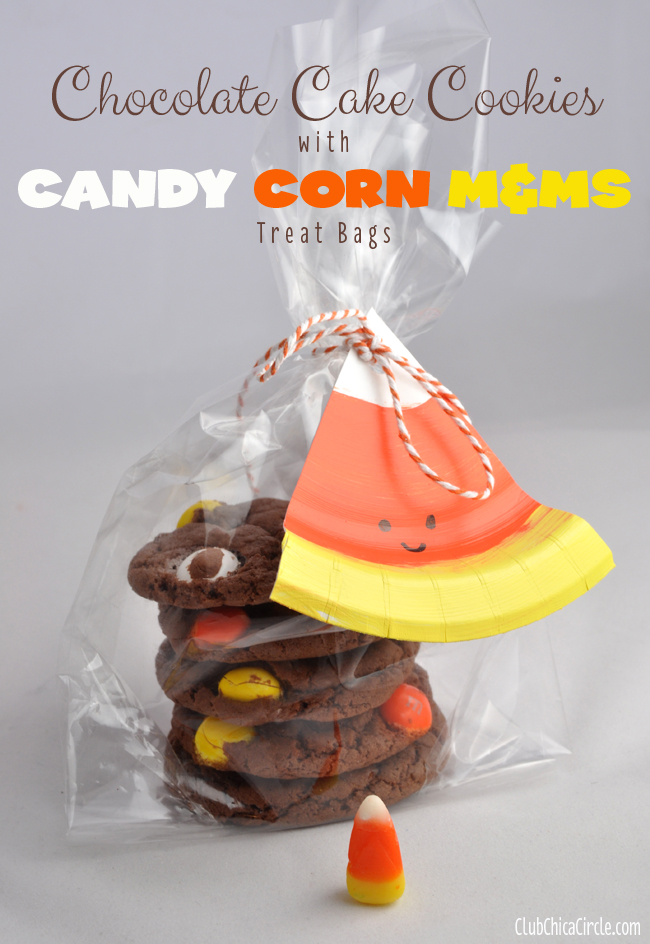 First, I saw this amazing recipe from Parent Pretty for cake mix cookies, and I knew I had to try it.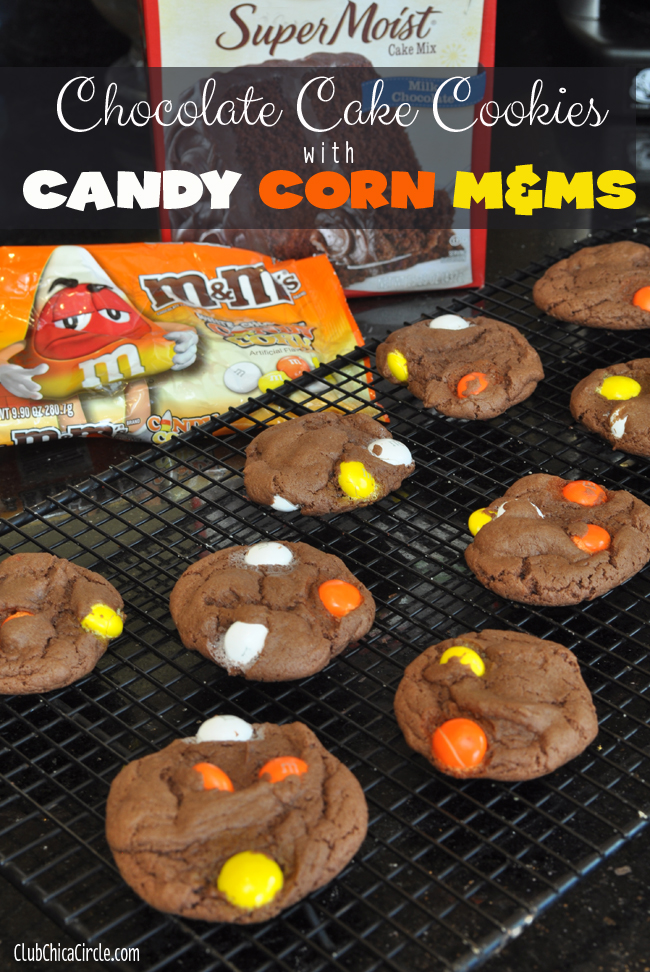 These cookies were super simple to make. I started with a chocolate cake mix, added 3 tbsp of chocolate syrup, 1 egg, and 1/2 cup softened butter to it. The batter will be really thick.
Don't follow the cake batter ingredient directions. I had to wrap my brain around that the cake batter mix wouldn't be thin and runny like cake batter should be.
After all the cake/cookie batter was mixed together, I added about 2/3 of a bag of candy corn M&M's. I just eyeballed it and made sure there were enough candy corn pieces in each cookie.
I made golf-ball sized dough balls and dropped them onto a parchment lined cookie sheet to bake for about 10-12 minutes in a 350 degree oven.
Then, while the chocolate cake cookies were baking, it was time for the quick craft.  I knew I wanted to make candy corn gift tags for treat bags.
These cookies called out to be seen through a clear bag.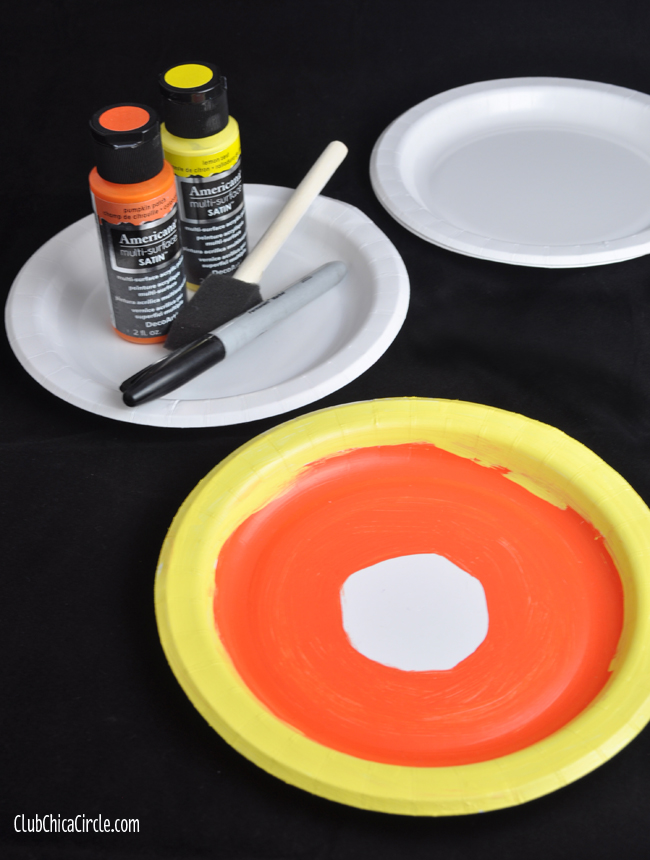 Here is what I used:
small white paper plates
sponge brush
orange and yellow paint (I used DecoArt Multi-surface Satin Paint in Pumpkin Patch orange and Lemon Zest)
scissors
Sharpie marker
Hole-punch
Orange and white striped baker's twine
Small clear treat bags
First, paint the paper plates as shown above, leaving a white center, orange middle ring, and a yellow outer ring and let dry.
Each plate will make 6 gift tags.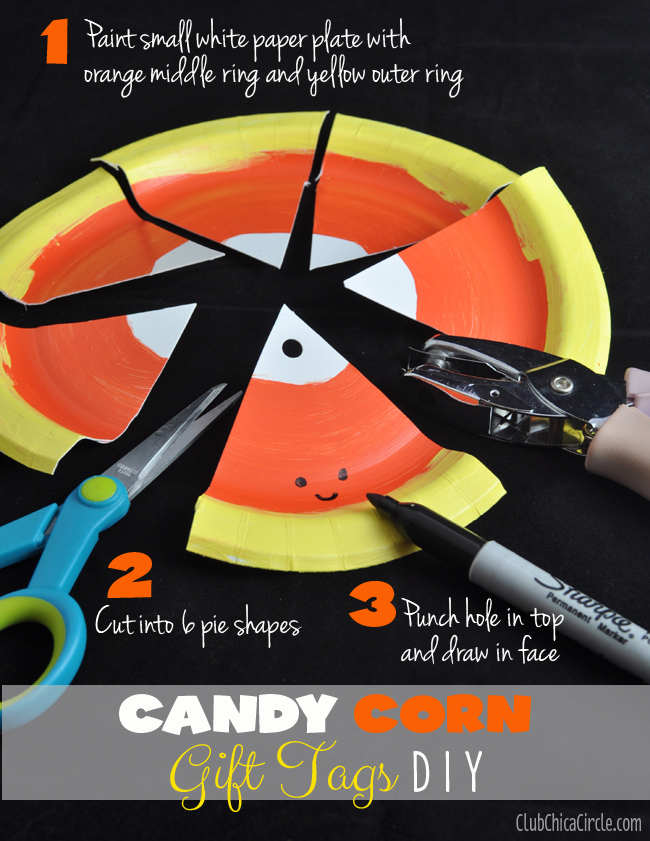 Then, cut each plate into 6 pie shapes to create the perfect candy corn design. Punch a hole at the top of the candy corn triangle, and add a cute face on the front.
That's it!
After the cookies have cooled, it is time to package your treats together.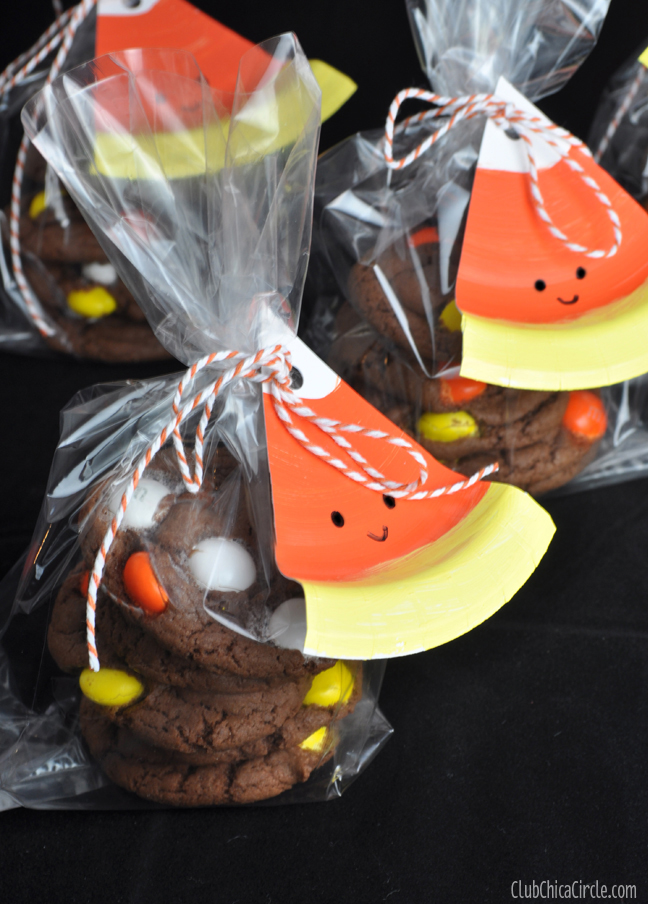 I put 5 cookies in each bag, and tied a cute candy corn gift tag at the top with baker's twine.
So cute!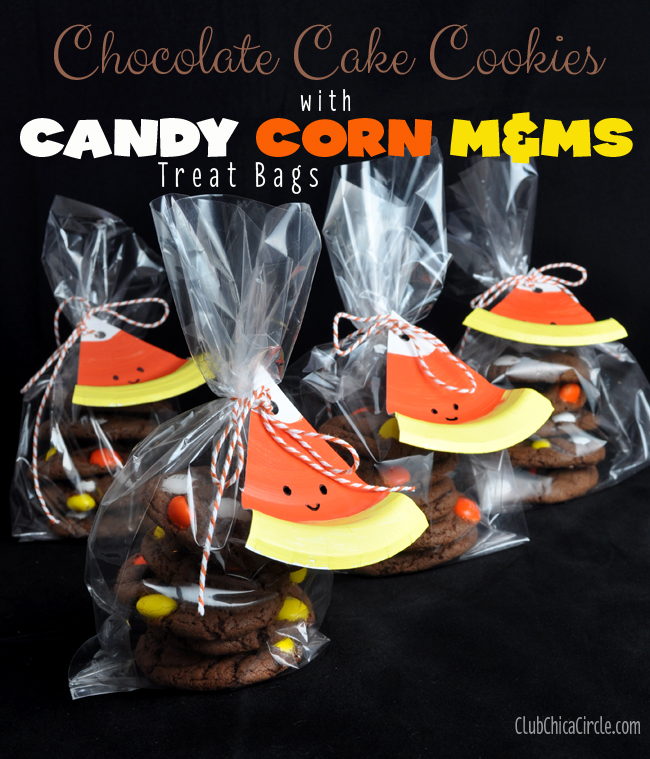 These are perfect for a classroom treat for Halloween or simply for a Fall party.
Good luck giving them away, and resisting keeping them for yourself. I'm telling you, these cookies are sooooo good!
Happy Corn Corn Crafting and Eating!
Enjoy!
If you liked this post, and want more, you can subscribe to be on our mailing list here.
Feeling social? Follow ChicaCircle on Facebook or Twitter, and follow me on Pinterest or Instagram.