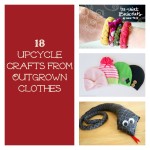 Does this sound familiar?
"Mom, I'm ready for school" (My answer: "Try again, that is waaaay too small")
Our kids are growing like crazy and clothes which were treasures no longer fit. Imagine no more clothes battles or hidden clothes in the Goodwill bag. These 18 upcycle crafts are a fun way to turn the clothes into new treasures and to keep everyone happy in the process.