If you liked this post, part 2 is a little added inspiration on this fun, upcycle, thank you craft. And who could resist making a Turkey Tootsie Pop Bouquet for someone special on Thanksgiving – a perfect tween craft to give and receive. The supplies needed and instructions are easy. The execution is open to what your imagination can create. Here are some tips and inspiration to make your own Turkey Tootsie Pop Bouquet – or just a fabulous Thank You Tootsie Pop Bouquet.
For the Turkey Pop Bouquet, here is what you will need:
2 large pom poms (one a little larger than the other)
red and orange craft foam
googly eyes
Tootsie Pops® (one red, two orange, two yellow, and one brown)
Floral Foam (cylinder shaped)
Tape
Craft glue
Scissors
Decorative paper and ribbon of choice
Recycled aluminum can (cleaned out and dry)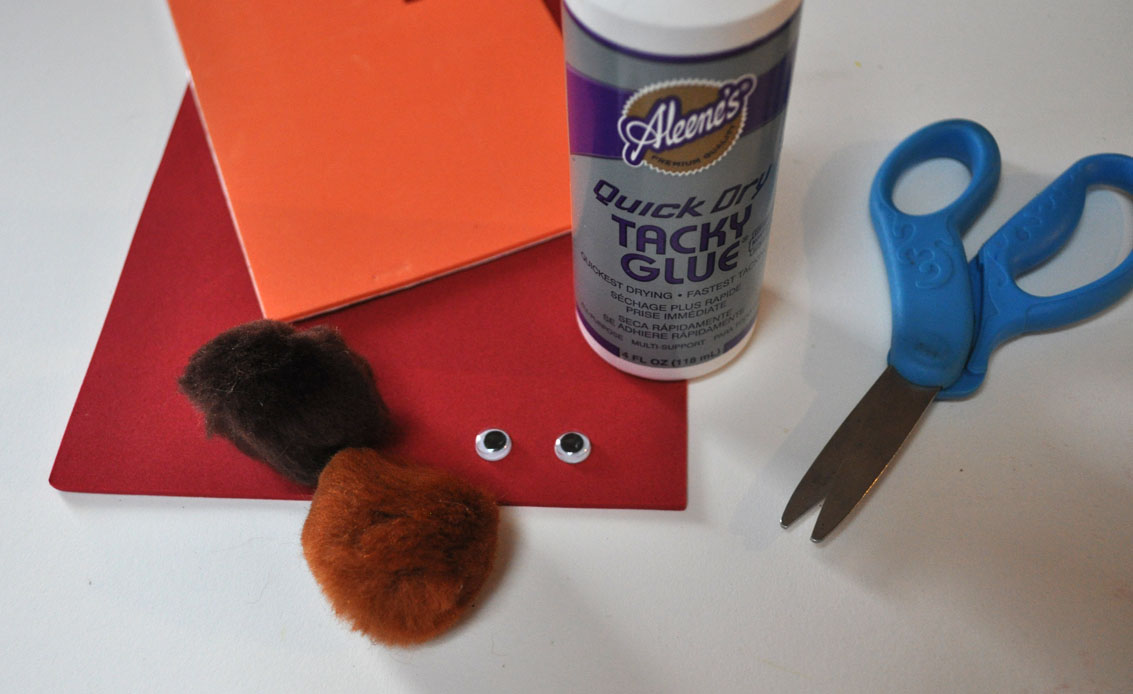 Cut a piece of decorative paper (approximately 4  1/4″ x 9  1/2″ – enough to fit around can). Wrap the paper around the can and secure with tape. Place floral foam inside can.
Arrange the Tootsie Pops with the red one being the tallest in the back of the can, then the orange ones on either side, followed by the yellow ones. The last brown one you can place right in front of the red one, a little lower and in the center of the can. This should leave just enough space to put your turkey body and head.
Glue the two brown pom poms together (the larger one on the bottom for the body). One of my favorite craft glues is Aleene's Quick Dry. It is a bit thicker, but it grabs the materials and secures them faster than a regular glue. Cut out a small orange triangle out of orange foam for the beak and a small long wiggly oval piece out of red foam for the wattle of the turkey. Glue onto the top pom pom, along with the two googly eyes to complete the turkey face. Place the completed turkey body in the front of your Tootsie Pop bouquet.
Finish off by wrapping a decorative ribbon around the can. You can also print out Turkey Thank you Tags here.
Cut them out, use a hole punch to punch a hole at the top and tie onto the front of your Turkey bouquet with ribbon. Gobble-Gobble! Now share with your favorite person.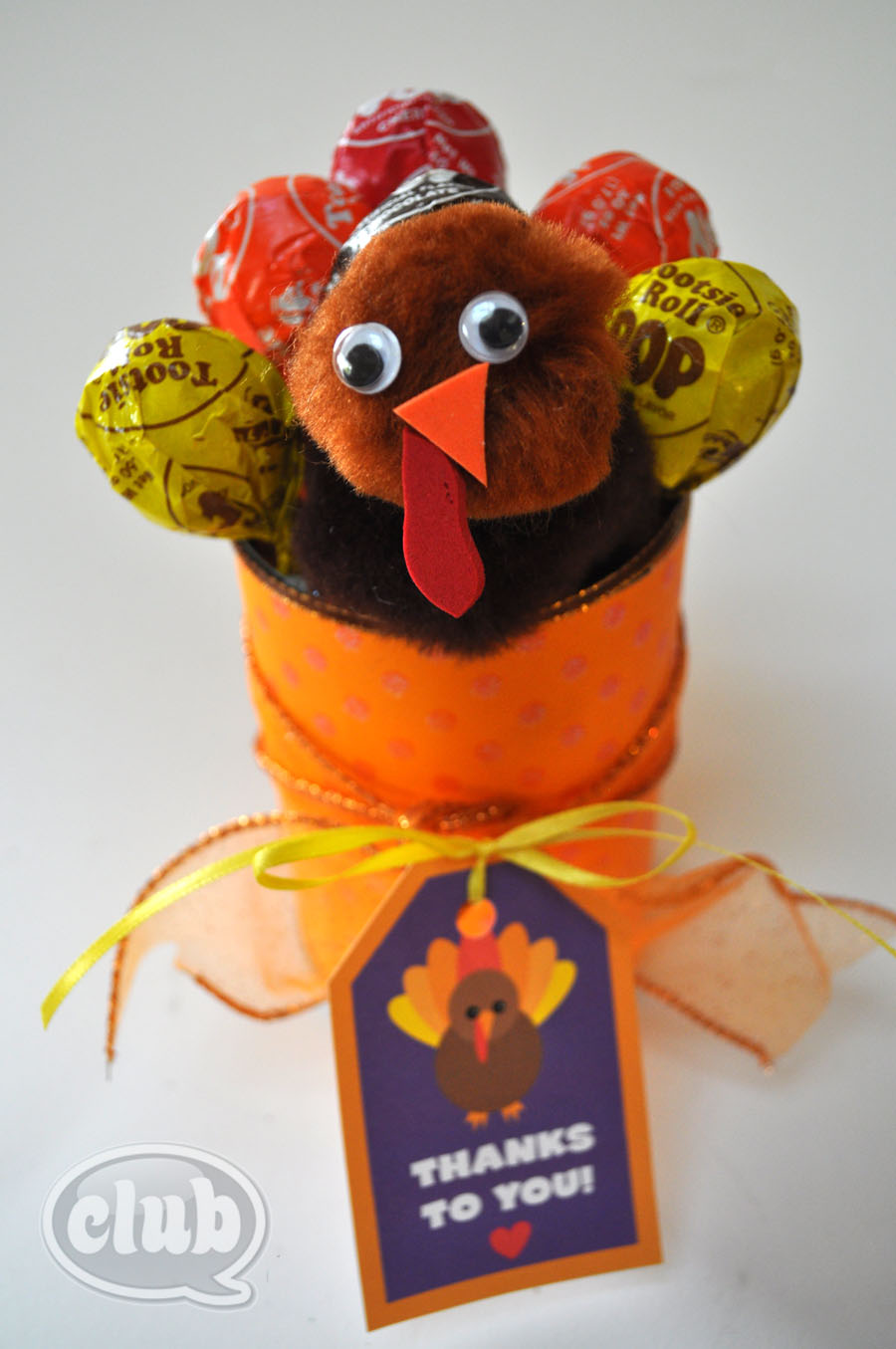 For everyday Tootsie Pop bouquets, you can get a little fancy with how arrange your bouquet. With the addition of some tissue paper pressed into the floral foam along with the pop, it can add a little more flair. The supplies are still the same as above, just add colored tissue paper. You can print out Thank You tags here.
Thank you tags
Cut out 4″ x 4″ colored squares of tissue paper. While you poke the Tootsie Pop into the floral foam, poke the tissue paper square in as well. The result is a nice poof of color and paper surrounding the pop. Continue creating your bouquet using this technique until you have full bouquet. I used 8 Tootsie Pops in my bouquet.
Another idea on for upcycling your can is to spray paint it. I sprayed this one red, and wrapped a cool coordinating ribbon around the middle. I created an all red Tootsie Pop bouquet and added some red crinkled paper for a festive filler. Instead of tying the Thank You tag around the can, I secured it by pushing one of the Tootsie Pop sticks through the top of the tag.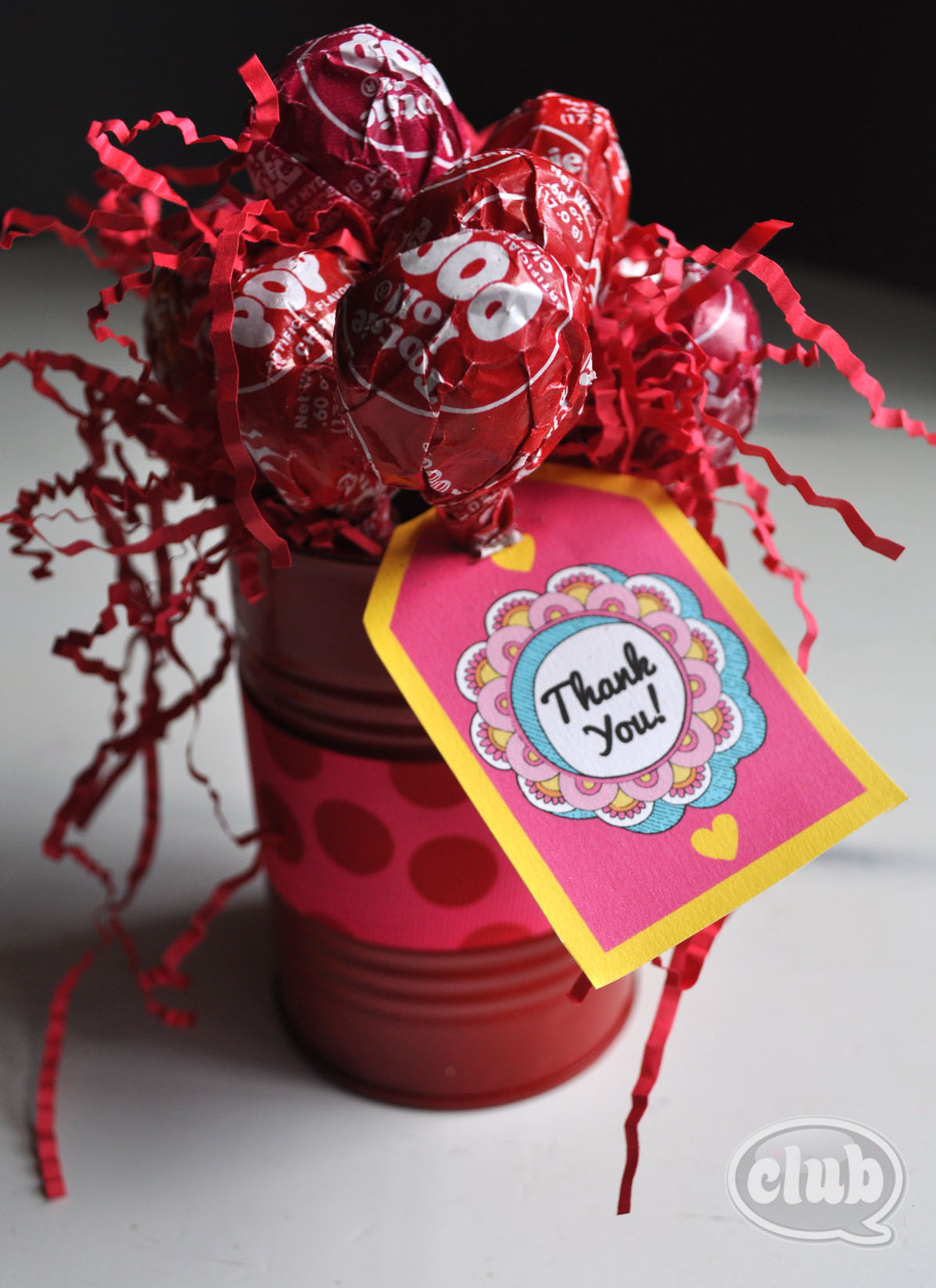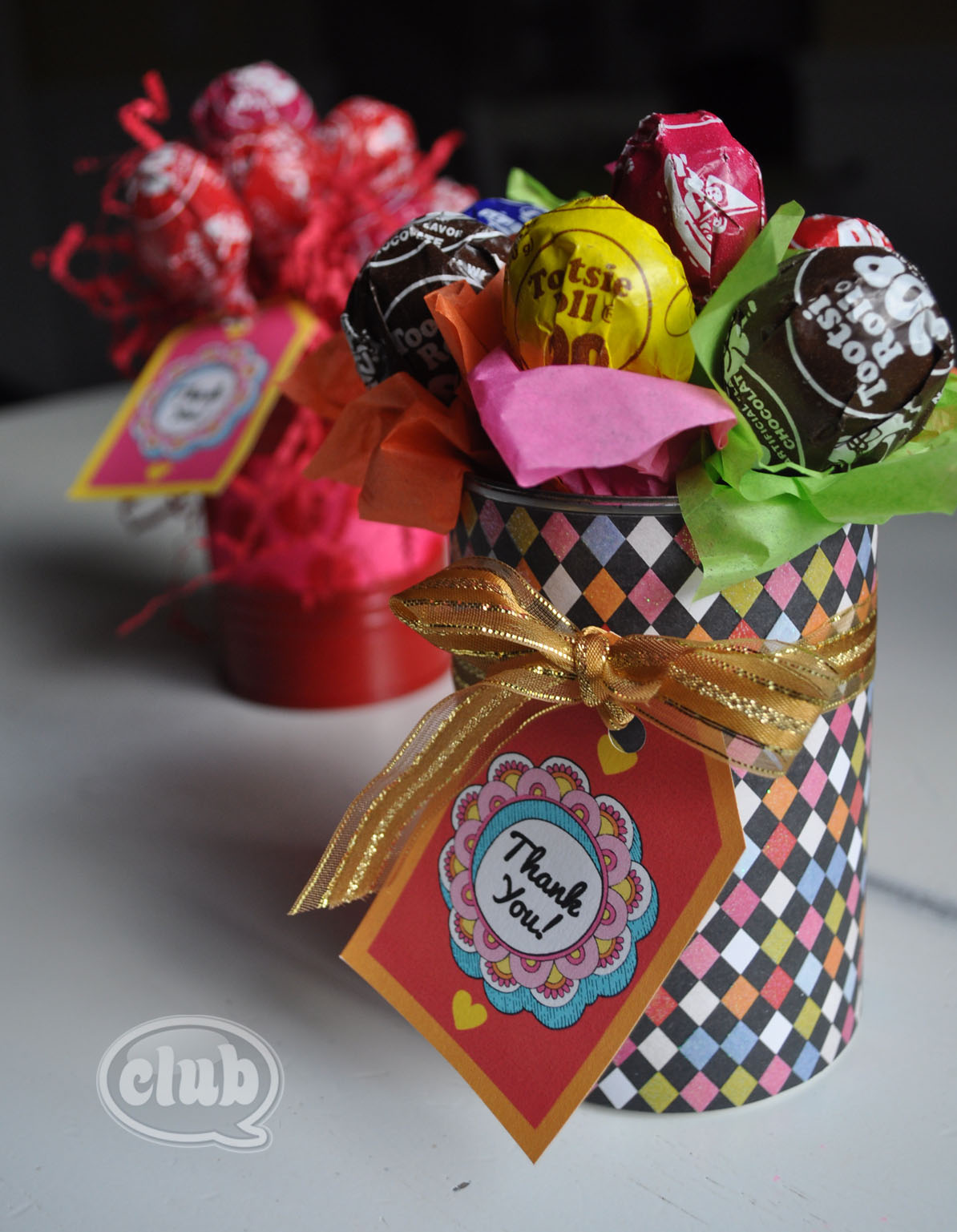 Use this upcycled can craft as a starting point for more yummy bouquets. Cookie pops are perfect for this. Check out our cookie pop DIY here – make Turkey cookie pops, pumpkin cookie pops, or red and green Holiday cookie pops. I used a bigger container, and bigger rectangular pieces of floral foam, and used the same technique to create a beautiful crafty centerpiece. Have fun making your own Pop bouquet today! Fun craft to do with tweens, perfect for the whole family.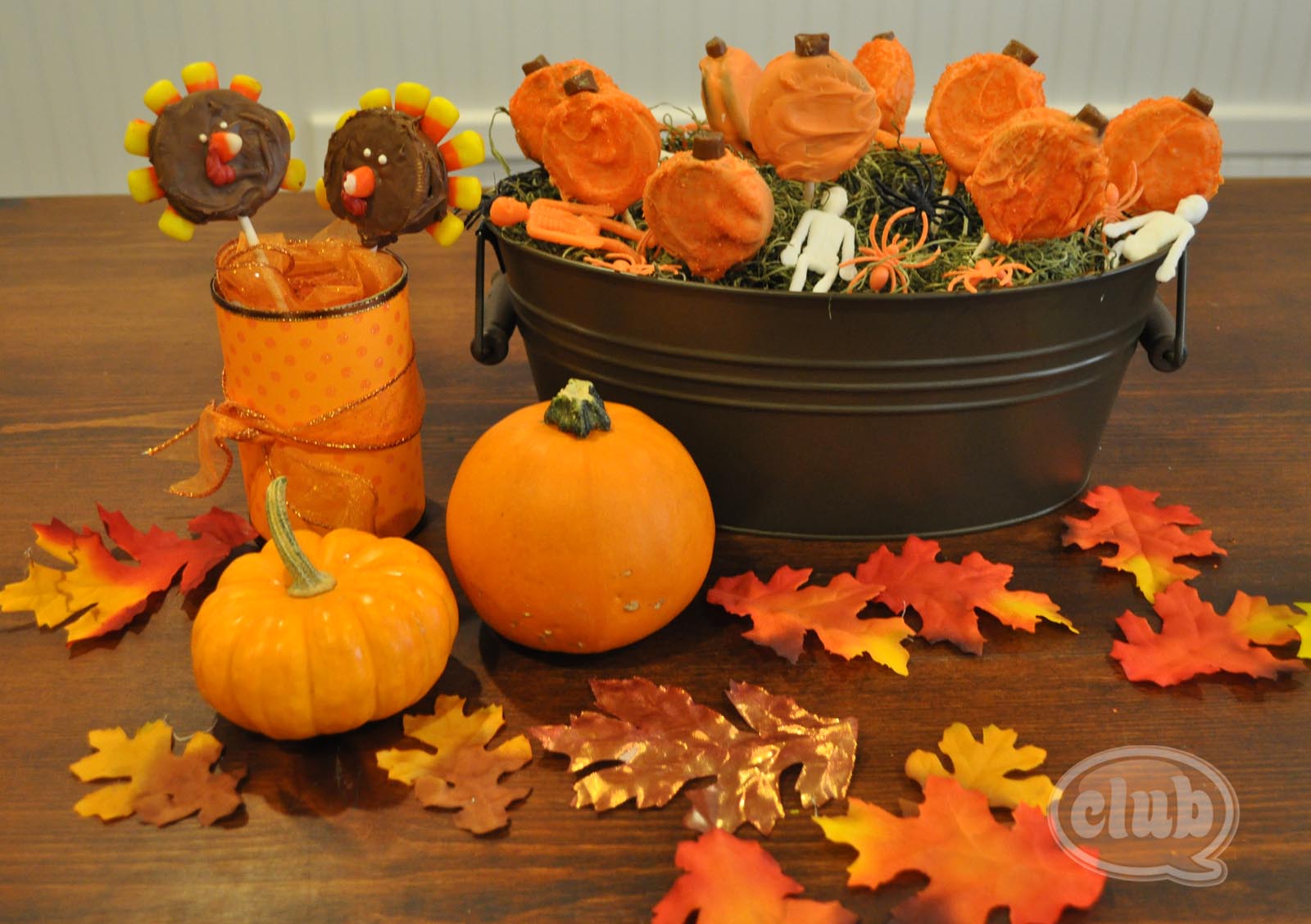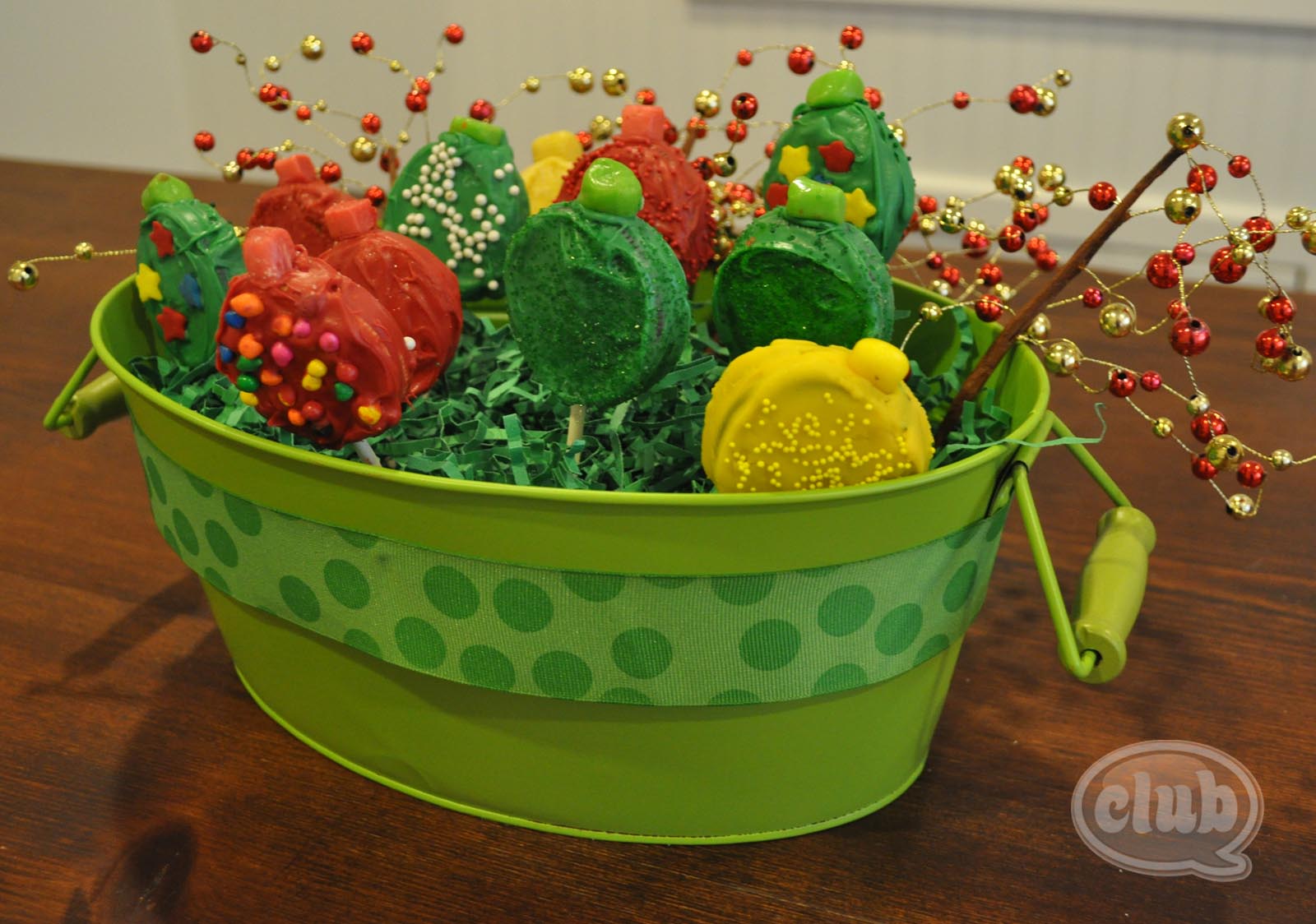 I'm a crafty mompreneur with an affinity for pink. With a fine arts degree, over 15 years experience in children's publishing, and a savvy, stylish, sassy tween daughter, I come armed with perspective and passion to inspire tween girls and their mothers through creativity.
Latest posts by Pauline Molinari (see all)