Disclaimer: this post is brought to you in part by DecoArt.

Glass painting is fun! Animal prints are cool! Painting animal prints on glass is both fun and cool!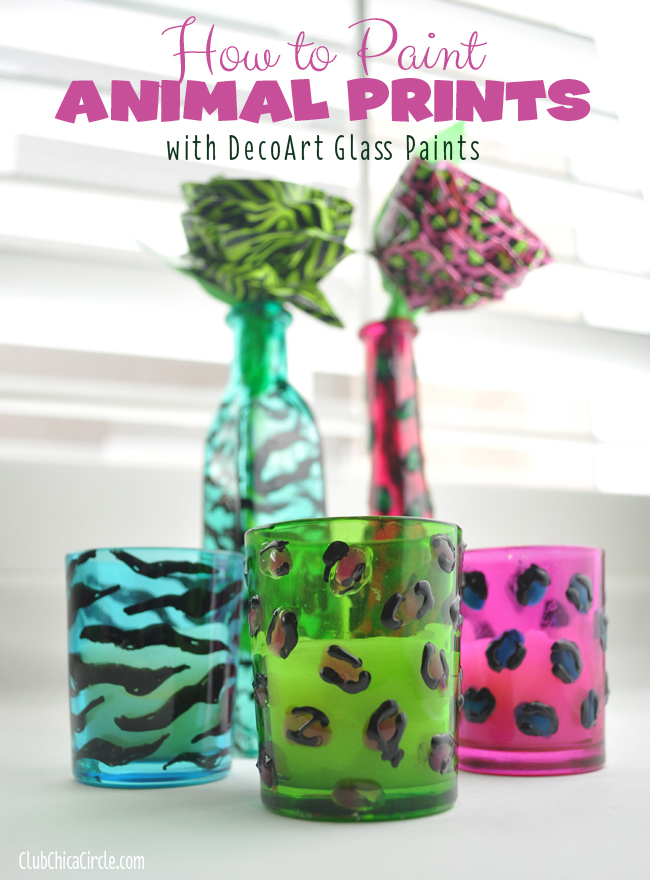 Let me show you how fun and easy it is.
I started with some colored glass vases that I found in the dollar section at my local Michaels. For the leopard print on the pink vase, I used the green Americana 3D Frost Gloss Enamel Writer and the black 3D Opague Gloss Enamel Writer. What I love about the glass writers is the tip. No paintbrush needed. The paint tip at the top allows you to get the details you need without it.
For the zebra print on the blue vase, I used a DecoArt glass paint marker.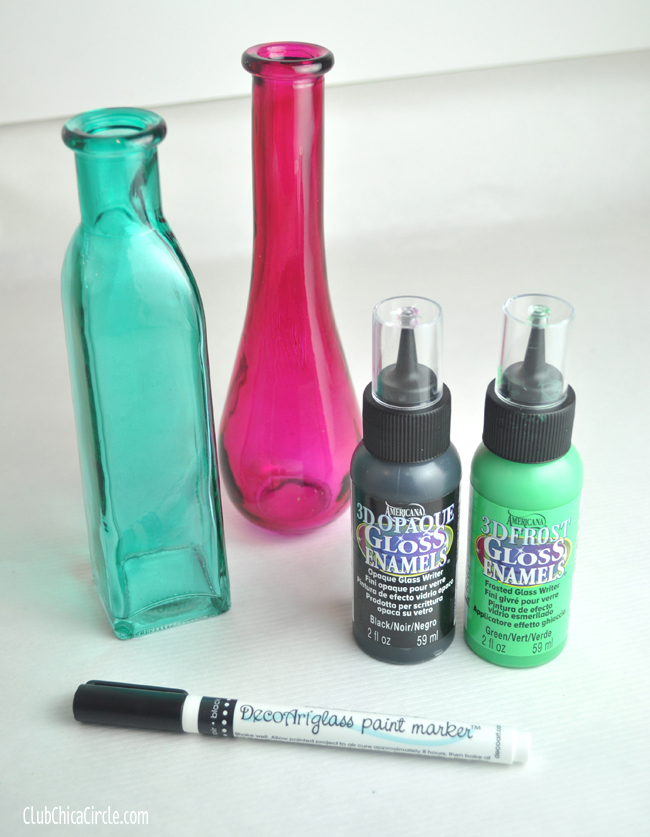 Here is how to make a leopard print on any glass piece:
First draw in irregular shaped oval dots in a random pattern. Make sure to use a contrasting color to your vase so that the leopard print stands out. Let your vase dry until no longer tacky. I let it dry about an hour.
Next, add the leopard print details with a darker color or black. This pattern can be random and irregular too. That's the beauty of this. You can't really mess this up. Outline some of the outer edges of your colored dots with black. I usually did two strokes, one on each side of a dot at varying lengths and thicknesses.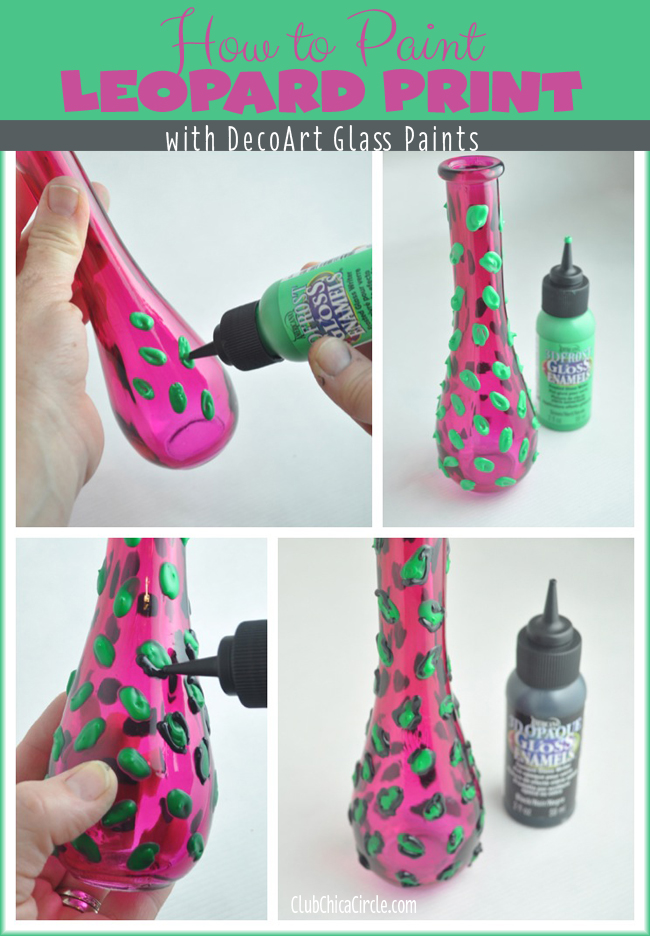 Another cool part about the 3D gloss enamel paint writers, is that your leopard pattern has a cool texture to it when you are finished.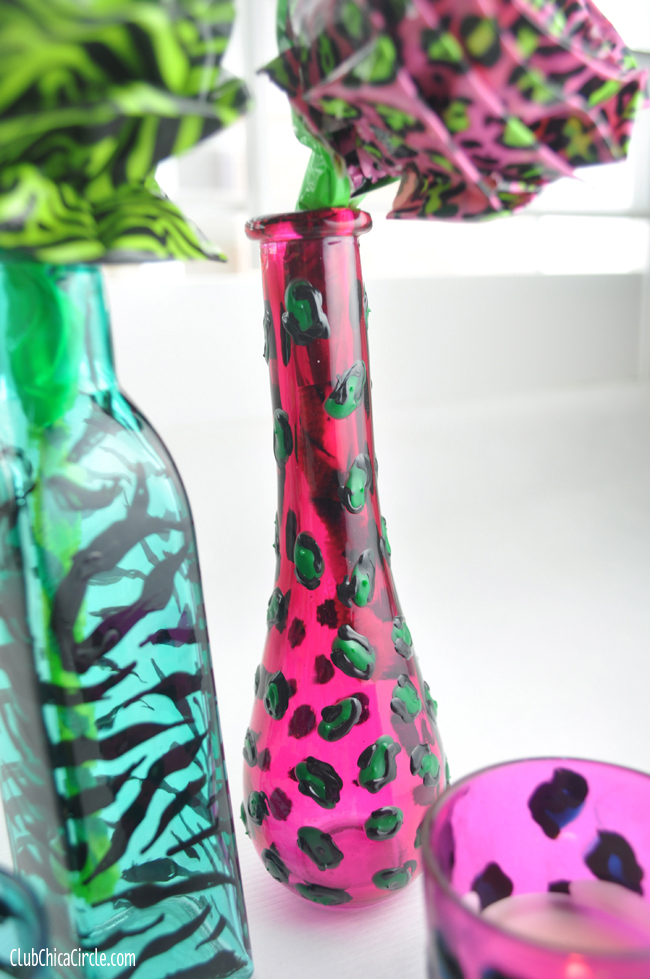 Making a zebra print is even easier. On a colored piece of glass, use a DecoArt black paint marker and draw in long, thin, irregular shaped squiggles or wavy shapes. The shapes remind me of mini bats or mustache shapes. Just have them go in the general same direction, but make them fit together like a puzzle, but without them touching.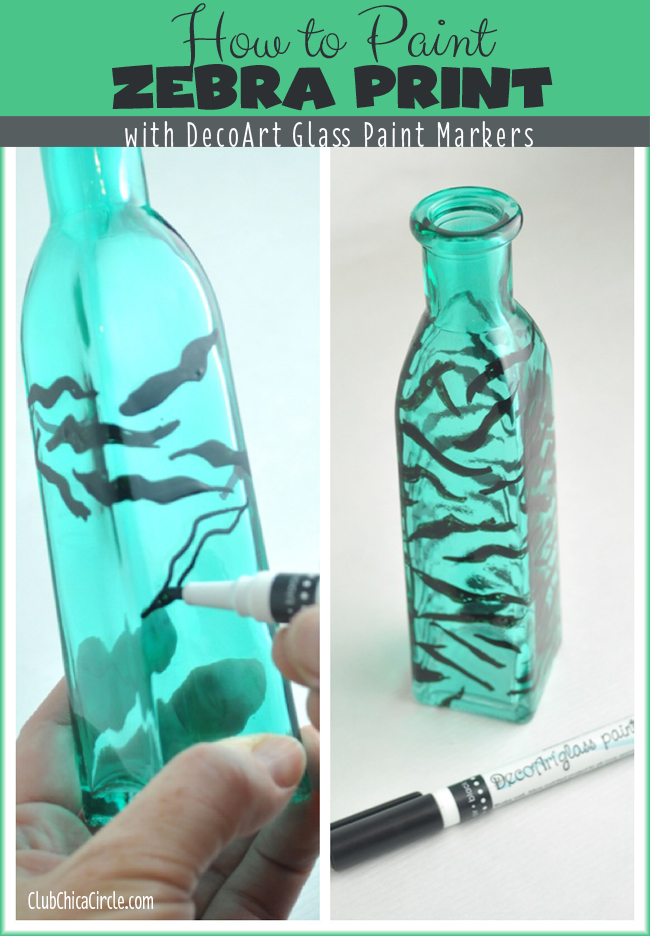 Use these basic animal print painting technique and try on other colored glass pieces.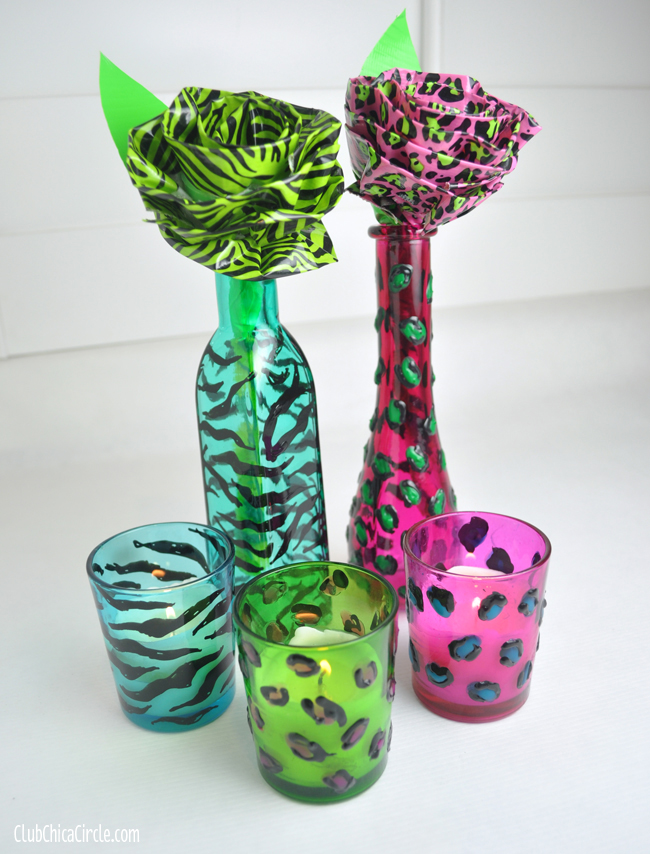 The animal print vases were inspired by my tween's favorite pattern, and one of her favorite craft tools – patterned duct tape.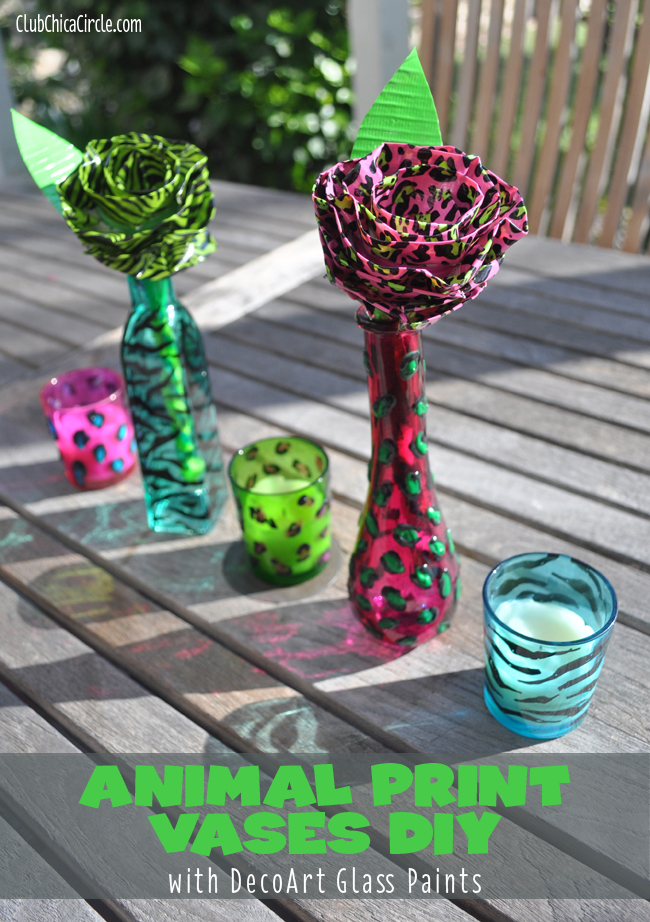 We made some cool duct tape flowers using leftover plastic Easter eggs, pipe cleaners, and Duck tape. If you want to know how to make the duct tape flowers, check out the full DIY here.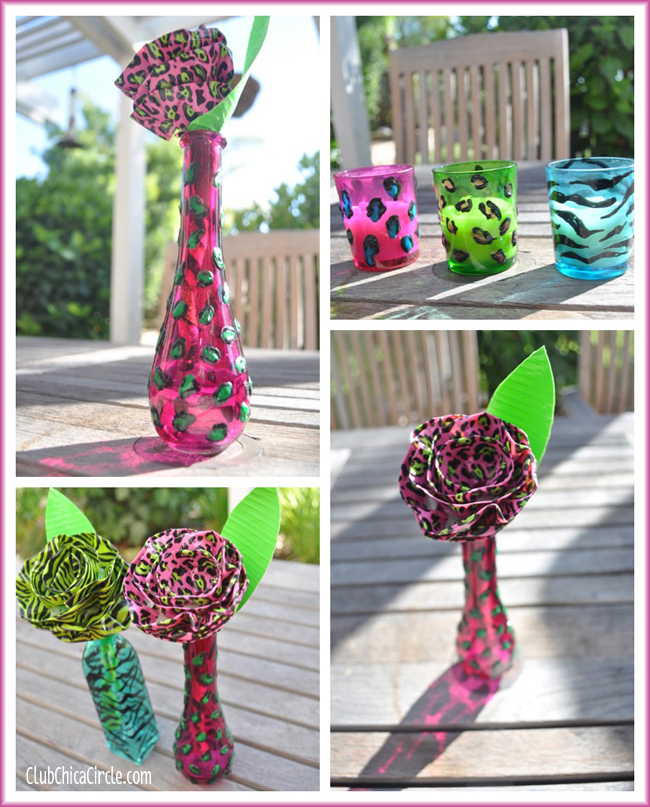 If you had glass paints. what would you paint first?
First of all, you have to know that DecoArt has a complete line of Americana glass paints to choose from, from frosted to glass stains to glitter crystal to paint markers.
Right now you can buy 5 bottles of DecoArt Americana glass paints and get $5 back. Get your rebate here.
Americana Glass Paints are available at Michaels, JoAnn Fabric and Craft Stores, Pat Catan's Craft Centers, A.C. Moore, Beverly's, and other fine craft retailers. For more information on Americana Glass Paints visit http://www.decoart.com/glasspaint.

Check out some other creative projects using DecoArt Americana glass paints from my fellow DecoArt core blogger crew.
If you liked this post, and want more, you can subscribe to be on our mailing list here.
Feeling social? Follow ChicaCircle on Facebook or Twitter, and follow me on Pinterest or Instagram.
As a member of the DecoArt core blogger team, this post is brought to you in part by DecoArt. All thoughts, crafts, photographs, and ideas are my own.
As a member of the DecoArt core blogger team, this post is brought to you in part by DecoArt. All thoughts, crafts, photographs, and ideas are my own.
The following two tabs change content below.
I'm the crafty maven, and I'm on a mission to spread craftiness. With a fine arts degree, over 15 years experience in children's publishing, and a savvy, stylish, sassy tween daughter, I come armed with perspective and passion to inspire tween girls and their mothers to be crafty together.
Latest posts by Pauline Molinari (see all)